New York may have been named the fashion capital of the world, but that doesn't stop London designers from thriving. Here are some of London Fashion Week Fall 2014's highlights:
Burberry Prorsum
The Burberry Prorsum show is always an artistic spectacle. This time, it literally was artisanal with hand-painted florals on bags, shoes, and jackets. Cara Delevingne, an old favorite, and Suki Waterhouse, a new face and Bradley Cooper's girlfriend, walked in the show. Each model wore an Aztec oversized blanket (personalized with their initials) for the finale.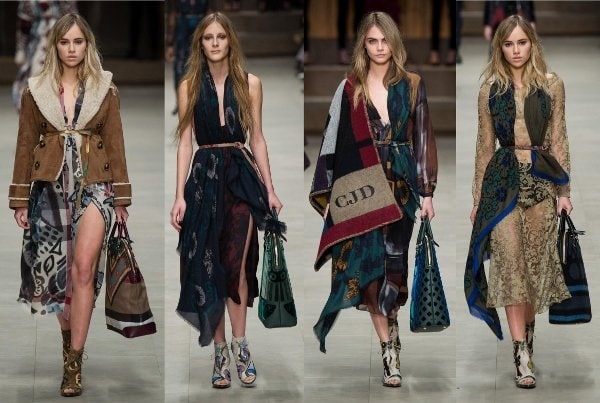 Burberry Prorsum Fall 2014 show in London, England, on February 17, 2014
Subtle florals were seen on the laced ankle boots that came in creamy shades as well as a darker khaki color. You can already buy most of the coats and bags from the new collection at Burberry.

Burberry Prorsum Fall 2014 hand-painted ankle boots
Christopher Kane
Christopher Kane is currently one of the most exciting designers to come out of London. His collections are always a mixture of completely different themes that somehow manage to work together. This season was no different. Neon knits are combined with plastic trash garments. Two standout shoes from his Fall 2014 runway have the same block-heel and pump design. But it's easy to mistake them as coming from completely different collections. One is black and partly made of a plastic material. This detail was inspired by protective clothing worn at hospitals and is an innovative take on a classic shoe silhouette. The second design is of sweet pink pumps that are much simpler but don't look stereotypically "pretty."
Karolina Kurkova backstage at Christopher Kane's Fall 2014 show in London, England, on February 17, 2014
Pink pumps from Christopher Kane's Fall 2014 collection
House of Holland
Henry Holland, the designer behind House of Holland, is renowned for fun fashion and his quirky take on slogans and prints. He upped his game even more for the label's "Debauched Debutantes" collection. "Rich Bitch" tees and jackets were worn confidently with prim-and-proper heels down the catwalk.
House of Holland Fall 2014 show in London, England, on February 15, 2014
Velveteen pumps feature ankle cuffs and standout details. Pompoms and oversized pearls crisscross over rich hues of pink, red, and purple, adding another creative strand to the AW14 collection.
Accessories from House of Holland's Fall 2014 collection
Antipodium
There's an ongoing debate about whether anyone can really pull off a socks-and-sandals pairing. Antipodium just proved that its girls can. On the runway, the brand's floor-brushing feather sandals were paired with army green socks and worked with everything from a printed sweater to a fitted orange coat. The thin straps on the sandals allowed the white furry feathers to do the talking. These are statement shoes if ever we saw one.

Antipodium Fall 2014 presentation in London, England, on February 15, 2014
Fyodor Golan
Fyodor Golan loves to experiment. Its A/W14 "Crocodile" collection sparkled in every sense. Set on a fluffy pink runway, Swarovski crystals and technology were used to create oil-slick finishes on a range of asymmetrical garments. The designers collaborated with the shoe brand Bionda Castana for the model's footwear. They wore pointy-toed flats in a range of colors, including iridescent yellows, metallic greens, and satin pinks.
Fyodor Golan Fall 2014 show in London, England, on February 14, 2014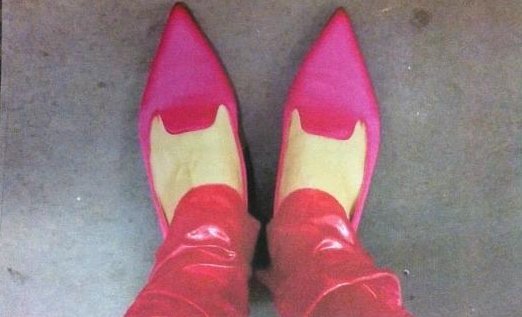 Bird's-eye view of Bionda Castana pink flats from Fyodor Golan's Fall 2014 show
Ashish
Ashish is known for its sequins. They appear everywhere: on denim, dresses, jackets. You name it. The outlandish label's Buffalo boots were something else. Complete with big platforms and flashing neon lights, these shoes aren't for the faint-hearted.
Backstage at Ashish's Fall 2014 show in London, England, on February 17, 2014
Light-up Buffalo boots from Ashish's Fall 2014 collection
Feeling brave? You don't have to wait long to buy these beauties. They'll be released in May as part of the Ashish x Topshop collaboration.
J.W. Anderson
Jonathan (or J.W.) Anderson is recognized for putting men in heels and women in masculine clothing, but he doesn't want to be known as a "gender bender." This season, he played with ugly fabrics, such as corduroy, and manipulated them to create unusual silhouettes that are strangely beautiful.
J.W. Anderson's Fall 2014 show in London, England, on February 15, 2014
The shoes are also strange but equally feminine. Flats are a major trend in London, but these are no ordinary flats. J.W.'s flats consist of simple slip-ons with folded leather that looks almost like ocean waves. Nude, black, white, blue, and yellow make up their color palette. Who knew blue and yellow could look so good on shoes?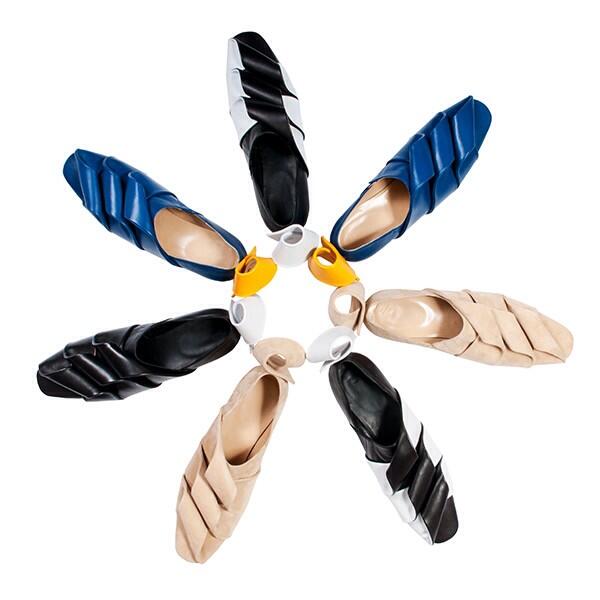 Folded leather flats from J.W. Anderson's Fall 2014 collection
Simone Rocha
Simone Rocha's signature shoe has to be the Perspex-heeled brogue. It must be a challenge to reinvent it each season, but she does it anyway. For Fall 2014, her dark and light Elizabethan dresses are paired with brogues and slip-ons of all textures. There are fur, hair, pearls, metallics, and, of course, Perspex heels — all in an exquisite palette of black, gold, and the softest of pinks. This designer is one to watch out for.
Backstage at Simone Rocha's Fall 2014 show in London, England, on February 18, 2014
Get ahead of the trend with Simone's SS14 pearl-encrusted brogues.
Simone Rocha Pearl-Embellished Leather Brogues, $1,164
Mary Katrantzou
Mary Katrantzou first teamed up with Gianvito Rossi for her SS14 shoe-insipired collection. She did it again in an unusual unprinted show for a designer renowned for her digital prints. Mary looked to symbols and badges this season, crocheting them together on chainmail dresses and statement sweaters.
Mary Katrantzou's Fall 2014 show in London, England, on February 16, 2014
Gianvito Rossi used geometric symbols and shades of blue, green, red, and brown on heeled loafers and ankle boots along with pony-hair-textured sandals.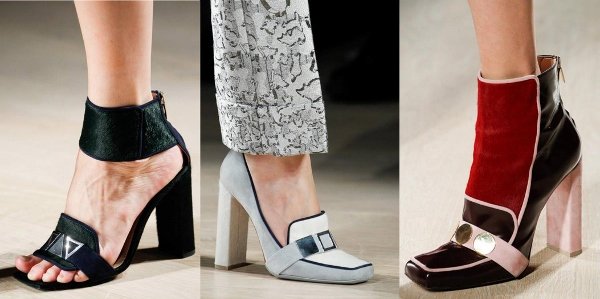 Gianvito Rossi's collaboration with Mary Katrantzou for Fall 2014
Mark Fast
Mark's signature knits went a different direction for Fall 2014. The usual sexy, tight look fell away for something a little longer and more refined. The show featured suits and dresses reminiscent of Chanel's latest couture collection with minute waist detailing.
Mark Fast's Fall 2014 show in London, England, on February 14, 2014
Each and every look was topped off with a pair of metallic gold flatforms. Just like Karl Lagerfeld, Mark Fast showed us that comfy shoes can go with anything.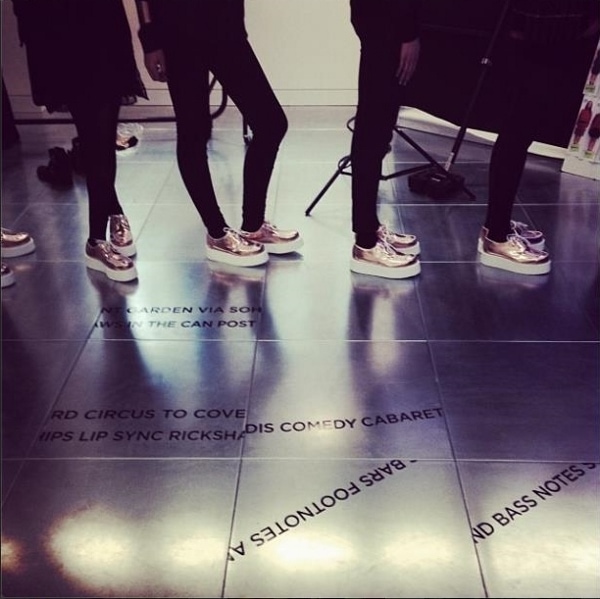 Metallic gold flatform sneakers from Mark Fast's Fall 2014 collection
Meadham Kirchhoff
Edward Meadham and Benjamin Kirchhoff are a quirky pair. Their designs may look light-hearted, but there is always a sinister edge and the intricacy that goes into each and every one is only truly revealed when seen up close. Entering their world is like being immersed in a dressing-up box. Colorful prints, laced veils, and a tinsel setting were all part of their Fall 2014 collection presentation.
Meadham Kirchhoff's Fall 2014 show in London, England, on February 18, 2014
Models stomped down the runway in knee-high platform boots, which are available in two options: metallic rainbow or shiny red, both with cute matching bows. Which takes your fancy?
Rainbow platform boots from Meadham Kirchhoff's Fall 2014 collection
Roksanda Ilincic
Roksanda Ilincic did color blocking on a huge scale for AW14. However, her patchwork dresses and coordinating coats are not easy to style with accessories. Nicholas Kirkwood did a great job, though, with the flat pointy loafers he designed for the collection. They are fringed in electric blue or inky black with chic stripes around barely noticeable platforms. Wear them with ruffled socks for the complete runway look.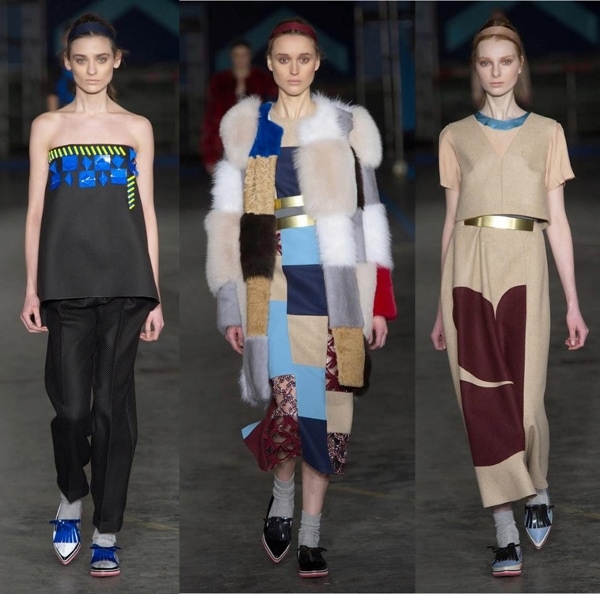 Roksanda Ilincic's Fall 2014 show in London, England, on February 17, 2014
Nicholas Kirkwood's loafer designs for Roksanda Ilincic's Fall 2014 collection
Credit: SIPA / WENN / Topshop's Facebook, J.W. Anderson's Instagram, 
Mark Fast's Facebook, Mary Katrantzou's Facebook, Mary Katrantzou's Instagram, 
Eric Wilson's Instagram, Roksanda Ilincic's Facebook, The Guardian and 
The Observer Fashion Team's Instagram, Antipodium's Facebook, Antipodium's Instagram, Topshop's Facebook, 
Ashish's Instagram, Burberry's Instagram, Burberry's Facebook, Karolina Kurkova's Instagram, 
Glamour Magazine's Instagram, Stella Magazine's Instagram, Fyodor Golan's Facebook, 
Fyodor Golan's Instagram, House of Holland's Instagram