Seeing celebrities toting around their expensive designer bags on their way to the gym is nothing new to us, but how many of these do you really need to lug around for workout day?
Hilary Duff with her hands full outside Cecconi's West Hollywood on February 19, 2014
It seems like Hilary Duff has a ton of gym essentials that she has to carry around two totes when she goes to the gym.
Threadbare burnout patches give Hilary Duff's relaxed, cotton-blend pullover from IRO a deconstructed, loved-to-pieces look
We spotted the Lizzie McGuire actress pre-and post-workout with her hands full, carrying two wonderfully gorgeous bags — a blush-colored Givenchy "Antigona" duffle bag and a black Celine Luggage Tote.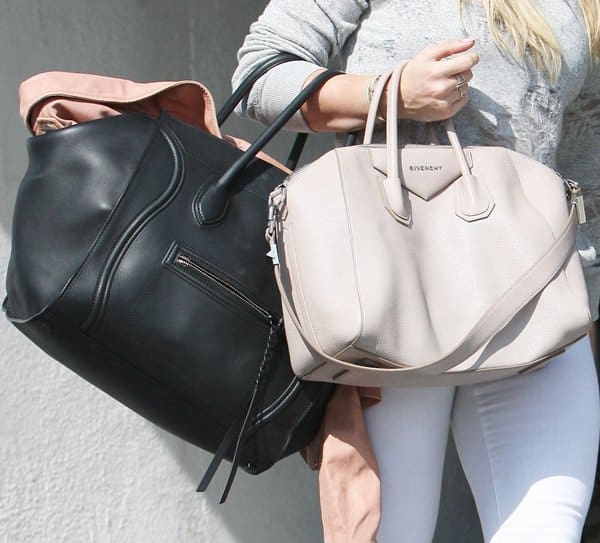 Hilary Duff's blush-colored Givenchy "Antigona" duffle bag and a black Celine handbag
Although I really don't get the need to carry more than one designer bag at a time, it's great to see Hilary all smiles even after her split with husband Mike Comrie.
Hilary Duff styled her white jeans with Brian Atwood Starlet pumps
She has also been spending quite a lot of time in the gym lately.
Next time, though, I wish she'd just choose a bigger bag because carrying around two (no matter how gorgeous or expensive they are) look pretty awkward.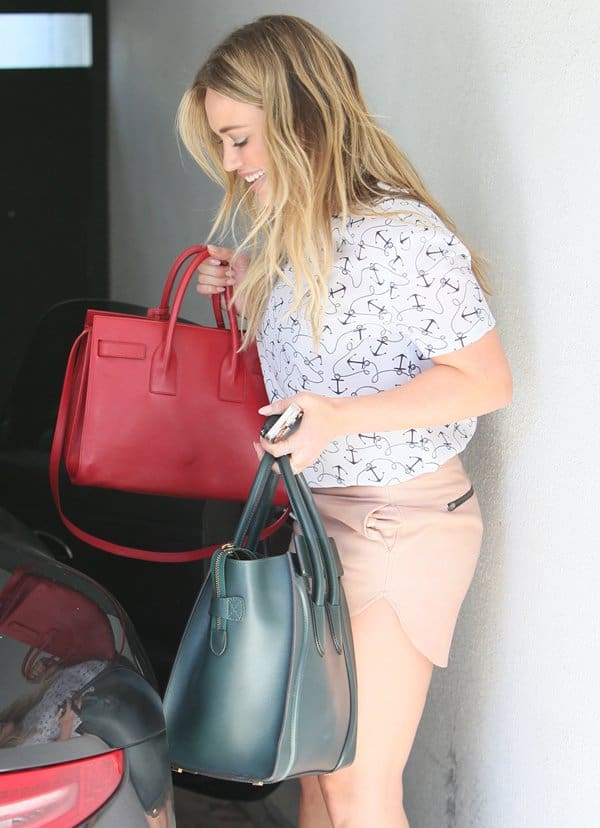 Hilary Duff wears a Mason by Michelle Mason zipper detailing mini leather skirt and an Equipment Anchors Riley tee
Here's another sighting of Duff carrying two bags on her way to the gym again.
Hilary Duff arrives at a gym with a black handbag in West Hollywood on February 21, 2014
If you need a spacious bag to fit all your gym essentials, check out the options below. These two alternatives from Tory Burch and Adidas by Stella McCartney will keep your things in check, and they are both pretty cute, too!
Tory Burch Soft Nylon Weekender Bag, $275
Adidas by Stella McCartney Swim Bag, $130
Credit: WENN / Michael Wright