Dark-haired beauty Lucy Hale was spotted looking cool and energized as she left her gym in West Hollywood earlier this month.
Lucy Hale was spotted leaving her gym in West Hollywood on August 9, 2013

The Pretty Little Liars star is no stranger to cool workout gear. Just the other day we spotted her looking great in a hot pink top and matching neon pink rubber shoes. This time, it looked like aqua blue and green was the running theme, which was ingeniously topped off with a Wildfox Sweater.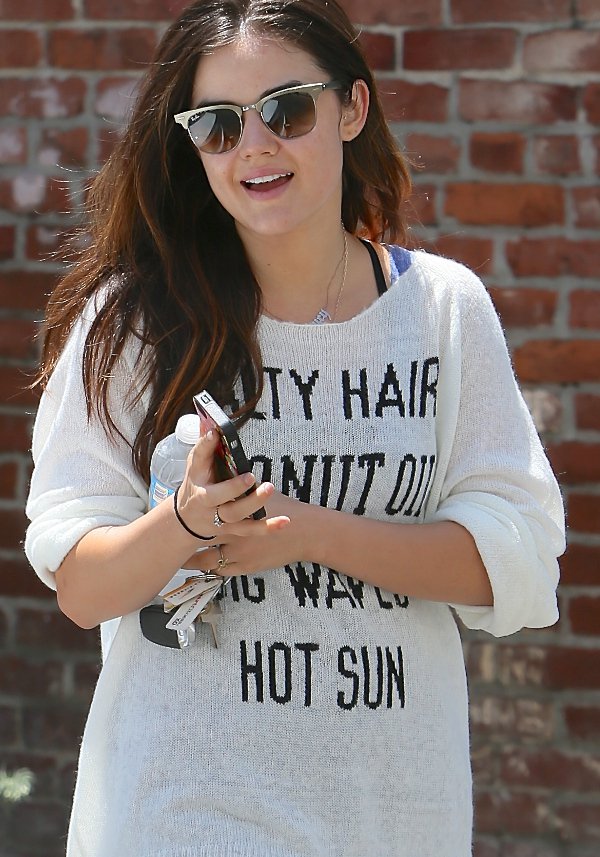 Lucy Hale in Wildfox' Salty Hair Penny Sweater
Earlier this season, we saw this lightweight knit sweater chanting out an awesome mantra for the summer: SALTY HAIR. COCONUT OIL. BIG WAVES. HOT SUN. And even though we're moving towards fall, it looks like the top can still pack a punch as post workout outfit. Thanks for the big idea, Lucy!
Wildfox Salty Hair Penny Sweater, $248
Credit: Michael Wright/WENN