Wildfox Couture is a fashion brand that's been on a rollercoaster. It shot to fame in the early 2010s when it became a go-to brand for early internet influencers and celebrities like Stephanie Pratt, Alessandra Ambrosio, Kylie Jenner, Vanessa Hudgens, Kristin Cavallari, Bella Thorne, Julianne Hough, Emma Roberts, Jennifer Love Hewitt, Lucy Hale, and Taylor Swift.
The brand launched in Los Angeles in 2007 and found instant success with its graphic prints and slogan jumpers that captured the California aesthetic.
Founded in 2007, Wildfox is a Los Angeles-based label known for its graphic prints and iconic campaigns and slogans
Not every brand can stay at the top forever. Wildfox Couture went through several years of difficulty before becoming part of the FAM Brands family.
You may have started to notice the brand popping back up on your Instagram feed. Is it making a comeback? What is Wildfox's future?
We're deep diving into the story of Wildfox Couture, who owns Wildfox Couture, and the future of the brand. This article will help you decide if it's worth shopping from Wildfox Couture.
Meet Wildfox Couture
The brand captures a vintage aesthetic with a whimsical and quirky feel. Fans of Sofia Coppola movies, '70s-fashion, and feminine color schemes will be right at home with Wildfox Couture.
This contemporary fashion brand is effortlessly chic, bringing together cozy sweaters with a distinctive California edge.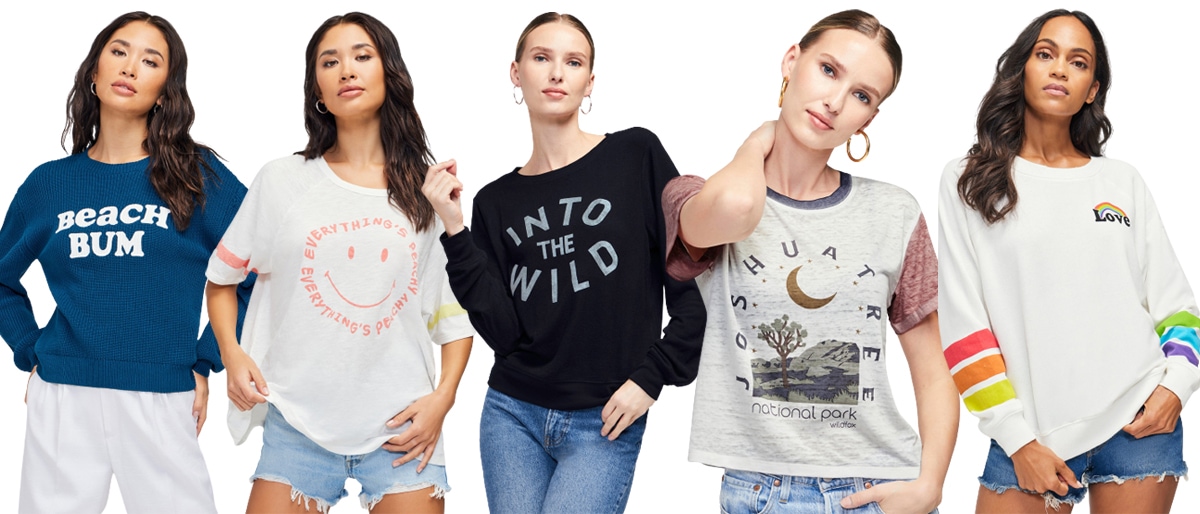 Wildfox offers tees and cozy sweaters that capture a vintage aesthetic with a California edge
Wildfox Couture's early success came from its placement with stores like Kitson and Urban Outfitters, helping their graphic t-shirts go viral. While it's famous for its sweaters, Wildfox Couture has an extensive swimwear range, taking part in Swim Week in Miami Beach.
The brand went viral with early fashion influencers with mainstream celebrities. Taylor Swift was regularly spotted wearing the brand's oversized sweaters, particularly styles with slogans, hearts, and stars.
Other celebrity fans of Wildfox Couture include Paris Hilton, Beyonce, and Olivia Wilde. It cultivated a strong online presence with fashion influencers, particularly female Youtuber stars at the start of their careers.
Who Founded Wildfox Couture?
Wildfox Couture was co-founded in 2008 by Emily Faulstich and Kimberly Gordon (now known for founding the feminine fashion brand Selkie).
The pair curated an image of retro-inspired clothes with a full ready-to-wear fashion and accessories collection. The 'little sister' Wildfox Couture Kids brand launched in 2009.
Wildfox co-founders Kimberly Gordon, Jimmy Sommers, and Emily Faulstich at the celebration of the brand's Fall 2010 Collection It's Witchcraft in May 2010 (Credit: Albert Michael / Startraksphoto)
Kimberly Gordon is largely credited for Wildfox's most iconic designs. The brand began with graphic t-shirts before expanding to dresses, pajamas, jeans, and swimwear.
Wildfox Couture Ownership
While Faulstich and Gordon offered the brand's creative concept, Jimmy Sommers is also listed as a co-founder.
He served as Wildfox Couture's chief executive officer from its launch in 2008. Sommers became the '100% owner' of Wildfox after the departure of Faulstich and Gordon.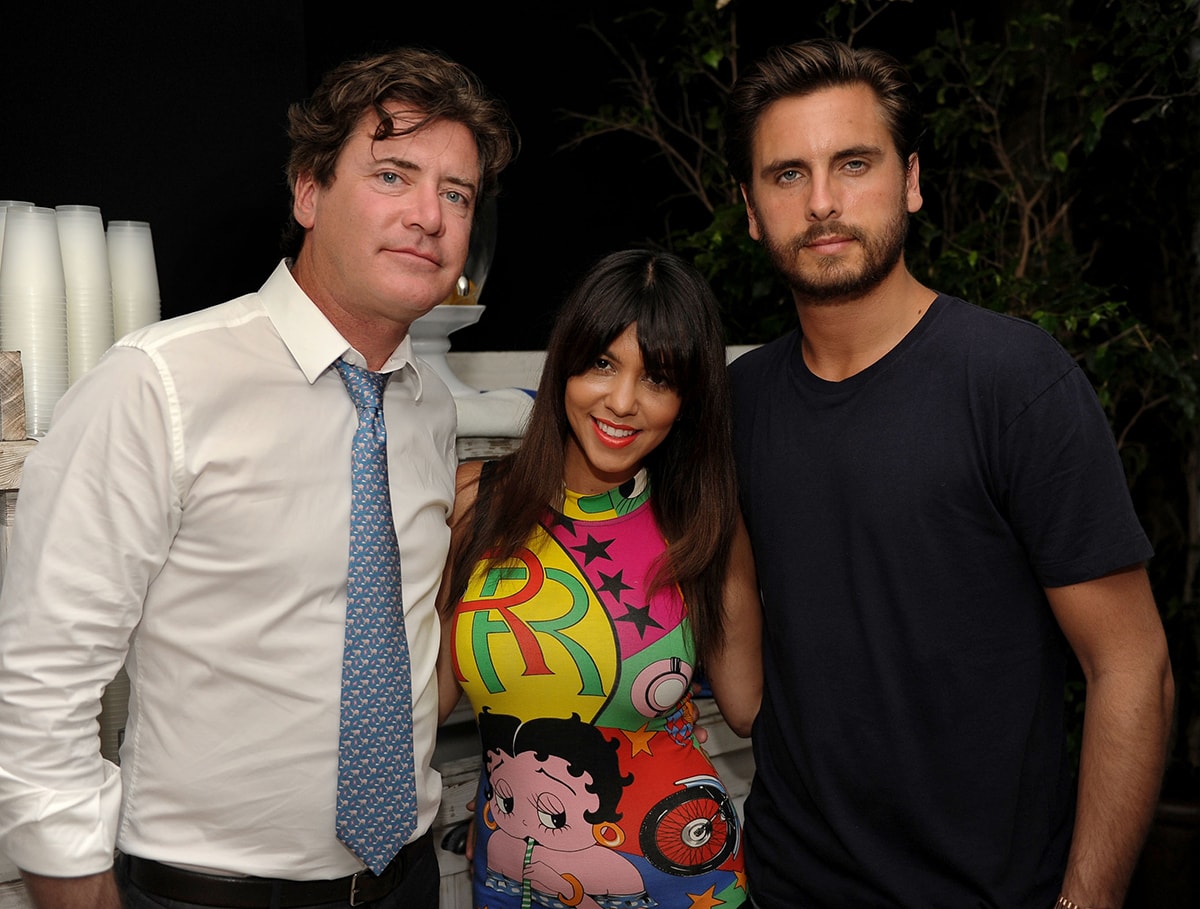 Jimmy Sommers, pictured with Kourtney Kardashian and Scott Disick, served as Wildfox Couture's chief executive officer and later became the sole owner of the brand following the departure of Faulstich and Gordon (Credit: Seth Browarnik / Startraksphoto)
Wildfox Couture's Financial Woes
The downfall of Wildfox Couture is a familiar story for many in the fashion industry. The brand struggled after the departure of its co-founders, Emily Faulstich in 2012 and Kimberly Gordon in 2015. The pair had served as Art Director and Creative Director, respectively.
Wildfox found itself suddenly on the brink of bankruptcy before it was purchased by FAM Brands in February 2020, which assumed its production line after its manufacturing was halted due to a lack of finances.
However, there is no filing for the brand going bankrupt, but it became clear it could no longer afford to produce its garments.

Los Angeles-based apparel manufacturer FAM Brands acquired Wildfox in 2020
FAM Brands has a portfolio of brands and licensing, including Jessica Simpson Active, under its umbrella.
Wildfox Couture's flagship – and last remaining – store in Sunset Plaza in West Hollywood was closed when the brand was sold off to FAM Brands. The brand had previously had a store in Malibu Country Mart that was closed in 2019.
The 5 Most Famous Wildfox Couture Shirts
Some fashion trends become engrained in your memory. You can imagine the celebrity who made it go viral, or you can remember how much you wanted the piece. Wildfox Couture is a brand that falls firmly in this category.
We're sharing some of the most famous Wildfox Couture products that every millennial will recognize.
1. Taylor Swift's Heart Jumper
One of Wildfox Couture's most recognizable designs was a simple white sweater with an oversized red glitter heart.
It sold out almost instantly after becoming a signature piece of Taylor Swift's closet. Jennifer Lopez and Jennifer Love Hewitt were also spotted in the Wildfox jumper.
2. Cosmic Cocktails Roadtrip Sweatshirt, $118
Not all of Wildfox Couture's iconic designs are retired pieces. The brand's 'Cosmic Cocktails' sweatshirt is a retro-inspired galactic illustration that will remind you of your favorite '90s cartoon.
Giving '90s cartoon vibes, the Cosmic Cocktail Roadtrip Sweatshirt is made from sherpa fleece fabric and features ribbed banded trim
3. Everything's Peachy Juliette Tee, $62
Everything's coming up peachy. One of Wildfox Couture's best-selling products is this quirky graphic t-shirt with a pastel color palette. It captures the early aesthetic of the brand with an on-trend oversized fit.
This quirky tee is cut from an airy tissue slub material and features a wide scoop neck and roomy raglan-style short sleeve
4. Champagne and Oysters, $62
As Wildfox continues to evolve as a lifestyle brand, it's leaning into its previous aesthetic of slogan t-shirts. One of the most popular Wildfox Couture t-shirts is the 'Champagne and Oysters' design.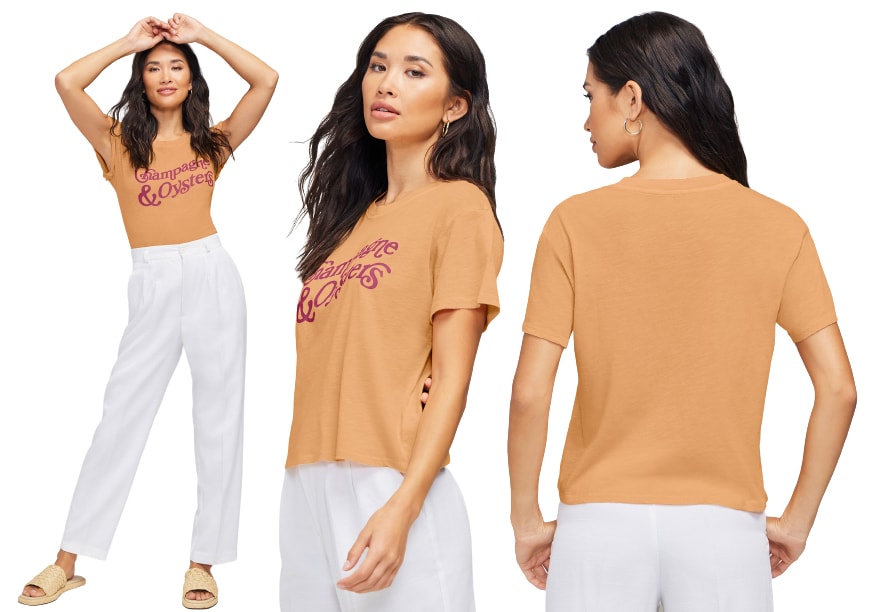 Wildfox Couture's Champagne and Oysters slogan tee is a Boy Tee made from airy slub jersey with short sleeves and a banded crewneck
Prefer something more casual? Try the 'Mamacitas and Margaritas' slogan t-shirt instead.
Make a statement in the Mamacitas & Margaritas casual tee cut from lightweight cotton jersey in a trendy oversized silhouette
5. Lavender Fields Roadtrip Sweatshirt, $128
Explore the brand's whimsical side with one of its newest sweatshirt designs. It's the perfect travel companion with an oversized silhouette, banded hem, and dropped shoulders.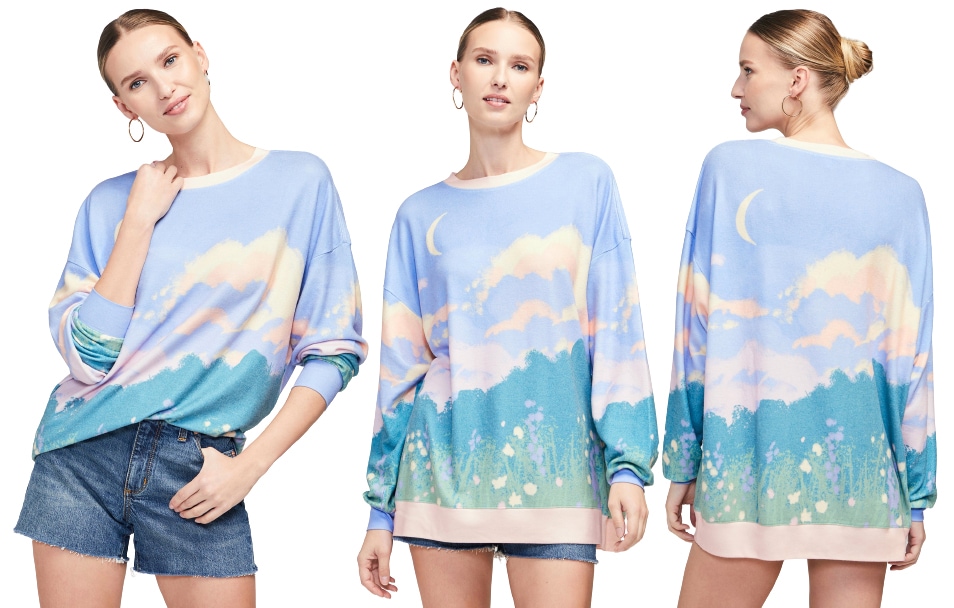 A perfect travel companion, the Lavender Fields Roadtrip Sweatshirt is an oversized everyday pullover with dropped shoulders and banded hems
The Future of Wildfox Couture
While Wildfox Couture is fighting to make a comeback under the FAM Brands, the company's original founders are finding success elsewhere.
It has collaborated with household names like Mattel and Coca-Cola for viral capsule collections and ready-to-wear ranges.
Wildfox Couture has collaborated with several brands, including Coca-Cola, for a capsule collection
Kimberly Gordon launched Selkie in 2018, going viral with fairytale-inspired dresses and ethereal silhouettes. Gordon is open about the heartbreak of moving on from Wildfox Couture and how it inspired her to launch Selkie as a feminist fashion brand to empower women to embrace their inner femininity.
Faulstich has gone on to work as a fashion consultant and an illustrator at Vogue.
Wildfox founder Kimberly Gordon arrives at Nylon Magazine and Wildfox' celebration of "America The Issue" at Sunset Marquis Hotel & Villas on November 1, 2013, in West Hollywood, California (Credit: FayesVision/WENN)
While Wildfox Couture is no longer at its former height of popularity, the brand has classic pieces that will bring nostalgia to fashion fans everywhere. You can still find some of the most popular Wildfox Couture pieces online or purchase them pre-loved to channel your inner Taylor Swift.
Wildfox Couture sits at an attainable mid-tier price point, with most garments retailing under $100. If you want clothes that have a personality of their own, look no further than Wildfox Couture.
In June 2013, Vanessa Hudgens drew curious attention when she was spotted leaving her Yoga class. Why is that, you ask? Aside from the obvious, her being a celebrity and all, she was wearing a tank top that coffee enthusiasts may find enviable.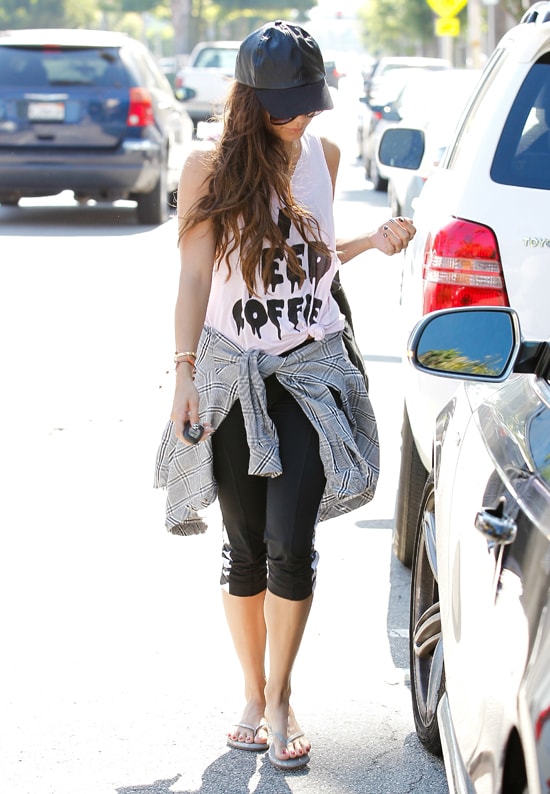 Vanessa Hudgens flaunts her legs in Yosi Samra metallic snake flip-flop sandals as she leaves a yoga class in Studio City in California on June 28, 2013 (Credit: WENN)
You couldn't miss Vanessa's top. It has the words "I Need Coffee" dripping on it. If that isn't a self-confession for coffee addiction, I don't know what is.
This tank top is actually from Wildfox. With its open sides and breezy appeal, it is perfect for summer.
There are a lot of statement tank tops to go around, also for shoe enthusiasts. Like Vanessa, you can go low-key with these tops and pair them up with spants or cropped pants.
Accessorize with a baseball cap, sneakers, or flats, and you are all set for easy summer dressing!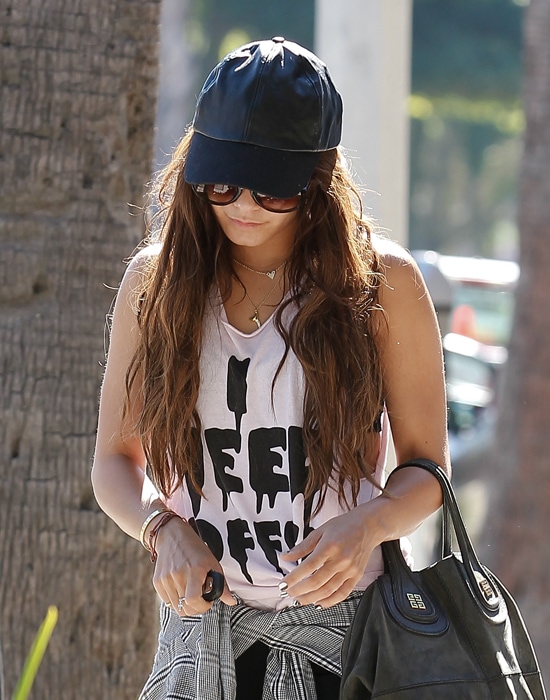 Vanessa Hudgens, in a Wildfox Couture "I Need Coffee" tank top, carries a black leather Givenchy Nightingale bag with mixed hardware (Credit: WENN)