Rumor has it that Halle Berry is headed for her third divorce, and will soon be gearing up for a custody battle over her 21-month-old son, Maceo Robert Martinez, with her French husband Olivier Martinez.
Insiders have reported that the reason for the split is Olivier's explosive temper, which has been caught on camera numerous times on different occasions.
Halle Berry was recently spotted out sans her wedding ring.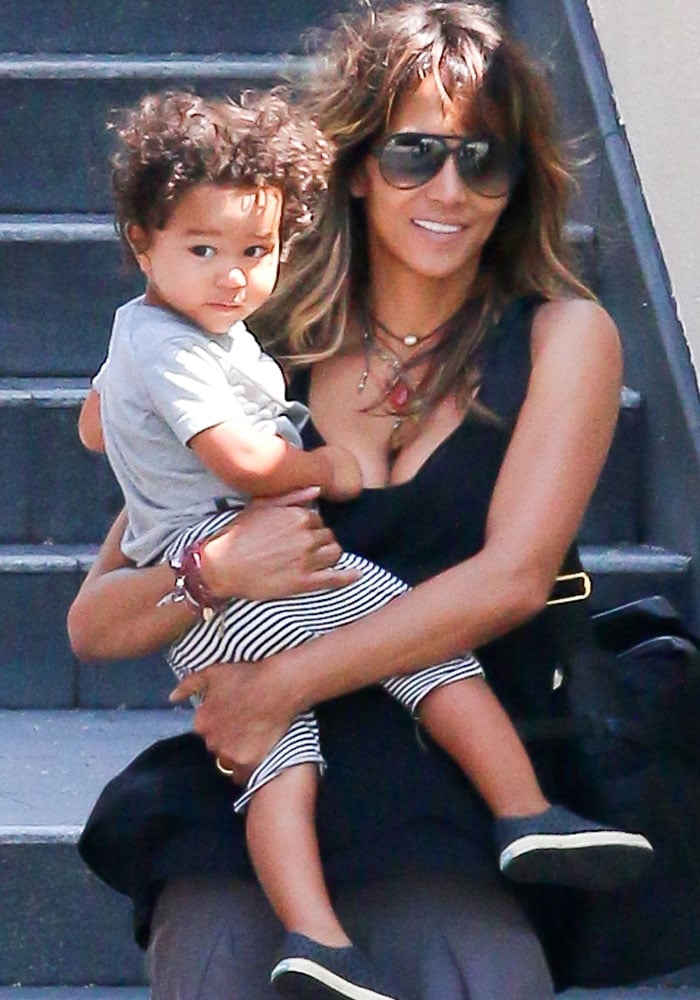 Halle Berry and Maceo Robert Martinez, the first child of actress Halle Berry and French film actor, Oliver Martinez
Despite this heartbreaking news, the actress seems to be coping well, even enjoying an afternoon out with her son at the mall.
Halle Berry wore loose pants with a black tee
Halle Berry wore loose trousers with a black tee, which she adorned with a layered necklace.
Halle Berry's son Maceo Robert Martinez was born on October 5, 2013, in Los Angeles California
Her casual afternoon look was completed with an oversized aviator sunglasses, a tote, and reptile print flip-flops from TKEES.
Halle Berry showed off her feet in reptile print flip-flops from TKEES
Despite being photographed numerous times before in boring rubber flip-flops, we actually think her choice of casual footwear this time is pretty chic.
Halle Berry and kid go to the mall shopping in Beverly Hills, Los Angeles on July 30, 2015
Grab a snakeskin flip-flop pair over at Shopbop. Do you like her choice of footwear?
Halle Berry intervenes in an explosive altercation between her husband Olivier Martinez and paparazzi
TKEES Studio Flip Flops, $80
Credit: TMZ / Owen Beiny / WENN