If the pandemic has taught us anything, it's the importance of supporting local brands.
The 'Made in America' label carries more weight than ever before. Not only are you supporting an American business, but you're also supporting every part of their supply chain.
From the companies that source their materials to the artisans that bring their designs to life, these companies are American through and through.
Sadly, many famous American fashion designers and even Khloé Kardashian's Good American don't make their products in America.
The beauty of supporting American brands that manufacturer locally is that you can lower your carbon footprint and support a more sustainable fashion industry.
To help you along the way, we're rounding up the list of the 15 brands that proudly carry the 'Made in America' label. This list contains a mix of long-established names and up-and-coming brands that you need to know about.
Grab your wallet. These brands are the ones that you'll fall head over heels for.
1. AMVi Collection
Are you on the hunt for athleisure that's made in the USA? This American brand specializes in women's leisurewear and streetwear with their casual clothing that is proudly made in the United States.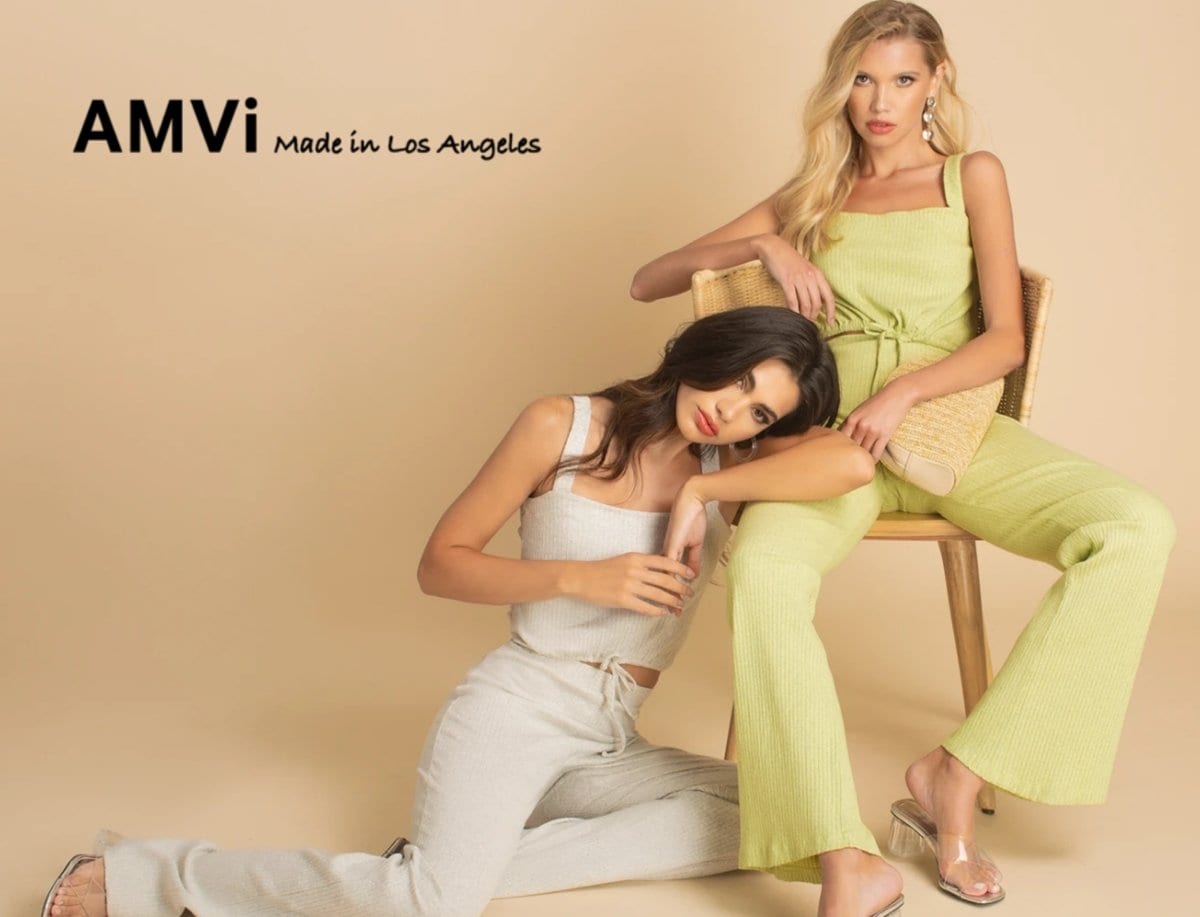 All the clothing from AMVi (American Made, Vintage Inspired) Collection is made in Los Angeles with high quality, sustainable fabrics
AMVi Collection stands for "American made, vintage-inspired". The brand is synonymous with their clothing made in Downtown Los Angeles with designs that are created by women for women.
AMVi Collection was inspired by the idea of creating everyday clothing that is comfortable, sophisticated, and on-trend with high-quality material.
2. Brook There
When you're looking at American clothing, you want to start with the basics – with underwear being no exception.
This women's lingerie brand makes their undergarments using cotton that is grown in California and South Carolina. Not only is their fabric sourced from within the United States, but their lingerie is manufactured in Massachusetts.
Minimalist lingerie and undergarments made in the USA by Brook There
Brook There works on the ethos of "beautiful by nature" with its minimalistic GOTS-certified organic cotton lingerie that is effortlessly chic.
The brand was built from a desire to create minimalistic clothing that was both comfortable and ethically made. This American lingerie brand has been featured everywhere from Goop to The New York Times and Refinery29.
3. Hackwith Design House
Ethical fashion is one of the biggest conversations happening right now in the industry. With sustainability being a nationwide discussion, the focus is shifting on the ethics of fashion. Hackwith Design House is comfort meets style with their size-inclusive collection.
Sustainability and ethics go hand in hand with Hackwith Design House being one of the American brands leading the way. Their ethical womenswear clothing is proudly made in Minnesota with inclusive sizing.
Hackwith Design House offers long-lasting and versatile clothing made in their Minnesota studio
Hackwith Design House is a win-win with their minimalistic designs and mission of producing "long-lasting and versatile clothing that is as unique as its wearer".
All their clothing is made in-house at Hackwith Design House's Minnesota studio by the clever hands of their talented seamstresses. Their clothing is made to order to help reduce the brand's carbon footprint without compromising on quality or attention to detail.
Every week, you're in for a treat with their limited-edition pieces that are available for only a short window of time. You can also shop their second-hand store for samples and returns to help the brand lower their carbon footprint.
4. Two Days Off
Not only do we love this brand's name, but we also love their sustainable message. As a woman-owned business, Two Days Off focuses on creating small batches of cotton and linen clothing.
Making everything made to order in Los Angeles, Two Days Off is an independently, woman-owned, and operated climate-conscious clothing brand
As a climate-neutral brand, Two Days Off proudly offsets 100% of its carbon emissions since it was established.
If you're looking to build a capsule closet with the help of a size-inclusive brand, Two Days Off is the perfect place to start. This Los Angeles-based brand offers their clothing in sizes XS to 4X.
5. Emerson Fry
'Made to order' brands are amongst some of the most exciting in the United States. Not only are these clothes more sustainable, but they also offer you an exciting chance to get your hands on limited edition pieces that are unique to your closet.
Emerson Fry design and manufacturer their collections within the United States with clothes that are "consciously and purposefully made to last".
Emerson Fry is designed and run by a wife-husband duo on their serene farm in New Hampshire
The brand has an ambitious goal to achieve zero waste with made-to-order products, limited runs, and meticulous attention to stock management.
Emerson Fry promotes its use of eco-conscious fabrics and processes by using organic cotton and fibers, including linen and Tencel.
Their USA-made clothing focuses on minimalistic and timeless designs that are made with the modern woman in mind. You'll find everything from sparkly cocktail dresses to classic button-up shirts in their latest limited-edition collections.
This New Hampshire-based fashion brand is making waves across the industry with their minimalistic capsule collections. As a family-run company, it sits at an attainable price point with its timeless designs.
Emerson Fry releases a new micro-batch of pieces every week that includes new and current designs to keep their carbon footprint low. If you're a fan of minimalistic chic, then Emerson Fry should be top of your list of American brands.
6. Freenote Cloth
Denim is one of the hardest fabrics to produce, creating the largest amount of water waste out of almost any fabric.
Choosing a denim brand from within the United States can help to lower your carbon footprint and to support local manufacturers.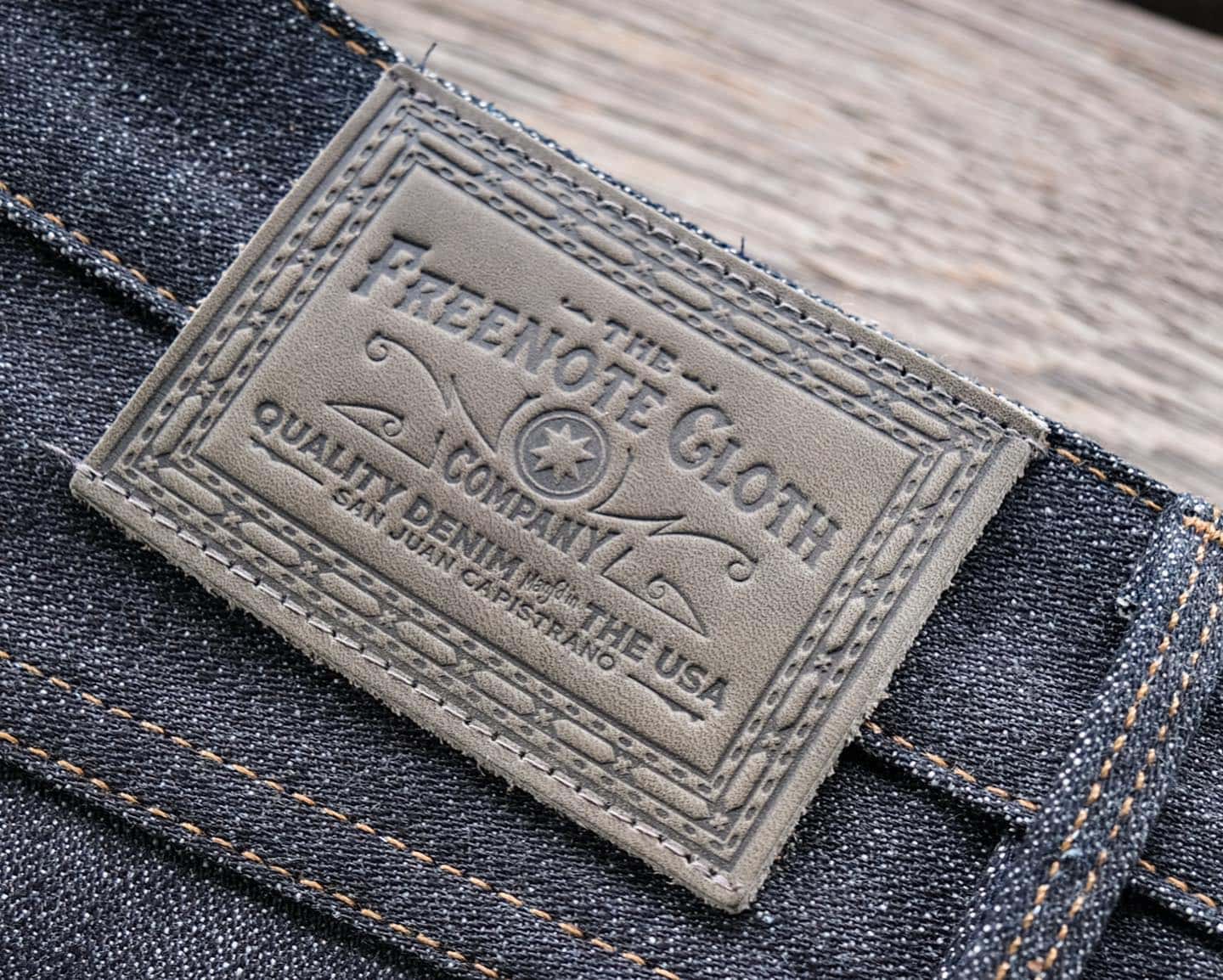 Freenote is a classic menswear collection manufactured exclusively in the USA
Freenote Cloth is a denim brand that is made in sunny California. Although a menswear brand, their denim is the perfect choice for a unisex look.
The brand has its headquarters in San Juan Capistrano in California with its designs inspired by 'authentic American culture'.
7. Imogene + Willie
Need another option for denim clothing? Imogene + Willie offers men's and womenswear clothing, including denim.
This American brand is founded by a husband-and-wife duo that was inspired by a mission of wanting 'to make something that would last, to make things in the USA, to create a space to share, to build community".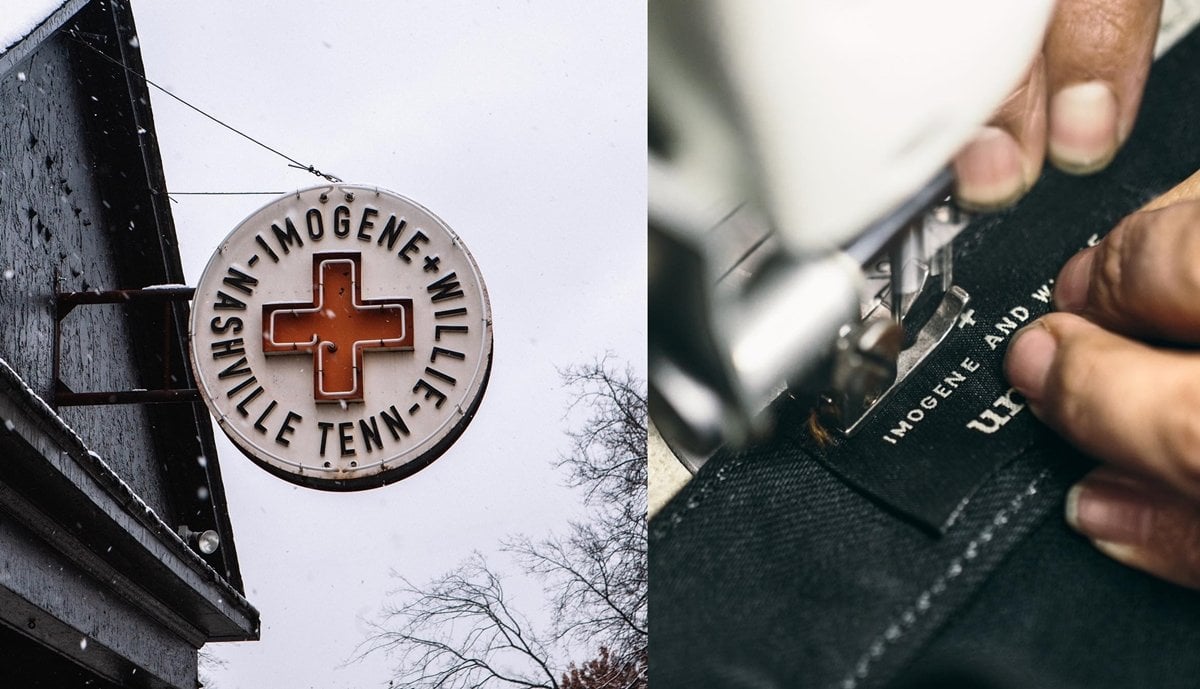 Imogene + Willie is a Nashville-based fashion company that specializes in denim
As a brand born and bred in Nashville, Imogene + Willie is on a mission to create jeans that fit perfectly, making the "perfect jeans for our imperfect bodies".
They look back in time at vintage designs to create their innovative denim that is designed to stand the test of time.
8. MATE the Label
Loungewear is everywhere you look. With comfort-driven trends showing no signs of slowing down, it's no surprise that loungewear continues to be at the heart of American fashion.
MATE the Label is a sustainable Los Angeles-based brand that is committed to using only organic, natural, and non-toxic materials in their designs. The brand's inclusive sizing and innovative 'build your own' sets are designed to offer something to everyone.
MATE the Label is a "clean essentials" clothing company founded by Kayti O'Connell Carr in Los Angeles in 2013
Every piece of MATE the Label clothing is made within a 15-mile radius of the brand's Los Angeles office.
You'll find a range of loungewear, activewear, and sleepwear apparel amongst the brand's catalog, along with their children's apparel for a 'mini me' moment.
The brand works by a philosophy of "clean from seed to skin" with their 'organic essentials". If you're looking for a sustainable activewear brand with 'Made in the USA' credentials, MATE the Label is the brand for you.
9. Lacausa
Another Los Angeles-based fashion brand to have on your radar is Lacausa. This womenswear brand specializes in women's casual wear and activewear, along with loungewear.
The brand's name is Spanish for 'the cause', reflecting its ethos of creating designs that are low-waste and supporting humanitarian and environmentally focused organizations.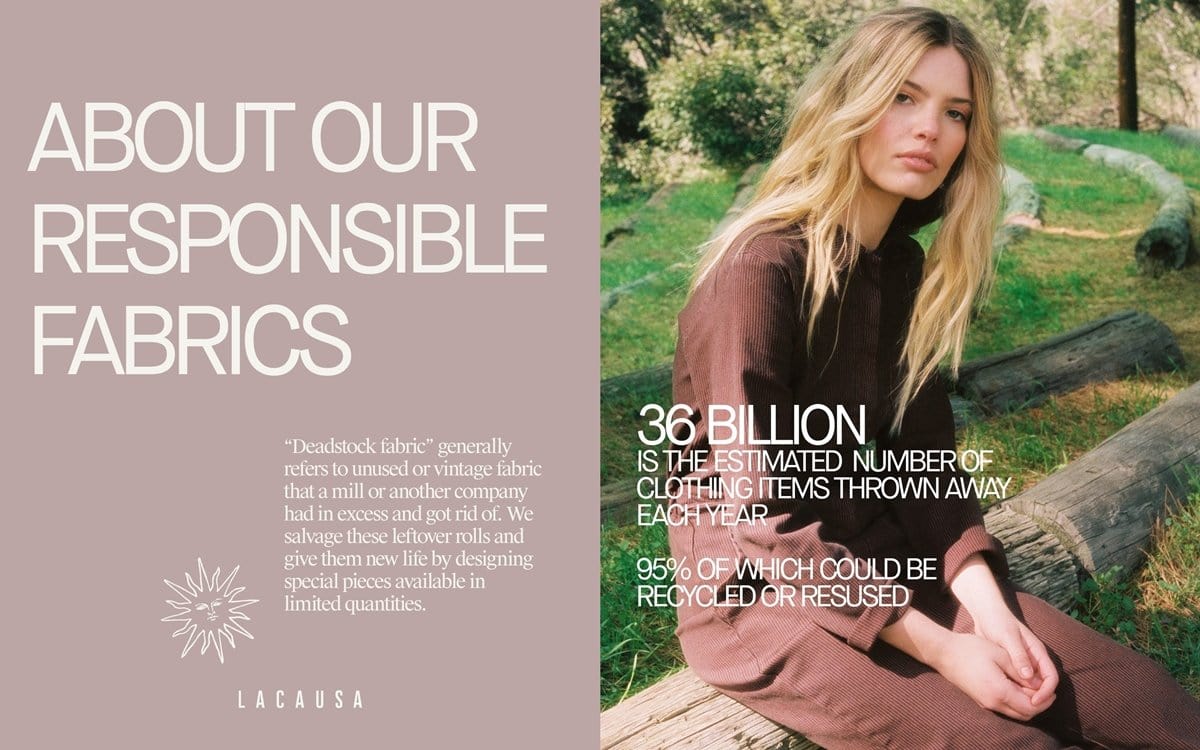 Lacausa is committed to creating quality garments under ethical conditions in Los Angeles
95% of their clothing is made in Los Angeles, with a small percentage being made in Mexico. Their designs are inspired by the beauty of California with everything from jackets to jumpsuits.
The brand even offers a second-hand shop to get your hands on their sustainable designs at a discounted price. Established in 2013, Lacausa focuses on redefining basics by blending romantic silhouettes and reimagining them for a contemporary look.
The brand focuses on using responsible fabrics, including organic cotton and recycled polyester, along with responsible packaging.
10. Gamine Workwear
Whether you're creating a capsule closet or want to invest in your wardrobe, workwear is a go-to. Gamine Workwear is a brand inspired by women who enjoy and embrace outdoor living.
The brand makes clothing using 100% natural textiles with seamstresses that are located across New Hampshire, Texas, Massachusetts, and Tennessee.
Gamine Workwear is an apparel company known for their selvedge denim dungarees
As another sustainable 'made in America' brand, Gamine Workwear produces clothing in small batches to help eliminate waste.
Established in 2014, Gamine Workwear designs their collection with functionality and form in mind, creating denim that becomes better every time you put it on.
Driven by the ethos of 'honest work clothing', Gamine is a female-owned brand that is quickly making its name within the industry.
11. Big Bud Press
The fashion industry is often at the forefront of social change. As clothing becomes more gender-neutral, it's no surprise that American-made brands like Big Bud Press are thriving.
As a size-inclusive brand, Big Bud Press designs and creates their pieces in Los Angeles. You'll find these unisex designs in almost every color under the rainbow.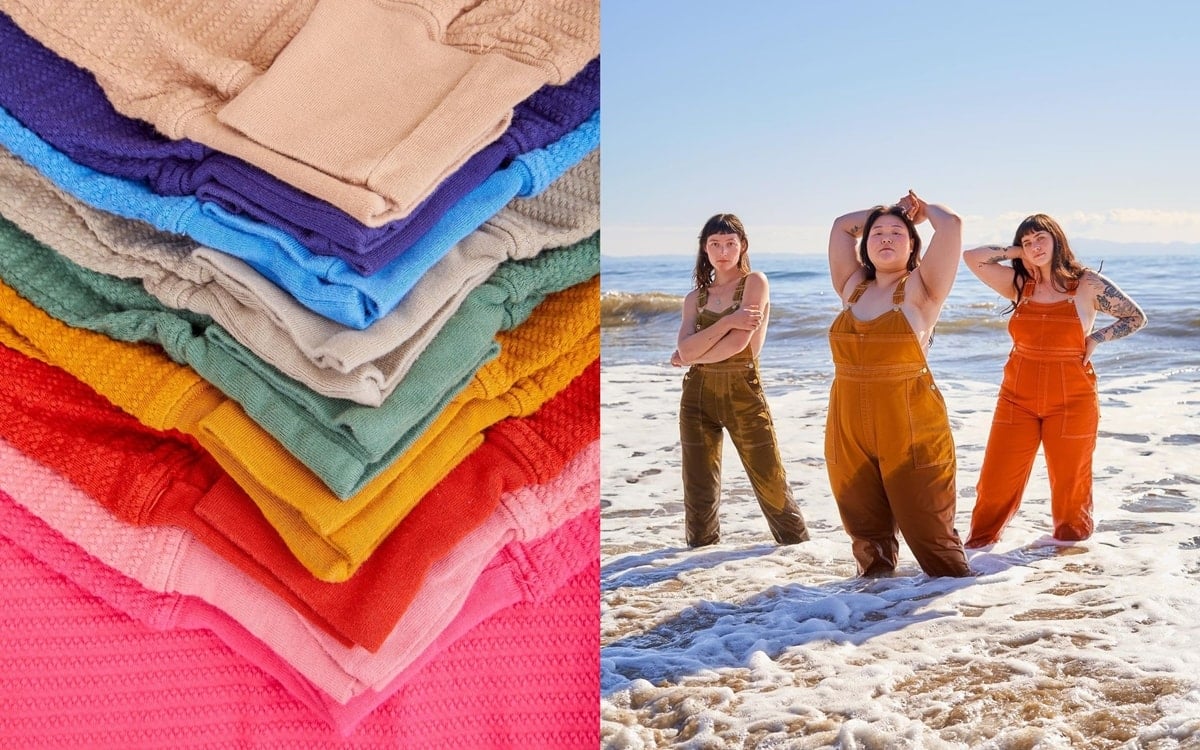 Made and designed in Los Angeles, Big Bud Press is a clothing label specializing in unisex, everyday goods
What makes Big Bud Press unique is that they create their designs using locally sourced fabrics, low-impact dyes, and recycled acrylic yarns. Their clothing is available in sizes XXS to 7X as size inclusivity sits at the heart of the brand.
12. Sugar Candy Mountain
Are you looking to elevate your closet with everyday essentials? Sugar Candy Mountain is a California-based brand that creates clothing inspired by comfort and community.
Their American-made apparel is some of our favorites with their socially conscious designs that focus on minimizing their environmental footprint while creating timeless designs that have a one-of-a-kind feel.
Designed and manufactured in Los Angeles, Sugar Candy Mountain is a sustainably made women's clothing brand
If you want casual clothing that has a couture feel, Sugar Candy Mountain is the brand for you. This American brand is known for its womenswear, including its jumpsuits, dresses, and outerwear.
With Sugar Candy Mountain, the future is all about radical creativity, sustainability, and revolutionary beauty.
13. Hass
The beauty of buying from a 'made in America' brand is that you're supporting communities up and down the country. Hass stands out on this list of American brands as one that gives back to its local community through partnerships with charity initiatives.
As their clothes are manufactured in Los Angeles using alpaca fiber, Hass works in partnership with Food Forward and City Harvest to give back to those in need in New York and Los Angeles.
Hass makes sustainable and ethical clothing for the greater good in Los Angeles
The brand was launched by Avocado, a natural bedding company. It focuses on creating casual clothing and loungewear, focusing on pajamas, cardigans, and joggers.
Their clothing is made using biodegradable, natural, and renewable fabrics, along with nontoxic dyes.
14. Loup
Meet the New York-based fashion brand that creates work-friendly clothing for the modern woman.
The brand is known for Parisian-inspired designs that incorporate the latest trends with the signature New York look. Their vintage-influenced designs are proudly made within New York state, using sustainable fabrics as much as possible.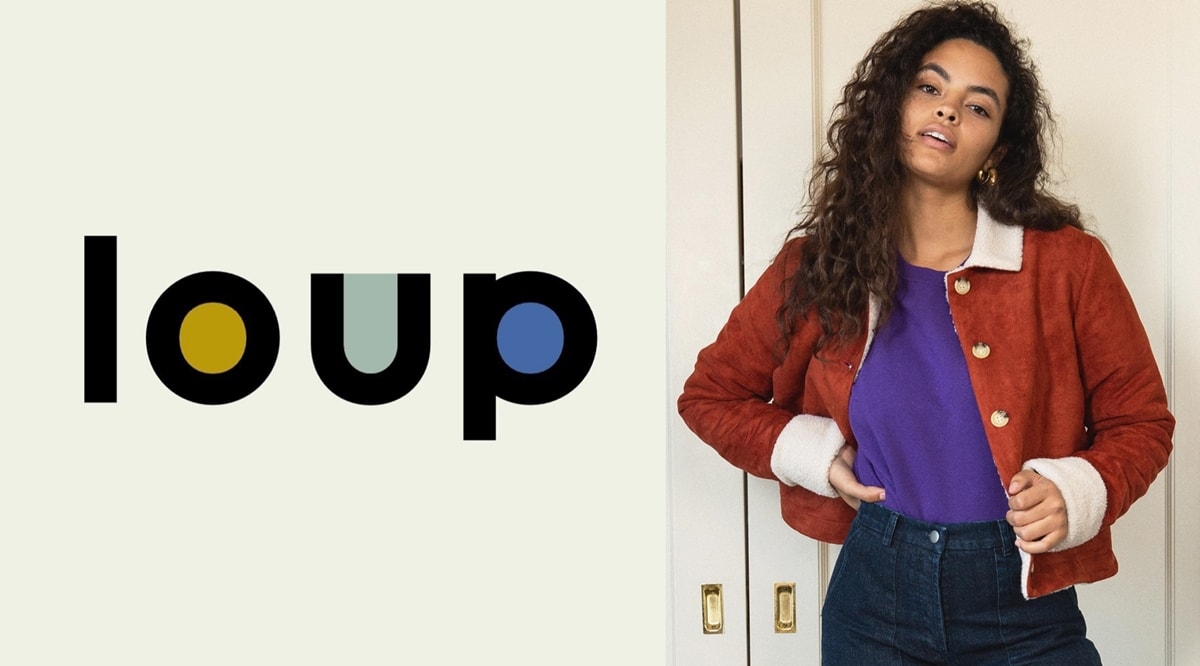 Loup's easy-to-wear, contemporary pieces are made in New York
What makes Loup stand out as an American brand is their focus on creating clothes that work for all body types – from hourglass to pear shape and curvy bodies.
If you're heading back into the office, Loup is one American-made brand that you want to check out.
15. Fe Noel
Number 15 on our list is a little different. Although Fe Noel is a New York-based brand, their womenswear designs are inspired by the beauty of the Caribbean. You'll find a blend of bold colors, glamorous designs, and vibrant patterns amongst their range of elevated womenswear.
Every piece by Fe Noel is designed in-house and handcrafted with made-to-order pieces that are made to the highest quality.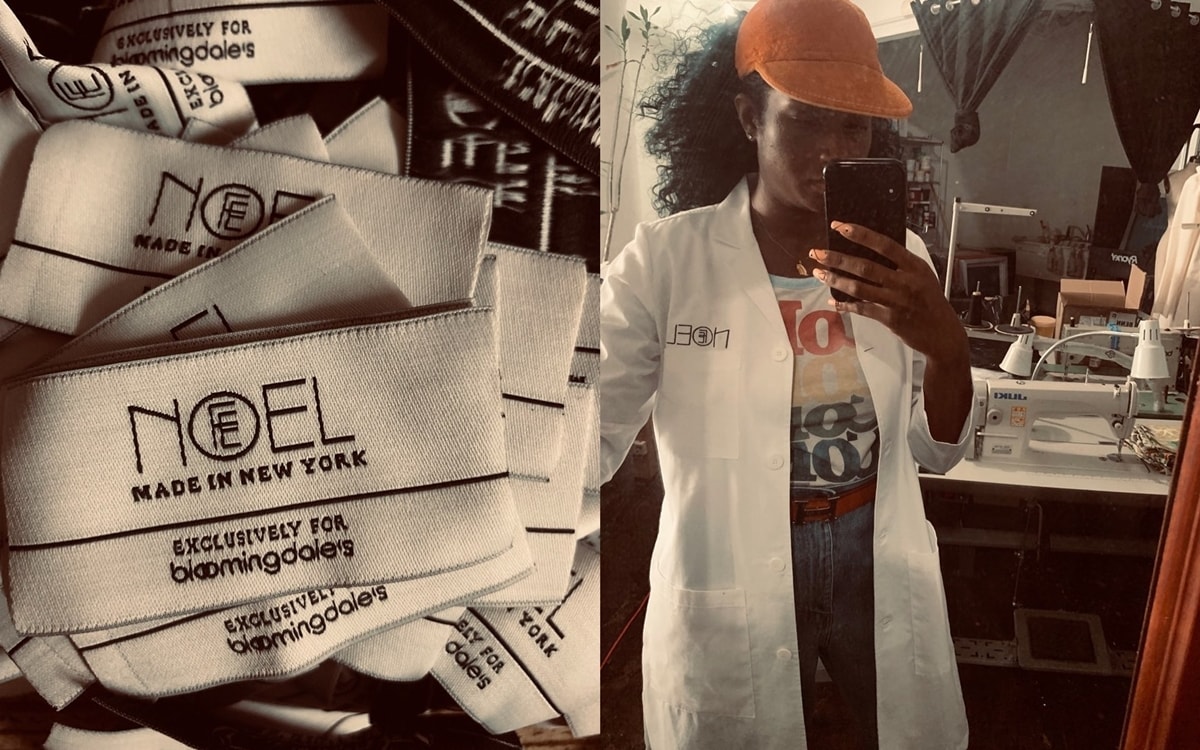 Fe Noel is a conceptual lifestyle brand with clothing made in a small production house in Crown Heights, Brooklyn, New York
The brand takes its inspiration from the Grenadian heritage of its founder, Felisha Noel, who captures the sensibility and sensuality of her culture. She's on a mission to encourage women to embrace their femininity by dressing to impress.
Which 'made in American' brands are you loving right now?