Looking very much ready for spring, Maggie Grace was seen at the opening night of the Broadway play, 'Picnic', at the American Airlines Theatre in New York City last Sunday evening.
The 29-year-old actress — who still passes for a 16-year-old trying to get a driver's license in 'Taken 2' — was decked out in a Marc Jacobs butterfly-print duchess satin dress in this season's trendiest dress length, the midi. A glittery black leather clutch and a pair of butterfly-embellished cap-toe pumps finished her ensemble.
Maggie Grace at the opening night after-party for 'Picnic' at the American Airlines Theatre in New York City on January 13, 2013
Maggie Grace went for all butterflies, but the matchy-matchiness was beautifully subtle, thanks to these rhinestone-studded gold butterflies on her black satin cap-toe pumps: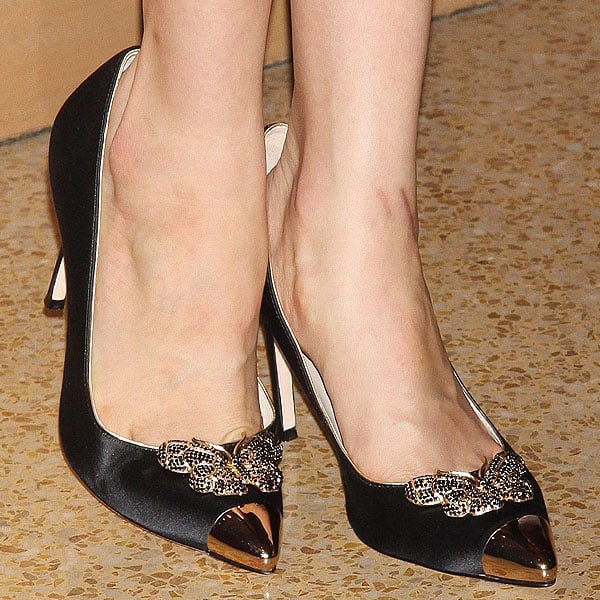 Could you, YNS readers, please help us ID Maggie Grace's beautiful butterflied pumps?
If you want to get the look for yourself now, grab your favorite pair of cap-toe pumps like the following ones from Dolce Vita:
Dolce Vita "Selina" Cap-Toe Pumps, $189
Then, generously embellish with sparkly gold butterfly shoe clips like the ones below, which we found from different sellers at Etsy!
Clockwise from top left: Gold Glitter Butterfly Shoe Clips, $4; Vintage Enamel Butterfly Shoe Clips, $24.50; Black Rhinestone and Silver Enamel Butterfly Shoe Clips, $24; Butterfly Stick-ons for Shoes, $18.20
Credit: Joseph Marzullo / WENN