Maggie Grace showed off her sweaty feet in pearl-embellished clear pumps at the Los Angeles premiere Driven held at ArcLight Hollywood in Hollywood.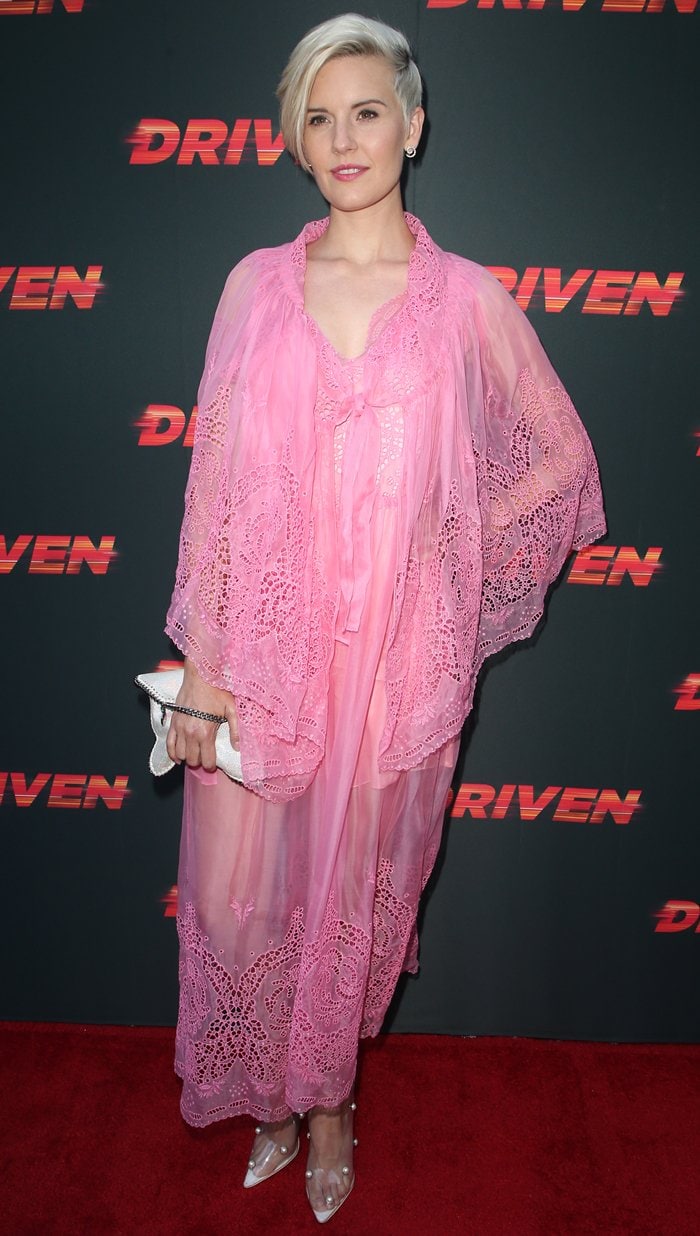 Maggie Grace in a pink sheer dress lace dress at the premiere of Driven held at ArcLight Hollywood in Hollywood on July 29, 2019
The 35-year-old American actress/model styled her transparent shoes with a lace-trimmed Stella McCartney dress and a white fold-over bag. Before getting dressed, perhaps she should read our guide showing how to prevent sweaty feet?
Maggie Grace's sweaty feet in clear pumps
A few months earlier, the Taken actress also flaunted her long legs at a WonderCon panel for Fear the Walking Dead at the Anaheim Convention Center in Anaheim, California.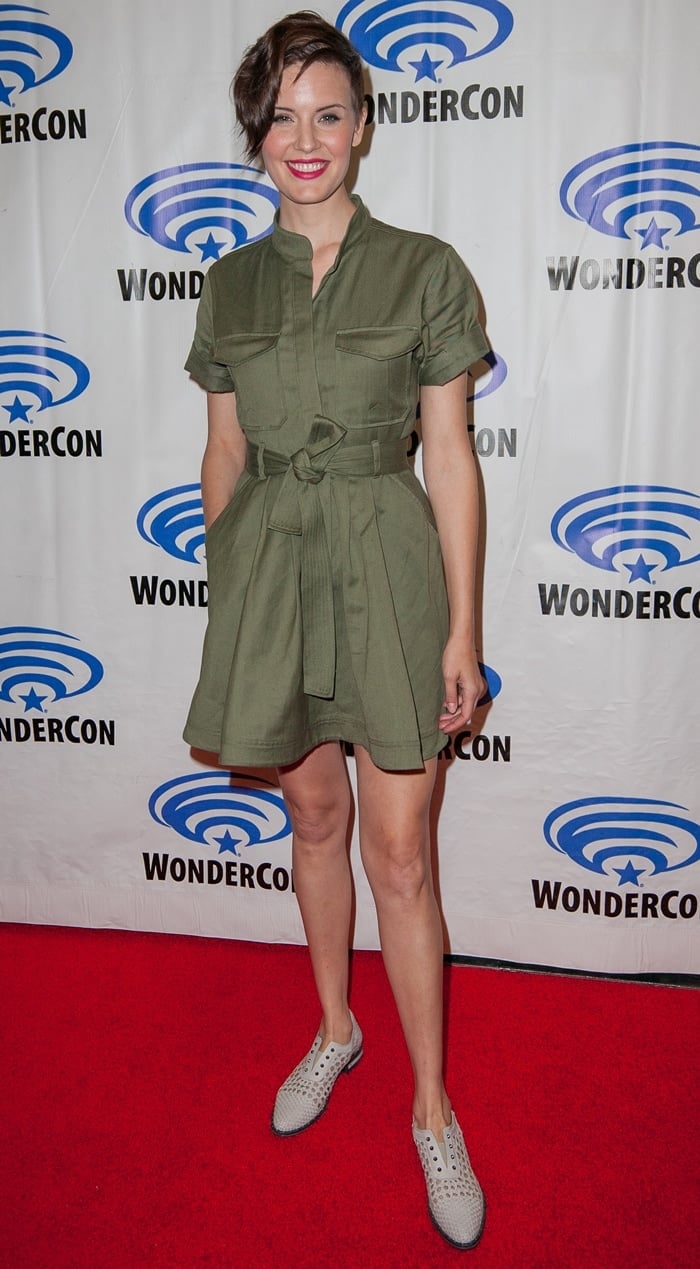 Maggie Grace flaunts her legs before the Wondercon "Fear the Walking Dead" panel at Anaheim Convention Center in Anaheim, California, on March 31, 2019
In March 2014, 'Taken' star Maggie Grace reunited with her 'Lost' cast members at the 2014 PaleyFest held at the Dolby Theatre in Los Angeles. She flaunted her sexy legs and looked spring-ready in her tank and shorts outfit.
Maggie Grace's incredible legs at the 10th Anniversary Reunion of Lost at the 2014 PaleyFest at the Dolby Theatre in Los Angeles on March 16, 2014
The then 30-year-old American actress looked absolutely fresh in her deep blue sleeveless top and matching printed shorts, which showed off her signature long legs.
Maggie Grace wearing a deep blue tank and a matching pair of printed shorts
Then, as a great finish, she chose to pair the outfit with Burak Uyan's geometrical sandals colored in gorgeous seafoam green.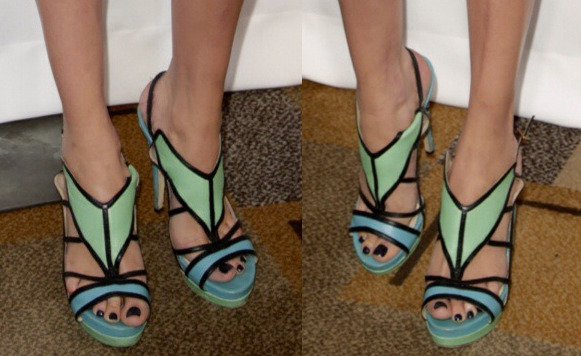 Maggie Grace's hot feet in seafoam green Burak Uyan sandals
The event also saw Maggie Grace reunited with ex-boyfriend Ian Somerhalder, who played her step-brother in 'Lost'. And it looked like they are on good terms, sharing a playful hug in front of the paparazzi.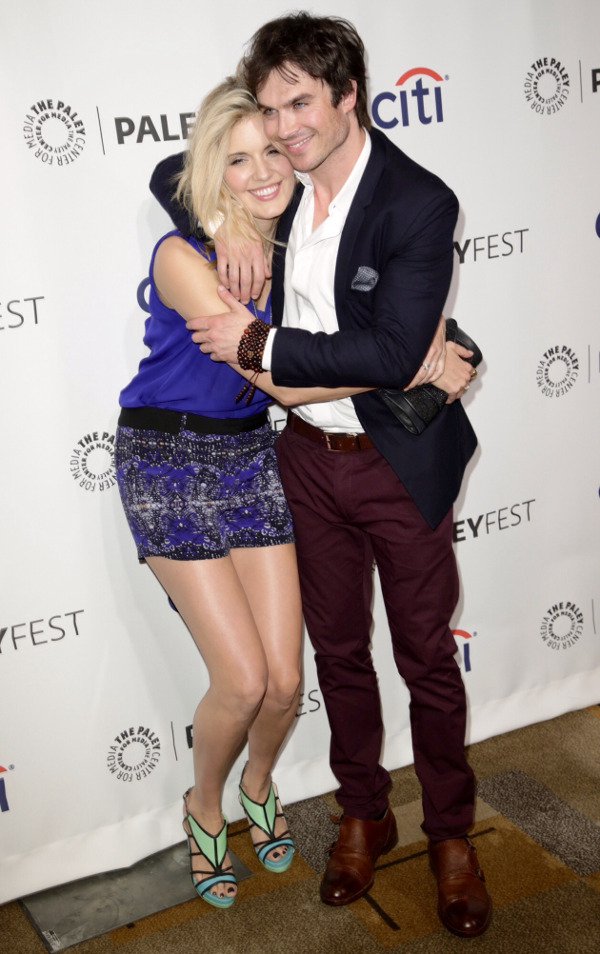 Maggie Grace and Ian Somerhalder sharing a playful hug at the 10th Anniversary of 'Lost' where they played stepbrother and sister
Maggie has appeared in several films since 'Lost' ended, such as 'Breaking Dawn' and, of course, 'Taken'. She has, in fact, closed the deal for the third installment of the thriller movie and has an upcoming project with CBS where she will be the female lead opposite Charlie Cox.
Below are more Burak Uyan sandals for you to check out!

Calfskin Leather Sandals, $749 / Printed Elaphe Cage, $562 / Suede Printed Calf Lace Up, $584
Credit: Brian To / WENN / Tony Forte / FayesVision