In an exclusive sit-down interview with E! News' Maria Menounos in May 2015, Nina Dobrev opened up about her ex-boyfriend Ian Somerhalder's wedding to Nikki Reed and emphasized that he did not cause her to leave The Vampire Diaries after six seasons.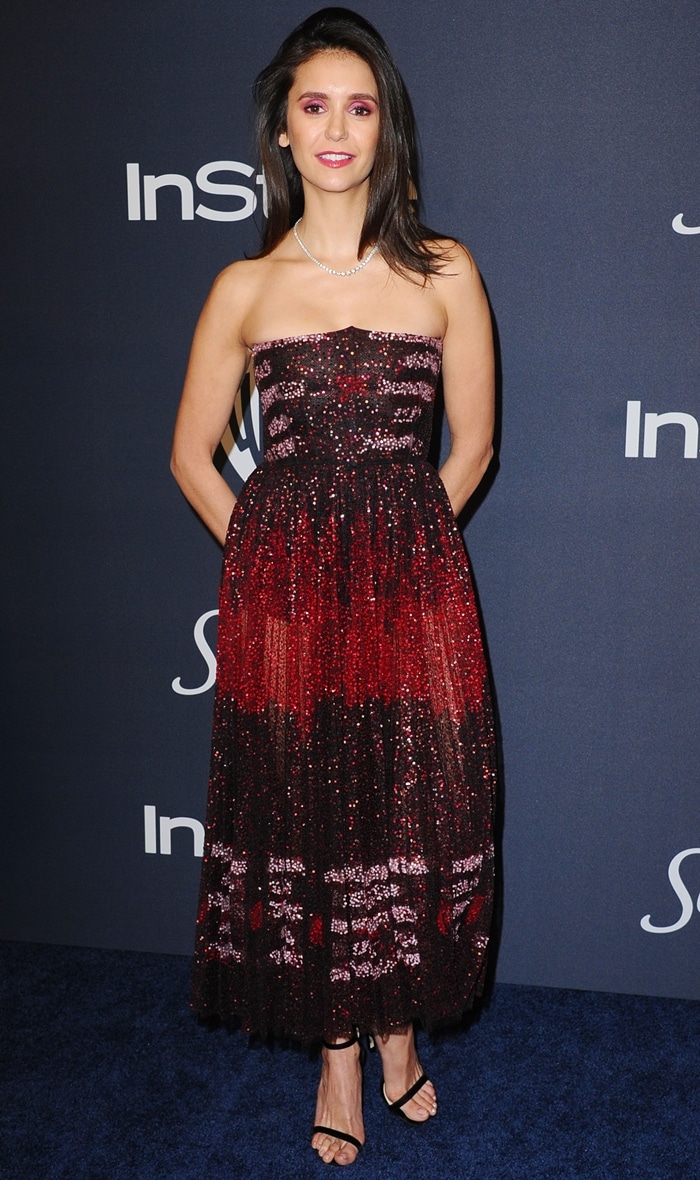 Nina Dobrev in a red Dior bustier dress at the InStyle And Warner Brother's Golden Globes after-party in Beverly Hills, California, on January 5, 2020
"I've said this before, that we didn't break up because anything bad happened or because there wasn't love or friendship," Nina says.
"I love him and the friendship is still strong and I think he's great and I care about him. And that didn't change. Yes, we're professional and that's fine. We were friends long before we dated and we still are now."
Nina Dobrev promoting her brand new film, Lucky Day, at Build Series in New York City on October 7, 2019
"When I heard about the wedding, I thought it was beautiful. They look happy and I am happy and so I don't see why there should be a problem with that. The drama is in the media, it's not with us. But of course, we're on a teen drama show, everyone's going to look for drama. If there's no drama, there's nothing to write about. I just ignore it."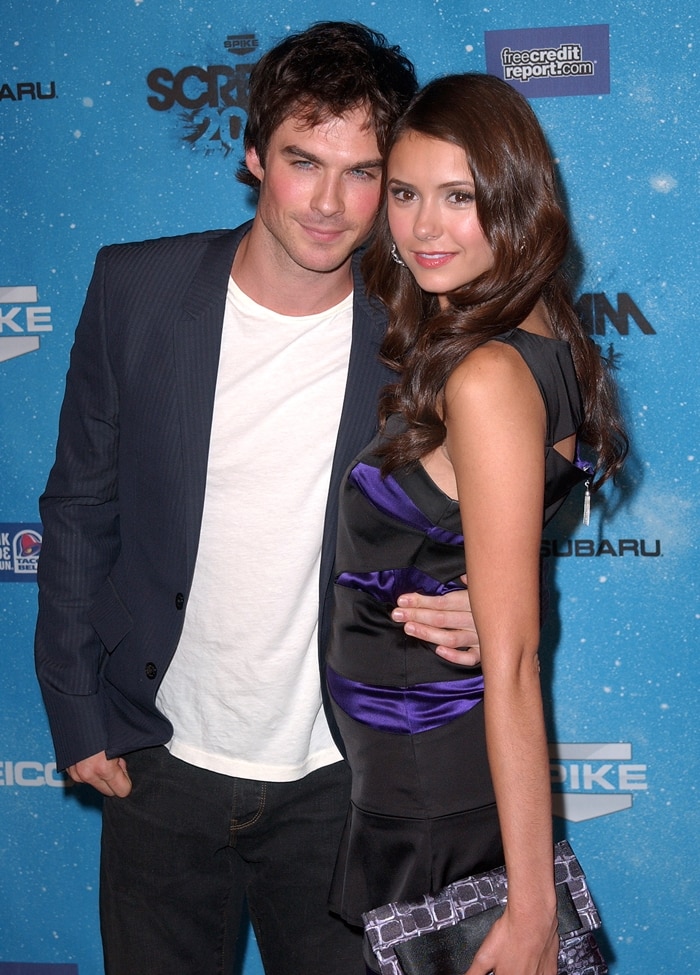 Ian Somerhalder and his girlfriend Nina Dobrev attend SPIKE TV'S "SCREAM 2009" at The Greek Theatre on October 17, 2009, in Los Angeles
Dating between 2010 and 2013, Ian Somerhalder and Nina Dobrev broke up because he was ready to get married, while she was not. It's possible the ten-year age gap played a role. The couple met on the set of "Vampire Diaries" in 2009.
"She decided she wanted to experience other things before making a long-term commitment," a source close to Dobrev told Us Weekly in May 2013.
In September 2015, Nina Dobrev probably got the shock of her life when she received a tweet from ex Ian Somerhalder — who is now married to Nikki Reed — saying that he loves her.
Nina Dobrev attends the 2015 Creative Arts Emmy Awards held at Microsoft Theater in Los Angeles on September 12, 2015
Before Ian-Nikki fans get too upset, it turns out that Ian's Twitter account was hacked.
Nina Dobrev wears a pale-blue-and-black Mugler dress on the red carpet of the Creative Arts Emmy Awards
Nina has yet to respond to the chaos. Around the same time, she showed off her feet on the red carpet of the 2015 Creative Arts Emmy Awards.
Nina Dobrev's sexy feet in checkered pattern Sophia Webster sandals
For the event, the actress wore a Mugler dress that she paired with the Sophia Webster "Poppy" checkered leather sandals.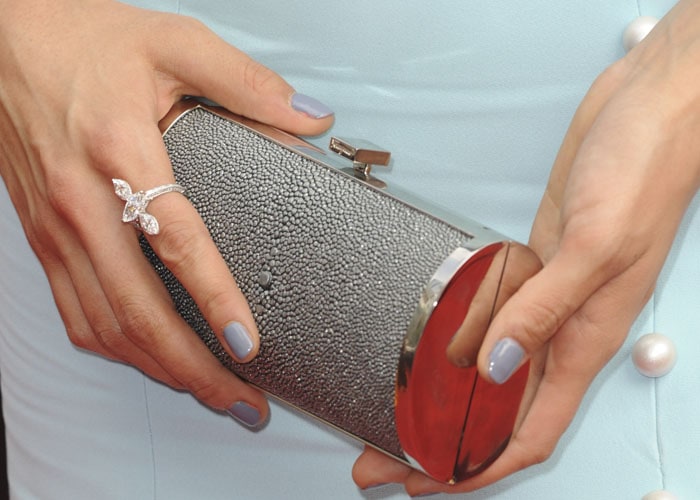 Nina Dobrev holds a Salvatore Ferragamo clutch in her manicured hands
The then 26-year-old accessorized her look with a clutch from Salvatore Ferragamo and several pieces of Martin Katz jewelry.
Nina Dobrev touches her long brunette locks as she attends the Creative Arts Emmy Awards
Netizens who witnessed the hacking were angered by the intrusion but couldn't help but find the tweets funny.

Ian Somerhalder confirms his Twitter account was hacked
We love how Nina spiced up her otherwise simple look with the tassels and geometric pattern of this shoe.
To grab your own pair of Sophia Webster "Poppy" heels, head on over to Net-A-Porter.
Sophia Webster "Poppy" Checkered Leather Sandals, $640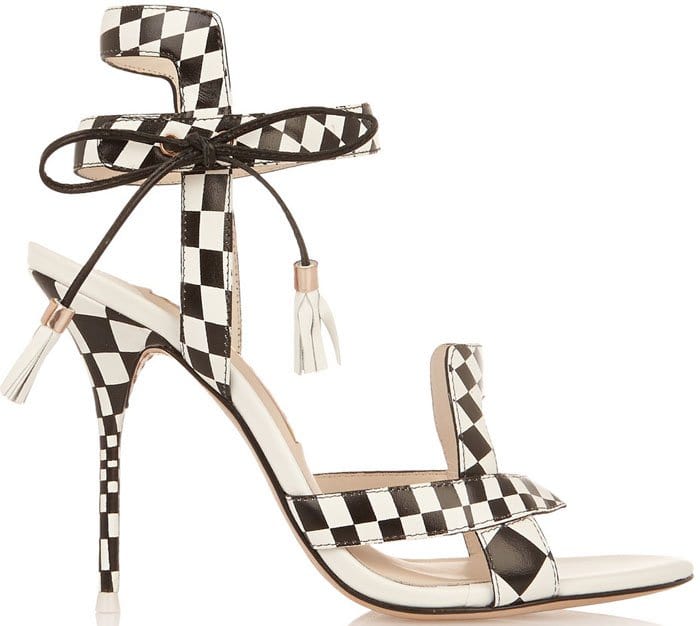 Credit: Instar / Apega / Nicky Nelson / Brian To / WENN / Jody Cortes