Following Sandra Bullock's appearance at the Oscars in 2018, everyone started wondering if the American actress/producer had undergone plastic surgery.
When presenting at the 90th Academy Awards, it looked like Sandra Bullock had discovered the fountain of youth
For the first time since 2014, the then 53-year-old actress dazzled on the Oscars red carpet in a custom Louis Vuitton gown and Lorraine Schwartz jewelry. Don't you think she looked decades younger than her age?
Sandra Bullock looked younger than her age in an embroidered silk halter dress at the 2018 Academy Awards held at the Dolby Theatre in Hollywood on March 4, 2018
Speaking to Instyle in May 2018, Sandra claimed her swollen face was due to her suffering from allergies and denied having gone under the knife.
"This past Oscars I was sick and had allergies, but I was like, 'I'm just going to go.' It's part of my job, and I'm happy to be there. Then the next day they were saying, 'Oh, she has cheek fillers and implants.' When I saw the photos and how swollen I was, I got it. But I was like, 'Well, if I got injections, I only got them on the top,' which was not very good."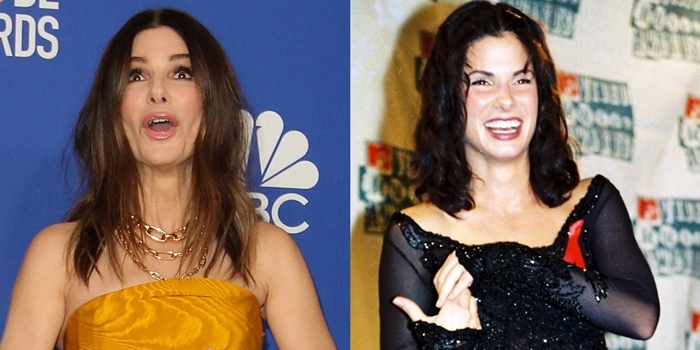 Sandra Bullock at the 2020 Golden Globe Awards and at the 1994 MTV Video Music Awards
In addition to addressing the plastic surgery rumors, she also made clear that the gossip made her uncomfortable.
I am affected by it because I don't feel confident when I dress up and go on the red carpet. I'm not that person who knows how to work it. I try to channel Beyoncé. I do the same pose every time.
Sandra Bullock says her fuller cheeks are not the result of plastic surgery
In September 2015, Sandra Bullock posed for photos with co-star Zoe Kazan while attending the press conference for "Our Brand Is Crisis" during the 2015 Toronto International Film Festival.
They were joined at the event by the film's producer, George Clooney. She replaced him as the main character in the movie.
Actress Sandra Bullock attends the press conference for "Our Brand Is Crisis" held during the 2015 Toronto International Film Festival in Toronto on September 12, 2015
The then 51-year-old American actress and film producer styled a pink Max Mara jumpsuit with a gorgeous pair of "Benedetta" strappy t-bar sandals from Christian Louboutin.
Sandra Bullock and Zoe Kazan pose in front of a branded backdrop at the Toronto International Film Festival
You may recall that we spotted Amanda Seyfried in the same shoes earlier this year at the CFDA Fashion Awards.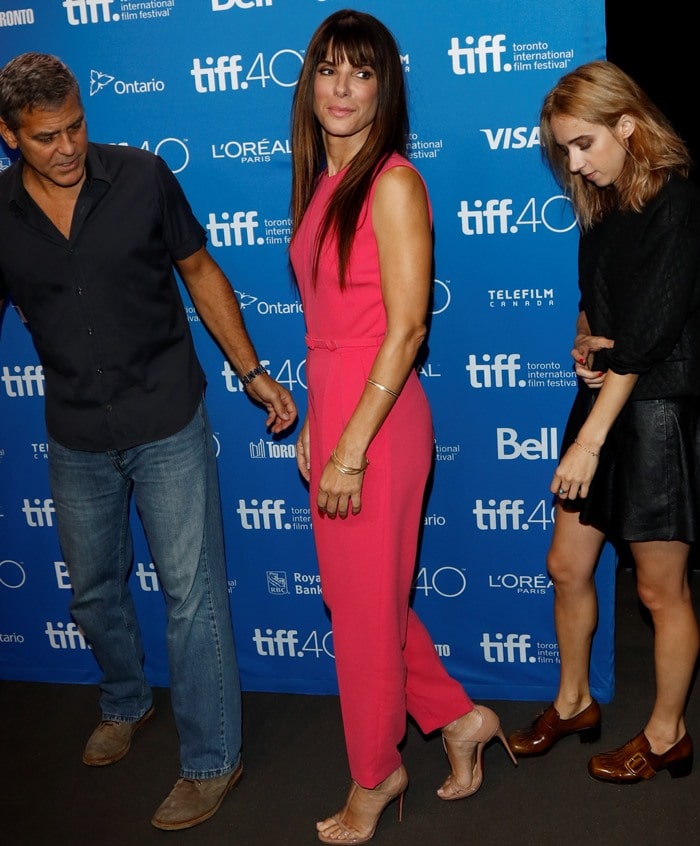 Sandra Bullock, George Clooney and Zoe Kazan all attend a press conference for their film "Our Brand is Crisis" held during the Toronto International Film Festival
These simple sandals feature an adjustable buckled ankle strap and a stiletto heel.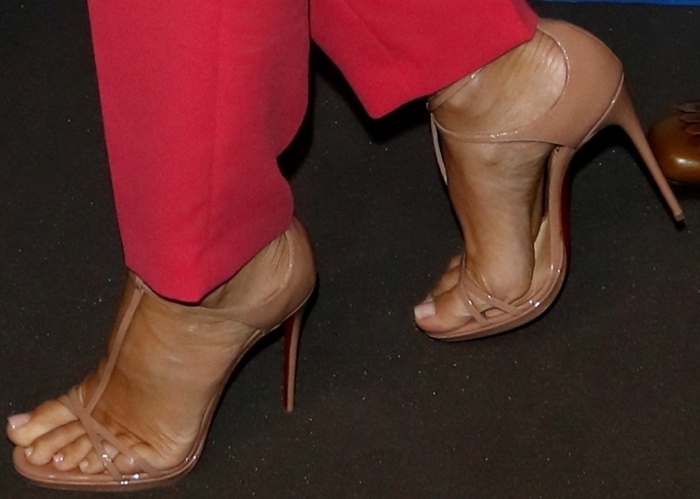 Sandra Bullock struts through the film festival in a pair of nude Christian Louboutin sandals
We hope the "Benedetta" will become available soon at Nordstrom, Matches Fashion, Saks Fifth Avenue, and Bergdorf Goodman.
Christian Louboutin Benedetta Fall 2015 T-Strap Sandals
Credit: WENN / Apega / Adriana M. Barraza / Chris Connor