Malin Akerman joined Alexandra Daddario and Sofia Vergara on the black carpet at the "Rampage" premiere held at the Microsoft Theater in Los Angeles.
As the main villainess of the video game film adaptation, the Swedish-Canadian Billions actress made sure to arrive in one of the biggest looks of the night.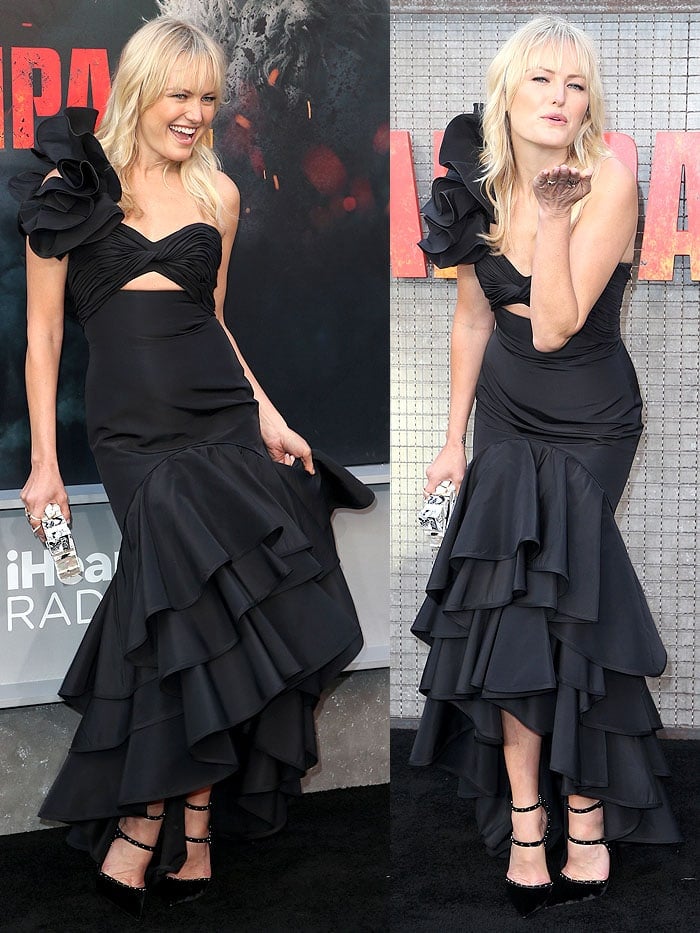 Malin Akerman playing with her Johanna Ortiz dress and blowing kisses
Not based on a true story, the movie is inspired by the video game series of the same name by Midway Games. The science fiction monster film was filmed in Chicago, Illinois, and at Third Rail Studios at Doraville, Georgia.
"It was something different, I've never played a villain before and I love a good challenge – this definitely was a challenge," Malin told The Evening Standard about her role as Claire Wyden, the CEO of Energyne responsible for the infection and mutation of George, Ralph, and Lizzie with the mutagenic serum for Project: Rampage.
"I had to try to not smile, to not be friendly, to not be nice. But that was quite a freedom to drop into something completely different. It was actually easier to get into character as it's so different to how I normally am," she added.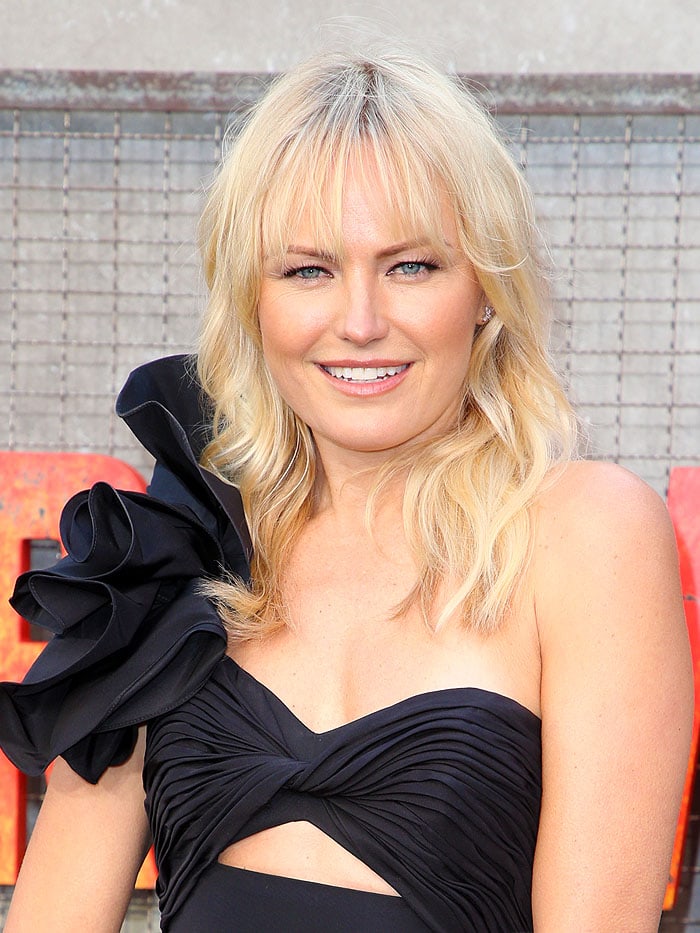 Malin Akerman's icy blonde hair and piercing blue eyes
And what a look it was, all right. Malin's black Johanna Ortiz dress had head-high ruffles on one shoulder, a one-shoulder style on the other, a twisted bodice, a flesh-baring belly cutout, a high waist, and an eruption of tiered ruffles on the flamenco skirt.
Malin Akerman carrying an Emm Kuo clutch and wearing a Johanna Ortiz ruffled dress with Le Silla 'Borgia' pumps
The blonde beauty piled on even more pieces to her already costume-y look and accessorized with an Emm Kuo "Guggenheim" pearl-and-marble clutch and Le Silla "Borgia" studded-strap black-velvet pumps.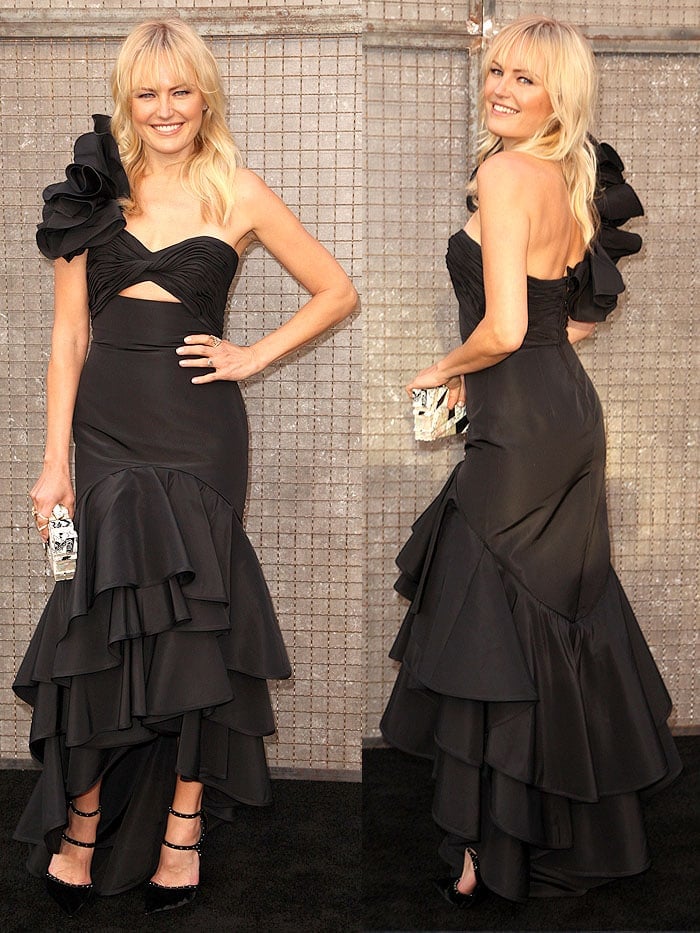 Malin Akerman at the "Rampage" premiere at the Microsoft Theater in Los Angeles, California, on April 4, 2018
Malin might've overdone her "Rampage" premiere look but she did look like was having a lot of fun in it. And that's what matters, right?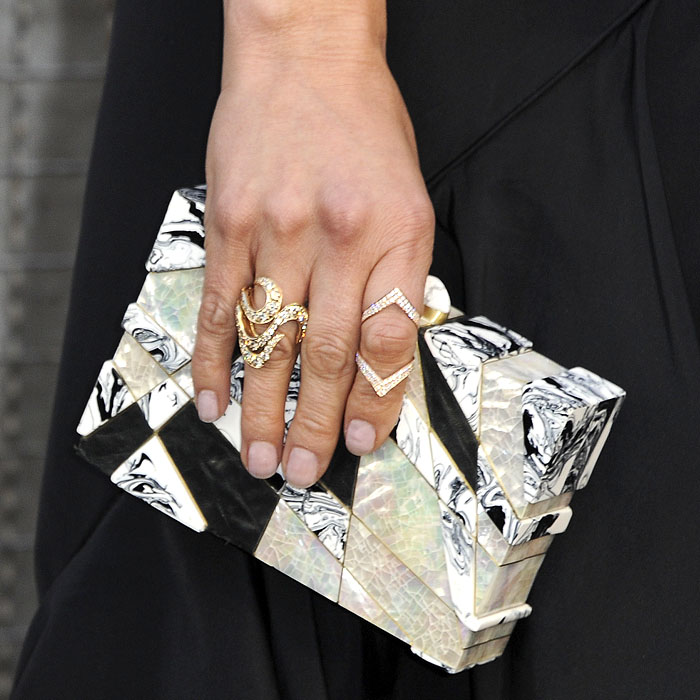 Malin Akerman's Emm Kuo "Guggenheim" clutch and APM Monaco, Anita Ko, and H. Stern jewelry
The Le Silla "Borgia" black velvet pumps with studded patent leather straps are from the Italian shoe label's past Fall 2016 collection.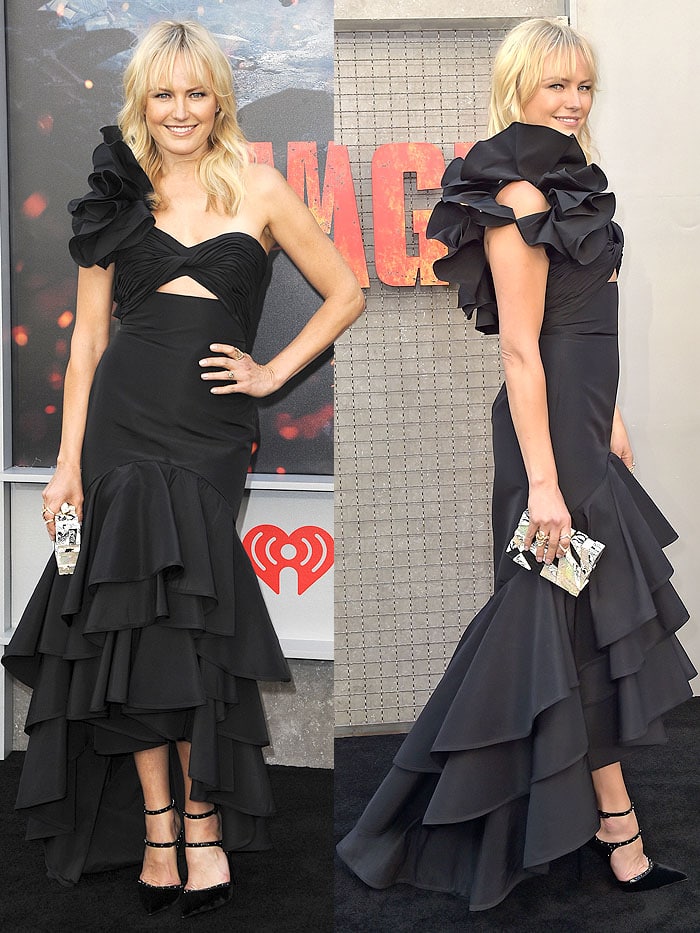 Malin Akerman wearing a Johanna Ortiz black ruffled one-shoulder dress and Le Silla "Borgia" pumps
We previously spotted the same pair on Evan Rachel Woods.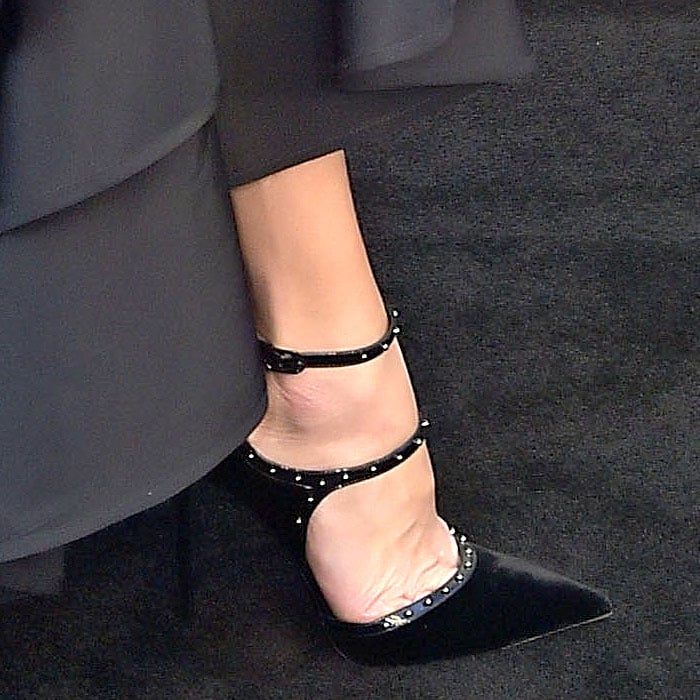 Malin Akerman shows off her feet in Le Silla "Borgia" studded-strap black velvet pumps
You can shop for the latest Le Silla shoes at Farfetch.
Le Silla 'Borgia' Studded-Strap Black Velvet Pumps, $620
Credit: Apega / Brian To / Dave Starbuck / FayesVision / Future Image / WENN