Ever heard of Marie Digby? The half-Japanese American-born cutie made such a huge splash on YouTube back in 2007 when she did her own version of Rihanna's "Umbrella." Since then, she has released several albums and has appeared on multiple shows. Her latest gig was a guesting on Extra.
Yep, Marie Digby was spotted heading to the set of Extra at The Grove yesterday. She had on quite an outfit, too — an orange lace skirt underneath a pink lace top, which she then finished with a black velvet blazer plus a pair of hard-to-ignore pink multibuckled clip-toe booties.
Check out Marie's look below, and tell us what you think of the mix she put together!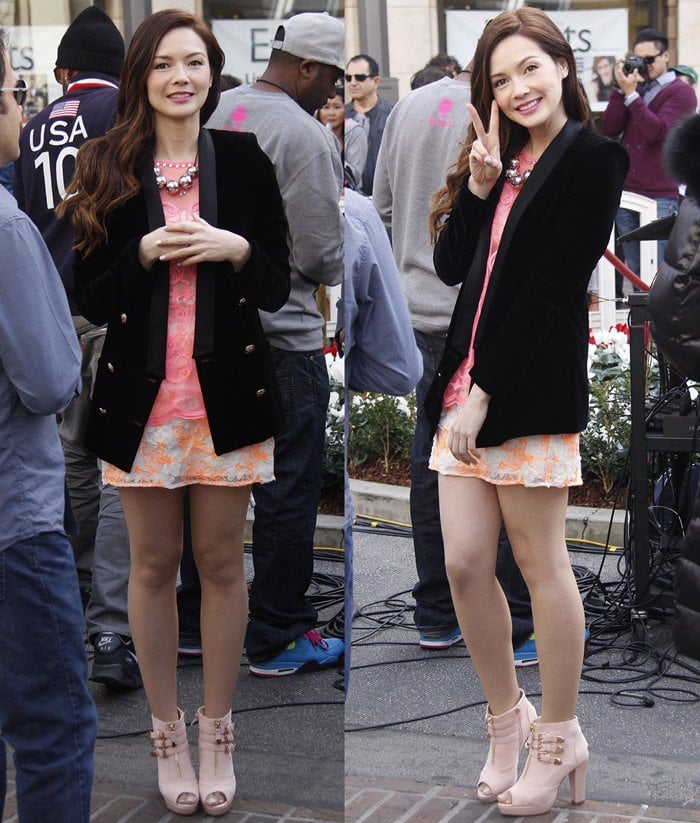 Marie Digby appears at The Grove to appear on 'Extra' in Los Angeles on January 29, 2013
A closer look at Marie Digby's booties
Well, any thoughts? How do you like the outfit? And, most importantly, how do you like her shoes?
The look reminds us a little bit of Japanese fashion but less playful. The combination is not something we're crazy about, but she was able to carry it well enough. Can you help us identify her buckled booties?
Credit: RHS/WENN