Well, here's a side to Kendall Jenner we rarely see. With all the jet-setting and the high fashion photoshoots associated with the leggy 19-year-old, we sometimes tend to forget that the top model is still just a teenager who happens to love her granny Mary Jo "MJ" Shannon.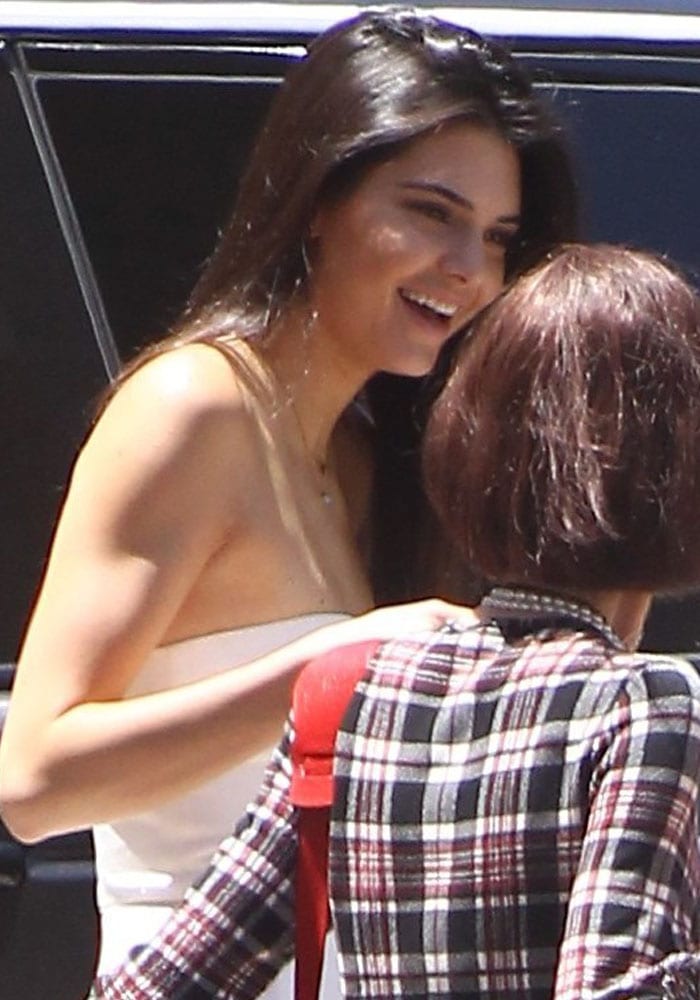 Kendall Jenner smiles while walking with her grandmother, Mary Jo "MJ" Shannon, in Los Angeles on July 26, 2015
The model was recently pictured chatting with her grandmother Mary Jo "MJ" Shannon (nee Campbell; born July 26, 1934), who celebrated her birthday with her family a few days earlier. Adorable!
Kendall Jenner shows off a strapless, wide-legged all-white jumpsuit as she goes for a stroll in LA
We wonder what wise words MJ was imparting to Kendall. Whatever it was, Kendall seemed to take them to heart, as she was all smiles during her conversation.
Kendall Jenner struts in the nude Givenchy pumps she used to pull together her all-neutral outfit
Kendall was photographed wearing a gorgeous white wide-legged pantsuit by Solace London, which she accessorized with a clutch by Adriana Castro, a keychain by Fendi, a necklace by Ruby Stella, and nude suede pumps by Givenchy.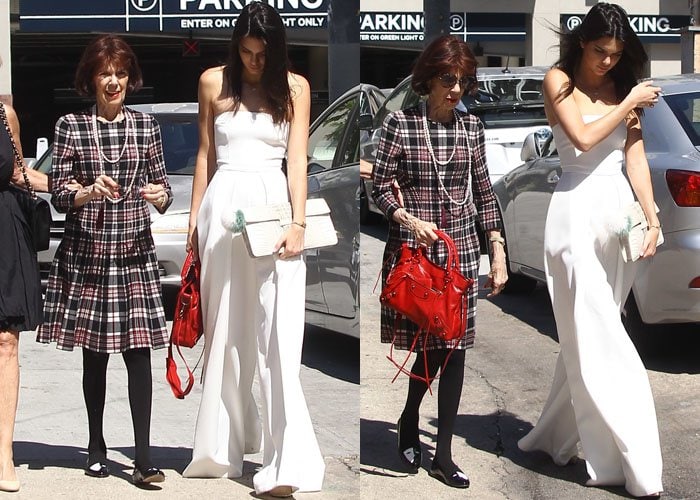 Kendall Jenner and her grandmother, MJ, stroll past a parking garage in LA
The Jenner/ Kardashian/ West family goes for a fashionable stroll on a sunny Los Angeles day
Kris Jenner's mother is known for her appearances on the family's reality show Keeping Up with the Kardashians. She has been married three times, the first time just a couple of months with her teenage boyfriend.
Her second husband, Kris's father Robert Houghton, was allegedly an abusive alcoholic. He divorced Mary Jo ("MJ") Shannon when Kris Jenner was 7 years old. In 1975, he died following a grisly car crash in 1975.
MJ's third marriage to businessman Harry Shannon lasted four decades until his death in 2013. Just like MJ's second husband, he died in a car accident.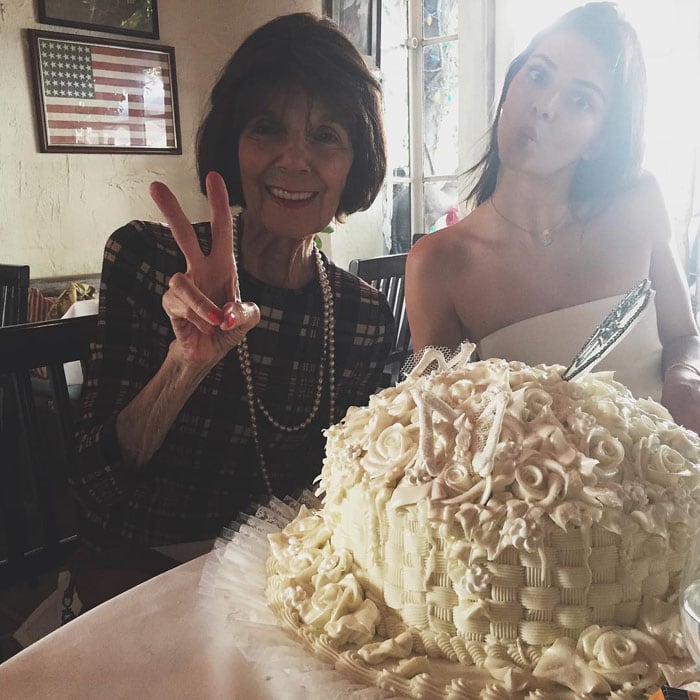 Kendall Jenner poses with her adorable grandmother MJ in a snap uploaded by her sister Kylie
"My mom has a children's clothing store—for 45 years," Kris told Haute Living in an interview.
"It's called Shannon & Company, and I used to work there when I was young. My dad was in a car accident in 2003, and when he was in the hospital, my mom wanted to close the store, but I said I would run it for her."
Kendall was also seen hamming it up in a new ad for Estée Lauder, in which she makes adorable faces on camera. Check out the video below.

We love a good pair of nude pumps just as much as Kendall and this Givenchy pair is a favorite of hers. We know because she's been photographed wearing them before.
Her exact pumps are already sold out, but we did manage to find the same model in a slightly lighter shade. To get Kendall's gold-trimmed nude suede pumps from Givenchy, head on over to Bergdorf Goodman.
Givenchy Taupe Nubuck Pump, $595
Credit: Kylie Jenner's Instagram / WENN