With smash hits like "Savage", "WAP", and "Body", rapper Megan Thee Stallion has quickly taken the pop and hip-hop Billboards by storm. Her music is catchy and often features sex-positive and woman-empowering lyrics.
Megan Thee Stallion's musical prowess is evident, and listeners have noticed—her songs can be heard on repeat on radio stations and hundreds of thousands of TikTok videos.
Megan Thee Stallion in a Jean Paul Gaultier dress and Bvlgari jewelry while carrying a Jimmy Choo bag at the 2021 BET Awards at the Microsoft Theater in Los Angeles on June 27, 2021 (Credit: Nicky Nelson / WENN)
When an artist reaches this kind of success, gossip columnists and online trolls come out of the woodwork in order to try to damage the celebrity's reputation in any way they can. Unfortunately, Megan Thee Stallion is not immune to the rumor mill.
Why Fans Suspect Megan Thee Stallion Is Transgender
In late 2019, a now-deleted YouTube video surfaced of the rapper twerking—displaying the strength of the "Megan knees" that she is well known for—at one of her shows.
Megan Thee Stallion appeared to have male genitals in a now-deleted video that shows her twerking on a stage (Credit: Avalon / WENN)
In the video, Megan Thee Stallion wears a purple, long-sleeve, graphic crop top and a pair of black, high-cut bikini bottoms. As the rapper gyrated on stage, an indiscernible object appeared to fall out from her pants.
Almost immediately, the internet was ablaze, with many believing the indistinguishable object was part of male genitalia, specifically a pair of testicles.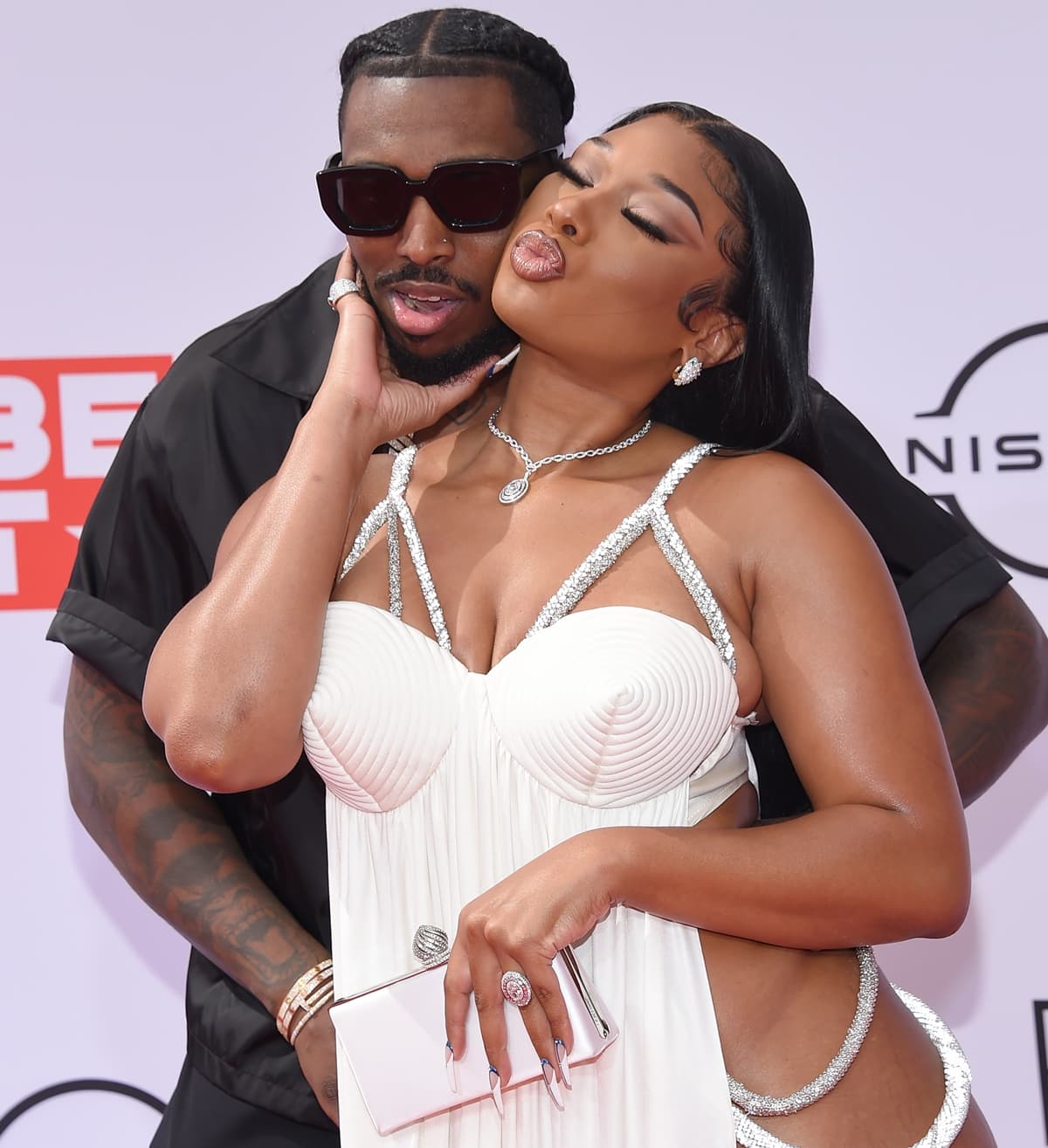 Megan Thee Stallion started dating fellow rapper Pardison Fontaine in February 2021 (Credit: Mega / WENN)
The majority of people found these rumors unfounded. One Twitter user claimed, "It's her cheeks, a shadow separates it from her thigh but this is hilarious" while another corroborated this claim by saying, "I think it's her butt, and the angle of the light and camera."
Honestly, this mishap could have been plenty of things, such as a mic pack or part of an earpiece. Artists wear plenty of tech on stage and often have mishaps with them. Additionally, it could have been part of the rapper's outfit or undergarments, such as garment tape to keep her bikini bottoms in place.
Megan Thee Stallion showed off her size 8 (US) feet in sparkling ankle-strap sandals (Credit: Nicky Nelson / WENN)
However, it most likely was part of Megan Thee Stallion's butt. If someone has an especially curvaceous derriere, like Megan Thee Stallion, their cheeks can indeed be seen from the front. Rapper Mos Def once described this phenomenon in a song, saying, "A** so fat you can see it from the front."
Despite the unlikelihood that Megan Thee Stallion is sporting a pair of testicles, the since-deleted video sparked controversy that the rapper is a transgender, or trans, woman. Many internet users spouted hateful, anti-trans rhetoric in response.
Megan Thee Stallion won three awards, Best New Artist, Best Rap Performance, and Best Rap Song for "Savage" with Beyonce, at the 2021 Grammy Awards on March 14, 2021, in downtown Los Angeles (Credit: Avalon / WENN)
The rumor mill only kept churning as her ex-boyfriend, rapper Moneybagg Yo, posted photos of hormone replacement therapy (HRT) medications, which trans people take, alleging that they belonged to Megan Thee Stallion.
Megan Thee Stallion flaunts her cleavage in a red glitter maxi dress by LA-based fashion designer Bryan Hearns at the 2019 American Music Awards on November 23, 2019, at the Microsoft Theater in Los Angeles (Credit: Avalon / WENN)
Of course, this is not confirmed, as Moneybagg Yo posted these photos after he and Megan Thee Stallion split ways. He was likely just trying to shame and ridicule her in order to boost his own public image.
To put this in perspective, Megan Thee Stallion has over 36 million monthly listeners on Spotify, while her ex has less than a third of that.
Why Anderson Cooper Asked Lady Gaga About Her Genitals
The rapper is not the first woman in the public eye to be accused of "lying" to the public by being rumored to be trans. This kind of hateful rhetoric happens all too often and is especially directed towards black women.
Though not a black woman, this same situation notably happened to songstress Lady Gaga, who was asked by Anderson Cooper to address the rumors that she had a penis.
Lady Gaga refused to answer questions about her genitals in an Anderson Cooper interview that aired in 2011 (Credit: CBS)
The singer quipped back, "Maybe I do. Would it be so terrible?" Lady Gaga, who often dresses in androgynous or gender non-conforming styles, continued on to say: "Why the hell am I going to waste my time and give a press release about whether or not I have a penis? My fans don't care and neither do I."
Megan Thee Stallion has yet to specifically confirm or deny these rumors, but, quite frankly, it's none of our business. Megan Thee Stallion, whose real name is Megan Jovon Ruth Pete, is a woman. Trans women are women. Full stop.
Since then, the rapper has used her platform to uplift women from every walk of life, especially speaking out against the misogynoir that black women face.
Megan Thee Stallion On Policing Women's Bodies
Late last year, Megan Thee Stallion penned a powerful op-ed piece for The New York Times entitled "Why I Speak Up For Black Women", showing that her writing skills translate well from the radio to the page.
Megan Thee Stallion has not commented on the rumors that she is transgender (Credit: Avalon / WENN)
In the piece, Megan Thee Stallion discusses the way black women are "constantly disrespected and disregarded in so many areas of life". She also addresses the violence committed against her by Canadian rapper Tory Lanez, who shot her in the foot.
Though this incident was highly publicized, Megan Thee Stallion stayed silent on the subject for a long time, fearing for her own safety and excessive criticism from the public that she is no stranger to.
However, Megan Thee Stallion stated in the piece that this attack unwittingly helped to put a spotlight on the senseless acts of violence women—particularly black women—are subjected to on a daily basis.
Though Megan Thee Stallion has come under fire in the past for old tweets that were deemed homophobic, she has since apologized. She has even discussed the possibility of being queer herself, telling viewers on a live Instagram video that she wanted a girlfriend.
Some fans believe her male sex organs fell out of the front of her bikini bottoms while Megan Thee Stallion was twerking on stage (Credit: Avalon / WENN)
Of course, this only led to more criticism from the media. In her New York Times piece, Megan Thee Stallion goes on to write about the exacerbated mortality and violence rates that black trans and gender-nonconforming people face, and the cruel way that they are depicted in the media and by the public.
The rapper has not confirmed her queerness, and she shouldn't be expected to. Though Megan Thee Stallion is in the public eye, once again, it is none of our business.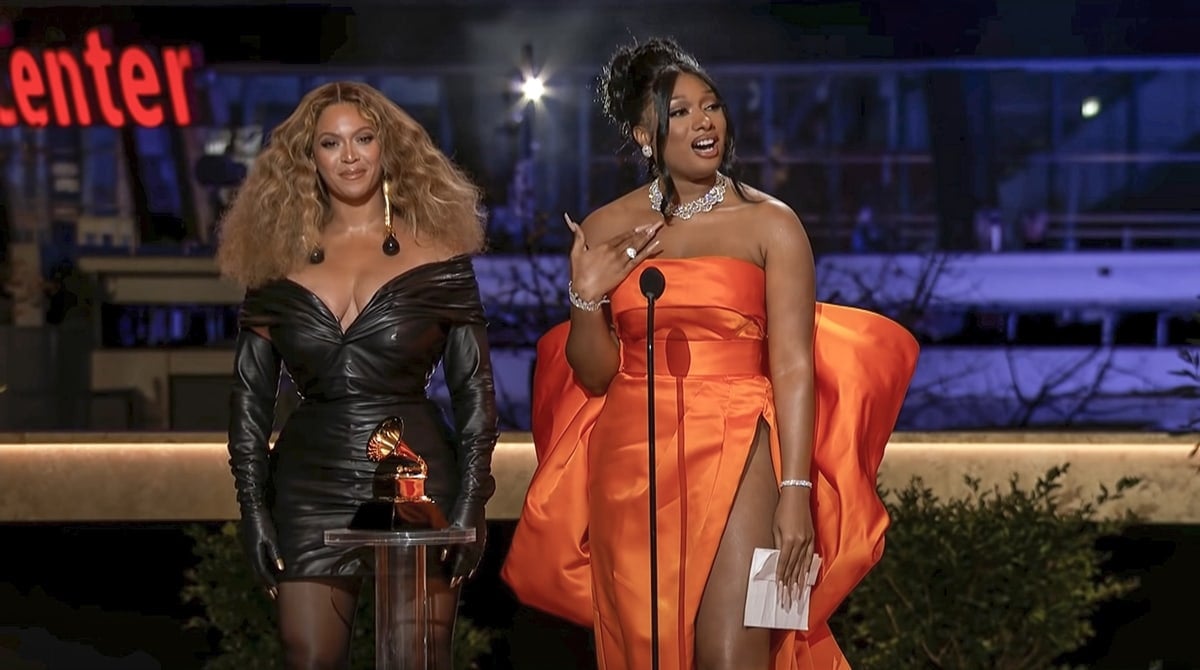 Beyonce and Megan Thee Stallion won Best Rap Song for the "Savage" remix at the 2021 Grammys (Credit: Avalon / WENN)
Additionally, she has been happily dating rapper Pardison "Pardi" Fontaine since February of this year, telling fans, "He is so calm and so sweet and very protective…That's my boo and I really like him."
Despite the violence and scrutiny Megan Thee Stallion has faced in recent years, she shows no signs of slowing down as she produces hit after hit.