NFL player Michael Oher became a well-recognized name thanks to the award-winning movie based on his life's story, The Blind Side.
Adapted from a book of the same name by author Michael Lewis that you can buy on Amazon, the inspiring story told the tale of a homeless teen who made it to the NFL thanks to his natural talent and the determination of his adoption family.
Sandra Bullock as Michael's adoptive mother Leigh Anne Tuohy and Quinton Aaron as Michael "Big Mike" Oher in the 2009 American biographical sports drama film The Blind Side (Credit: Warner Bros. Pictures)
The 2009 film starred Sandra Bullock and Quinton Aaron, who portrayed Oher.
Aaron was working as a security guard then and left his card after auditioning for the role in the hopes of being a security guard on set if he wasn't cast in the role.
Michael Oher Is Notoriously Private
Oher is notoriously private about his life and with good reason. Despite the success of the movie and the inspiration that so many people found in watching the story unfold, the movie implied that Oher knew very little about football, which impacted his NFL career.
He also felt like his intelligence was questioned throughout the film when the reality was he had received very little direction and education throughout his young life.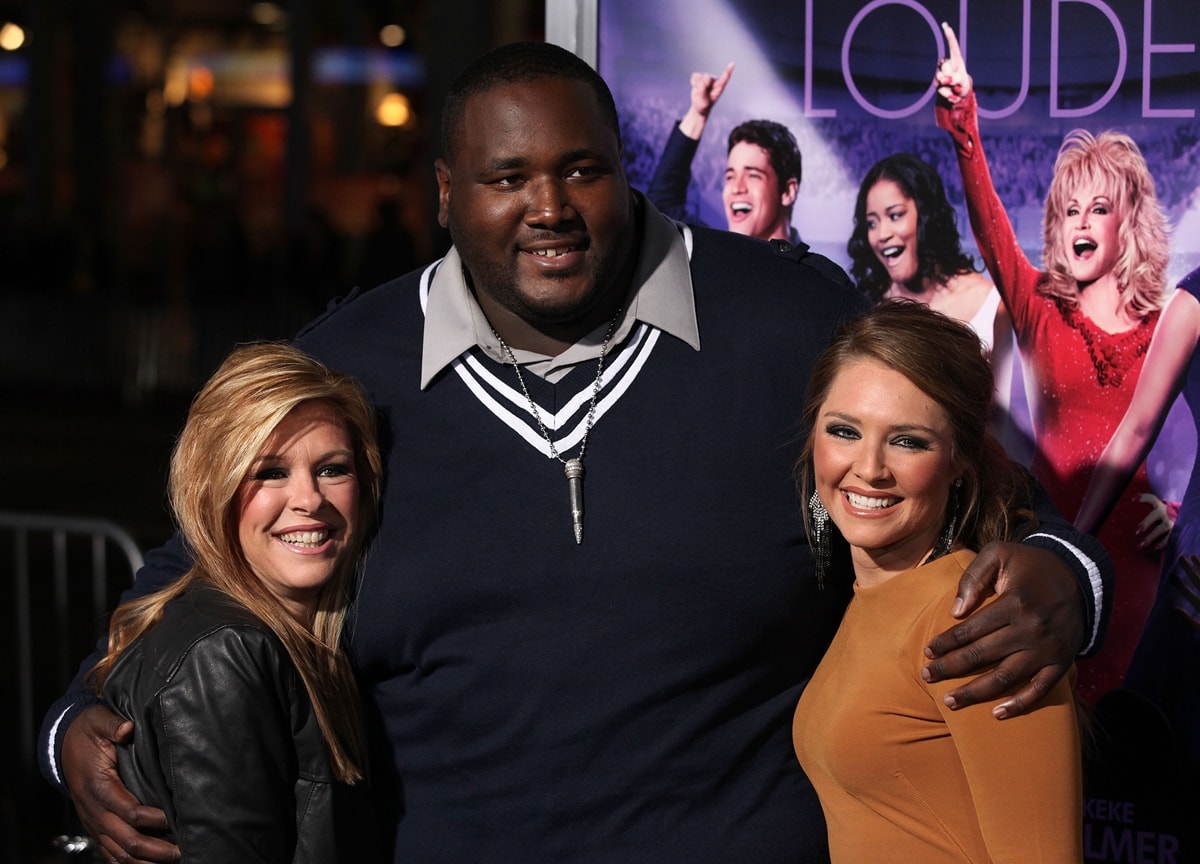 Leigh Anne Tuohy, actor Quinton Aaron, and Michael Oher's adoptive sister Collins Tuohy (Credit: DFree / Shutterstock)
Oher wrote in his autobiography, I Beat The Odds: From Homelessness, to The Blind Side, and Beyond, "I felt like it portrayed me as dumb instead of as a kid who had never had consistent academic instruction and ended up thriving once he got it." Published in 2012, the motivational book is available on Amazon.
Oher left the NFL in 2017 after failing a physical and took a further step away from the spotlight. In fact, Oher is so private that many fans didn't know that the football player was married for quite some time.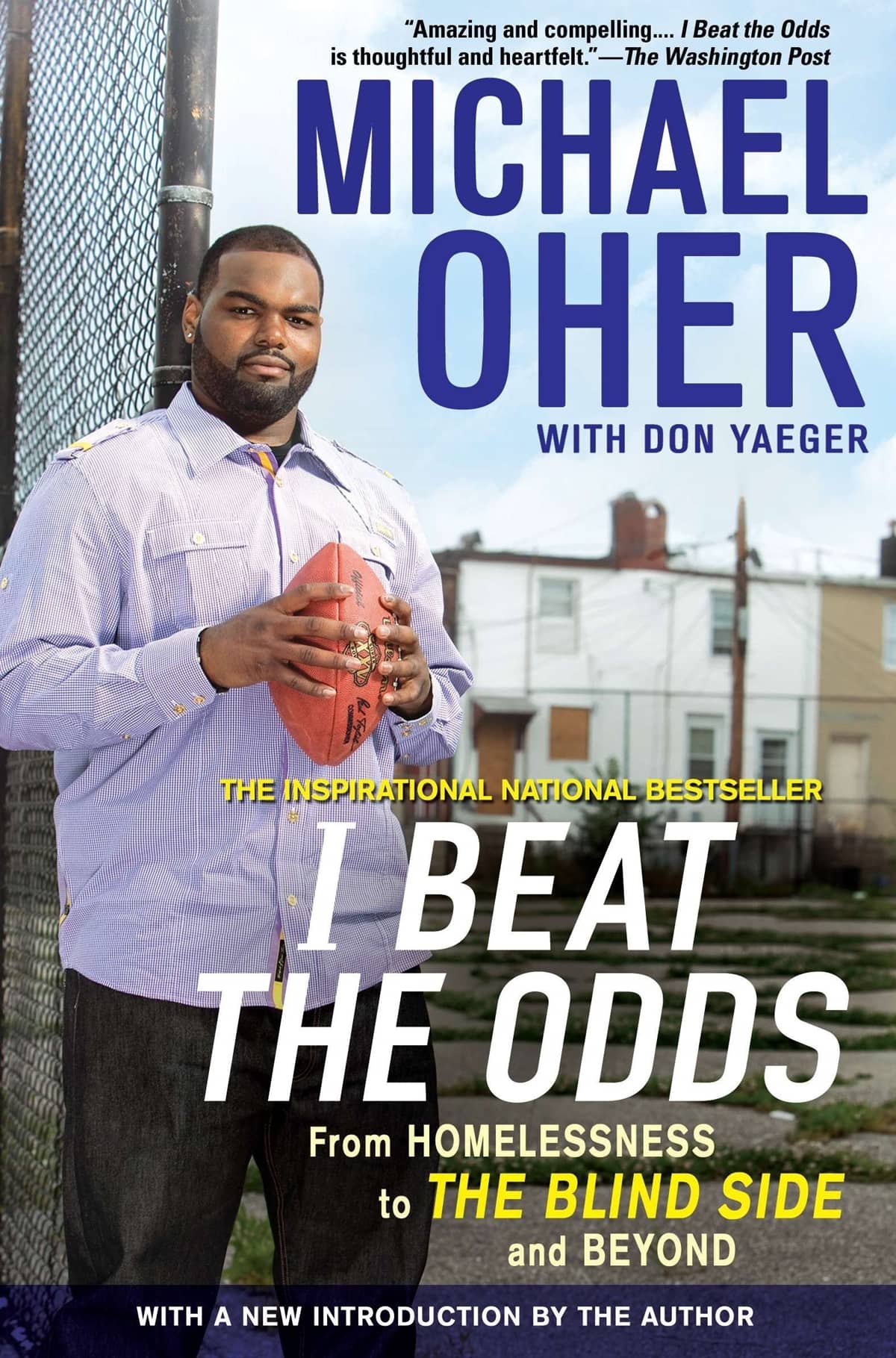 Michael Oher writes in his autobiography "I Beat The Odds: From Homelessness, to The Blind Side, and Beyond" that he didn't like the way he was portrayed in The Blind Side
His wife's name is Tiffany Roy, and by all accounts, the couple has been together for quite some time and even share a son. The pair both keep minimal social media presence, but we have all the details right here.
How Did Everyone Find Out That Michael Oher Was Married?
The first time that many public members heard about Oher's wife was when he was arrested in 2017. The football player was arrested in an altercation with an Uber driver. The driver's lawsuit claimed that the star was intoxicated when he entered the vehicle.
According to The Tennessean, the lawsuit claims that Oher asked the driver to follow his wife's car to a country club in Nashville, where they would be continuing their night out.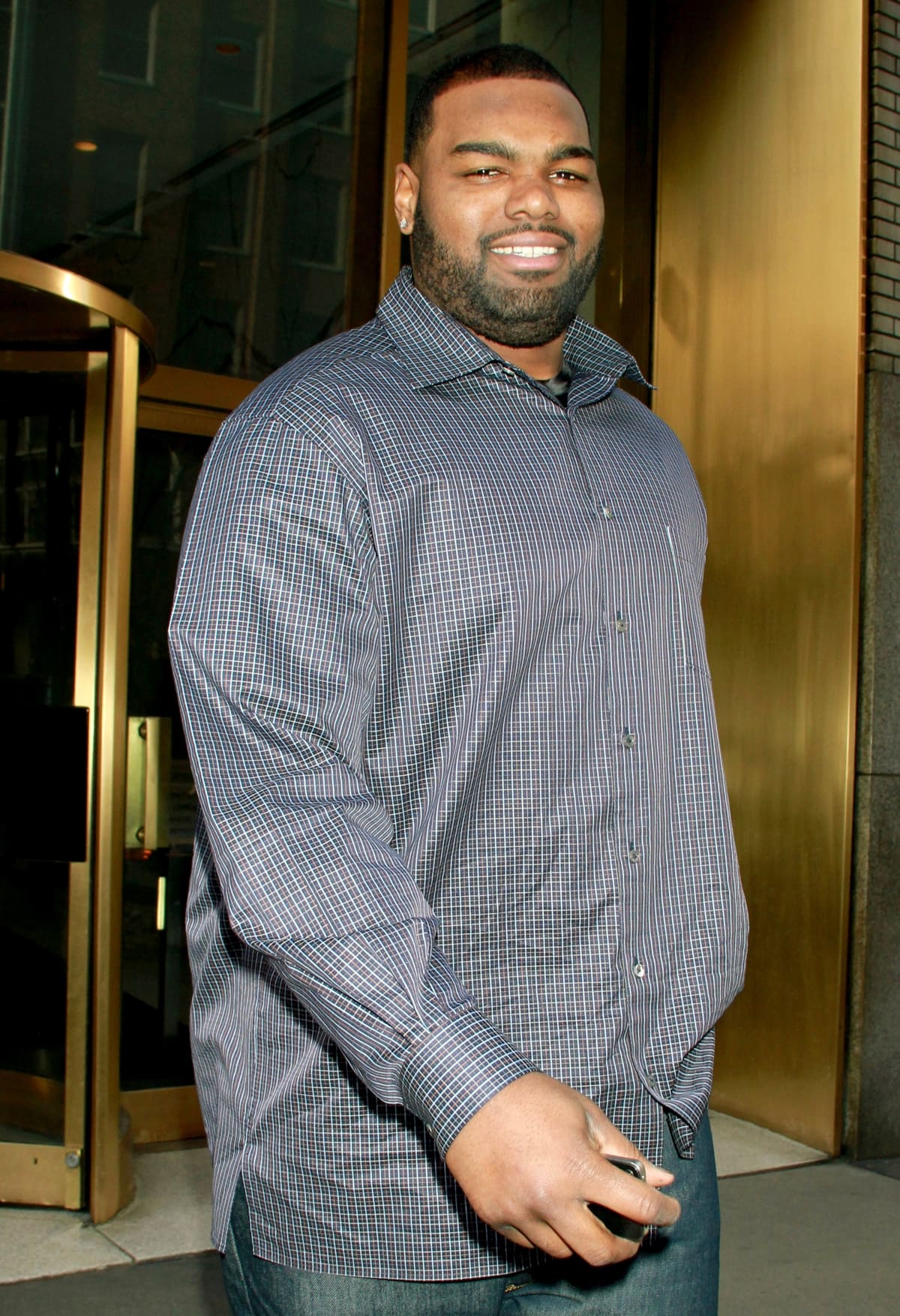 Baltimore Ravens player Michael Oher appears on the PIX 11Morning News to promote his new book 'Beat the Odds' in New York City on February 9, 2011 (Credit: Roger Wong / INFphoto)
According to the driver's lawsuit, the driver lost track of the vehicle ahead, and Oher became enraged. The charges were later dropped, but this was the first time there was a public mention of Oher's wife, Tiffany Roy.
Who Is Tiffany Roy?
Roy is the owner of a clothing line, The Feminish Collection, and states that she is a "mother and a wife" on the website. Her Instagram profile is private, but she does have a link to the clothing brand's website in her bio.
The Feminist Collection's website reads, "Tiffany came up with the word Feminish Collection to involve all cultures and sizes of women. Tiffany is not only an entrepreneur, but she is a strong believer in women's equality and feels that just because we as women have the identity of a woman does not mean that you can do any less because of that identity."
View this post on Instagram
She is also the vice president of Beat The Odds Inc, Oher's non-profit that is "providing the disadvantages with the opportunity to succeed." Oher is the organization's president, and the couple has been helping families in need since 2016.
What Is Oher Doing Now?
Oher left the NFL in 2017 after failing a physical following an injury. According to the most recent estimates, Oher's net worth is believed to be around $16 million. He excelled in football and went to college with numerous scholarship offers.
By the time he graduated, he was drafted by The Baltimore Ravens in the 2009 NFL Draft. The player, who has a height of 6 ft 3 in (193cm), was released from the Panthers in 2017.
View this post on Instagram
He has gone on to give back to the disadvantaged community. He created Beat The Odds Inc and a smartphone app called Good Deeds.
The Blind Side documented a glimpse into Oher's hard life before the Tuohys adopted him, and so he created the app that connects the needy with people who want to help.
View this post on Instagram
Oher told People, "I thought back to when I was coming up, how I was going to Goodwill and I didn't have $2 or $3 to buy a pair of socks, some shorts, t-shirts — I just didn't have 50 cents to my name. I thought, I've got to come up with something that can bridge the gap between the people that are in need, and people who are really wanting to give."
The Couple Stay Out of The Limelight
Roy and her husband keep low profiles online, sharing very little through social media. Oher has an Instagram account, but he rarely posts and doesn't share info about his wife or child. Although he is very private about his life, his adoptive family, the Tuohys, are not as guarded.
The couple can be seen in an Instagram pic from 2015, which Sean Tuohy Jr shared, Michael's adoptive brother. The family picture shows Oher holding a little boy that resembles the couple and the rest of the Tuohy clan.
View this post on Instagram
The Tuohys adopted Oher when he was a teenager after he had gone through many foster homes and periods of homelessness. Oher's mother was a drug addict, and his father died in prison, meaning that he received very little attention and discipline as a child until the Tuohys took him in.
Sean Tuohy Jr. often posts photos of family gatherings and outings and documents his life as Associate Athletics Director and Chief of Staff for the University of Central Florida's football team.
Leigh Anne Tuohy, Oher's adoptive mother, who Sandra Bullock portrays in the movie, is a motivational speaker and TV personality. Sean Tuohy, Oher's adoptive father, is an entrepreneur.
Leigh Anne Tuohy with her daughter Collins Tuohy at the "Joyful Noise" Los Angeles Premiere at Grauman's Chinese Theatre on January 9, 2012, in Hollywood, California (Credit: Kathy Hutchins / Shutterstock)
Collins Tuohy Smith, Oher's adoptive sister, shares a close bond with her brother.
She helped her adjust to school and his new family, even dropping a few of her AP courses in high school so she could have more classes with Oher and help him adjust to his school work.