In January 2017, Michelle Monaghan was ready to show everyone her first-ever action movie, the 2017 American action thriller Sleepless. However, she may have gotten a little too excited during the filming and accidentally hit Jamie Foxx with a real punch, right down straight to his front teeth.
Emma Stone's lookalike said that after training for months, her first action scene ended with co-star Jamie Foxx making an emergency trip to the dentist.
The then-40-year-old attended the premiere of "Sleepless" alongside her co-stars at the Regal LA Live Stadium in Los Angeles.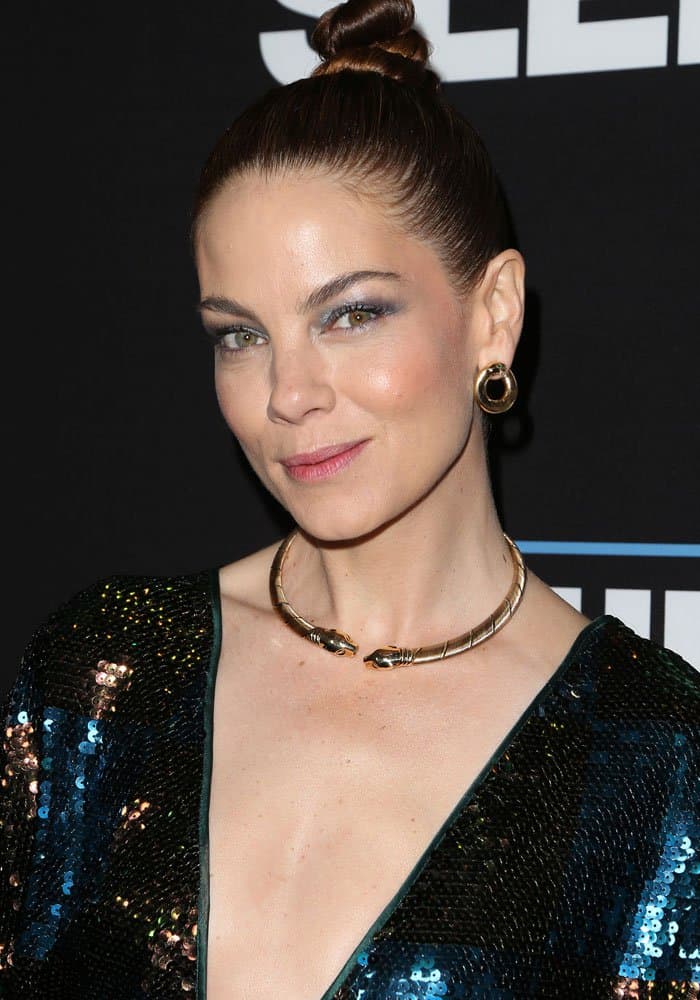 Michelle Monaghan with rounded earrings, a choker, and a tightly wound topknot at the premiere of Open Road Films' "Sleepless" held at the Regal LA Live Stadium on January 5, 2017 (Credit: FayesVision / WENN)
Michelle Monaghan plays the role of Jennifer Bryant, a police officer investigating a drug trafficking operation in Las Vegas.
Throughout the movie, she works closely with the main character, Vincent Downs, played by Jamie Foxx, to uncover the truth behind the operation and bring the criminals to justice.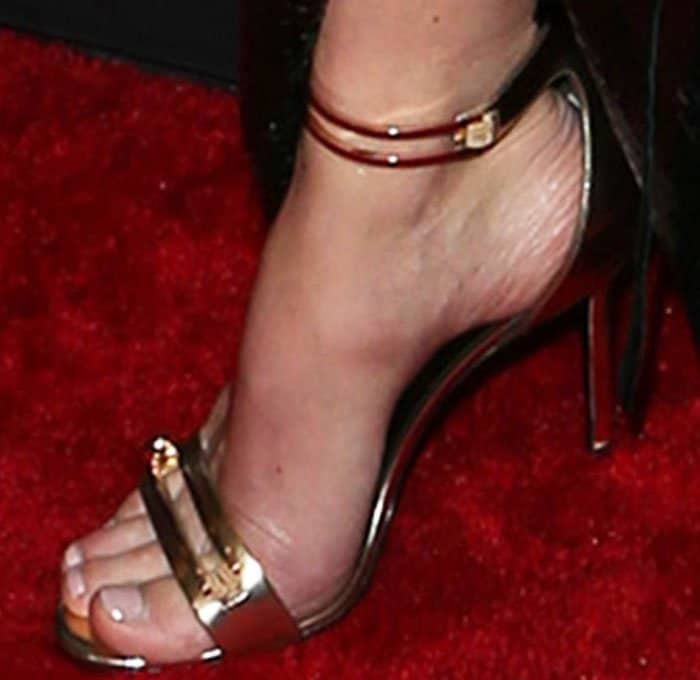 Michelle Monaghan showed off her feet in gold metallic Stella Luna sandals (Credit: FayesVision / WENN)
Michelle wore a gorgeous fully-sequined wrap dress from Vivienne Westwood. The slinky dress gave a bit of volume at the shoulders and arms with its batwing cut, tapering to a slim silhouette from the waist down.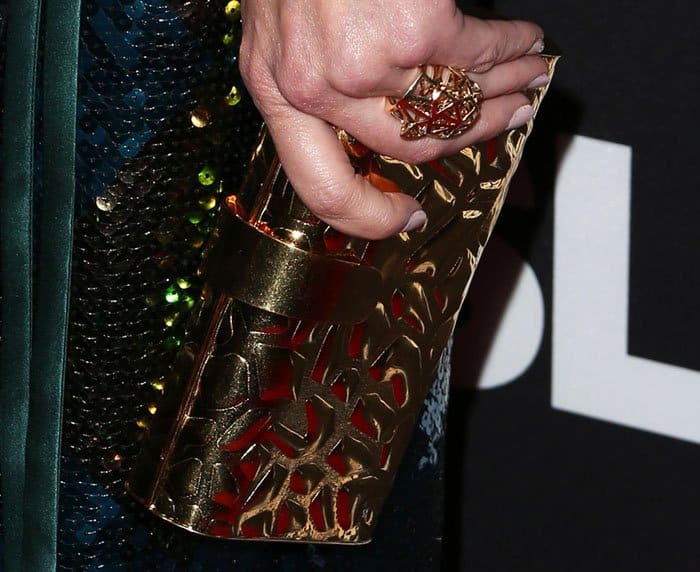 Michelle Monaghan shows off her gorgeous Edie Parker clutch (Credit: FayesVision / WENN)
The actress finished her look with a gold Edie Parker clutch, jewelry from Beladora and Cartier, and a pair of gold sandals from Stella Luna.
Michelle Monaghan shows off her slim physique in a sequined dress by Vivienne Westwood (Credit: FayesVision / WENN)
Michelle said that Jamie allowed her to go all-out on the action scenes. After she was given the signal, the actress made pretty realistic contact with Jamie's face — so much so that she chipped his teeth.
Jamie clarified later that the chipped tooth was porcelain and that Jamie's dentist was fortunately located in the city they were shooting in. The two managed to finish the day without any other mishaps.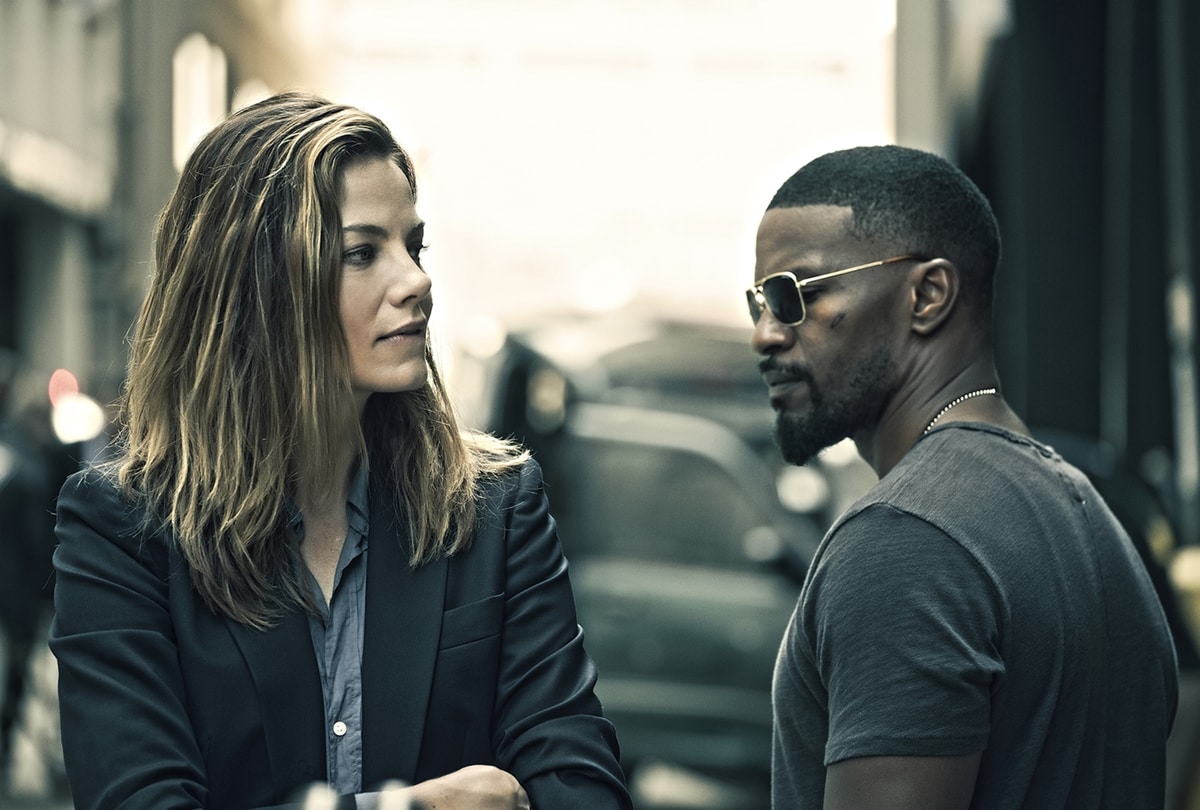 Jamie Foxx lost a tooth during a fight scene with Michelle Monaghan in the thriller "Sleepless (Credit: Open Road Films)
"I was on top of him and I just connected and I immediately I felt it," Michelle said. "My knuckle kind of split and then his tooth."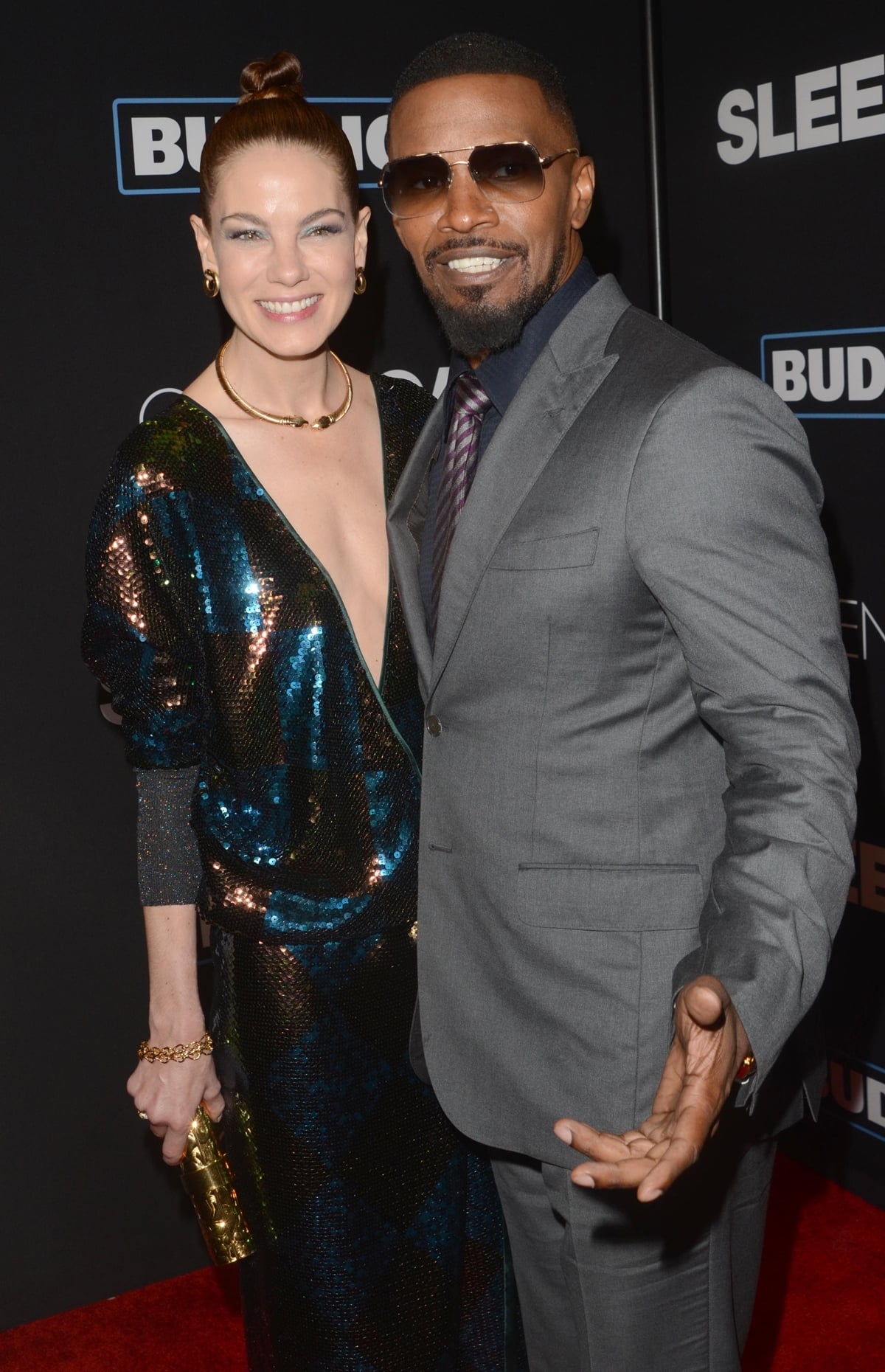 Despite the injuries, Michelle Monaghan and Jamie Foxx agreed that it was all in good fun and just another day of "made in Hollywood" make-believe (Credit: Kathy Hutchins / Shutterstock)
"She did clock me in the tooth," Jamie concedes. "Which actually is not my tooth. This is all porcelain but you know [Michelle] chipped that a little bit…I don't know if you guys have ever lived the porcelain life but you know when you taste that little chalk? I called my guy. My best friend is a dentist, we actually grew up together and he lived in Atlanta so he put a little spackle on it and got me back."
You can shop for sandals similar to Michelle's Stella Luna shoes at Zappos and Shopbop.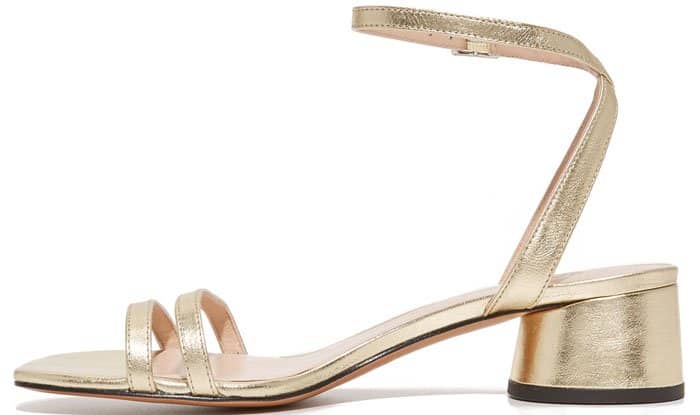 Marc Jacobs "Olivia" City Sandals, $250 – $299