Overalls are hot this season, so it was no surprise to find Nina Dobrev sporting the skirt version — the jumper dress — while out and about in New York this week.
Interestingly, the actress' jumper dress did not look like any other jumper dress because it was extremely short. The piece was also printed with daisies, kind of like what women used to wear in the '50s and the '60s, only a whole lot skimpier.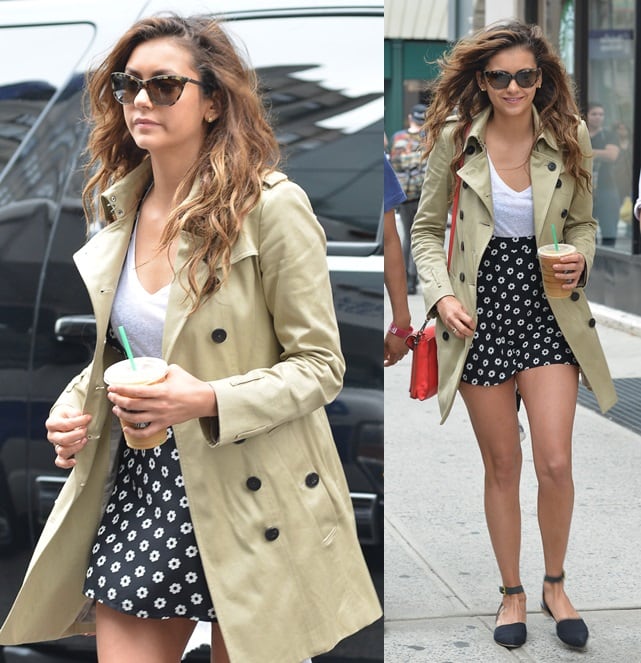 Nina Dobrev flaunts her legs in pointy ankle-wrap slingback flats
The Vampire Diaries cutie probably felt that it was too short for her own good because she wore a trench over the little number. Her finishing touches included a pair of sunnies and a red cross-body bag decorated with a scarf.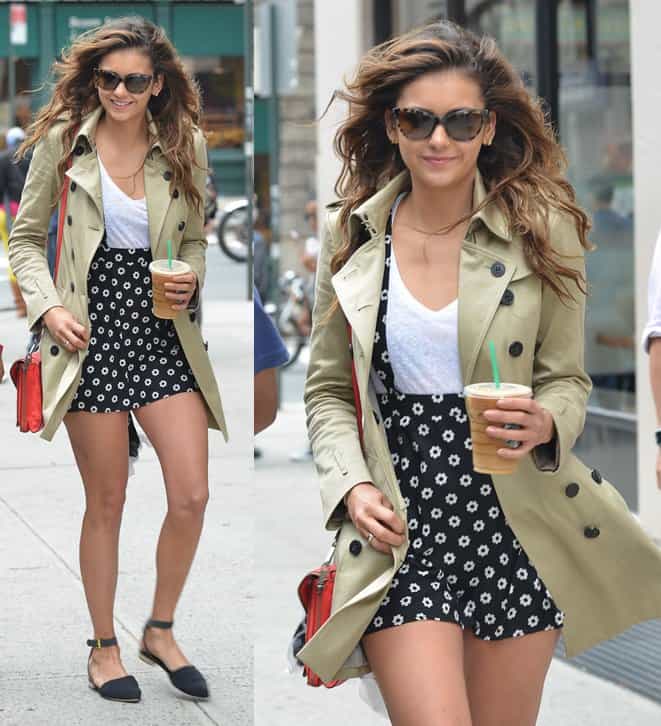 Nina Dobrev in a super short jumper dress and pointy flats while out and about in New York on June 11, 2014
The outfit was simple and sexy. What we found surprising was the footwear she used to complete the getup — pointy ankle-wrap slingback flats. They aren't exactly the best shoes to go with Nina's outfit. Fortunately, for some reason, she still looked good despite the odd combination.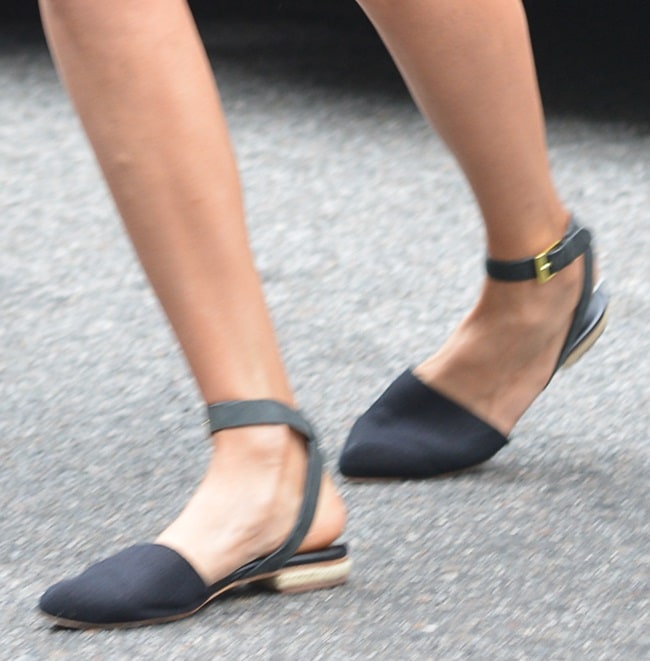 Nina Dobrev's pointy ankle-wrap flats
Of course, that's entirely our opinion, and you may think otherwise. Here's a look at Nina. Tell us if she nailed or failed the look with those pointy ankle-wrap flats.
Nina Dobrev shows off her sexy feet and legs
Well, what's the verdict? Hit or miss? Should she have worn a different pair of shoes with that micro-mini jumper dress? Perhaps a pair of Keds or simple ballet flats would have worked better. What do you think?
We have no doubt that these pointy flats will go well with, say, cropped trousers, a short shift dress, or a flowy skirt. Sadly, however, they didn't complement the whole look Nina was going for, which is a bummer because her legs are gorgeous.
In any case, if you fancy grabbing shoes in the same style, you can try the options below from Charles David and Isaac Mizrahi. Both are crafted from fine leather and feature minimal heels for a bit of lift.
Charles David Bailey Ankle-Wrap Flats, $149 at Nordstrom
A stunning pointy-toe flat with a snakeskin-embossed wraparound ankle strap is both casual and chic, making it a natural choice for both work and play.
Isaac Mizrahi Evelyn Ankle-Wrap Flats, $125 at Nordstrom
A contrasting point toe modernizes a sleek leather flat styled with a buckle-detailed ankle strap.
Credit: TNYF / WENN