Wondering what to do with old shoe boxes? How about turning them into shoes? That's what Seattle-based artist Michael Leavitt did as part of his "Cardboard Kicks and Hip Hopjects" art series, in which he replicates modern, urban, everyday objects in cardboard.
As sneaker culture is a big part of the hip-hop scene, most of Leavitt's cardboard shoes are iconic sneaker styles, such as Nike Air Jordans, Adidas Gazelles, and Converse Chuck Taylors.
Each shoe is painstakingly crafted to be exactly like the original sneaker in proportion. The cardboard is also cut, molded, and conditioned to accurately get the look of the sneaker, down to the brand logo, the eyelets, and even the shoelaces.
Cardboard Nike Air Jordan III Sneaker
Cardboard Adidas "Gazelle 3" Sneaker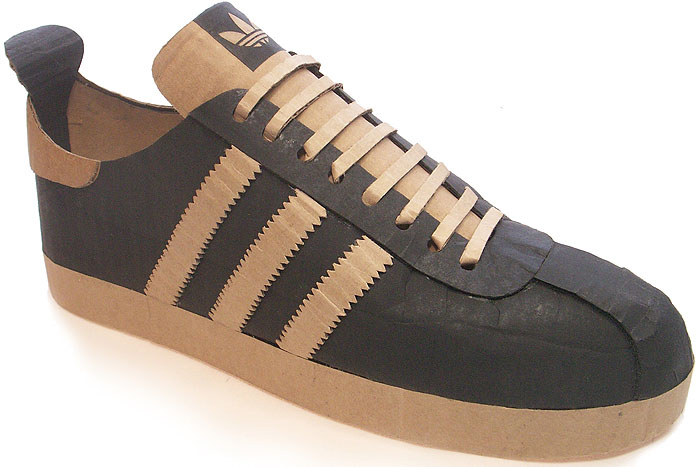 Cardboard Converse Chuck Taylor All-Star Sneaker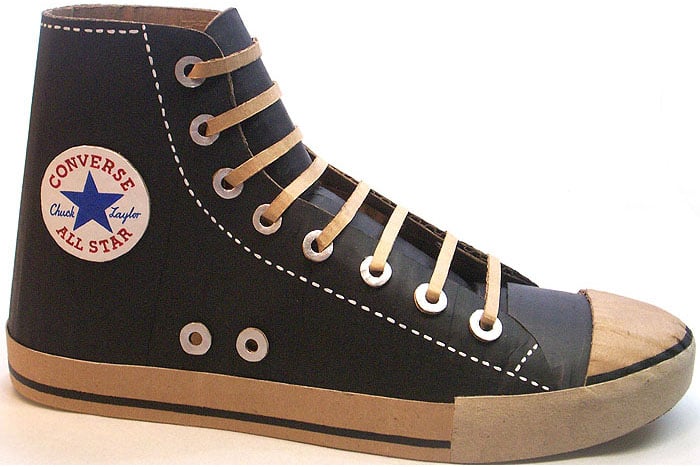 Cardboard Vans 2 Sneaker
Leavitt also made a cardboard copy of a pink pointy-toe stiletto shoe. It's not as detailed as his sneakers, but the ruled treatment on the cardboard does make it closely resemble the Giuseppe Zanotti eel pumps.
Cardboard Pink Stiletto Shoes
Creating each cardboard shoe takes a lot of work, so Leavitt can only make one shoe (not a pair) at a time. Watch how much is involved in making just one cardboard Nike high-top sneaker:
If you want a pair, you can actually buy DIY template screenprints of the cardboard Air Jordans and Converse Chuck Taylors and attempt to make it yourself.
If you're just out to appreciate Mike Leavitt's art, his cardboard shoes are on display as part of the "Elevated Corrugated" exhibit at the Museum of Craft and Design in San Francisco. The exhibit runs from April 5 to June 22.
Credit: Michael Leavitt / WENN