Miley Cyrus is on the cover of Cosmopolitan Magazine's March issue.
It has already hit newsstands but just in case you've been too unbelievably busy to even notice it, here's a look at the spread.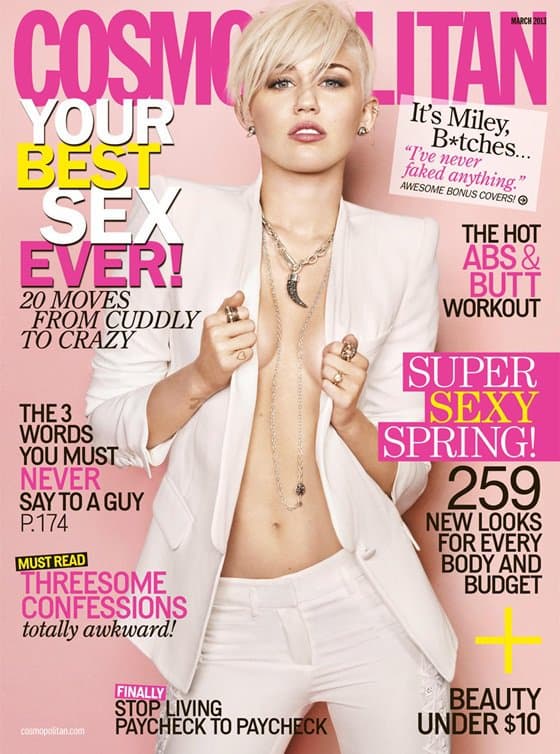 Miley Cyrus flaunts her toned tummy in a suit and Pomellato 67 necklace on the cover of Cosmopolitan magazine's March 2013 issue (Credit: Cosmopolitan)
"Number one is my relationship with Liam [Hemsworth]. That's what I feel the most confident in because you never know; there's so much hype behind my new record, but it could come out and, worst-case scenario, everyone f–king hates it," she tells the entertainment magazine about her priorities in life.
"I feel the bigger the wedding, the more it becomes a target for people to ruin. So we just want it to be small, with the people who we'd take bullets for. I don't want to be looking at those photos and see people that I wish hadn't been there. C'mon, I can't even get coffee without a million paparazzi following me, so I don't know why anyone thinks I'm going to have this huge, extravagant wedding. That is so not who I am," Miley adds about her future wedding.
Doesn't the rocker chic look hot on the cover of Cosmopolitan? We hated it when she cut her hair, but it eventually grew on us and now we actually think she looks absolutely cool (not to mention, sexy).
Miley Cyrus wears a statement necklace and a black Moschino Cheap & Chic leather jacket (Credit: Ivan Nikolov/ WENN)
Speaking of which, Miley was also spotted celebrating her Cosmo cover at Acme Restaurant in New York City earlier today.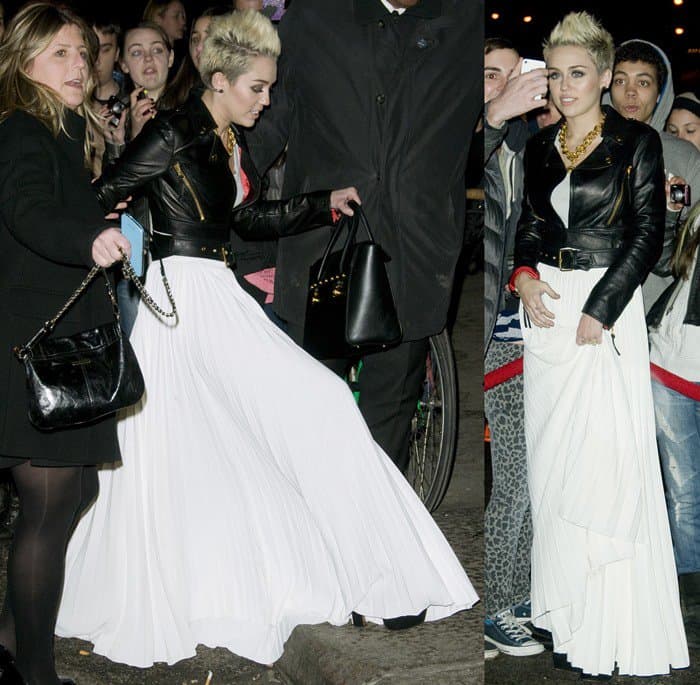 Miley Cyrus wears a Maison Martin Margiela gray and white pleated dress to celebrate her Cosmopolitan Cover at Acme Restaurant on February 13, 2013 (Credit: Ivan Nikolov/ WENN)

For the event, Miley wore a simple but chic Margiela twofer dress, a black Moschino leather jacket, Alaia shoes, and a purse from Versace that we couldn't take our eyes off of!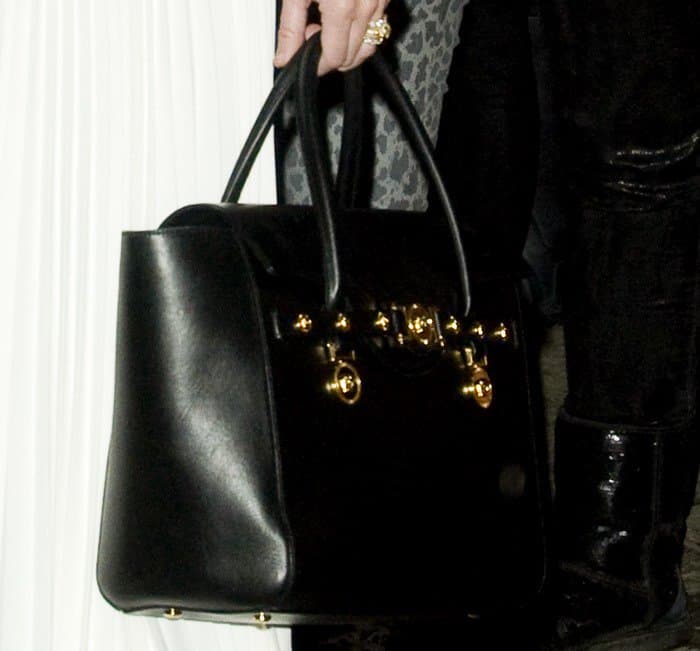 Miley Cyrus totes a black Versace Large Signature flap handle bag (Credit: Ivan Nikolov/ WENN)
How do you like Miley's latest arm candy? Is it something you'd fancy wearing? How do you find the gold coin medallion details on her purse? Do you think it's perfectly rock glam or a little too much?
Miley's bag is called the Versace Signature leather tote. We couldn't find it in black online, but versions in terracotta, white, and patent pink are available at Saks Fifth Avenue and Farfetch if you're interested.
The bag retails at a whopping $2395 – not exactly cheap, but if you're used to spending thousands of dollars on accessories, then go ahead and grab it today.
Versace Signature Leather Tote in Terracota, $2,395
Versace Signature Leather Tote in White, $2,395
Versace Signature Leather Tote in Patent Pink, $2,675