Jackets as dresses? It's been done since time immemorial (also just recently — check out Rihanna), but wearing a jacket as a dress is still considered very risqué.
Miley Cyrus made headlines and probably some conservative groups angry in this outfit she wore to the 2012 Billboard Music Awards on May 20. It appears as if she was wearing nothing but a Jean Paul Gaultier jacket as a dress and a pair of Christian Louboutin heels.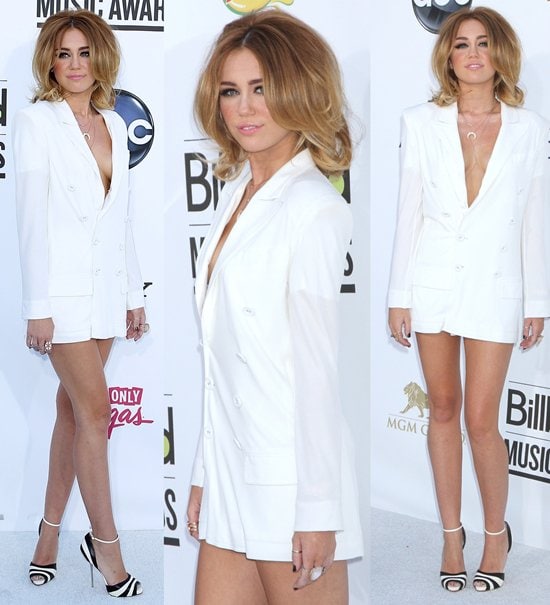 Miley Cyrus wearing nothing but a Jean Paul Gaultier jacket as a dress and Christian Louboutin heels
This isn't really one of Miley Cyrus' best looks as that hair is a little bit too big and that double-breasted jacket needs to be tailored. But her makeup and her Pilates-toned body are very much on point. When else is Miley going to wear something like this but during the prime of her youth, right?
Miley Cyrus attending the 2012 Billboard Music Awards held at the MGM Grand Garden Arena in Las Vegas, Nevada, May 20, 2012
That said, we still think it'd be uncomfortable to move around in Miley's Jean Paul Gaultier jacket/dress, seeing how it's so short. Our favorite version of the tux dress remains to be this one from Rachel Zoe:
Rachel Zoe "Cameron" Tux Dress, $495.00 at Shopbop
This wool tuxedo dress features satin trim and a notched collar. 4-button closure at double-breasted detail.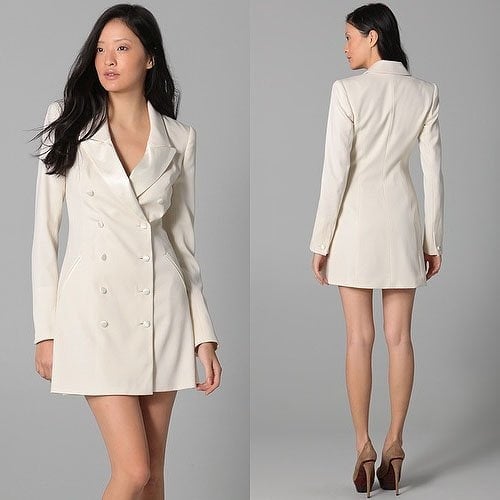 Unfortunately, it's all sold out everywhere now. Rachel Zoe really needs to bring back this tux dress because it's the best there is!
Credit: Judy Eddy / WENN / DJDM