Miley Cyrus continues to dominate in 2023, and her latest social media post is no exception.
On Friday, May 12, the talented artist nearly broke the internet by sharing a captivating swimsuit photo on social media, leaving fans speculating if it's a hint about her upcoming release.
The photo is absolutely stunning, showcasing the "Flowers" songstress in a mesmerizing gold metallic bikini that accentuates her fit physique and displays her collection of tattoos. You can buy her one-piece Norma Kamali Marissa swimsuit on Revolve and Forward.
The talented singer-songwriter caused a sensation when she posted a captivating photo on her Instagram account. Fans are speculating that the photo might be a sneak peek of her upcoming project. https://t.co/W0AUwihGYi https://t.co/lPZyJaEjAQ

— Your Next Shoes (@yournextshoes) May 13, 2023
In the picture, Cyrus, now 30 years old, strikes a pose against a picturesque poolside backdrop, with her hair effortlessly tousled as she elegantly raises her arms above her head and sports a pair of fashionable sunglasses.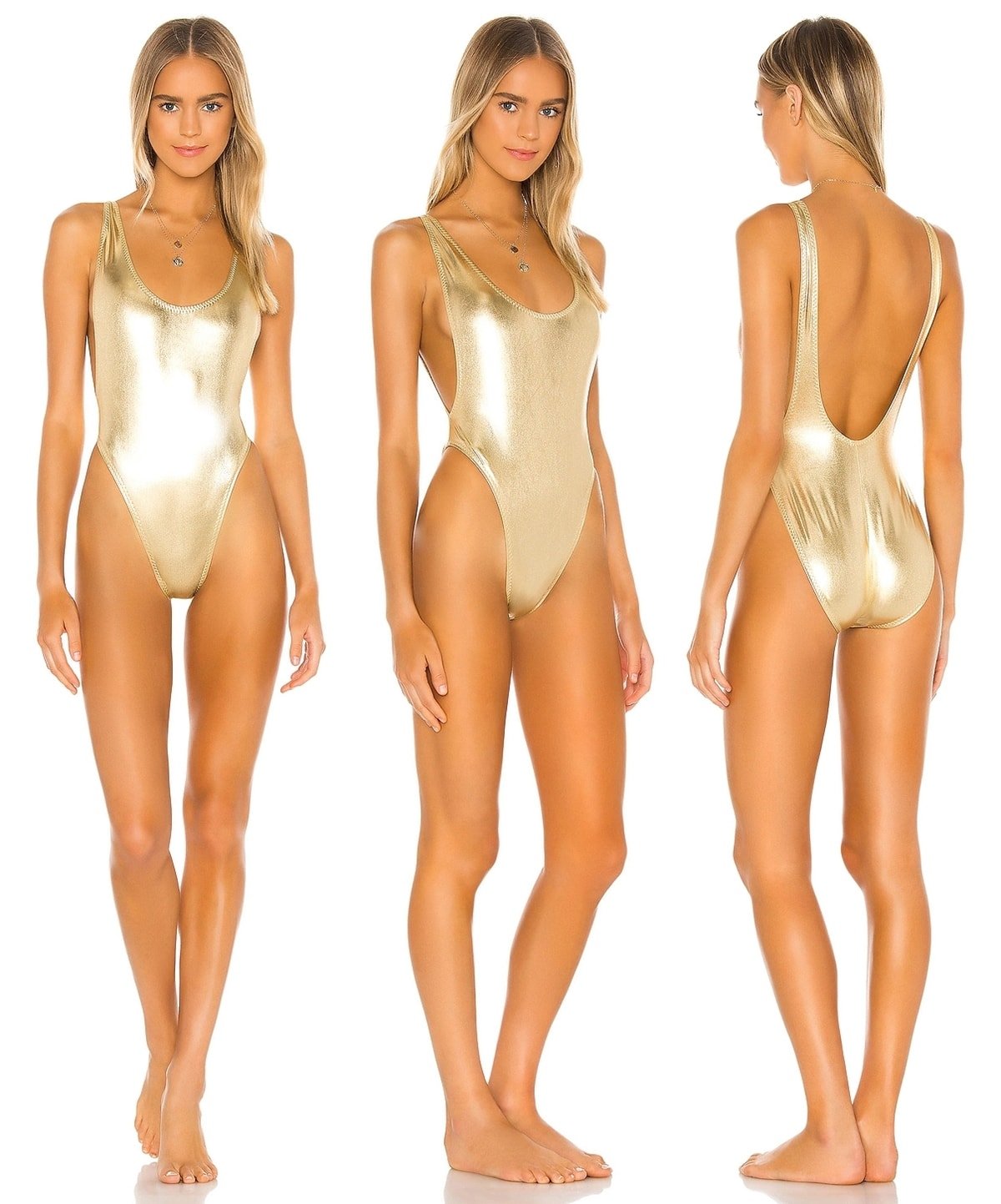 Miley Cyrus wore a sleek gold one-piece Norma Kamali Marissa swimsuit that effortlessly combines timeless elements like a classic scoop neck and an open back with contemporary details such as a high-cut edge and a cheeky fit
The reaction from her followers was immediate and fervent, with one fan exclaiming, "WE NEED MORE PHOTOS 🥵❤️‍🔥." Another enthusiast wholeheartedly agreed, writing, "Miley Cyrus doesn't know how to stop serving, omg."
However, in addition to the stunningly attractive image, fans couldn't help but notice the caption accompanying Cyrus' post. It featured a line from one of the tracks on her recently released album, Endless Summer Vacation.
The album was dropped earlier this year. The caption on Instagram read, "You broke your own heart but you'd never say that," referring to the song "Jaded," believed to be about her former spouse, Liam Hemsworth.
View this post on Instagram
Many of the songs on the album are thought to revolve around their relationship. Fans of Cyrus, known as Smilers, interpreted the photo as a potential hint at an upcoming music video for "Jaded."
This speculation was fueled by the fact that the photo appeared to be a still frame from a video. "JADED music video coming??? 👀" pondered one commenter, with many others sharing the same sentiment that the post served as a tantalizing tease.
Earlier this month, Miley Cyrus celebrated a major milestone as her song "Flowers" became the fastest song in Spotify history, reaching one billion streams. The talented 30-year-old singer and actress took to social media to express her gratitude to her fans, sharing a video and captioning it with "Thanks a billion. I love you."
Thanks a billion. I love you. ❤️ pic.twitter.com/JAE44XMmQd

— Miley Cyrus (@MileyCyrus) May 5, 2023
In the video, Miley looked stunning, showcasing her incredible figure in a high-cut gold bathing suit while striking poses in a field of flowers.
The footage captured different angles of the star, highlighting her confident presence and emphasizing the beauty of the natural surroundings.