On May 9, Chrissy Teigen appeared at Bravo Studios in New York City, donning a striking outfit that paid homage to the iconic Barbie doll.
The 37-year-old model and author donned a hot pink, draped sleeveless mini dress by Vivienne Westwood that showcased her svelte figure and long legs.
Her cleavage-baring plunging dress was knotted in the front, accentuating her waist, and had a flared accent across her chest resembling a blooming flower. Teigen's arm tattoos added a touch of edginess to the look.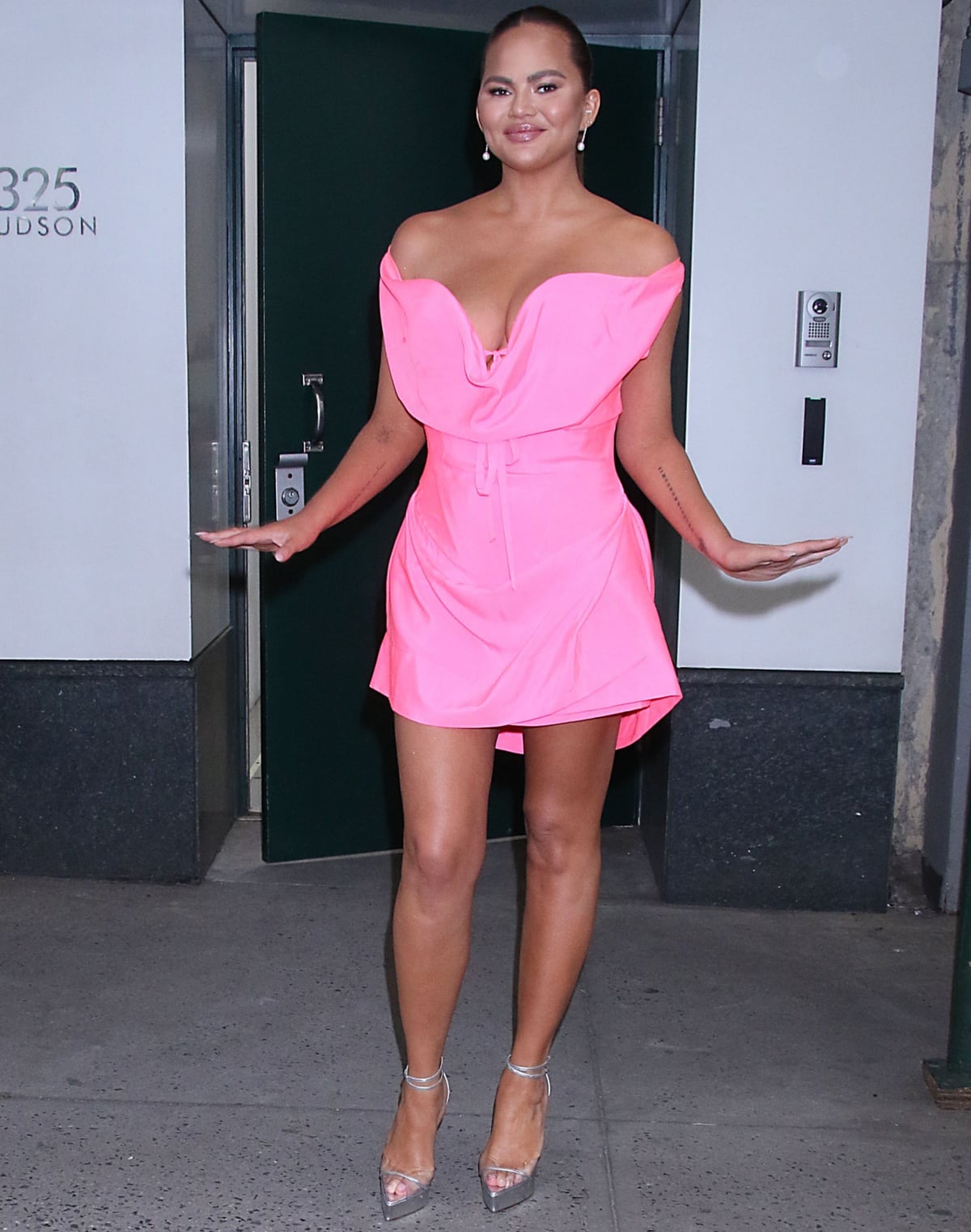 Radiating elegance and capturing the essence of timeless allure, Chrissy Teigen graced the Bravo Studios in New York City on May 9, 2023, exuding Barbie-like charm as she stopped by WWHL in a mesmerizing ensemble that left everyone in awe (Credit: Roger Wong / INSTARimages)
To complete the ensemble, Teigen added dangling pearl earrings for an extra touch of sparkle. She paired the dress with silver pointed-toe strappy Andrea Wazen Dassy platform sandals ($650 at Luisaviaroma) that accentuated her tall frame.
Her makeup was minimal with mauve lip gloss, and her hair was pulled back into a low ponytail.
The outing was not without drama, as just the day before, Chrissy Teigen had to clap back at haters who accused her of using a surrogate to give birth to her youngest daughter, Esti, with her husband, John Legend.
View this post on Instagram
Teigen shared an adorable photo of her newborn daughter on Instagram, which led a follower to ask, "So cute! ❤️Who was the surrogate?"
Another Instagram user replied, "She didn't have a surrogate."
However, one self-proclaimed Chrissy Teigen supporter quickly jumped in, saying that the Cravings founder did not have a surrogate and instead used a moonbump, a prosthetic stomach, to make her appear pregnant.
The user claimed, "Well … the truth is Chrissy was born male. During "her pregnancy" they used something called a moonbump. If you're not familiar with the moon bump just Google it. I'm a huge fan of Chrissy by the way."
But, as always, Teigen handled the situation with humor and grace. She reposted the exchange to her Instagram Stories and wrote, "Obsessed with this comment."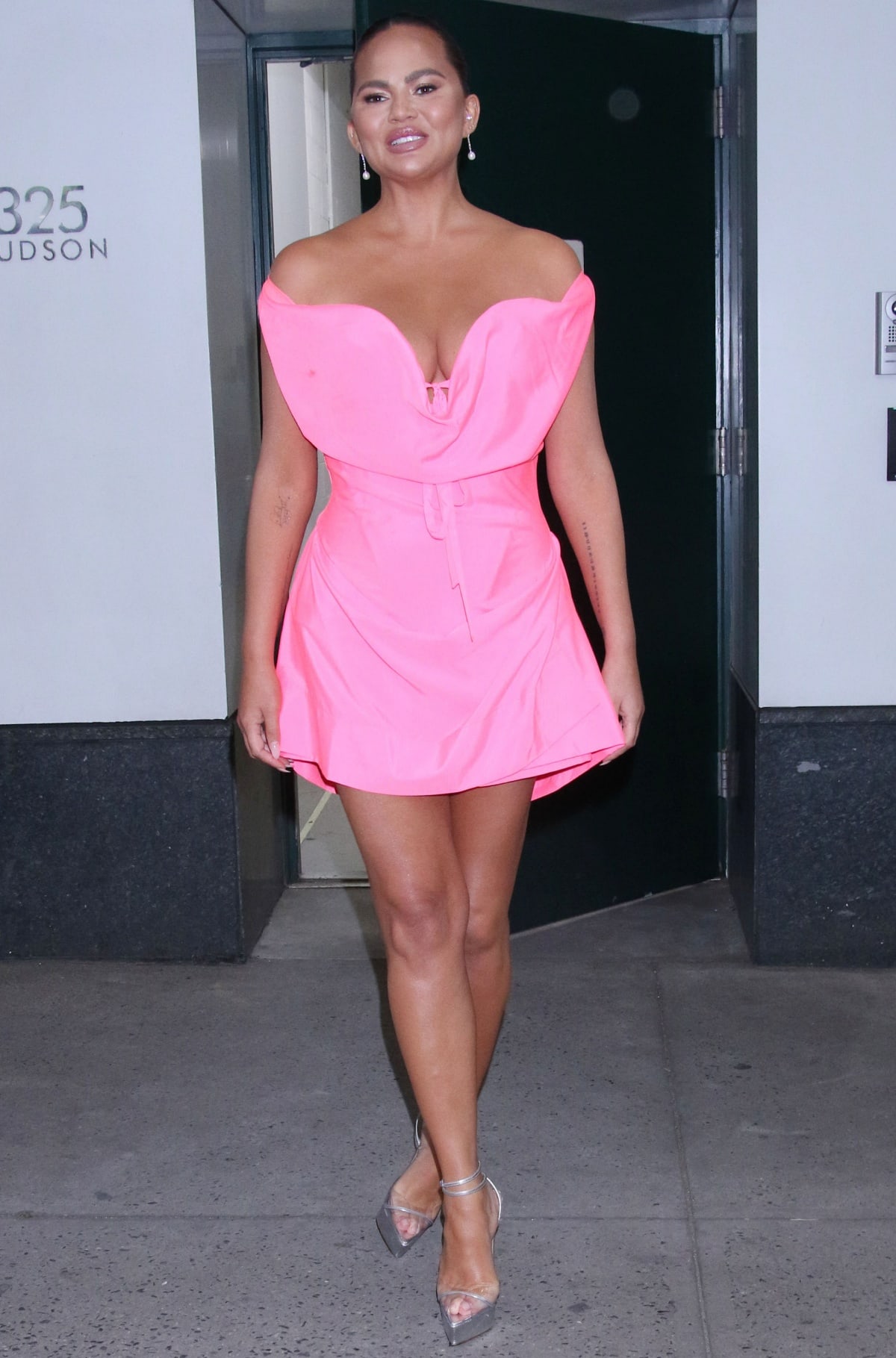 Chrissy Teigen gracefully adorned herself in a vibrant hot pink, draped sleeveless mini dress designed by the illustrious Vivienne Westwood (Credit: Roger Wong / INSTARimages)
The Way Down producer also ended the allegations by sharing a photo of herself during her C-section, showing her lying on the operating table as her youngest was delivered.
She jokingly captioned the photo, "Extremely realistic 'moon bump.'"
Chrissy Teigen proves time and time again that she's not just a fashion icon but a role model who can handle anything with humor and style.
In an interview with People in March, the mom of three discussed her experience with her first cesarean section and why she was "so excited" about the procedure.
She clarified that she was eager to try something new after giving birth twice through the standard delivery method.
View this post on Instagram
In reference to the birth of her two children, her 7-year-old daughter Luna Simone and 4-year-old son Miles Theodore, Teigen stated, "I was kind of excited because I'm like, 'Yeah, I've done the vaginal thing twice. Let's try this.'"
She continued, "I really love surgery. I like that I've seen both experiences."
Regarding her C-section, Teigen recalled, "The incision is a lot and you never know how your stomach's going to come together. I think your organs are on the table for a second, but that to me is so cool. I was taking pictures above the seat. I have the craziest pictures of the cord and everything."