Dame Vivienne Westwood was an icon in the fashion world, and her passing on December 29, 2022, in Clapham, South London, marked the end of an era. The renowned English fashion designer and writer had an estimated net worth of $50 million at the time of her passing.
However, her legacy lives on in the countless designers she inspired, the environmental causes she championed, and the numerous women whose lives she touched.
On February 16, Elle Fanning, Victoria Beckham, and Kate Moss attended the 81-year-old fashion designer's memorial service at London's Southwark Cathedral, paying tribute to her in style.
1. Elle Fanning's Somber Yet Sophisticated Look
Elle Fanning's black outfit was the epitome of sophisticated elegance.
Her stylish outfit that exuded class included a black knee-length dress, translucent black stockings, a black pleated wool jacket, a cinched waist, long sleeves, and a curved collar.
Elle Fanning attends Vivienne Westwood's memorial service in a black knee-length dress with a pleated wool jacket and high-heel Mary Jane pumps (Credit: John Rainford / Cover Images)
The 24-year-old actress coordinated her black leather top-handle Westwood purse with a veiled black pillbox hat, adding an edgy touch to the outfit.
Shoe-wise, the Maleficent star's choice of platform heels was a nod to Westwood's love for the style. The shoes in Elle Fanning's set had satin uppers with pointy toes, front Mary Jane straps, thick, angled soles, and the five-inch heels were an ode to the designer's bold and rebellious spirit.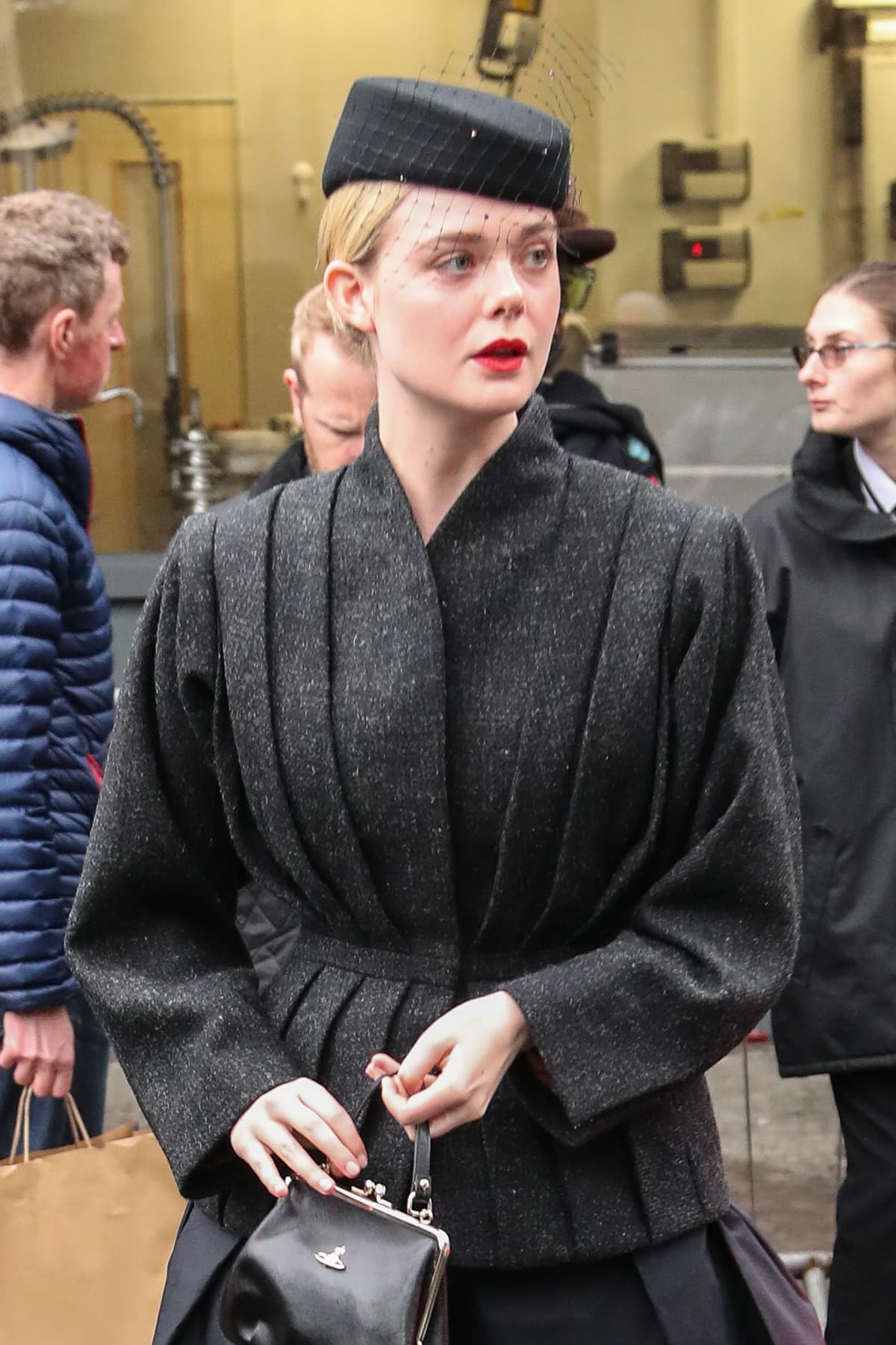 Elle Fanning adds a pop of red lipstick to her outfit and accessorizes with a veiled black pillbox hat and a Vivienne Westwood top-handle purse (Credit: John Rainford / Cover Images)
2. Victoria Beckham's Magnificent and Fitting Outfit
Victoria Beckham made a stunning and fitting tribute to the late designer when she walked out of the memorial service with her designer friend and close confidant, Marc Jacobs.
The hankie hem and fitted bodice gave the long-sleeved outfit a modern twist, while the black eyelet embroidery stitched in angular rows that adorned the entire piece added depth and dimension.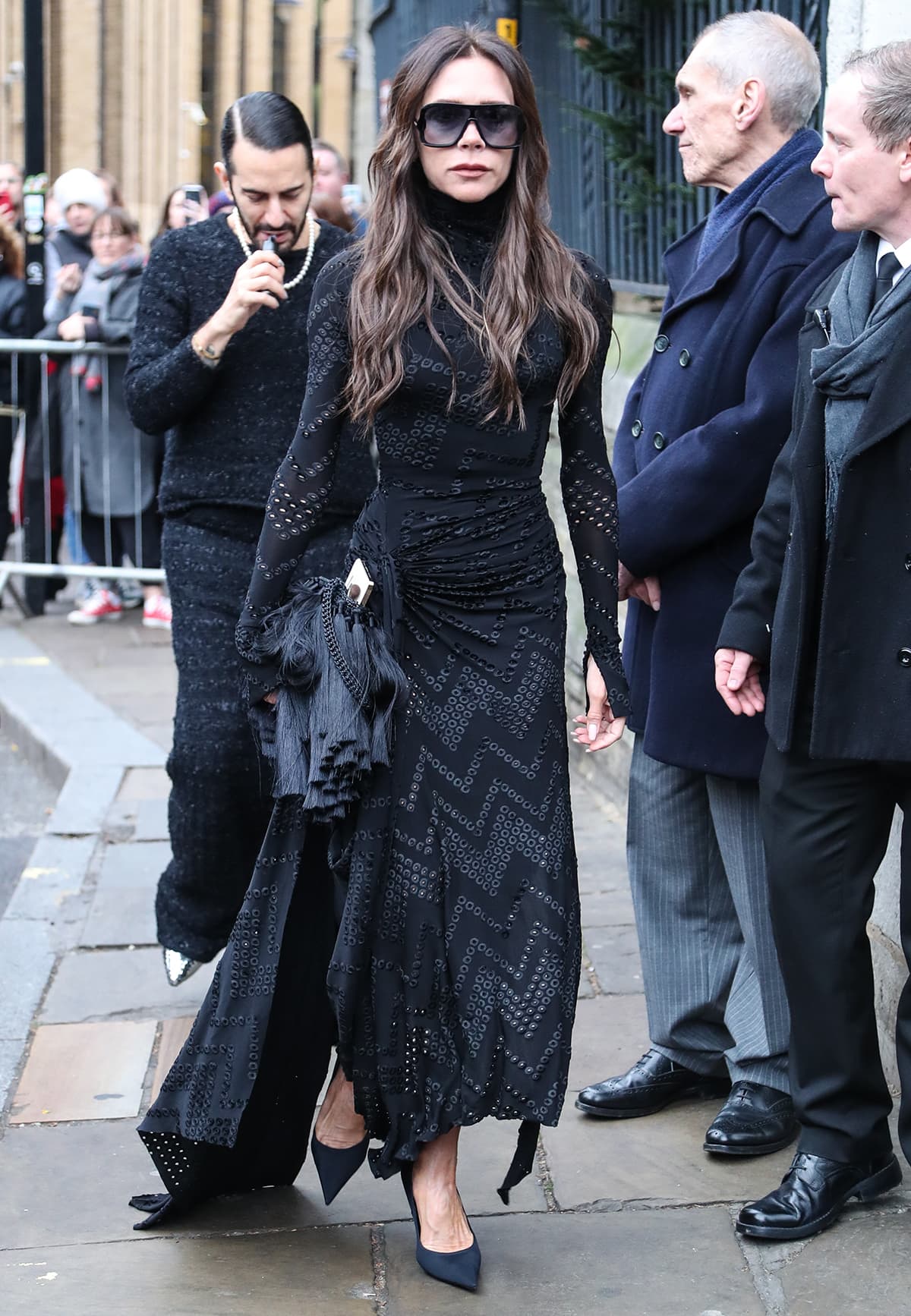 Victoria Beckham pays tribute to Vivienne Westwood in an eyelet-embroidered long-sleeved dress with a hankie hem and a pair of pointy pumps (Credit: John Rainford / Cover Images)
Her ensemble was accessorized with oversized black sunglasses and a black clutch with a silky woven cord handle.
The 48-year-old English fashion designer's choice of black, pointy-toe pumps with satin uppers elevated the look and gave it a subtle shimmer.
A pair of thin stiletto heels that measured at least 4 inches in height was a reminder of Westwood's bold and daring approach to fashion.
Victoria Beckham shields her eyes behind oversized black sunglasses and carries a black purse with feather tassels (Credit: John Rainford / Cover Images)
3. Kate Moss's Exquisite Silky Ensemble
Kate Moss, Westwood's longtime muse and model, attended the memorial service with her daughter Lila in a stunning black silk button-down maxi dress with a lovely rose flower design.
The 49-year-old British model's black fishnet stockings and black velvet Vivienne Westwood coat layered over the top added texture to the outfit. The enormous orange resin buttons bearing the designer's Orb logo were a nod to Westwood's iconic branding.
Kate Moss honors Vivienne Westwood in a black floral dress, a velvet coat, and platform heels (Credit: John Rainford / Cover Images)
Moss accessorized with a black beret adorned with crystals and a silver chain and pearl Orb pendant necklace, adding a touch of glamour to the ensemble.
Her look was finished with thick black platform heels highlighting round counters and toes and a substantial internal base.
The sky-high heels were a fitting tribute to Westwood's work and a reminder of the designer's penchant for making a statement.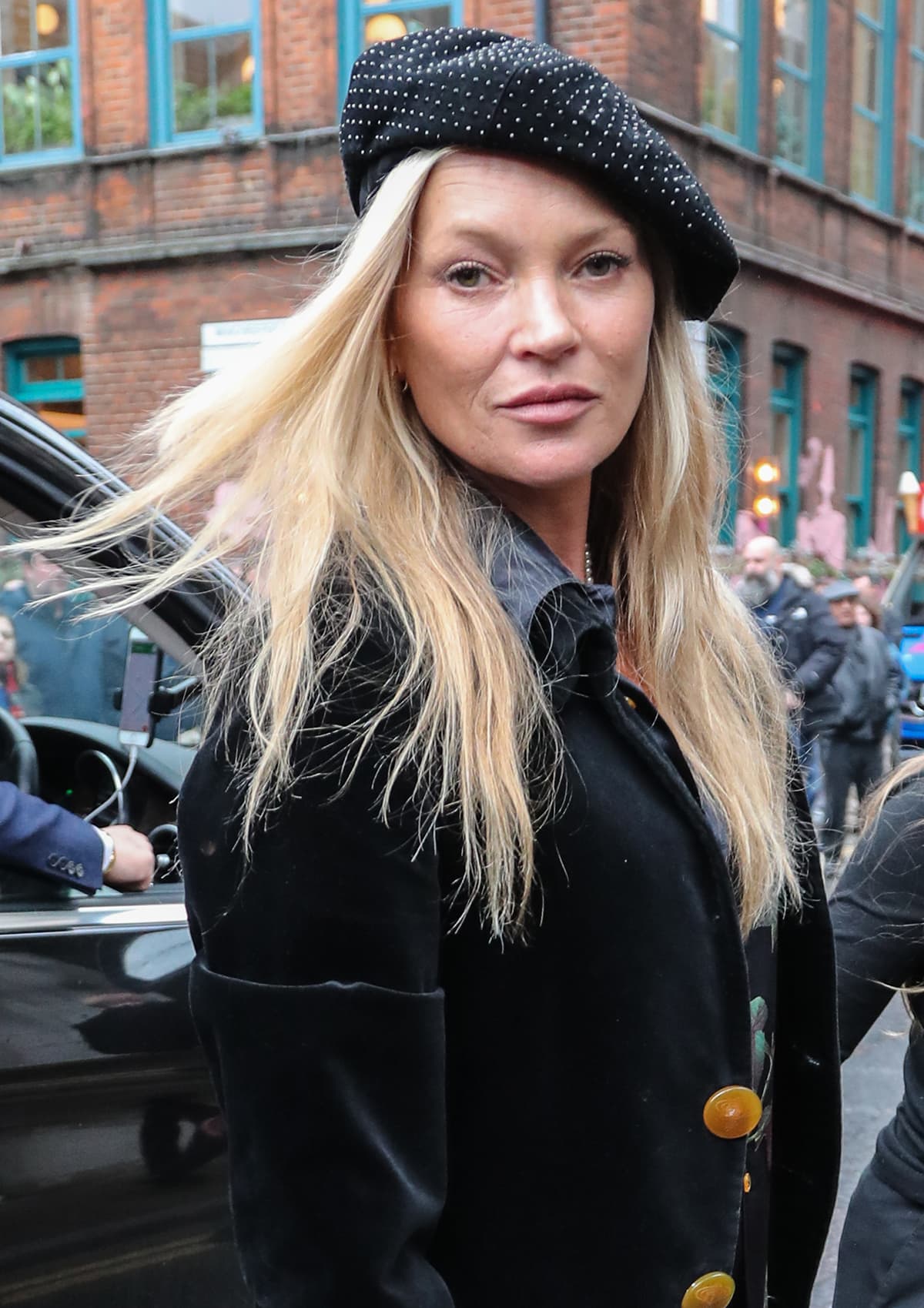 Kate Moss opts for a no-makeup makeup look as she hides her blonde tresses underneath a crystal-studded beret (Credit: John Rainford / Cover Images)
As they paid tribute to Dame Vivienne Westwood, Elle Fanning, Victoria Beckham, and Kate Moss demonstrated that the legendary designer's legacy lives on in the fashion world.
From platform heels to rebellious spirit, Westwood's impact on fashion is undeniable, and her memory will continue to inspire designers and fashion lovers for generations to come.