Born in Gainesville, Florida, to singer-songwriter Minnie Riperton and composer Richard Rudolph, Maya Rudolph was just 6 years old when her mother died in 1979.
Blessed with an angelic five-octave vocal range, her African-American mom is best known for her 1975 single "Lovin' You," which was certified Gold in the US by the RIAA for sales in excess of 1,000,000 units.
Maya Rudolph was just 6 years old when her mother Minnie Riperton died of cancer in 1979
Just one year after receiving the American Cancer Society's Courage Award, Minnie Julia Riperton Rudolph died of cancer on July 12, 1979, at age 31. In a September 2018 interview with The New York Times, Maya talked about losing her mother just two weeks shy of her 7th birthday.
"When I was a kid, and people would come up to me or stare at me because of my mom, I didn't like it. I really didn't like it. I used to think, 'Oh, they're staring at my hair, because it's so big and ugly.' Because I didn't realize people were just staring at my mother, like, 'Wow, that's her daughter!'" the actress said. "I didn't know; I was a kid. And kids always personalize things."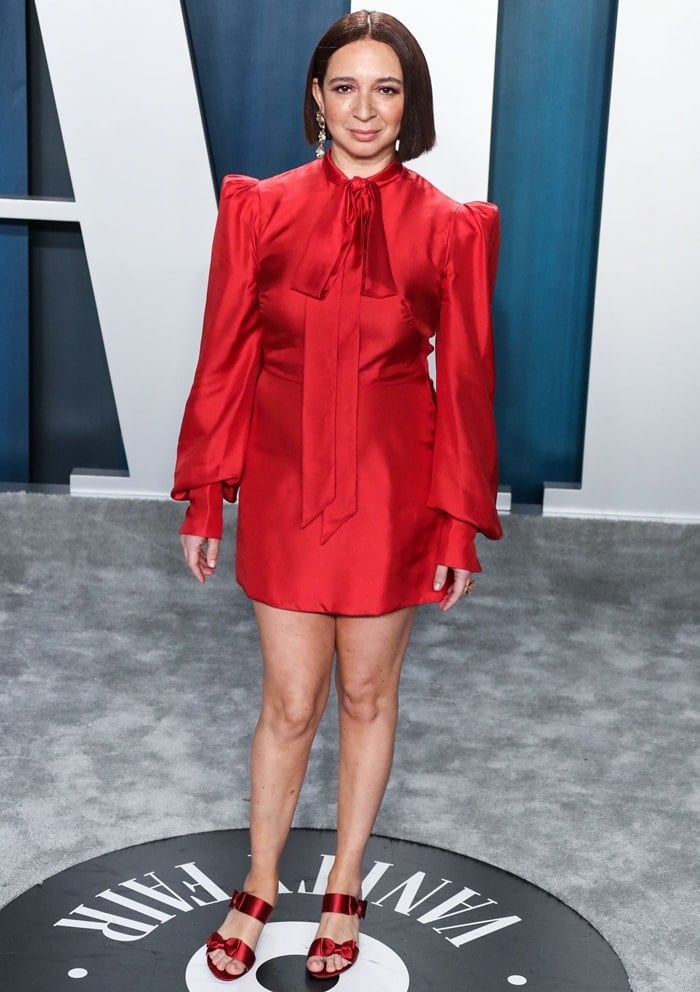 Maya Rudolph arrives at the 2020 Vanity Fair Oscar Party held at the Wallis Annenberg Center for the Performing Arts on February 9, 2020, in Beverly Hills, Los Angeles, California, United States
"For many, many years, I couldn't even touch this conversation. Like my mom was always—it was such a painful—" the actress added.
"I don't remember if I ever did proper grieving. I know I did, but it came out in ways—like when I was a kid, I went to a new school and I kicked people. I was like the kicker for a year. And then people tell me stories that I don't remember, like I'd be crying at a roller-skating party, and they were like: 'What's wrong? Why are you crying?' And I wanted to skate with a boy, and they said that I was like, 'My grandma died.' Which wasn't true! But I was f–king laying it on thick. I definitely think that children process very differently. And I'm genuinely fascinated by it, so I wish I knew all the ways that I do or did, but I don't. But I know that the place that I was with it most of my life was more of a, 'Poor me, why me?' Up until very recently, it was still, like, a sting to talk about her."
Maya Rudolph shows off her feet in red sandals
In December 2015, Maya Rudolph arrived at the Los Angeles ABC Studios for a guest appearance on Jimmy Kimmel Live!.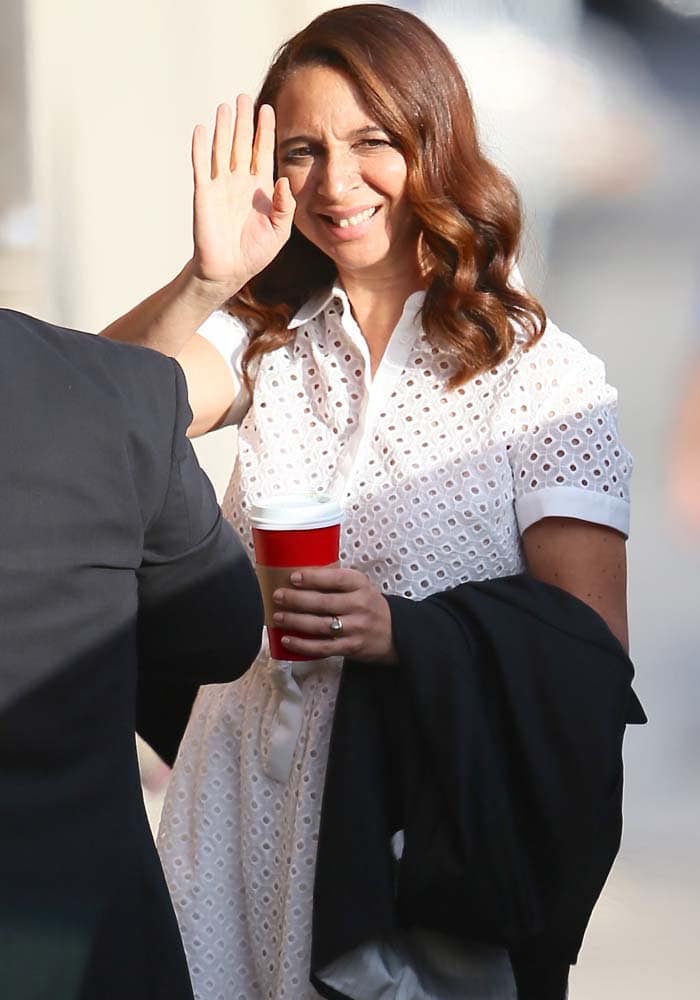 Maya Rudolph arriving in a white laser-cut dress at "Jimmy Kimmel Live!" in Los Angeles on December 3, 2015
The then 43-year-old comedian wore a beautiful white laser cut dress, which tied at the waist and featured both a knee-length hem and all-over eyelets.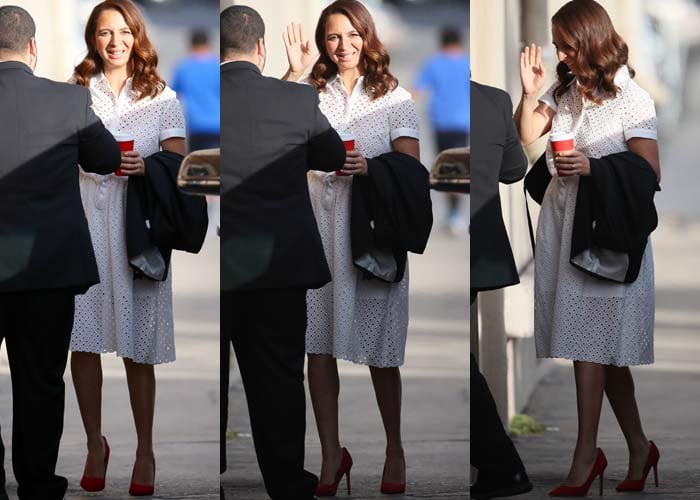 Maya Rudolph wears her hair down and juggles a blazer and a cup of coffee as she arrives at ABC Studios
She contrasted the stark white frock with a simple bright red pair of suede Gianvito Rossi pumps.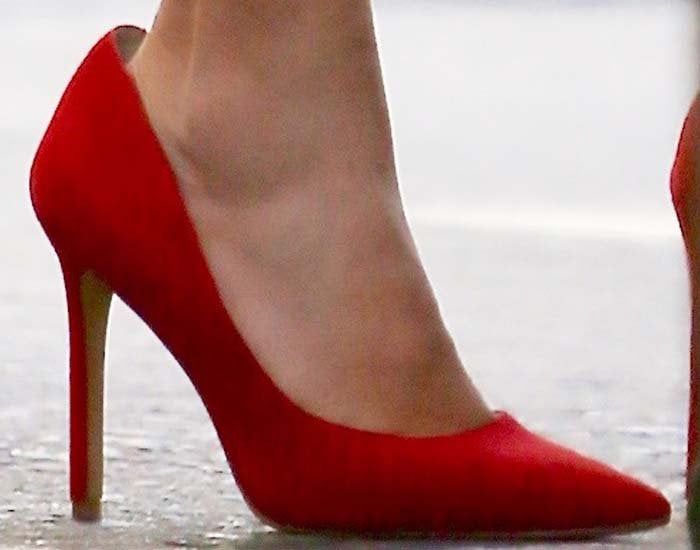 Maya Rudolph's feet in Gianvito Rossi pumps
Maya also had a blazer tucked under her arm as she held on to a cup of coffee. Earlier that day, Maya was seen showing support to her friend and fellow "Saturday Night Live" actress Amy Poehler as she received her star on the Hollywood Walk of Fame.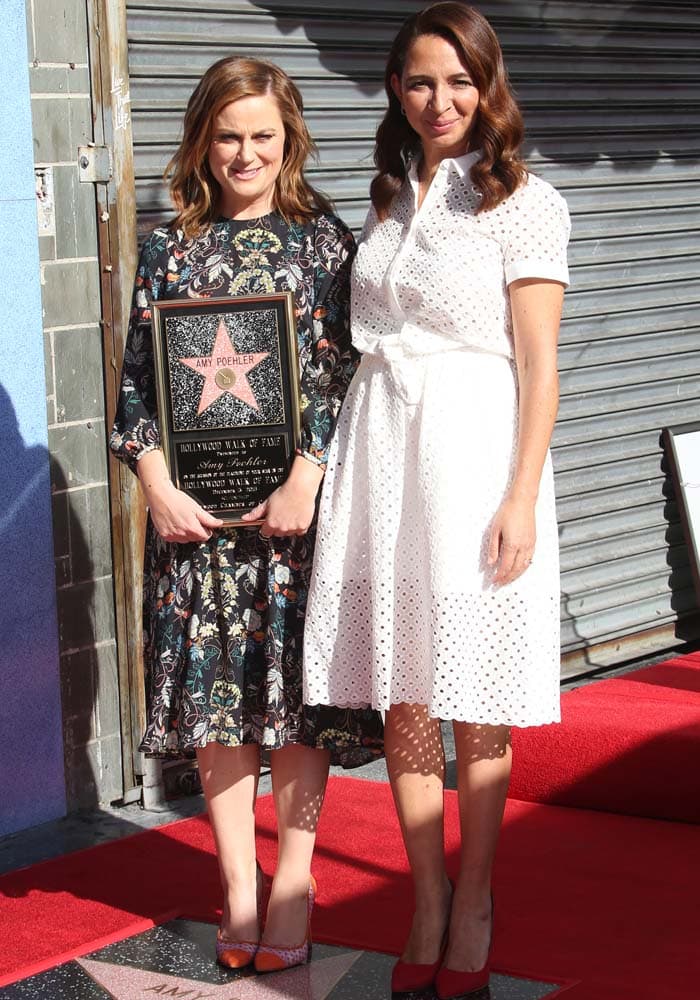 Amy Poehler and Maya Rudolph pose with Amy Poehler's star on the Hollywood Walk of Fame
Maya later arrived on the set of Jimmy Kimmel's show, where she hilariously recited the entire jive scene from the movie "Airplane."
Every lady needs a little red in her closet for pick-me-up days, so we think Maya's got the right idea. Make your plain outfits pop with these red suede pumps from Gianvito Rossi. Grab a pair over at Mytheresa or Nordstrom.
Red Gianvito Rossi Suede Pumps, $670
Credit: FayesVision / Michael Wright / WENN / Avalon