The new year is now upon us, and with it come new resolutions, new perspectives, new goals, and maybe even new wardrobes. Miranda Kerr definitely has an interesting year to look back on.
Thanks to Victoria's Secret, her modeling career is in full bloom and has made her one of the most recognized faces in the industry.
Miranda Kerr wearing a cropped knit sweater and dark-washed skinny jeans
Whether attending a fashion show, doing a photo shoot, or just walking around town, Miranda is constantly being followed by paparazzi. While out in Beverly Hills yesterday, she was spotted getting into an SUV wearing a simple yet fashion-forward casual outfit.
The main attraction of her outfit was a cropped knit sweater. She wore it with a skin-tone fitted top, dark-washed skinny jeans, tasseled leopard-printed loafers, and oversized sunglasses to finish. Fabulous as always!
Miranda Kerr in Beverly Hills after wrapping an earlier photo shoot in Los Angeles on January 10, 2013
Knitted sweaters happen to be one of the "go-to" pieces in the fall and winter months as they provide protection from the cold. As we have all seen, the tail end of 2012 saw its fair share of wool and knits with the revival of some important heritage trends — countryside chic and British heritage.
I think it's fair to say that knitwear will stick around well into the new year leading up to the warmer periods.
Check out these select knit sweaters available at Revolve:
Line The Frivolous Cardigan, $179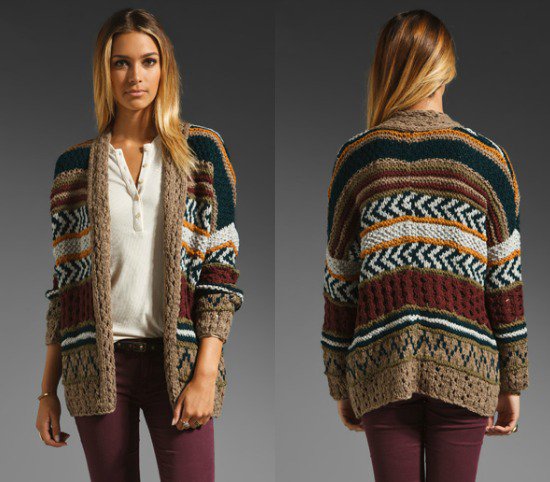 360 Sweater Willow Drape Jacket, $198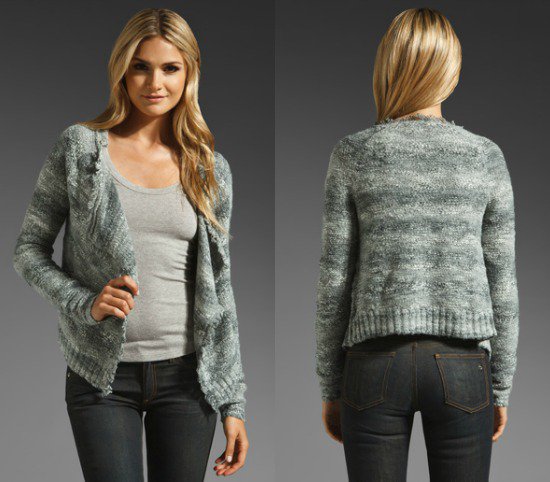 Plenty by Tracy Reese Contrast Raglan Cardigan, $123
Credit: JP / JFXimages / WENN