Discovered at 18 years old in a surf shop in Huntington Beach, California, Chrissy Teigen lost out on several modeling gigs throughout her career as a supermodel. Required to maintain a certain figure, a number of pregnancies finally made it impossible to manage her modeling body.
"I used to weigh myself every morning, afternoon, and night. I knew what the scales would say after each meal," Teigen told Glamour UK in an interview.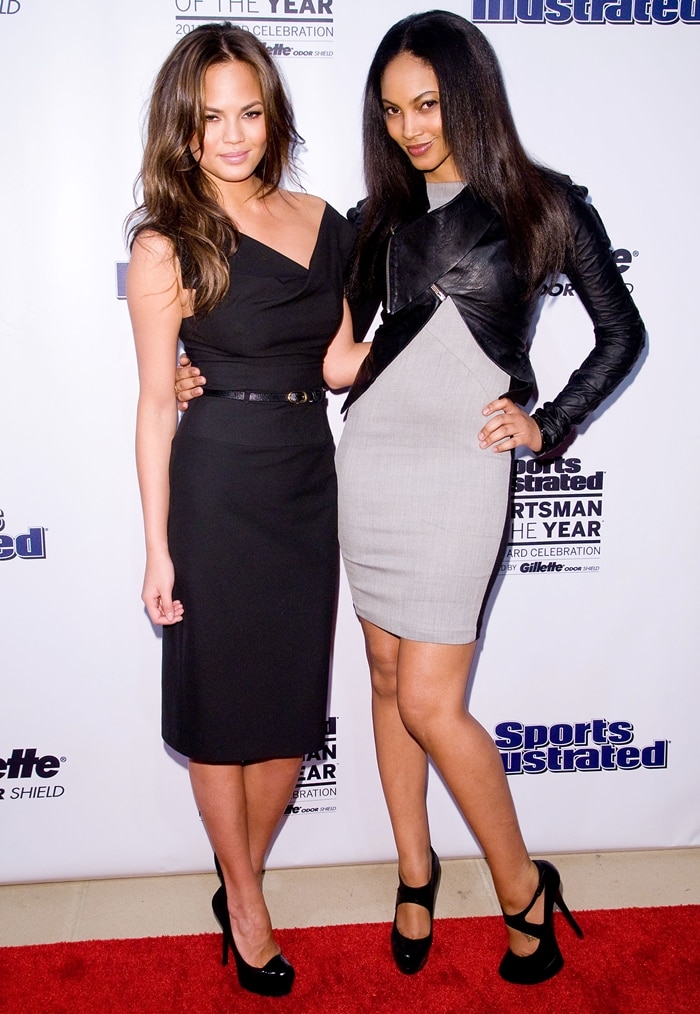 Models Chrissy Teigen and Ariel Meredith attend the 2011 Sports Illustrated Sportsman of the Year award presentation at The IAC Building on December 6, 2011, in New York City
"I did that for eight years and had this one weight I wanted to be at. That changed with Luna, and really changed with Miles, where it took me a year to be comfortable with my new normal number," she said about her second pregnancy.
"I do look at [my body] in the shower and think, 'Arghhh, these kids,'" Teigen added. After retiring as a swimsuit model, she has learned to embrace her body.
"But I don't take the aesthetics so seriously now. It's very fulfilling not having that pressure of putting on a swimsuit and looking good for a magazine while running around a beach, which I did when I was modeling. I don't feel like my body is where I'm going to be sh***y to myself, either. I'm already thinking enough things I am mad at myself about, I can't add my body into it."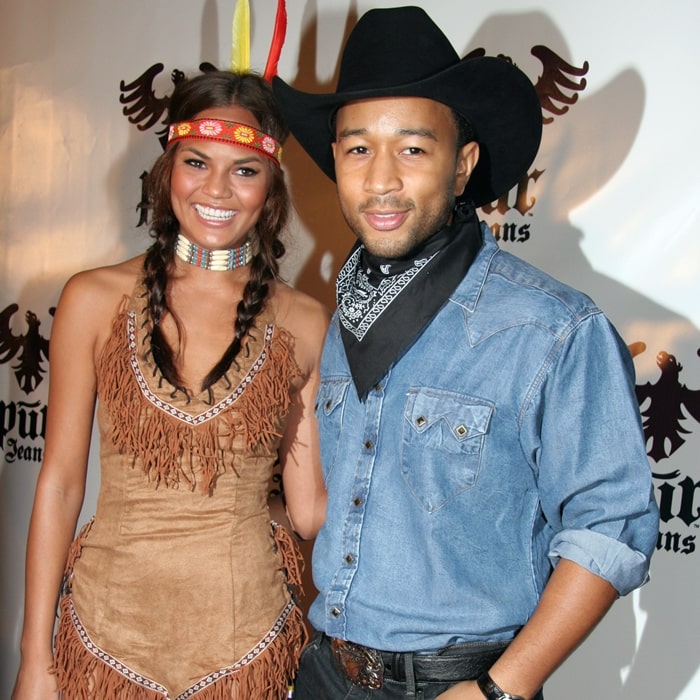 Musician John Legend (R) arrives with girlfriend Chrissy Teigen at the Pur Jeans Halloween Bash, held at the STG nightclub on October 31, 2008, in Los Angeles, California
In an interview with Women's Health in September 2018, the former Sports Illustrated's Swimsuit Edition model opened up about the pressure she felt to look good in a swimsuit.
"Honestly, I don't ever have to be in a swimsuit again," Teigen said. "Since I was 20 years old, I had this weight in my mind that I am, or that I'm supposed to be. I've been so used to that number for 10 years now. And then I started realizing it was a swimsuit-model weight. There's a very big difference between wanting to be that kind of fit and wanting to be happy-fit."
Chrissy Teigen and John Legend pose at the diNeila Brazil Press Preview during Mercedes-Benz Fashion Week Swim 2012 at The Raleigh on July 18, 2011, in Miami Beach, Florida
Chrissy Teigen and her husband John Legend are, without a doubt, one of the cutest married couples in Hollywood right now.
As an avid social media user, Chrissy is quick to update us regarding the adorable adventures that the two have together. From their cooking habits to their generally hilarious Instagram videos, these two have earned their spot on our #RelationshipGoals list.
In December 2015, the two even entertained the paparazzi's attempt to small talk during a recent outing in Los Angeles.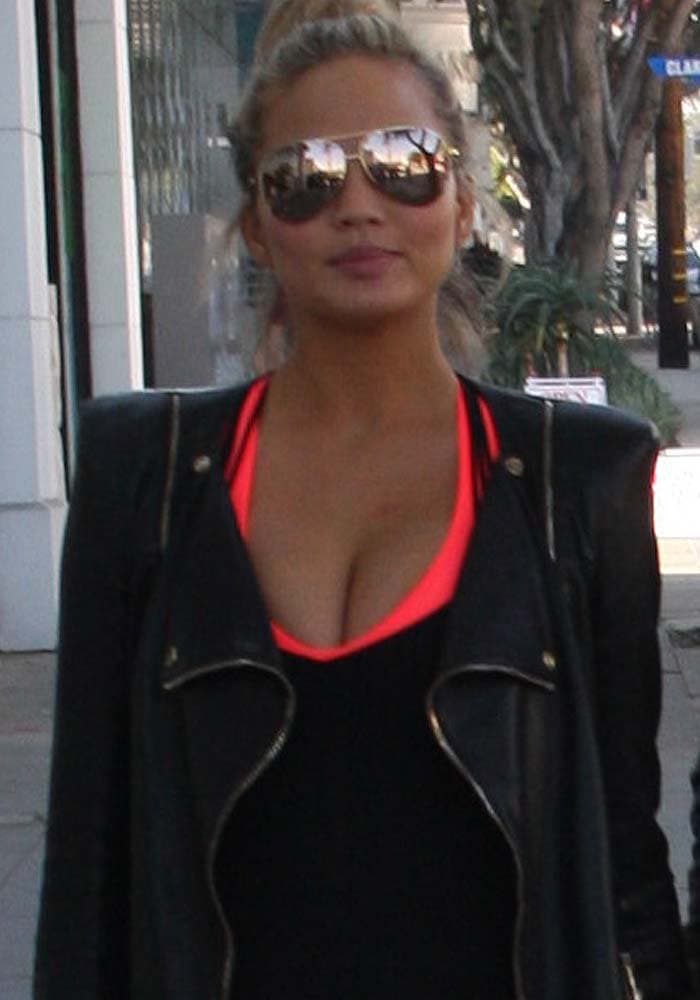 Chrissy Teigen wears her hair up as she takes a stroll in Los Angeles on December 4, 2015
Chrissy looked like she had just jumped off the treadmill prior to the stroll. The model wore a pair of capri-length Nike leggings and a black-and-neon-pink top.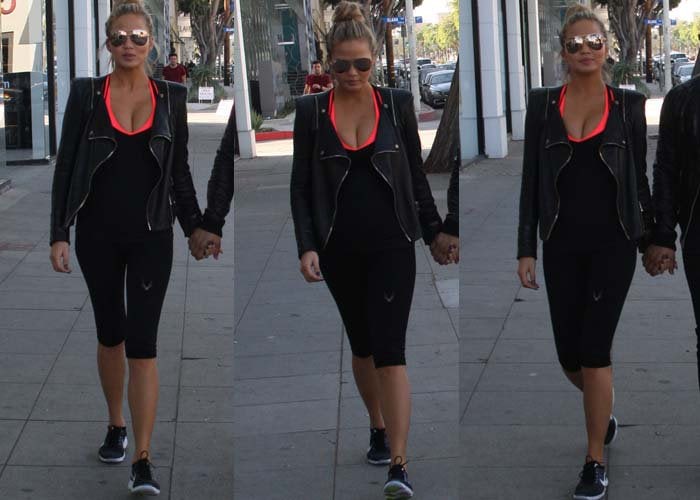 Chrissy Teigen wears a leather jacket over workout clothes during a Los Angeles outing
She finished her post-workout look with the Nike "Flyknit Zoom Agility" sneakers. The two wore matchy-matchy leather jackets and sunnies for their quick stroll.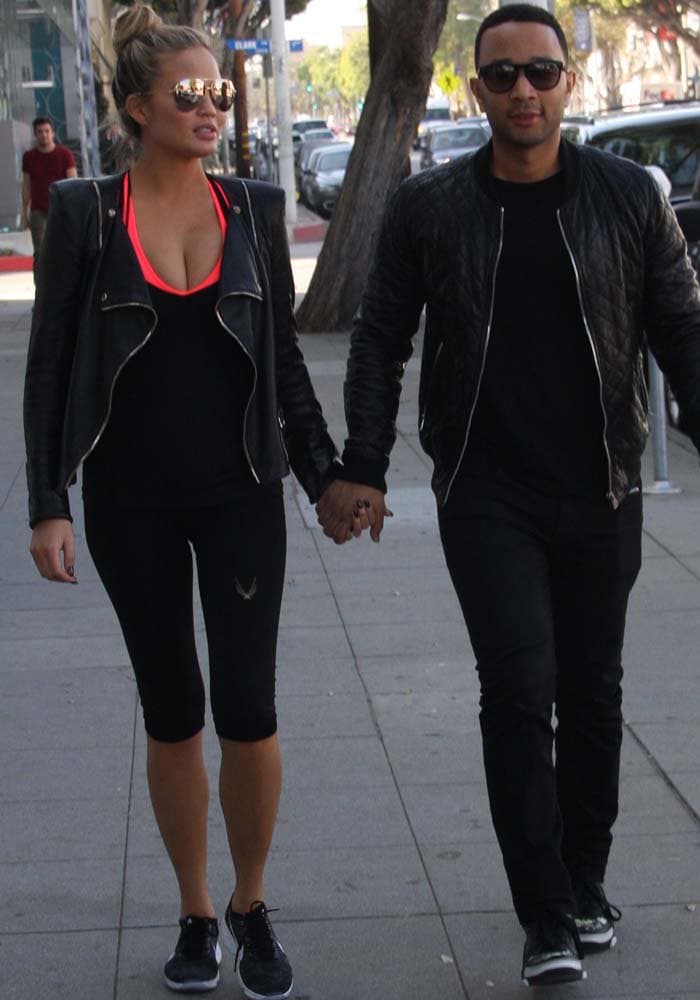 Chrissy Teigen and John Legend go for a walk in matching leather jackets
During the outing, the paparazzi asked the couple what their favorite memory of 2015 was, and what gender their unborn child is.
Get Chrissy's Nike workout footwear over at Nordstrom or Net-A-Porter.
Nike "Flyknit Zoom Agility" Mesh Sneakers, $150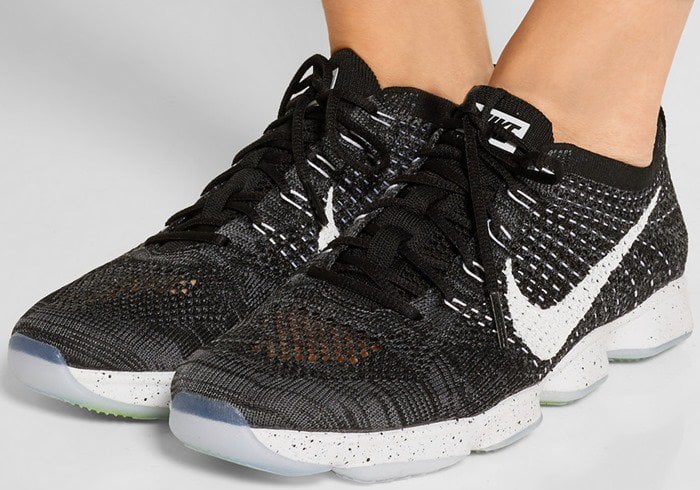 Credit: WENN / Ivan Nikolov / Rachel Worth