Molly Sims was spotted leaving the Baby2Baby event looking very chic in a red, heart-print blouse tucked in black slacks, and black suede shoes.
Molly Sims and her son Brooks Stuber leaving the Baby2Baby event in Los Angeles on December 14, 2013
The Baby2Baby event is a holiday party hosted by Jessica Alba's famous environmentally friendly enterprise, The Honest Company.
Sims was one of the many Hollywood mommies who attended the casual soirée, like Gwen Stefani and Rachel Zoe. Of course, she brought along her 18-month-old son, Brooks Stuber.
Molly Sims looked chic in a red, heart-print blouse, black slacks, and suede shoes
And while it was pretty much a star-studded event, Sims hardly wore any make-up which was pretty impressive since she hardly looked 40! Amazing!
Topshop's heart print marocain shirt looks a lot like the one Molly Sims was wearing! There's also a black and white version but it looks like the raspberry color is the only one available at Nordstrom at the moment.
There is another style with shorter sleeves which we think will work with a nice skirt. Joie also has a red, heart-print blouse but it's a lot more casual with its tunic style and much smaller heart prints. We can see this with a pair of tailored shorts or a skinny pair of jeans!
Topshop Heart-Print Marocain Shirt, $76
Topshop Heart-Print Shirt, $64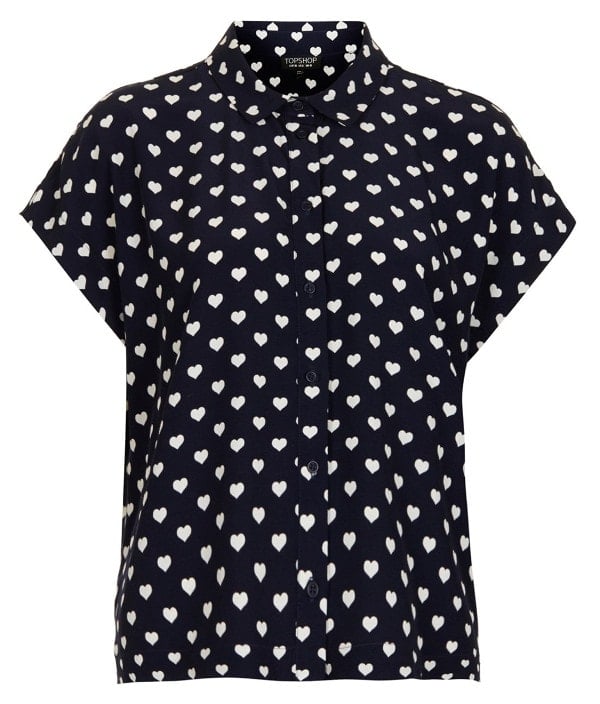 Joie Moema Scattered Hearts Blouse, $180.60
Credit: WENN