Did you think the $230,000 Eternal Borgezie diamond stilettos must be the most expensive shoes of all time? It turns out, that's just chump change compared to what the tags read on these otherworldly-priced shoes.
Made with some of the world's rarest, most precious and priciest gemstones, majority of these ridiculously expensive shoes easily clear the million-dollar mark.
Though this list became heavily skewed towards Stuart Weitzman when the designer began making million dollar shoes for the Oscars from 2002 to 2008, it still doesn't make the shoes — or the gemstones on them — any less expensive.
Here's the list of the 10 most expensive shoes in the world, starting with the cheapest which incidentally, are the House of Borgezie shoes. While we have not included them, fashion designer Debbie Wingham has created a pair of heels that she's trying to sell for $15.45 million. If she manages to fool someone into buying them, we'll be forced to revise our list!
10. House of Borgezie Eternal Borgezie Diamond Stilettos
Laden With: Goldsmith-handcrafted gold then encrusted with 2,200 individual sparkling diamonds with a bling factor of 30 carats.
Famous For: Nothing yet. Or maybe for just being so damn pricey, while still being way too cheap to be considered the most expensive shoes of all time.
Priced At: $230,000.00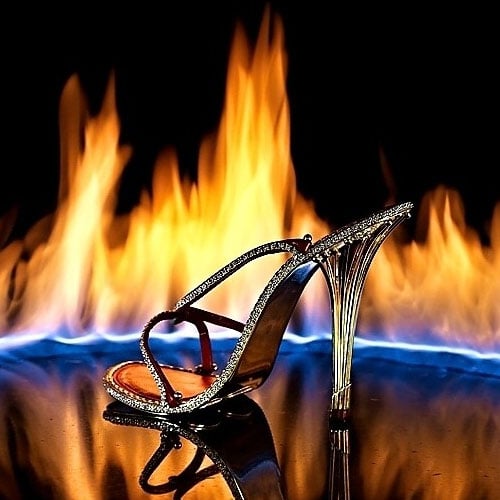 9.  Stuart Weitzman Diamond Dream High Heel Sandals
Laden With: 1,420 brilliantly cut Kwiat diamonds weighing over 30 carats and then set in platinum.
Famous For: Being worn at the 2007 Oscars by Anika Noni Rose who was one of the stars of that year's most nominated film "Dreamgirls".
Priced At: $500,000.00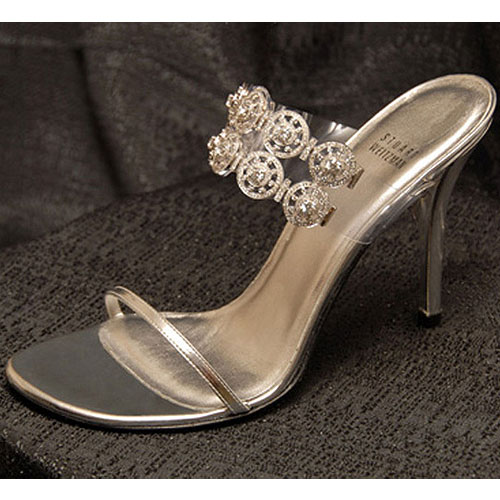 8. Stuart Weitzman Retro Rose T-Strap Pumps
Laden With: Two diamond roses encrusted with more than 1,800 Kwiat diamonds weighing 100 carats. The roses are affixed to a pair of dusty gold 40s-inspired t-strap pumps.
Famous For: NOT being worn by stripper turned "Juno" screenwriter Brook Busey aka Diablo Cody to the 2008 Oscars.
She said it was a cheesy publicity stunt and lashed out on her MySpace blog saying, "They're using me to publicize their stupid shoes and NOBODY ASKED ME. I would never consent to a lame publicity stunt at a time when I already want to hide."
Stuart Weitzman confusedly replied that Diablo Cody actually selected the shoes herself, even choosing the t-strap style AND the diamond roses to adorn them. She also selected a pair of ballet flats for her to change in after the Oscars.
Diablo Cody wore an unbranded pair of gold ballet flats to the 2008 Oscars instead.
Priced At: $1,000,000.00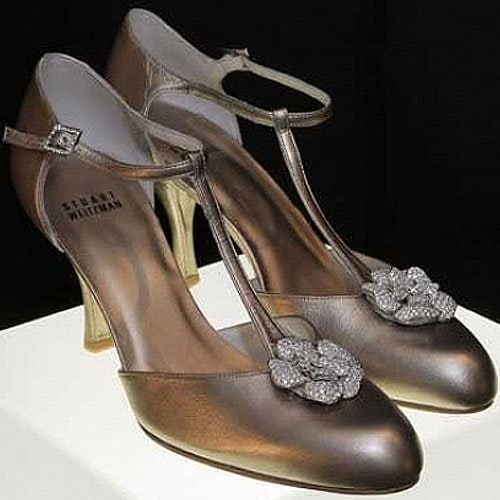 7. Stuart Weitzman Million Dollar Shoes
Laden With:464 Kwiat pear and round-shaped diamonds set in pure platinum thread.
Famous For: Being worn by actress Laura Elena Harring to the 2002 Academy Awards. Laura Herring was Stuart Weitzman's first "Cinderella" and the Platinum Guild shoes were the first million dollar shoes.
The shoes, along with the 27-million-dollar necklace around Laura's neck, prompted that she be accompanied by no less than three bodyguards to the awards show.
Priced At: $1,090,000.00
6. Stuart Weitzman Ruby Slippers
Laden With: 642 round and oval Burma rubies weighing 123.33 carats set in half a pound of pure woven platinum.
Famous For: Being inspired by the original ruby slippers from "The Wizard of Oz". Stuart Weitzman also created these for the 2003 Academy awards but ended up scrapping the plan altogether.
"We pulled the ruby shoes we were planning to show off at the Oscars out of respect for those fighting in Iraq", Stuart Weitman spokesperson Jane Weitzman explained.
Priced At: $1,600,000.00
5. Ruby Slippers from "The Wizard of Oz"
Laden With: No precious stones for this shoe — just red-dyed white silk pumps from the Innes Shoe Company and then customized by "The Wizard of Oz" costume department. One initial pair was made with bugle beads but when they proved to be too heavy, they were replaced with sequins, about 2,300 for each shoe. The bows, added only a couple of weeks before shooting, are made of leather.
Famous For: For being Dorothy's (Judy Garland) iconic shoes in the classic 1939 movie "The Wizard of Oz"!
As they were props for a movie, a number of pairs of these shoes were made but no one knows exactly how many. Wikipedia says "five pairs are known to have survived; one was stolen in 2005 and never recovered".
These shoes have sold for $12,000, $15,000 and $150,000. One auction at Christie's East in 2000 sold a pair of these ruby slippers for $666,000.00. The latest auction, held at the Paley Center in Los Angeles on June 18, 2011, sold a pair Judy Garland wore in a screen test for $1.75 million.
Priced At: $1,750,000.00
4. Stuart Weitzman Cinderella-Inspired Shoes
Laden With: 565 clear Kwiat diamonds set in platinum and a single 5-carat amaretto diamond. The rare-colored gem alone is already worth $1 million.
Famous For: Being worn by singer Alison Krauss to the 2004 Oscars. Stuart Weitzman's daughters are fans of Alison Krauss and when Stuart Weitzman approached the singer about wearing these shoes, she gratefully said yes.
Priced At: $2,000,000.00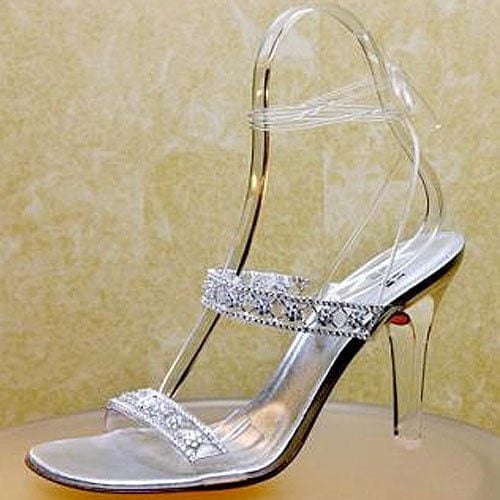 3. Stuart Weitzman and Le Vian Tanzanite Evening Sandals
Laden With: Over 185 carats of museum-quality tanzanite and 28 carats of diamonds painstakingly matched to each other. Two 16-carat gems dangle from the front strap.
Famous For: Being unveiled at jeweler's Le Vian party in Las Vegas back in June 2008. It is speculated that Stuart Weitzman created these shoes for the 2009 Academy Awards. They are yet to be worn on the red carpet.
Priced At: $2,000,000.00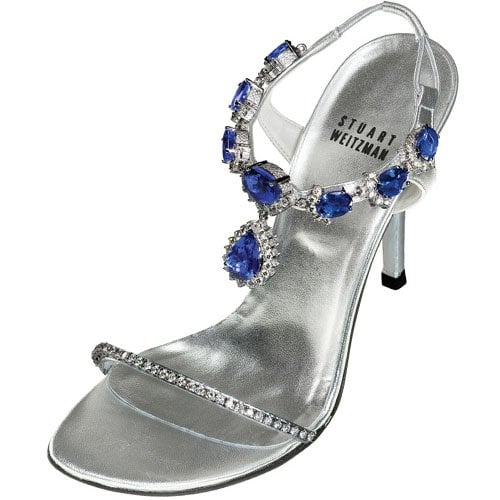 2. Stuart Weitzman Rita Hayworth Shoes
Laden With: A pair of earrings worn and owned by movie legend Rita Hayworth. The earrings are made of rubies, sapphires and diamonds.
Famous For: Being worn by musician Kathleen Bird York at the 2006 Academy Awards. She was nominated that year for her song "In the Deep" from that year's winner of Best Picture, Best original Screenplay and Best Film Editing "Crash". They are just a few dollars away from being the most expensive shoes in the world!
Priced At: $3,000,000.00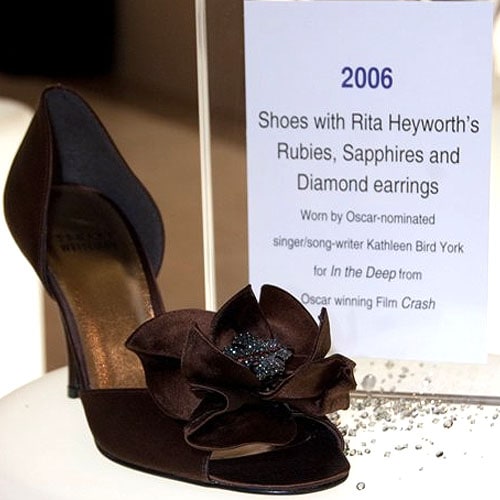 1. House of Harry Winston Ruby Slippers
Laden With: Real rubies, unlike its sequined inspiration from "The Wizard of Oz". These are set with 4,600 rubies totaling 1, 350 carats as well as 50 carats of diamonds. It took craftsman Javiar Barerra two months to set all of those precious stones.
Famous For: Being the world's most expensive shoes!
Ronald Winston of the House of Harry Winston created these special shoes in commemoration of the movie's 50th anniversary.
Priced At: $3,000,000.00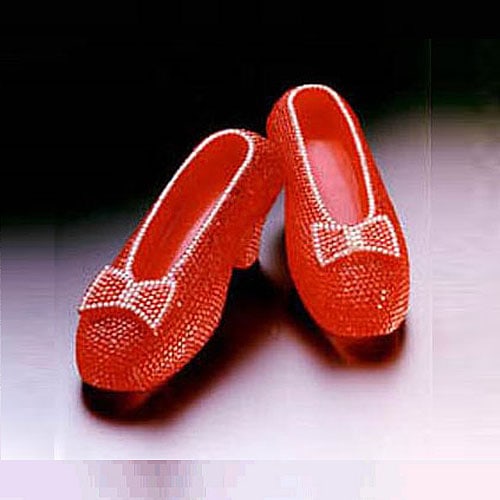 Credit: Most-Expensive.net, PastryShoesCollection.com, LivingProper.com, House of Borgezie,
Getty Images, Stuart Weitzman, Warner Bros., Smithsonian Institution, AP Photo, MontrealFashionMinds.blogspot.com