Did you know that — years after "breaking things off" with Beyonce after their Destiny's Child run — Motivation singer Kelly Rowland is still good friends with Queen Bey?
In February 2016, Kelly shared her opinions on Beyoncé's controversial Super Bowl halftime performance —which sparked a backlash with the white community — at Delta Air's Grammy Weekend Celebration.
Kelly Rowland wears her hair down at Delta Air's "Sites And Sounds" held on February 12, 2016, during the 2016 Grammy Weekend
5 years earlier, she released her song "Motivation" from her third studio album Here I Am. Written in 2010 by Jim Jonsin, Rico Love, Daniel Morris, and Lil Wayne, the song was released on April 8, 2011, when Kelly Rowland was 30 years old.
Kelly Rowland revealed her nipples while performing Motivation at Club 4Sixty6 in West Orange, New Jersey, on August 7, 2011
"How can this KR song with the weakest beat and melody of all time be the #1 song on urban!? Oh yeah. [Lil] Wayne," Beyonce's producer Jeff Bhasker tweeted about Motivation in July 2011.
Later, he added, "I just listened to 'Motivation' again to see if I was too harsh in my critique. I wasn't. The lyrics are horrid as well."
"You know what, the record speaks for itself," Rowland responded to Jeff Bhasker's criticism in an interview with BET.
"Opinions are like **sholes, everybody's got one. He's made wonderful music with my sister and other artists. There's no reason for me to say anything negative."
Beyonce's producer Jeff Bhasker slammed Kelly Rowland's Motivation on Twitter
"Wayne and I have known each other for a really long time," Kelly told MTV News about collaborating with Lil Wayne.
"'Motivation' came about when I was in the studio with [producers] Jim Jonsin and Rico Love, and we kind of were just vibing. I told Rico I wanted something really sexy… and he came up with 'Motivation' along with Jim," she added.
Directed by Sarah Chatfield, the music video for Motivation features lots of sexualized dancing choreographed by Frank Gatson.
The American recording artist wore a simple military green shirt dress and showed off her feet in Aquazzura's "Sexy Thing" platform sandals in nude suede.
Kelly Rowland displays her toes in nude suede Aquazzura platforms
The singer opted for an interesting mix of silver and gold (which in theory we still cannot comprehend, but Kelly doesn't look too bad in it).
Kelly Rowland's feet in nude suede "Sexy Thing" platforms
Kelly spoke highly of Beyoncé's performance. She focused on the presentation itself and smartly dodged the whole racial controversy.
The then 35-year-old singer also spoke a bit about her then one-year-old son Titan and what it's like to be a new mother.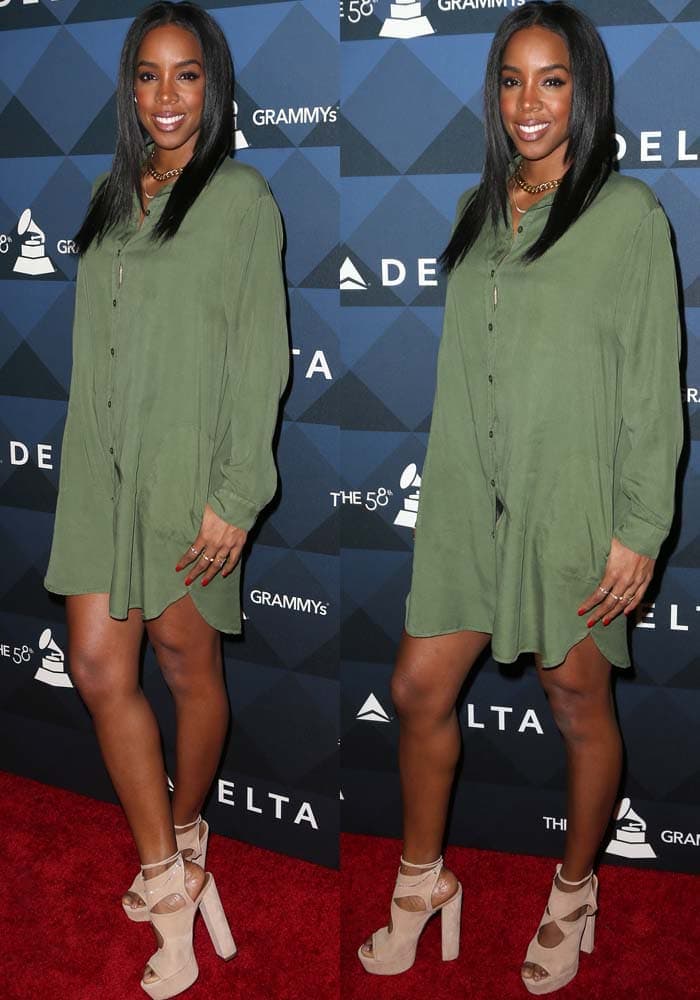 Kelly Rowland wears a green military shirtdress on the red carpet
You can order Kelly's Aquazzura "Sexy Thing" sandals at Shopbop, Nordstrom, and Farfetch.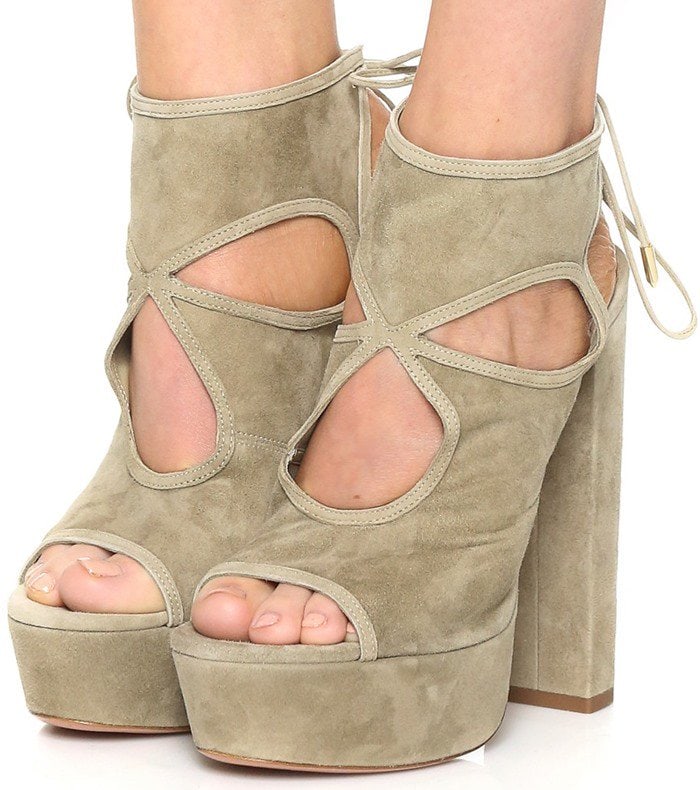 Aquazzura Sexy Thing Plateau Sandals, $715
Aquazzura 'Sexy Thing' Platform Sandal in Biscotti, $715
Aquazzura 'Sexy Thing' Platform Sandal in Black, $715
Aquazzura 'Sexy Thing' Platform Sandal, $715
Credit: FayesVision / WENN