Dating fellow actor Chiwetel Ejiofor from 2000 to 2007, five years after their split Naomie Harris started a relationship with Peter Legler.
Naomie Harris and Chiwetel Ejiofor dated for seven years and split in 2007 (Credit: Daniel Deme / WENN)
Now rumored to be her husband, they've been dating since 2012 but never appear together on the red carpet.
Naomie Harris and her boyfriend Peter Legler were spotted together for the first time in November 2012 when they enjoyed a weekend at Champneys Tring, a popular health spa located in Hertfordshire, England.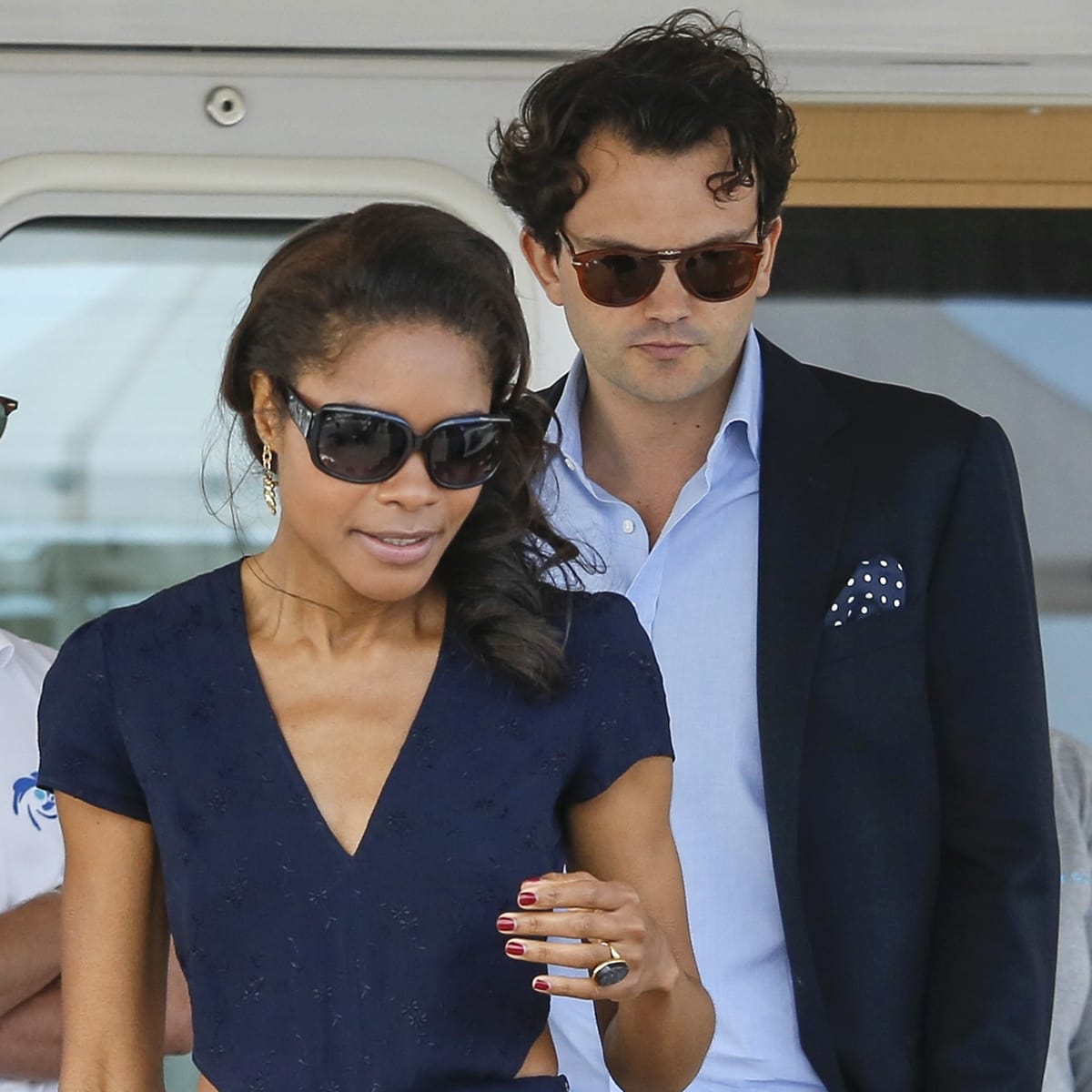 Naomie Harris and her boyfriend Peter Legler in Cannes on May 19, 2013 (Credit: WENN)
An investor with experience from Lehman Brothers, he studied at the American University in London between 1997 and 1999. For two years until 2017, he worked as a Senior Advisor to the Finance Minister in Athens.
It's never been confirmed that Naomie Harris and Peter Legler are married, but she was spotted on several dates with her rumored husband in 2021. They are not believed to have children together.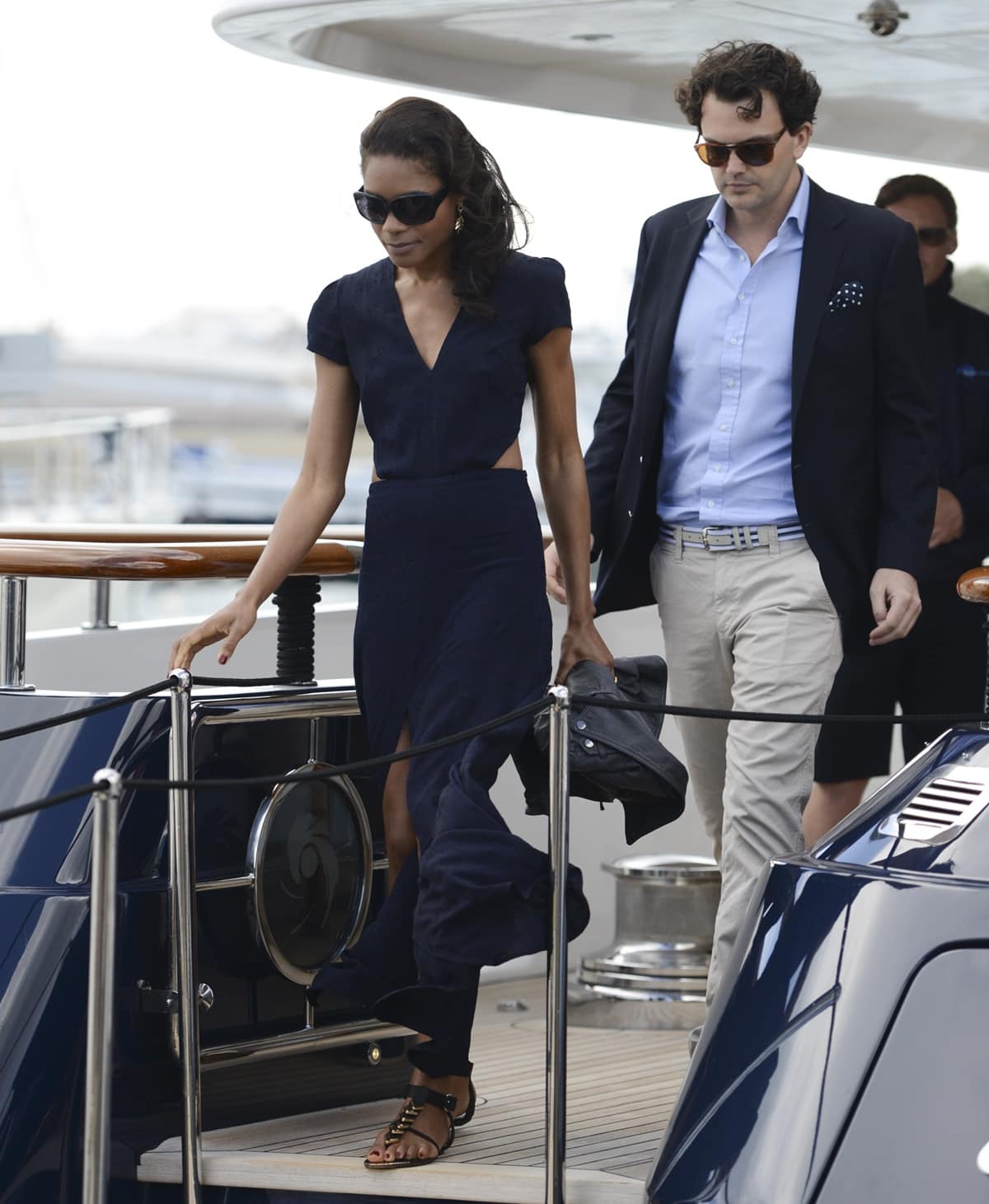 Naomie Harris's rumored husband Peter Legler always tries to stay in the background (Credit: WENN)
In an interview with Woman, the Moonlight actress emphasized her need for privacy.
"People ask, "So when are you going to have children?" I think it's a really odd thing because it's such a personal decision," she told the magazine. "And also, you don't know what is happening in someone's life."
"I find it bizarre, even with my friends, when they want me to have children," she added. "Why would you encourage anybody to have children unless it was their burning desire? You need to be fully committed to it."
"My mum has always said, 'You can achieve anything, you can do anything.' She always says, 'Have children when you're ready, if you're ready, but only then,' and I'd never had any pressure."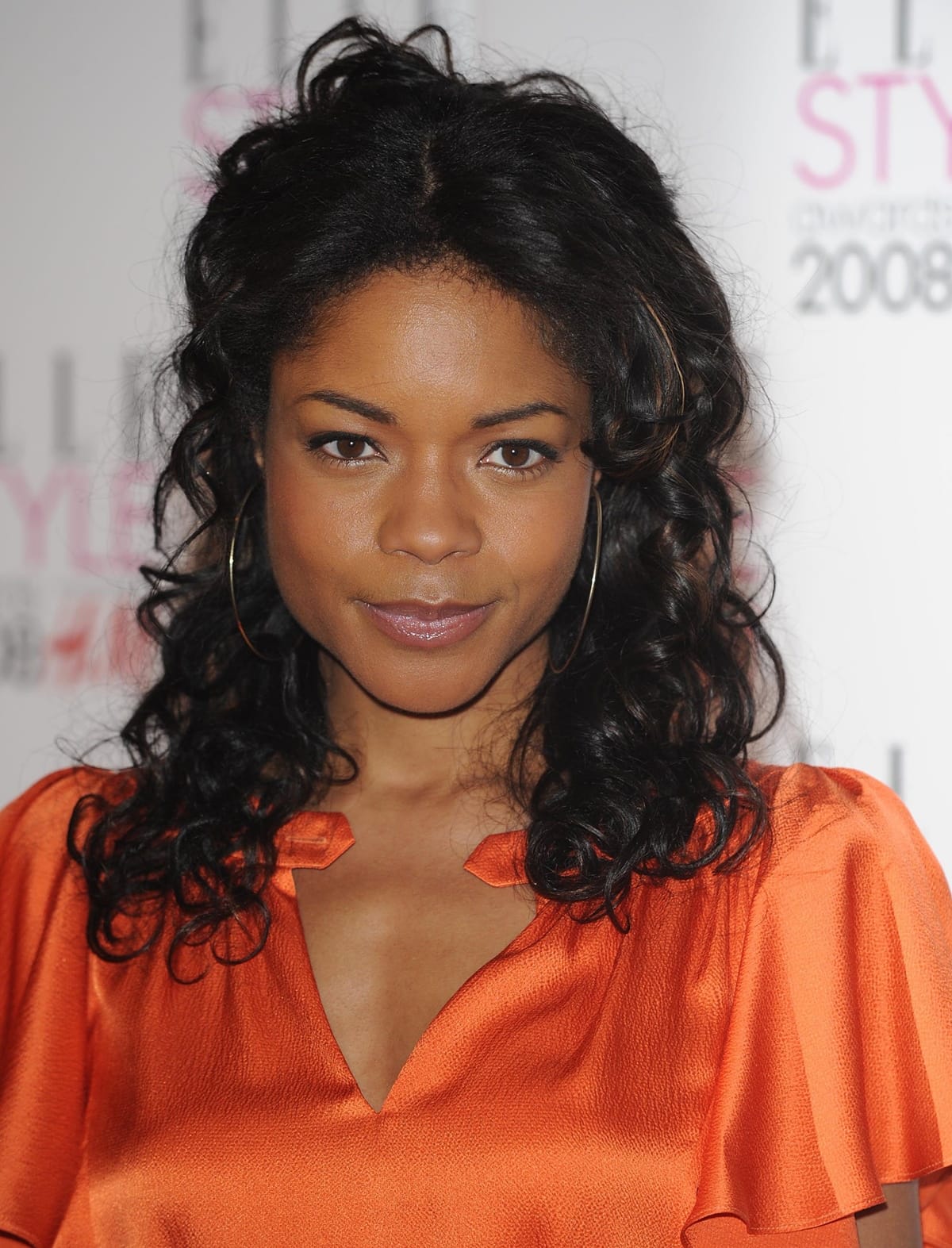 Naomie Harris refuses to share details about her dating life (Credit: WENN)
"I think that really helps, having that bedrock of support from my mum and having grown up in that environment means I don't really feel pressured by other people."
She also told ES magazine why she doesn't share details about her dating life. "I was told very early on not to talk about relationships and I think it's great advice because it's all very well when things are going well.
"I've seen that with actresses, they've talked about how in love they are, how they're getting married. And it's so beautiful to read. But then it doesn't work out and you've got to answer all those questions about your personal life when it's still so raw for you."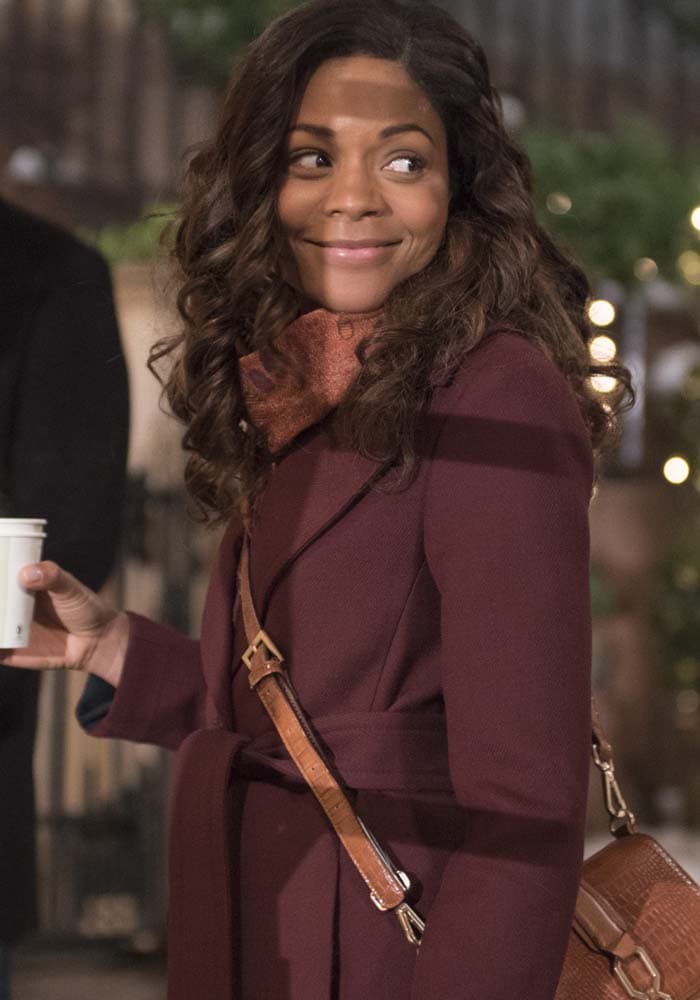 Naomie Harris wears her hair down as she films scenes for the movie "Collateral Beauty" March 23, 2016, on location in Brooklyn (Credit: WENN)
In March 2016, Naomie Harris and Will Smith's film project "Collateral Beauty" was finally rolling along after some major setbacks.
The Pirates of the Caribbean actress was spotted strolling in the dead of "winter" for the first several holiday scenes filmed in Brooklyn. She wore a maroon coat layered over a knee-length black dress.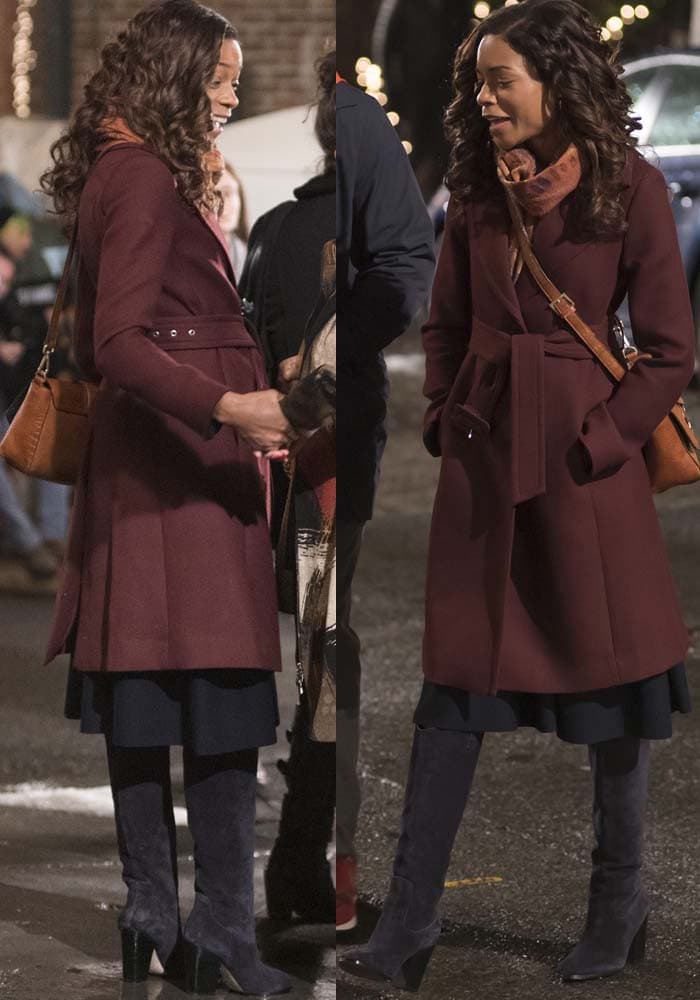 Naomie Harris wears a maroon coat over top of a black dress while filming in Brooklyn (Credit: WENN)
Known as the first black actress to play Moneypenny, she wore a burnt orange scarf around her neck with a matching sling purse.
Naomie slipped into a pair of knee-high suede Sigerson Morrison "Monna" boots in a dark violet shade.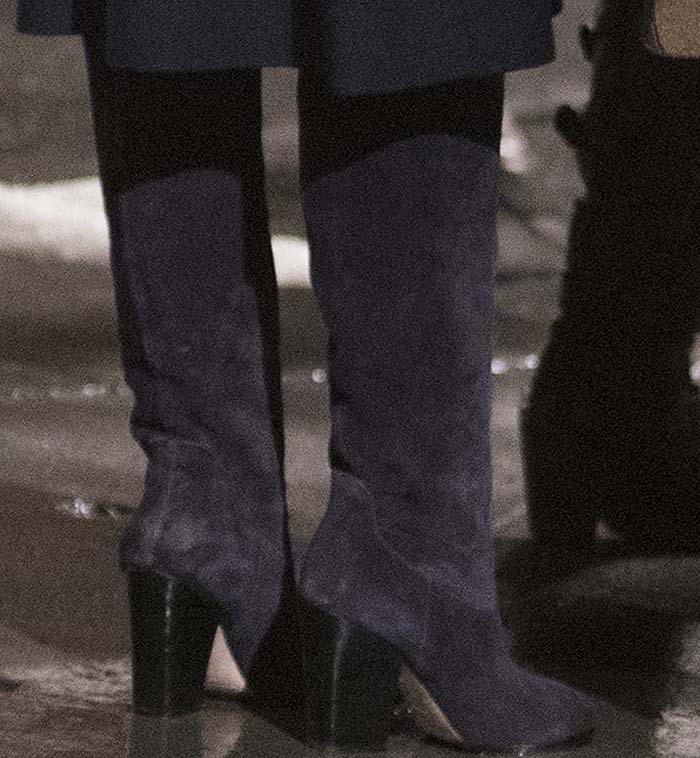 Naomie Harris wears a pair of suede Sigerson Morrison boots (Credit: WENN)
Also starring Kate Winslet, Edward Norton, Michael Peña, Keira Knightley, Jacob Latimore, and Helen Mirren, the 2016 American fantasy drama film Collateral Beauty premiered at the Dubai International Film Festival on December 13, 2016.
Universally panned by film critics, the film performed reasonably well at the box office despite the negative reviews.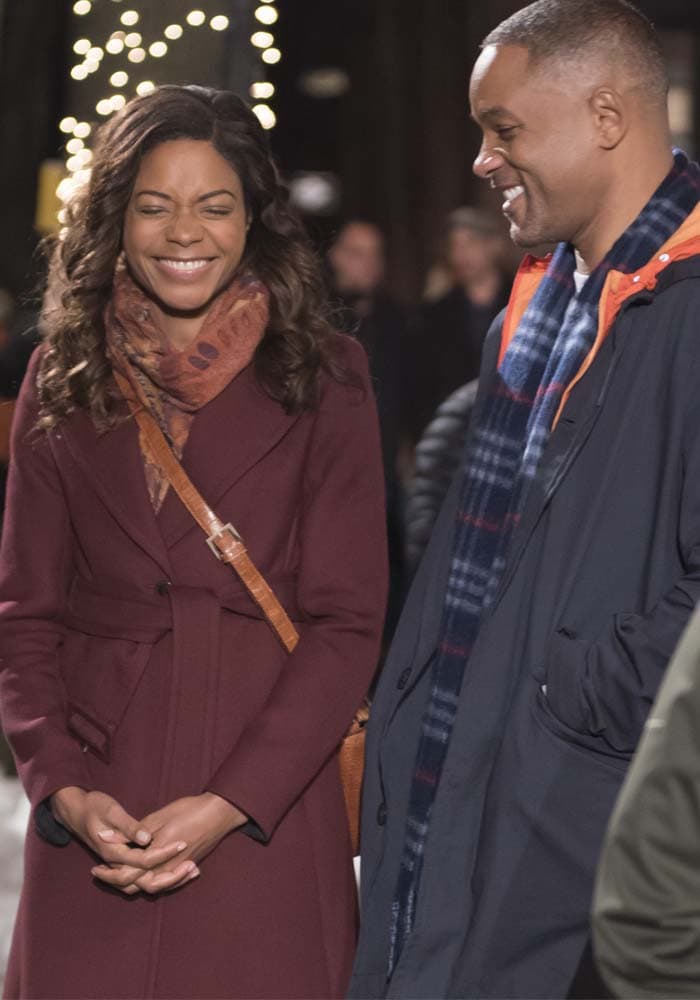 Naomie Harris and co-star Will Smith laugh on the set of "Collateral Beauty" (Credit: WENN)
You can order Naomie Harris' winter Sigerson Morrison "Monna" knee boots at Amazon.
Sigerson Morrison 'Monna' Suede Knee Boots, $212.93 – $278.10