For most people, getting a tattoo is a huge decision and they contemplate it for weeks, months, or even years. However, that wasn't the case for Kendall Jenner.
In September 2016, she went to West 4 Tattoo parlor in New York City and drunkenly got the word "meow" tattooed on the inside of her bottom lip by celebrity tattoo artist JonBoy. The appropriate question you might be asking is, why?
Kendall Jenner shocked many fans when she got a tattoo spelling out "Meow" on the inside of her bottom lip
According to Kendall Jenner, when she went on The Ellen Degeneres Show, it was the first thing that came to her mind in her inebriated state. She states, "I was drunk! I was not thinking clearly!"
The word "Meow," Kendall added, "was literally the first thing that came to my mind."
Did her inner lip tattoo hurt?
When you think of the most painful places to get a tattoo you probably think of your foot, ankle, rib cage, or groin. Does the inside of the lip fall into this category?
According to Jenner, it didn't hurt at all! Whether that's because lips are mostly "fattiness" (as Jenner put it) or because she had one too many drinks, we'll never know. Maybe it was both?
"It's just, like, fattiness," she said about the lack of pain. "I don't even know what this is. Is it muscle? Fat? Like, bone hurts really bad."
Kendall says Meow "was literally the first thing that came to my mind" when she decided to get a tattoo on the inside of her bottom lip
Regardless, no matter how long you thought about getting your tattoo, once you get it you can't go back; unless of course, you choose to go through the painful process of tattoo removal.
How does she feel about it now?
Many people regret some of their tattoos, but others love the backstory it creates. So, the next day when she sobered up and realized what she'd done, did the then 22-year-old supermodel regret it?
Well, she admitted that while she does regret getting the tattoo, she still chalked it up to a fun story. Plus, she has two other tattoos, so it wasn't her first, which probably makes it easier.
"All my friends have them," Kendall said about her finger tattoos. "I was like, I just want to know what it feels like."
Although on the other hand, her sister Kim previously advised her not to get any tattoos and said, "Don't put a bumper sticker on a Bentley," so maybe her family's feelings differed from hers.
Additionally, a common inconvenience with inner lip tattoos is that they are rarely permanent. Because of the location, they usually last only a few years.
So, it's likely she won't have to worry too much about it long-term. This can be a positive or negative thing depending on how you look at it.
View this post on Instagram
Lip tattoos can be really fun, but you also might have to get them redone in the future if you like them. You might as well get a fake temporary tattoo.
What are the potential health risks of an inner lip tattoo?
The question you're also probably wondering is whether it's safe to have ink inside your mouth and if it can cause any health concerns.
Lip tattoos are extremely popular today, especially among celebrities. It's an easy location to hide and you can get absolutely anything you want, and people may never find out unless of course, you want them to.
Regarding health issues, according to Mayo Clinic, all tattoos run the risk of infection, allergic reaction, swelling, and in rare cases, the ink can seep into the bloodstream and cause sepsis. Our mouths carry billions of bacteria, all of which pose a higher threat to infection.
Therefore, it's so important to check the validity, cleanliness, and reviews of any tattoo parlor prior to getting your tattoo.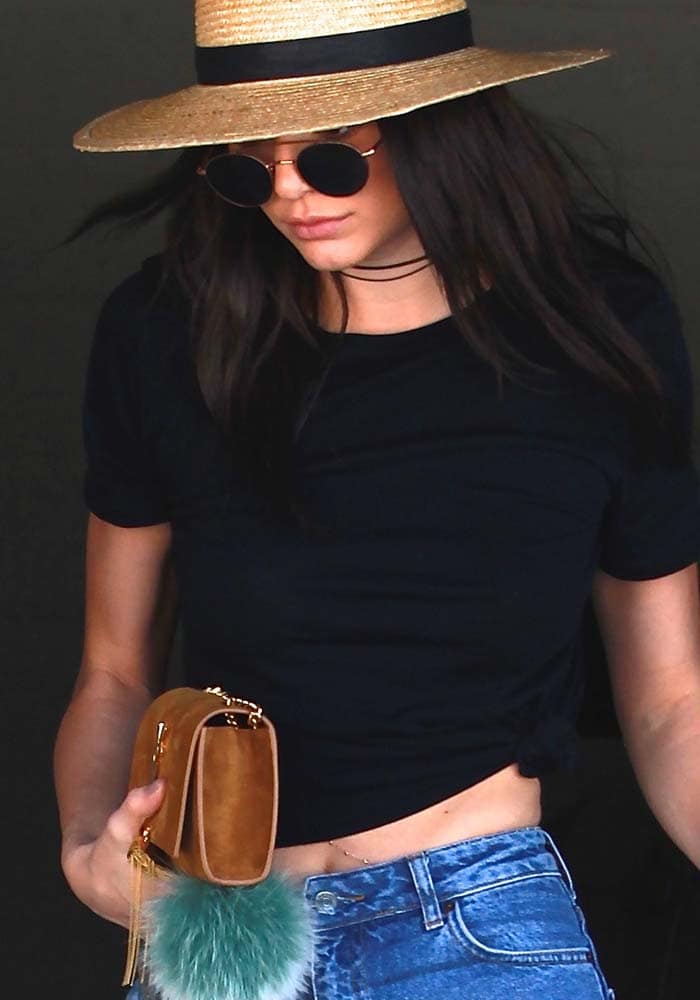 Kendall Jenner covers her hair with a hat while out in Beverly Hills, Los Angeles on March 25, 2016 (Credit: WENN)
As if we weren't getting enough of the Jenner-Kardashian brood all over our social media feeds, in March 2016 Kendall Jenner decided to open up yet another social media account.
After amassing millions of followers just with her Instagram and Twitter — and actually starting her own personal app — the older Jenner sister decided it was time to join Snapchat.
Kendall Jenner boosts her height in a pair of Stella McCartney platform sneakers (Credit: WENN)
Kendall was first spotted out in Beverly Hills before meeting up with her sister Khloe Kardashian for some Snapchat fun.
The young model slipped into a pair of denim jeans by REdone which she paired with a black crop top.
Kendall accessorized with a multi-layer necklace from Are You Am I, a pair of sunglasses from Ahlem Eyewear, a Saint Laurent purse with a Fendi keychain, and the Stella McCartney "Elyse" platform sneakers.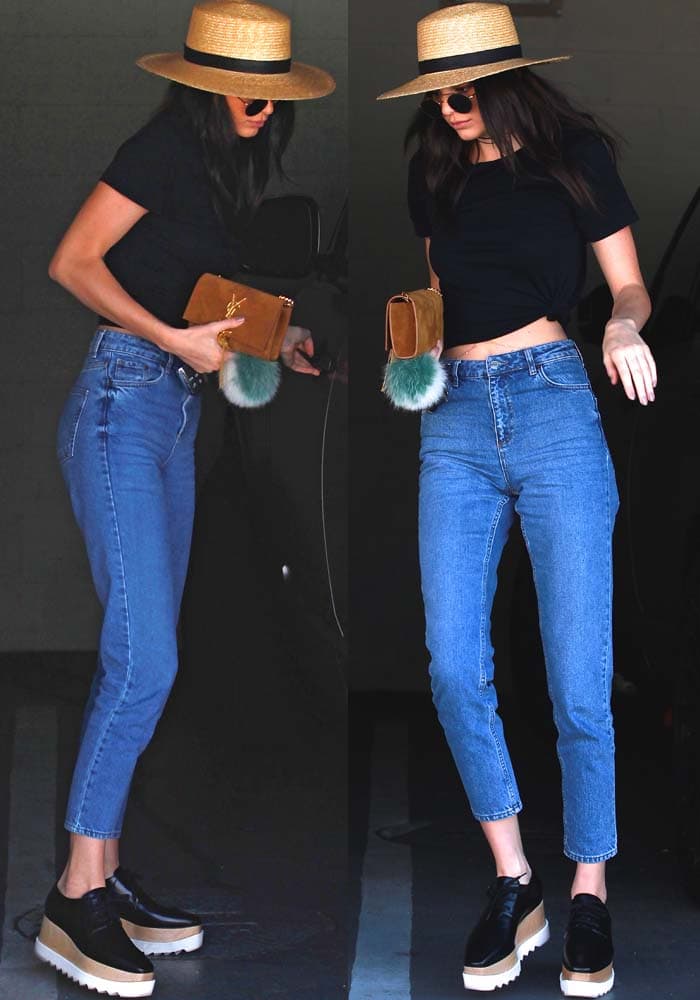 Kendall Jenner shows off her midriff in a pair of REdone jeans (Credit: WENN)
Later that day, Kendall tweeted about her Snapchat, telling fans to wait since she was still setting it up. She later tweeted her username for her anticipating followers: kendalljenner. Surprise, surprise.
Kendall shared her first snap videos, which included a funny clip of her sister Khloe yelling for some unknown reason.
You can order Kendall's Stella McCartney "Elyse" Platform Sneakers at Nordstrom, Ssense, and Farfetch.
Stella McCartney 'Elyse' Derby Platform Shoes, $995