Tattoos are gaining wider social acceptance, but a stigma still surrounds them. While employers are becoming more and more accepting of employees with body art in the Western world, some cultures — and even some industries — are still slightly wary of inked-up individuals.
Some countries and professions even go so far as to require tatted-up individuals to hide and conceal their ink. You may also want to cover up your tattoos if you're appearing in court.
If you've been itching to get inked, but are in a situation where you need to be discreet about it, we'd suggest a finger tattoo. These tattoos are typically minimalist in nature and are usually relatively easy to hide if needed.
Many celebrities have had their finger tattoos inked at Flamin' Eight tattoo studio on 2 Castle Road in London
The caveat? Regardless of whether you get your body ink placed on top of a finger or on the side — finger tattoos hurt.
Tattoo artists claim that due to nerve endings and bone locations, finger tats are just going to be painful. However, many people think the permanent result is completely worth the temporary pain.
Take a look at some of the more famous finger tattoos, sported by celebrities.
1. Cara Delevigne's Lion and Heart Finger Tattoos
Model Cara Delevingne has a total of 20 tattoos on her body that we know of. Her very first tattoo is a prominent lion's face, which was inked onto her right forefinger in May of 2013 by tattoo artist Bang Bang.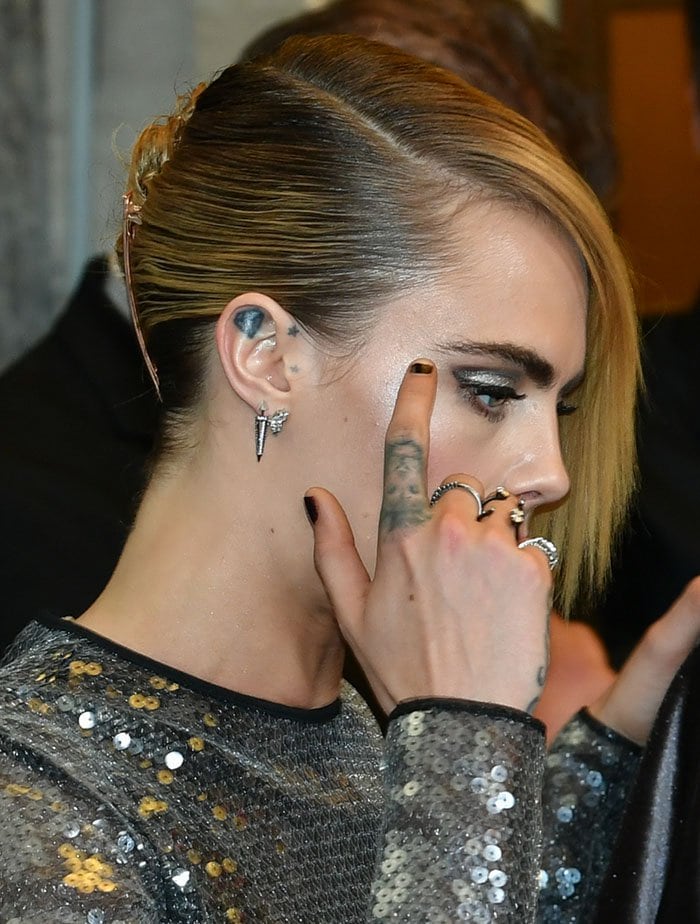 Cara Delevingne's index finger tattoo of a lion's head
The British model and actress's first-ever tattoo symbolizes her astrological sign, which is a Leo. It's quite impressive given the amount of detail that went into such a small piece.
Cara Delevingne's lion tattoo is symbolic of her astrological sign, Leo
A delicate outline of a red heart is also inked on her left pinky finger.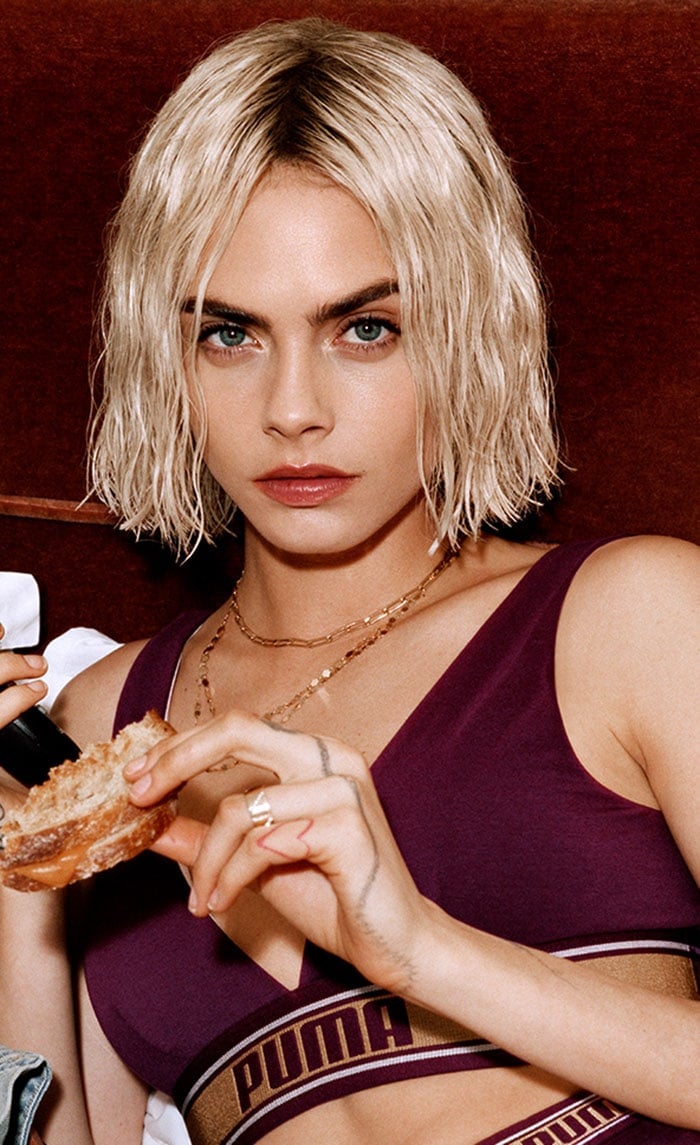 Cara Delevingne's tattoo of a red heart
2. Kylie Jenner's Squiggly Friendship Finger Tattoo
In May 2016, Kylie Jenner visited West 4 Tattoo in New York City with her then-BFF Jordyn Woods to get matching tattoos. Celebrity tattoo artist JonBoy tattooed a red squiggly "M" on the inside of their pinky fingers.
View this post on Instagram
But, after the alleged cheating scandal between Jordyn and Tristan — the father of Khloe Kardashian's daughter — and the resulting fall-out between Jordyn and the entire Kardashian/ Jenner family, we're not sure whether the two will end up keeping their "friendship" tattoos.
3. Inspiration Behind Demi Lovato's Finger Tattoos
Demi Lovato has more than 30 tattoos on her body — five of which are inked on her fingers. The latest is the "me" tattoo on her left ring finger, which the singer says is a reminder to put herself first. It was done by tattoo artist Daniel Winter in June 2019.
Demi revealed her new ink in an Instagram story with the message: "Can't love anyone unless you love yourself first." She later posted a black-and-white photo of her tattoo on her Instagram feed, with the caption, "Me first. Thank you @winterstone for my new forever reminder. I[heart]me."
Demi Lovato showed off her finger tattoos on Instagram in June 2019
In August 2016, Demi got a smiley face tattooed on the tip of her left pinky finger. She revealed it on Instagram, saying "Cause life's too short not to tattoo your pinky."
It's actually a matching tattoo with her former boyfriend UFC champ Luke Rockhold, who also posted a photo of his ink on Instagram.
View this post on Instagram
One of Demi's first pieces of finger ink is a small line that says "Rock N Roll" tattooed on the middle finger of her right hand. It's a matching tattoo with her friend Hanna Beth Merjos.
Demi Lovato's "Rock N Roll" finger tattoo
In late 2011, Demi got the word "Peace" inked in script on the middle finger of her left hand.
Demi Lovato's tattoo of "Peace" on her middle finger
In June 2018, Demi added a new tattoo to her collection. Shortly after she revealed her relapse with the release of her song "Sober," the singer got the word "Free" inked on the side of her right pinky.
Some members of her team also tattooed the same word on their fingers to show their support.

To celebrate six months of sobriety following her July overdose, Demi visited Daniel Winter in Los Angeles to get another tattoo in January.
She had a dainty rose, which symbolizes new beginnings, inked on the inside of her index finger. She shared the news on Instagram by uploading a photo captioned "OBSESSED."
View this post on Instagram
4. Ariana Grande's Finger Tattoos Represent Milestones and Exes
At 26, Ariana Grande already has a collection of more than 40 tattoos all over her body — a number of which are inked on her fingers.
Her first finger tattoo was the word "Honeymoon" inked on the side of her right middle finger. It's an obvious reference to her Honeymoon Tour in 2015 as well as to one of her favorite songs "Honeymoon Avenue" off her 2013 album Yours Truly.
Around the same time, she got a Hebrew phrase inked onto the side of her right ring finger. The tattoo is inspired by Ariana's Kabbalah faith, and is said to be the tenth name in the 72 names of God, spelled with Hebrew letters aleph, lamed, and daled.
Ariana grande honeymoon tattoo pic.twitter.com/3uH4WVZV2i

— ArianaGrandePortugal (@portugal_ariana) August 10, 2015

While on tour in May 2015, the American singer and actress the outline of a heart inked on her right ring finger.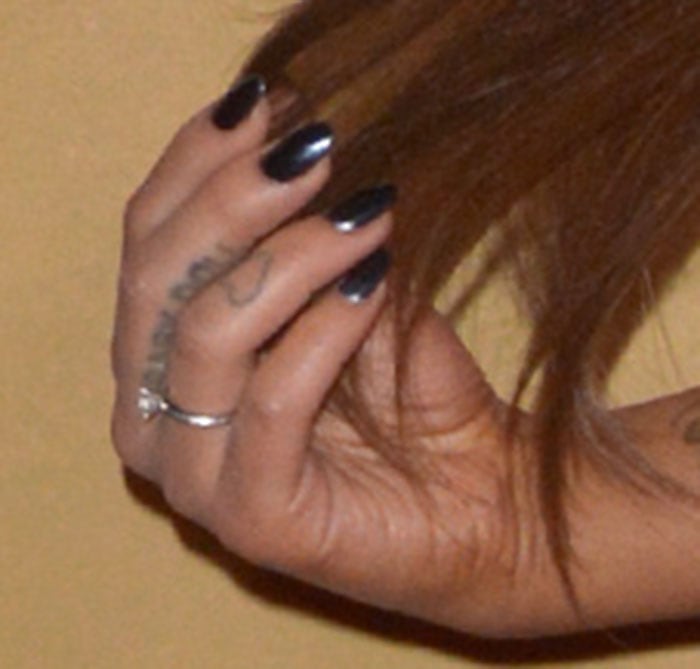 Ariana Grande's tattoo of an outline of a heart
A year later, Ariana got a new piece of ink placed on the opposite side of her "Honeymoon" tattoo on the same finger. This tattoo says "Babydoll" in capital letters, and it's apparently the nickname given to her by her grandmother.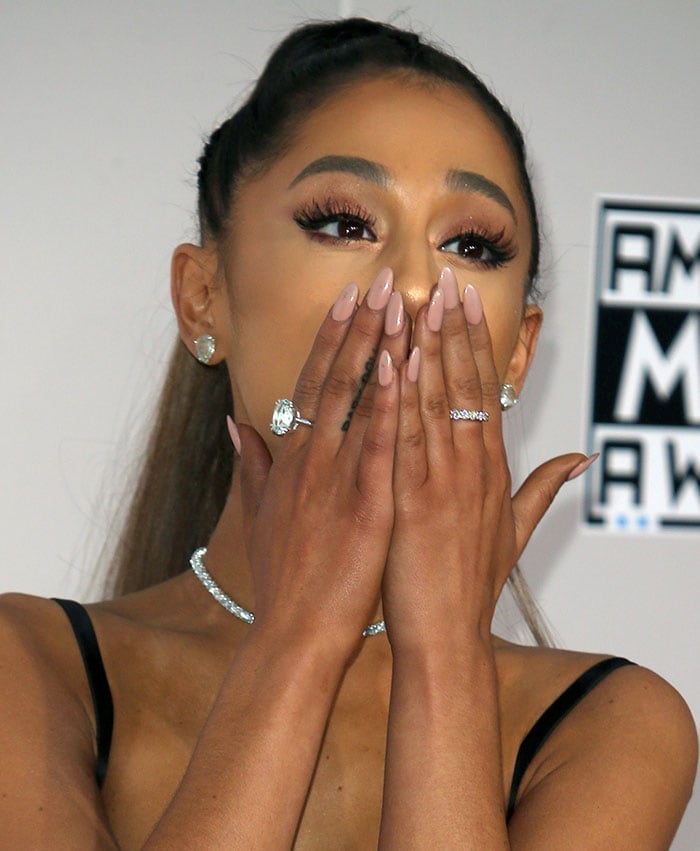 Ariana's "Babydoll" tattoo on the side of her right middle finger
Just a few months later, Ariana appeared with two more new finger tattoos. One is a small outline of the Venus symbol on her left middle finger, which she got when she was with her then-boyfriend, the late rapper Mac Miller.
The other is a letter "A" tattoo on her thumb in reference not just to her name but also to the first initial of her best friend, Alexa Luria. Dr. Woo did both tattoos.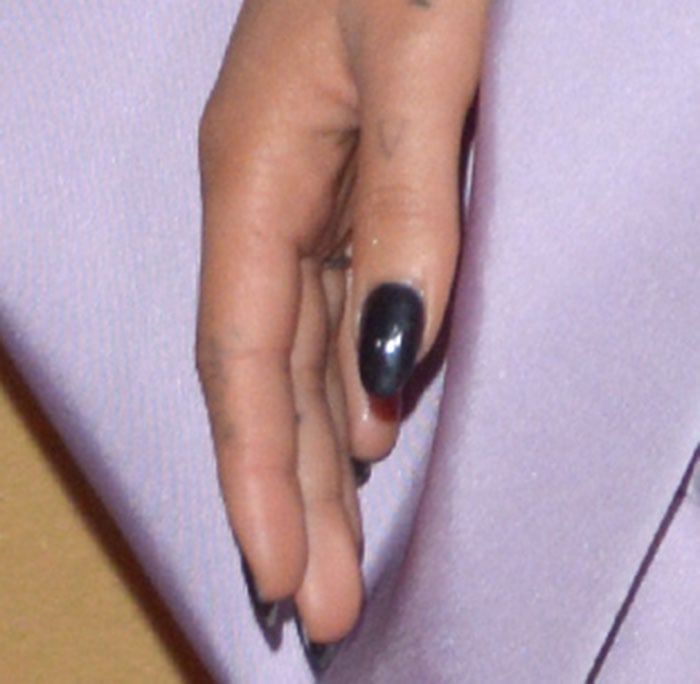 Ariana Grande's faded letter "A" tattoo on her thumb
Ariana added an outline of a cloud emoji below her Venus tattoo in May 2018. She shared this matching tattoo with her ex-fiance, Pete Davidson.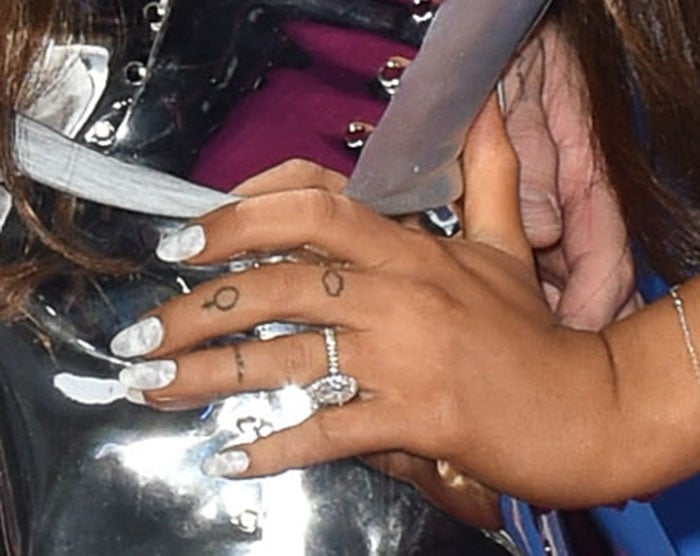 A Venus tattoo appears on her left middle finger with a matching cloud tattoo with Pete Davidson just above and Pete's name on her left ring finger
A month later, Ariana got Pete's name tattooed in cursive on her ring finger. But following their breakup in October, Ari had it covered with a solid black heart.
Ariana covers her tattoo of Pete's name with a black heart
In June 2019, Ariana had several more tattoos inked onto her fingers. She has two vine tattoos — one on her right index finger that covered up a previous 9 ¾ tattoo, and the other on her left pinky finger.
Ari also has some dots tattooed below her nails on each of her fingers, and an eye with three teardrops on her left index finger.
She also had a black band tattooed onto her left ring finger, which covers the black heart tattoo that she had to cover her "Pete" tattoo. Two dotted chevrons appear on her left index finger, while a single dotted chevron also appears on her left pinky finger.
5. Hailey Baldwin-Bieber's Teeny Tiny Finger Tattoos
While Justin Bieber is known for his massive tattoos, his wife, Hailey Baldwin-Bieber seems to prefer smaller inconspicuous pieces. The 22-year-old model already has a total of 19 tiny tattoos so far — several of which are located on her fingers.
In July 2015, Hailey visited JonBoy with her first cousin, Ireland, to get matching finger tattoos of their family's surname. The cursive "Baldwin" writing is placed on the side of their middle finger.
Hailey and Ireland show off their matching Baldwin finger tattoos on Hailey's Instagram
A month later, Hailey and Kendall Jenner sealed their friendship with identical broken heart tattoos placed on the side of their middle fingers. Hailey had hers inked in red, and Kendall had hers inked in white.
Kendall Jenner posted a Snapchat of her matching tattoo with Hailey Baldwin
Hailey revealed a gun tattoo on her left middle finger in December 2015. She posted it on Instagram and wrote, "Tbh I don't know why I have this tattoo… just another story to tell lol. It is what it is."

One of Hailey's finger tattoos was designed by her gal pal Kendall Jenner. It's a dainty faith-themed tattoo done by JonBoy in June 2016.
The celebrity tattoo artist etched the letters "pr" to her left index finger and "ay" to her right. When she clasps her hands in a prayer position, the letters spell "pray."

The model also has a few tiny black dots on her left ring finger and a tiny star on her right index finger. These pieces were also inked by JonBoy in August 2016.
View this post on Instagram

While at the Revolve Festival during Coachella 2017, Hailey unveiled her new tattoo done by — who else — JonBoy. This piece of body art features two chevron lines pointing upward, placed at the base of her pinky finger.
View this post on Instagram

Hailey doesn't seem keen on ending her collection of dainty tattoos just yet. LA-based tattoo artist Dr. Woo inked her latest piece in August 2019, a month before her wedding day.
It features an intricate design of moon, stars, and floral patterns, placed on her index, middle and ring fingers.
She also has a letter "B" inked on her knuckle, which is most probably a reference to both her maiden and married names. The model also had a delicate needle tattoo inked onto the thumb of her right hand.

On September 4, Hailey shared an Instagram story of her wedding band from Tiffany & Co. While the huge gem on the ring is noticeably striking, we can't help but turn our attention to her tattoos.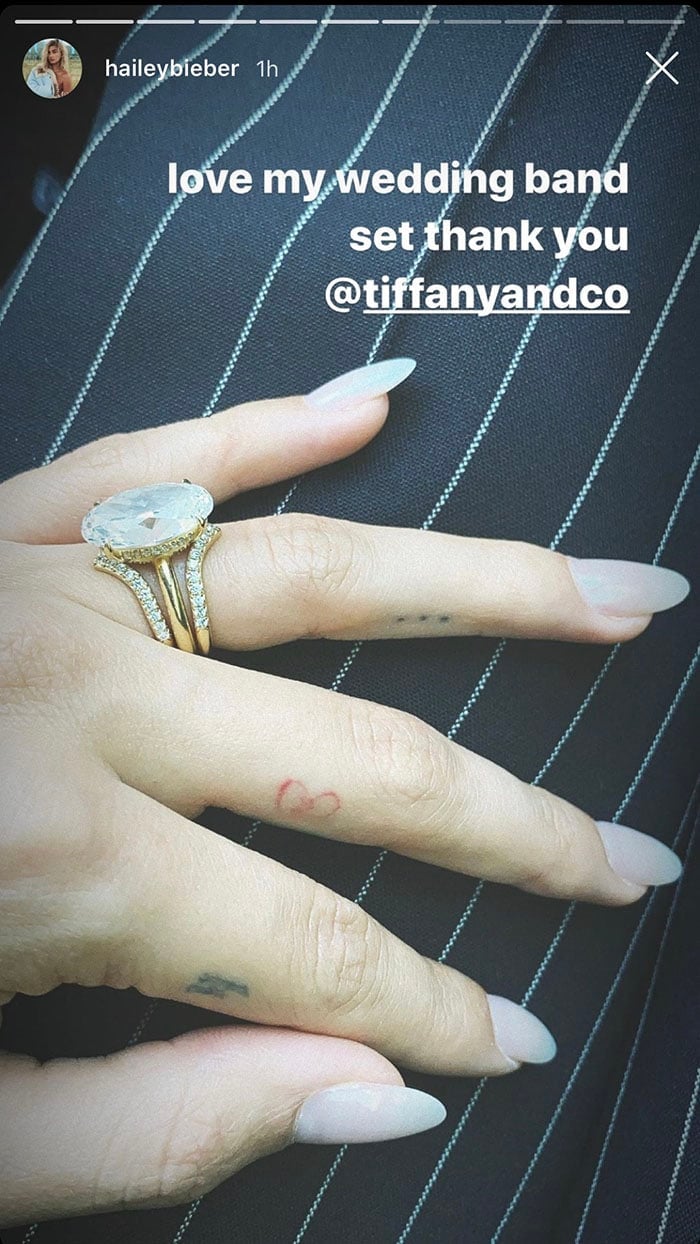 Hailey Bieber shows off her wedding ring on her tattooed finger
6. Miley Cyrus' Numerous Finger Tattoos
While offering reporters a joint at the 2015 MTV Video Music Awards, Miley Cyrus showed off an upside-down black triangle tattoo on her right middle finger and an evil eye tattoo on her index finger.
Miley Cyrus shows off her evil eye and triangle finger tattoos
She has many more tats on her right finger, including two parallel lines inked in black which form a simple equal sign.
Miley Cyrus has numerous tats on her right hand
With the exception of a symbol inked on her middle finger, Miley does not have finger tats on her left hand.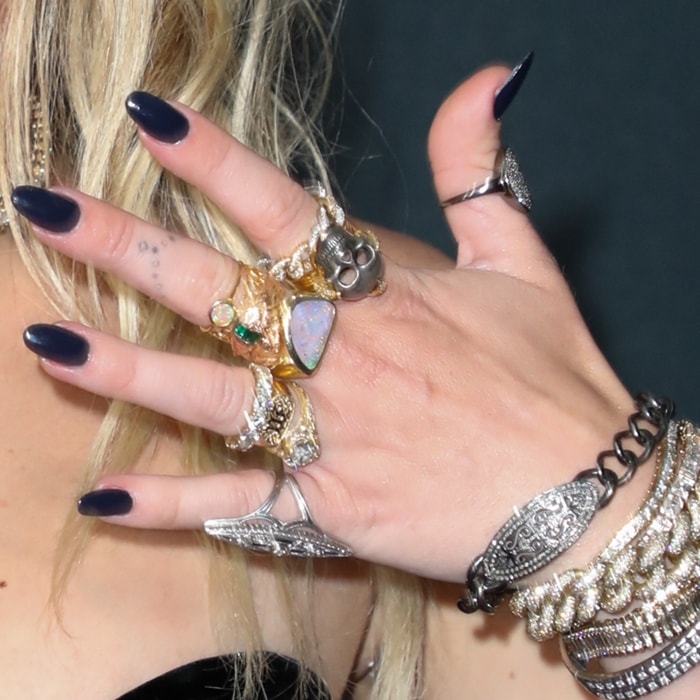 Miley Cyrus shows off her rings and body ink
So, what do you think? Any chance you'd get a finger tattoo, just like these celebs?
Credits: Patricia Schlein / Ivan Nikolov / FayesVision / WENN / Avalon / Brian To / Sheri Determan