Paula Abdul is one of the most influential and famous women alive today.
She got her start with a humble beginning and with luck and the right people in the right place at the right time, she became a world-renowned sensation that has been gracing our television screens and radios for years.
Paula Abdul in an animal print Baja East by Scott Studenberg dress at the "Impractical Jokers: The Movie" New York Screening at AMC Lincoln Square Theater on February 18, 2020, in New York City (Credit: Lev Radin / Shutterstock)
Just who is Paula Abdul and how did she become the wealthy TV personality and entertainment superstar that she is today?
Paula Abdul's Early Life
Abdul was born on June 19, 1962, in San Fernando, California. Her father was raised in Brazil and is of Syrian Jewish heritage, while her mother is Canadian Jewish and tracks her lineage back to Ukraine.
Ethnicity
Paula Abdul's ethnicity has always been a topic of discussion within the media and is something that her fans have debated for years on end.
Due to her skin tone and some of her beautiful features, many believe that Paula Abdul is African American.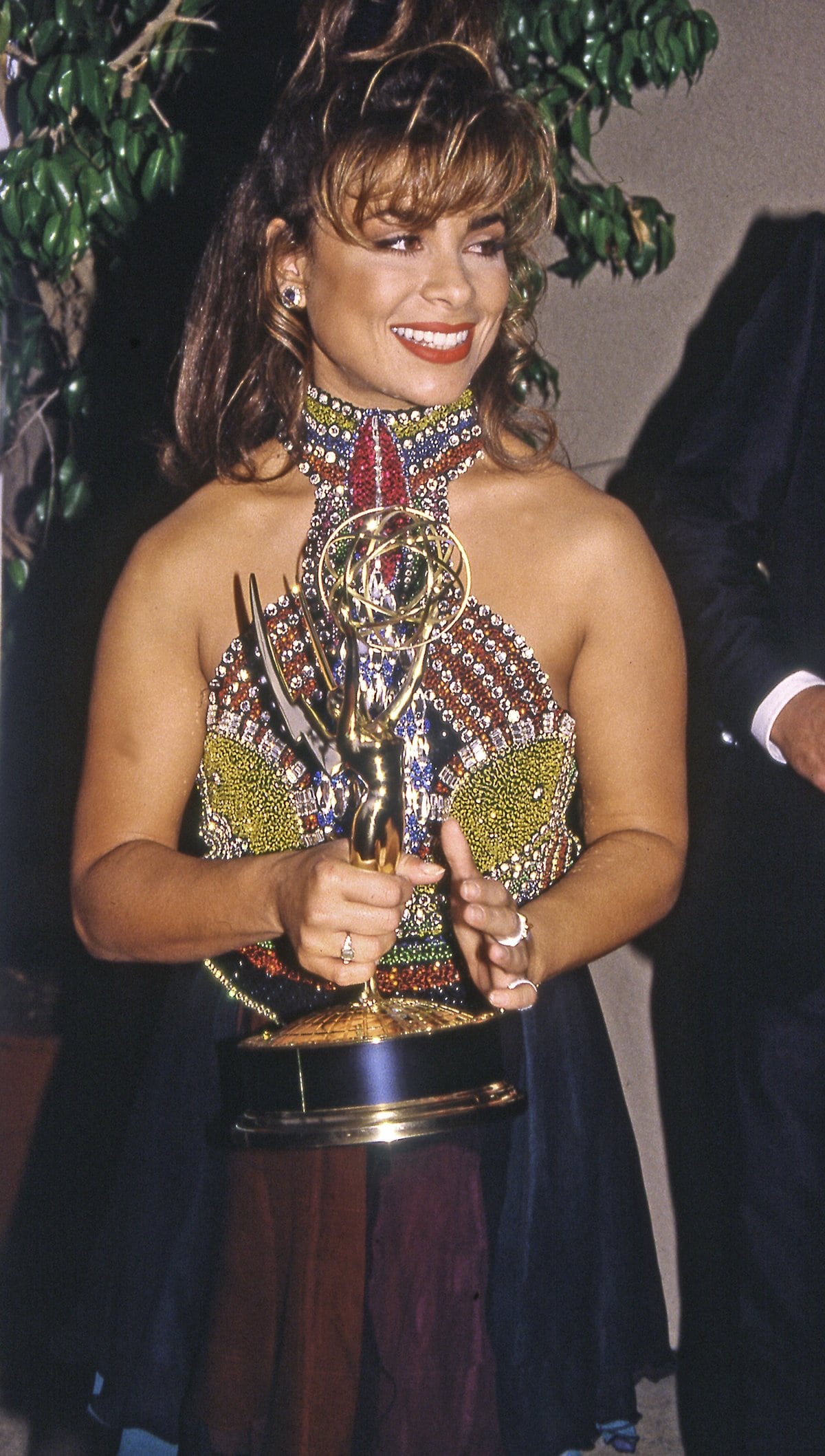 Paula Abdul won "Outstanding Choreography" for her performance at the "1990 American Music Awards" at the 42nd Primetime Emmy Awards on September 16, 1990, at the Pasadena Civic Auditorium in Pasadena, California
Though we know that this is not true due to one of her parents being Syrian and the other being white, it is still a popular theory that has never quite died out.
Early Career
The early career of Paula Abdul is laced with a lot of luck and taking advantage of the opportunities presented.
Paula Abdul's love for dancing was nurtured throughout her childhood with a variety of dancing classes. Professionally, she started off as a cheerleader for the LA Lakers, a basketball team.
She loved her role but sought out to do more and quickly became a choreographer for the team, creating new dance routines that gained the attention of many in the crowd. One night, she gained the attention of a group that would change her life forever.
Paula Abdul as herself in "Aging, Not So Gracefully," an episode of the American television sitcom Sabrina the Teenage Witch that aired on November 12, 1999 (Credit: ABC)
The Jacksons noticed Paula Abdul's choreography and knew that they needed her expertise on their team. They quickly made moves to work with her and before long, Paula was choreographing music videos for Janet Jackson herself.
With the money she'd made from the music videos, in 1987 Paula Abdul used her savings to create her very own singing demo, and very soon thereafter she was signed to Virgin Records.
This is where her career began to take off and the Jacksons discovering her talent are to thank for it.
Career
An incredible career spanning over many different industries, Paula Abdul perfected the arts in which she participated. She is a singer, dancer, choreographer, actress, and TV personality.
While many can only tie themselves to one field, Abdul sought to work in every capacity possible.
Paula Abdul and Simon Cowell posing with Kodi Lee, a legally blind Korean-American singer-songwriter and pianist who won the 14th season of the reality competition show America's Got Talent (Credit: Kathy Hutchins / Shutterstock)
Her songs would be featured in movies like Clueless, she would use her choreography and dancing abilities to create workout videos and choreograph scenes in films like American Beauty, and she'd become a reporter on several different television shows.
In 2002, she took on a gig that would have her remembered by later generations as she began her journey as an American Idol judge, acting as a sweet and compassionate alter to Simon Cowell's bitter and straightforward approach.
She would continue on the show until 2009 when compensation disagreements resulted in her leaving permanently.
Recent Career Advancements
Paula Abdul has no intention of slowing down anytime soon! In fact, she is still working hard to promote herself and her personal brand.
In 2016, she went on a comeback tour with New Kids on the Block and Boyz II Men.
In 2018, she embarked on a 30th-anniversary tour for her debut studio album Forever Your Girl. In May of 2019, she started her very first Los Vegas Residency.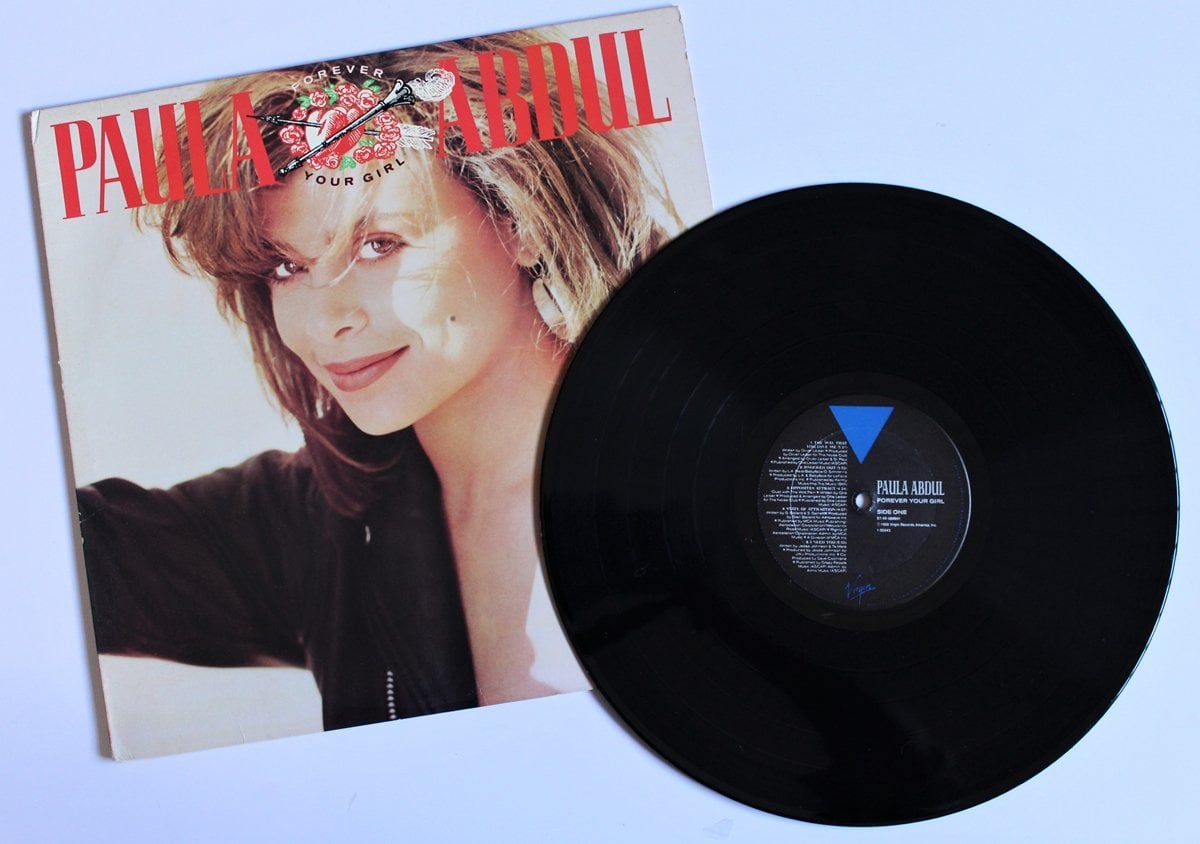 Paula Abdul's debut album Forever Your Girl was released on June 21, 1988, just two days after her 26th birthday (Credit: Blueee77 / Shutterstock)
Paula Abdul is a firehouse that only gets better with age, as she continues to defy all odds and create a name for herself.
Health Issues
At the forefront of controversy related to Paula Abdul are her health issues.
When Bravo created a reality show based on her life, it was stopped after one season due to behavior on her part that was considered abnormal and "erratic". Was this due to mental health issues or a result of plaguing physical health issues?
In 1994, Paula sought out treatment for bulimia and has always been very straightforward about this, as she contributes her struggle with the disease to her early days dancing and comparing her body to other dancers.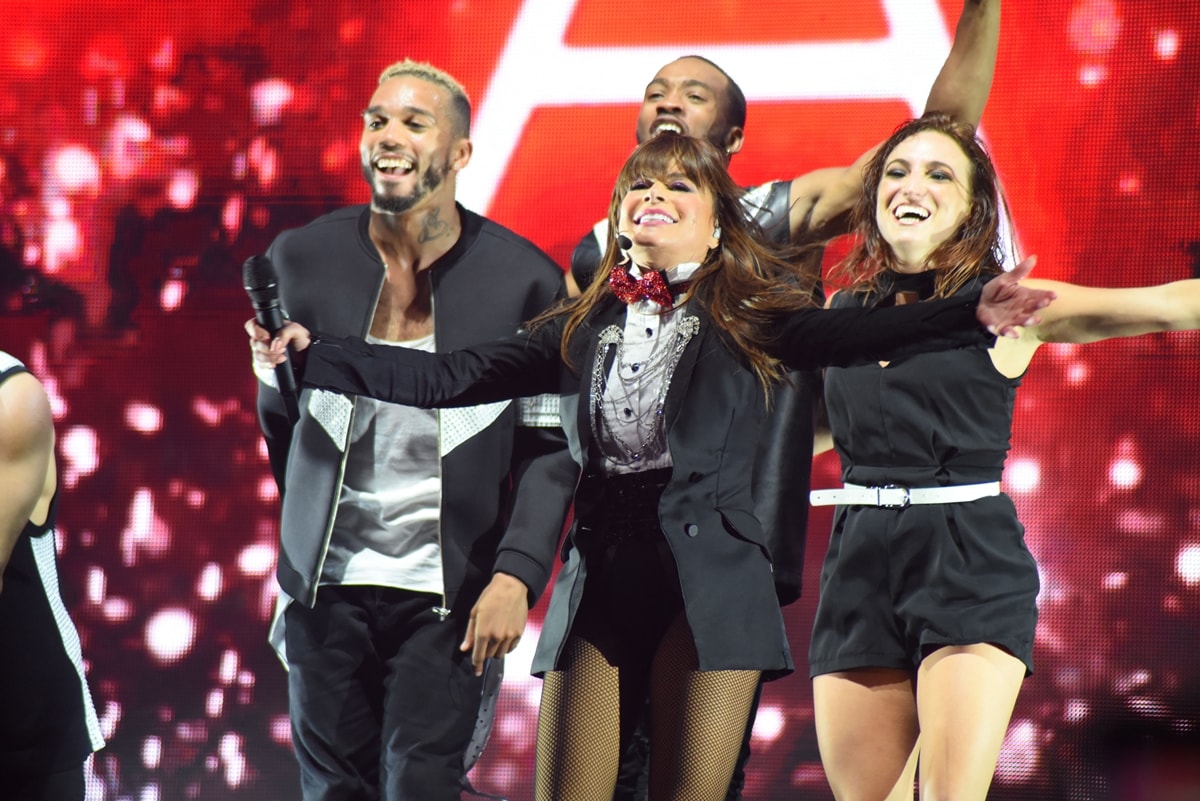 Paula Abdul performs at the LA Pride 2019 Opening Ceremony in West Hollywood on June 7, 2019 (Credit: Michael Mattes / Shutterstock)
On the subject, Abdul stated in an interview on the ABC-TV news show PrimeTime Live, "Battling bulimia has been like war on my body. Me and my body have been on two separate sides. We've never, until recently, been on the same side. I learned at a very early age I didn't fit in physically. I learned through years of rejections from auditions. I would ask myself, 'Why can't I be tall and skinny like the other dancers?' I felt nervous and out of control, and all I could think about was food."
"Food numbed the fear and anxiety. I'd eat and then run to the bathroom. I thought, 'God I'm not perfect. I'm going to disappoint people. That's what I thought. It became a living hell for me. I wanted to get help. I want to be free from weighing myself on the scales. Whether I was sticking my head in the toilet or exercising for hours a day, I was spitting out the food – and the feelings."
Paula Abdul has been diagnosed with reflex sympathetic dystrophy (RSD), also known as complex regional pain syndrome (CRPS) (Credit: Michael Mattes / Shutterstock)
In 2005, Paula Abdul came out and told the public about her struggles with a neurological disorder that occurred as a result of a cheerleading accident.
Reflex sympathetic dystrophy had caused over 14 surgeries and four titanium plates to be placed in Abdul's neck as of 2007 and causes chronic severe pain.
Paula Abdul Relationships
Paula Abdul has been married twice, but she has made headlines for dating some of the world's top names.
In 1992, Abdul was married to Emilio Estevez. The pair divorced in 1994 after she realized that she wanted kids and he did not.
Stillhouse founder Brad Beckerman and Charlie Sheen's older brother Emilio Estevez have both been married to Paula Abdul (Credit: Lev Radin / Shutterstock)
In 1996, she married Brad Beckerman and divorced two years later in 1998 due to irreconcilable differences.
Since then, Paula has most notably dated John Caprio, Colton Melby, Dante Spencer, John Stamos, Arsenio Hall, Jackie Jackson, J.T. Torregiani, Hank Kuehne, and Jeff Bratton. She has not ever remarried since divorcing Beckerman in 1998.
Paula Abdul's Short Height
Paula Abdul is a mere five feet tall. While this is somewhat standard for female television personalities, she stands out in the real world and next to her male counterparts due to her short height.
Paula Abdul appears in Zoe's Dance Moves, a direct-to-video Sesame Street DVD that was released in 2003 (Credit: PBS)
Her tiny stature has been a topic of conversation many times in the media.
Net Worth
A dancer, a singer, a choreographer, a TV personality, and so much more. Paula Abdul has been paving the way for artists who seek to do it all for years. What has this wildly successful career gotten her?
As of 2022, Paula Abdul holds a net worth of $30 million that continues to grow thanks to all of her hard work.
Paula Abdul – A Superstar
Paula Abdul is one of the world's best examples of a one-woman show. She does it all and does it elegantly, with no intentions of stopping anytime soon!
Abdul has had a wildly successful career thanks to luck and perseverance. What will she do next?
In April 2016, Paula Abdul joined a host of celebrities — including Charlize Theron, Demi Lovato, and Selena Gomez — at the 2016 WE Day California event held at The Forum in Inglewood.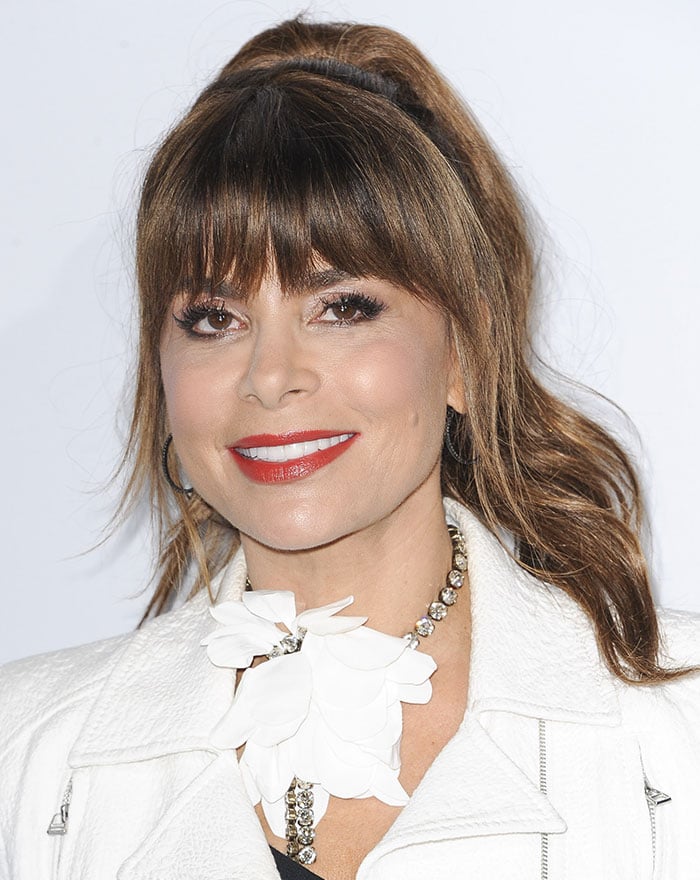 Paula Abdul wears her hair in a ponytail at WE Day California at The Forum on April 7, 2016, in Inglewood, California (Credit: Apega / WENN)
The then 53-year-old singer and dancer went for a simple look, pairing a black t-shirt with a white jacket and jeans.
She amped up the ensemble with a statement floral necklace and a pair of black-and-white strappy heels.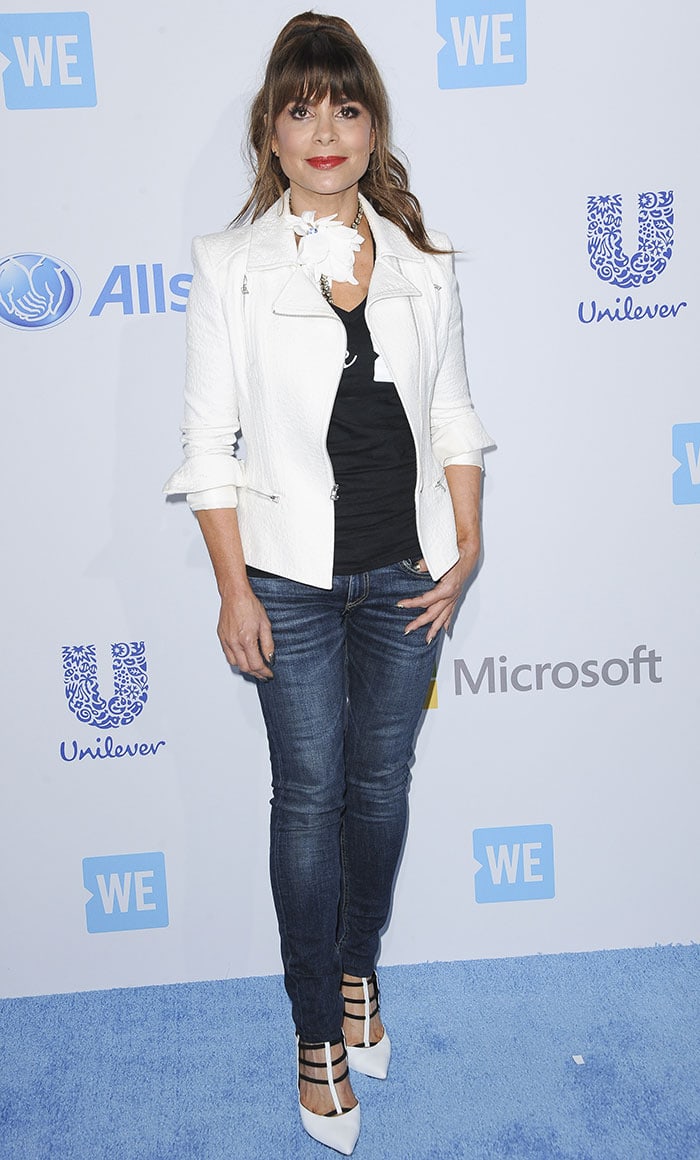 Paula Abdul wears a white jacket over a t-shirt and jeans at WE Day California (Credit: Apega / WENN)
Paula completed her look with a high wavy ponytail and a touch of bright red lipstick.
Paula Abdul shows off her strappy white sandals on the blue carpet (Credit: Apega / WENN)
Paula's white leather t-strap sandals are by Barbara Bui.
They feature contrasting black suede straps, pointed toes, double adjustable ankle straps, and four-inch heels.
Paula Abdul's feet in black-and-white Barbara Bui pumps (Credit: Apega / WENN)
Unfortunately, these are no longer available. You can find other interesting styles from the brand at Farfetch.