Nick Jonas created his own soundtrack to convey his awe for his wife Priyanka Chopra's stunning red dress at the Citadel global premiere.
Priyanka Chopra and Nick Jonas spent date night at the UK premiere of Amazon Prime Video series Citadel in London, England on April 18, 2023 (Credit: John Rainford / Cover Images)
While the lovely multi-hyphenate star posed for photographs on the red carpet, her husband, Nick Jonas, was busy capturing her on his own camera.
He even managed to make a montage of her posing in her red dress while the Jonas Brothers' song "Burnin' Up" played in the background.
The 30-year-old musician uploaded the self-made video on TikTok and Instagram, much to the delight of his fans.
View this post on Instagram
The Red Dress
"Nick, is this THE red dress?" a curious user and OG fan wrote in the comments section, clearly impressed by the musical reference.
The red dress in question is a Vivienne Westwood creation, which features an off-the-shoulder design and a corset bodice. Styled by Rebecca Corbin-Murray, the red-hot number hugged Priyanka's curves perfectly, making her look every bit the movie star.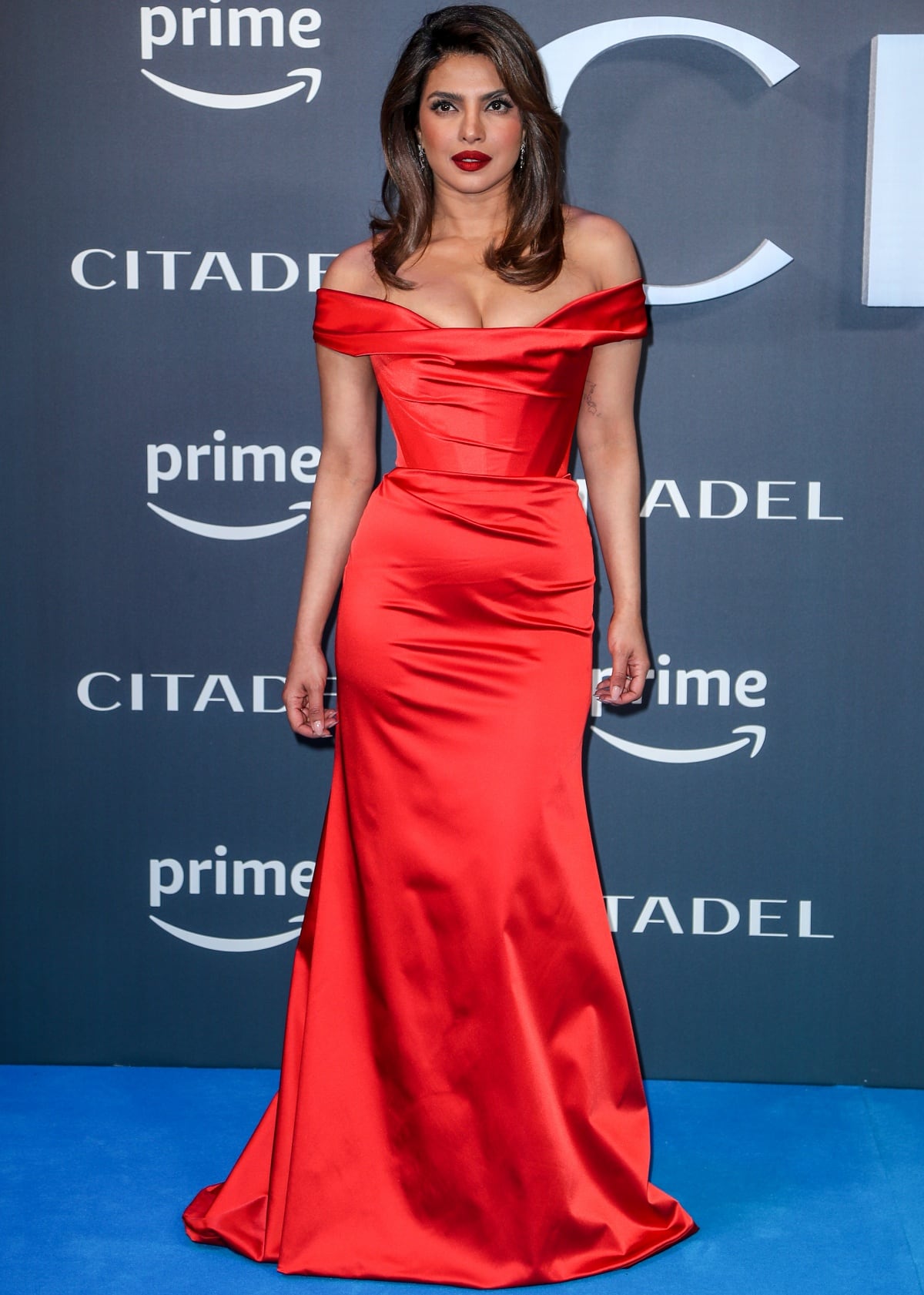 Priyanka Chopra wearing a stunning red dress from Vivienne Westwood that made husband Nick Jonas inspired to bring out the throwback Jonas Brothers song, "Burnin' Up" (Credit: John Rainford / Cover Images)
She let the dress do the talking, adding a bold red lip to complement it and letting her side-parted hair fall in loose waves. Bulgari jewels rounded out her look and provided a touch of sparkle.
Priyanka Chopra's Bulgari jewels and bold red lip were the perfect complements to her Vivienne Westwood dress (Credit: John Rainford / Cover Images)
Priyanka's confidence may waver from time to time due to rude remarks and body shaming comments, but she was in full bloom at the premiere of her new spy series Citadel.
Priyanka Chopra oozed with confidence and sensual elegance at the global premiere of Citadel in London (Credit: John Rainford / Cover Images)
As for Nick Jonas, he kept it simple in head-to-toe black. He wore a suit with sharp lapels, a black turtleneck, and chunky black leather loafers.
Priyanka Chopra and Nick Jonas looked like a spy duo in a red dress and an all-black suit (Credit: John Rainford / Cover Images)
An Original Franchise with High-Octane Thrills
Citadel is a highly anticipated espionage thriller series starring a slew of Hollywood heavyweights, including Priyanka Chopra, Richard Madden, Lesley Manville, and Stanley Tucci.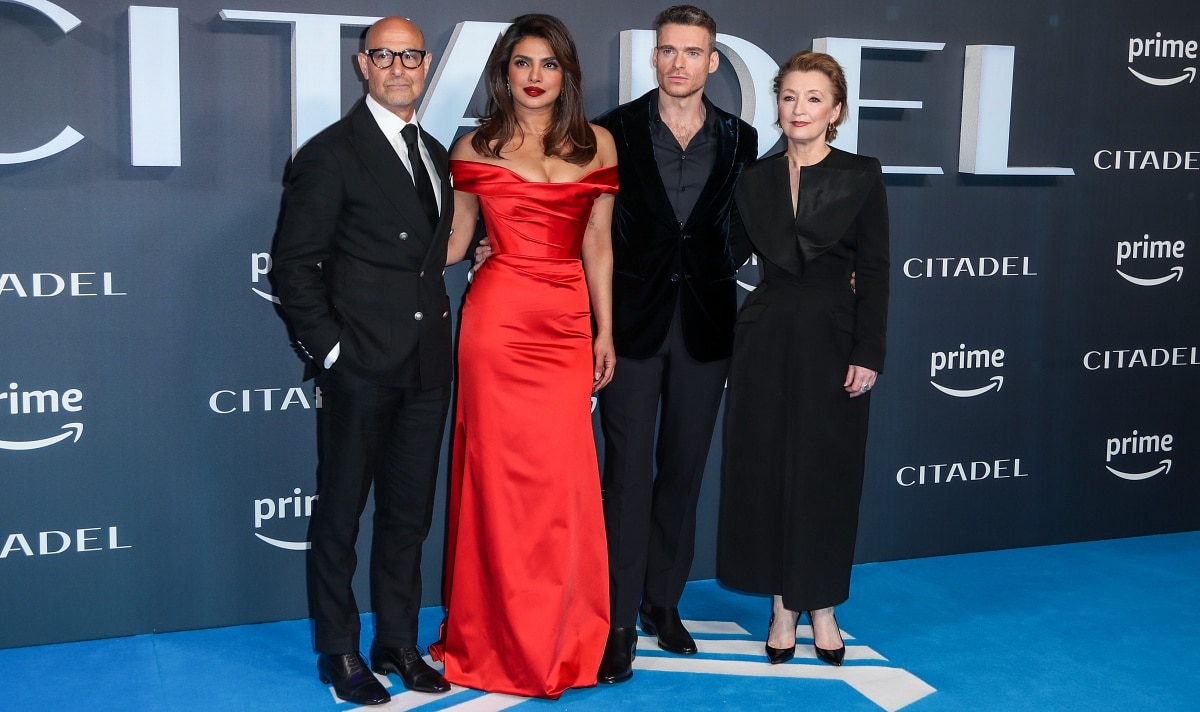 Stanley Tucci, Priyanka Chopra, Richard Madden, and Lesley Manville at the UK premiere of Citadel (Credit: John Rainford / Cover Images)
Helmed by the famous director duo Anthony and Joe Russo, Citadel is gearing up for its global release on Prime Video on April 28 this year.
Priyanka Chopra portrays the role of Nadia, a former Citadel spy agency member whose memory was erased when the agency collapsed.
Richard Madden plays her fellow spy Mason, who joins her in stopping a crime syndicate from taking over the world while dealing with their forgotten memories.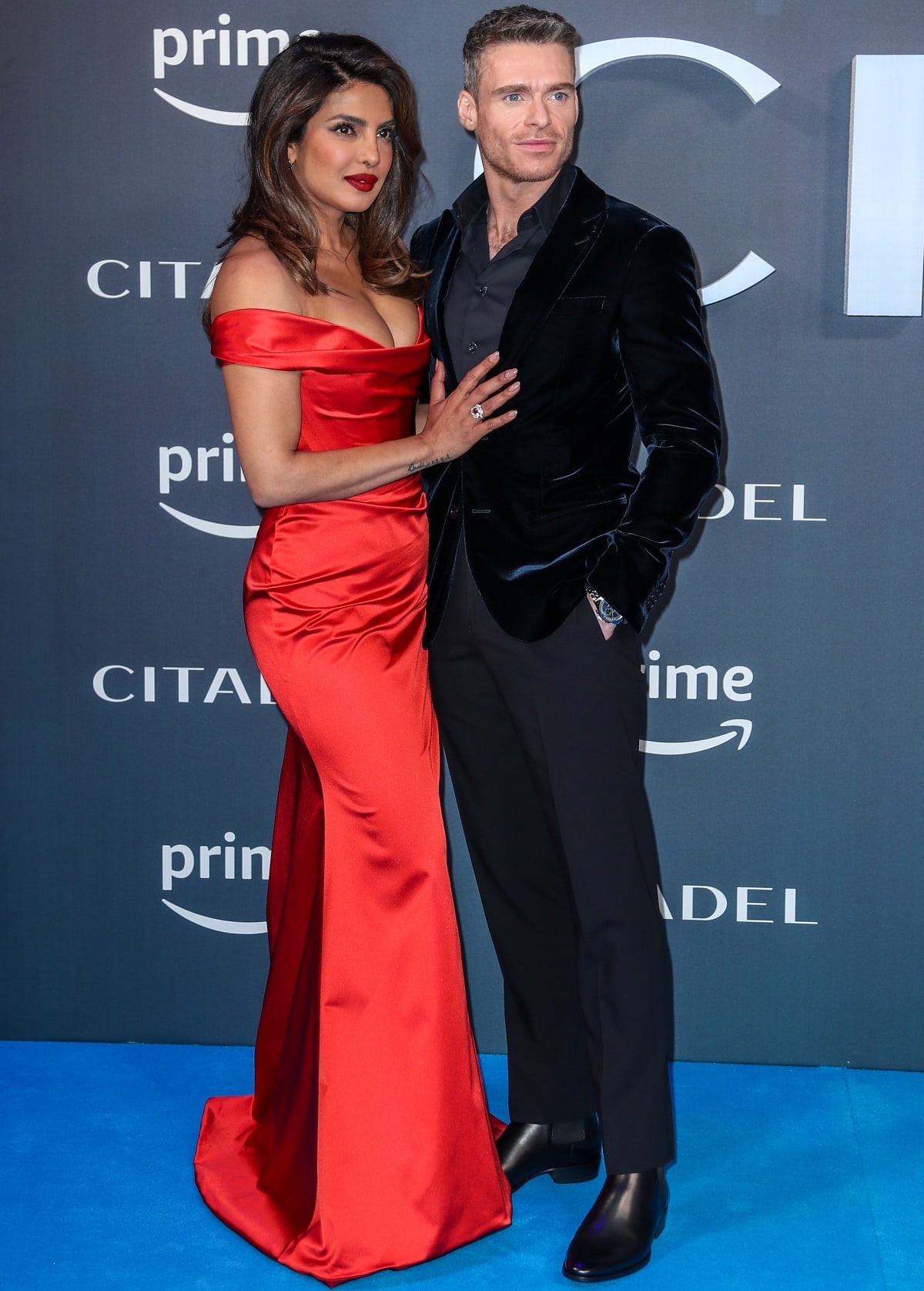 Priyanka Chopra and Richard Madden play former spies whose memories have been erased after the fall of the spy agency Citadel (Credit: John Rainford / Cover Images)
In an interview with Access Hollywood, Priyanka shared what drew her to the project: "I think the ambition of the show is very exciting and I was very excited to work with the Russo brothers. I think they owned this lane."
She continued, "If anyone can think of something bigger and better than what [the Russo brothers have] done last it has to be them, so that was all very exciting."
Richard Madden as Mason Kane and Priyanka Chopra as Nadia Sinh in the spy thriller television series Citadel (Credit: Amazon Prime Video)
As for the story, she liked the fact that it was "an original franchise." According to Priyanka, Citadel "transcends languages and borders and is actually truly global and goes into different countries and works with local film makers and connects it to ours."
The Baywatch actress added that "it's just so amazingly delicious, " which made her drawn to the project.
Watch the trailer below for a sneak peek at the high-octane thrills in store from Citadel: