Nicki Minaj bagged her fifth Best Female Hip-Hop Artist award at the recently concluded Black Entertainment Television (BET) Awards 2014 held at the Nokia Theatre L.A. Live.
View this post on Instagram
This made her the first and only rapper to win the said category for five consecutive years.
Nicki Minaj wearing a Laurel Dewitt metal top, a Zana Bayne skirt, and Giuseppe Zanotti sandals for the 2014 BET Awards at Nokia Theatre L.A. Live in Los Angeles on June 29, 2014 – posted on Instagram on June 30, 2014
Proving that she deserved the trophy, the "Starships" songstress hit the stage on Sunday for an outstanding performance of her latest single, "Pills N Potions."
View this post on Instagram
She was seen riding on the back of a motorcycle while clad in a racy outfit, including a gold Laurel Dewitt metal cropped top with chain link details, a black Zana Bayne tasseled skirt, patterned stockings, and a pair of caged knee-high sandals by Giuseppe Zanotti.
View this post on Instagram
Nicki looked beautiful and fierce at the same time, and her curled black tresses and natural makeup made the ensemble a lot sexier!
The rapper's new style seems to have gained her a lot more fans. We haven't seen her in colorful wigs, loud makeup, and bizarre outfits for weeks now.
Her strappy gladiator sandals are both seductive and fierce. They have 14.5-inch knee-high shafts, back zips, open toes, 0.5-inch platforms, and 4.5-inch heels.
Giuseppe Zanotti High-Heel Caged Knee Sandals, $2,295
Nicki Minaj left the venue in a glittery but simple black dress styled with a pair of red heels by Anthony Vaccarello — the same sandals spotted on Khloe Kardashian last May in Paris.
They are made of leather and feature double ankle straps, double front straps, metal embellishments, rope detailing, zipper fastenings, and 4.5-inch heels. Unfortunately, the entire beauty of the sandals isn't visible from underneath Nicki's long dress.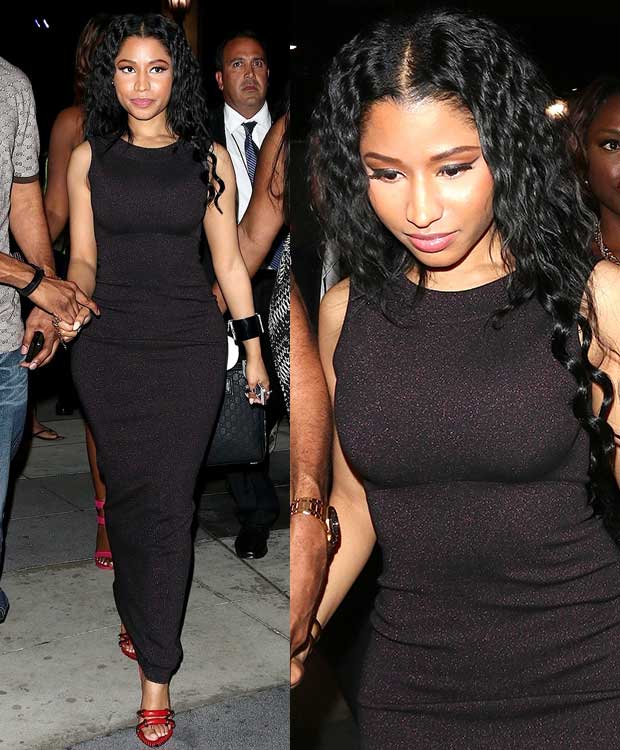 Nicki Minaj leaving Nokia Theatre L.A. Live after the 2014 BET Awards on June 29, 2014
Check out the sandals in more detail:
Anthony Vaccarello x Stella Luna Open-Toe Heels, $1,160
Nicki received her Best Female Hip-Hop Artist award in the above dress and heels.
She shocked many with her acceptance speech when she said, "The other day, literally I didn't tell anyone this, I really thought I was about to die. Like I was saying my prayers to die. And I didn't even wanna call the ambulance because I thought well if I call the ambulance, it's gonna be on TMZ. And I would rather sit there and die, and it made me realize, I don't care what anybody gotta say. I'ma do me, I'ma do me."
Rumor has it that it has something to do with smoking weed. Although she does not use weed, reports say that the people around her do and have caused her to inhale second-hand smoke.
There were also speculations that she dissed Iggy Azalea with her speech, "What I want the world to know about Nicki Minaj is that when you hear Nicki Minaj spit, Nicki Minaj wrote it." She, however, denied that she threw shade at the Australian rapper with a series of Twitter posts.
Nicki Minaj responds to Iggy Azalea rumors on Twitter
Credit: Nicki Minaj's Instagram / Winston Burris / WENN