3 years after she captivated talk show host Conan O'Brien with her boobs, Nicole Scherzinger looked awfully tired while making a bold fashion statement at the airport.
The Pussycat Dolls vocalist decided to dress in matching separates for her long-haul flight to London.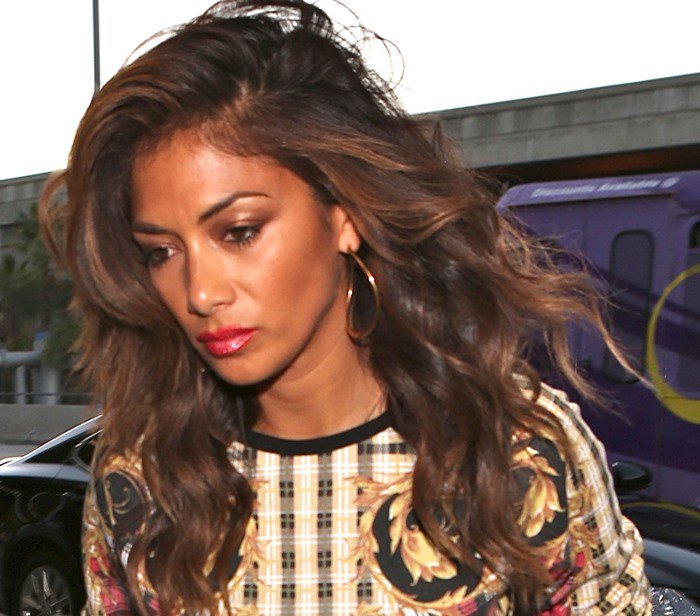 Nicole Scherzinger wears her hair down as she arrives at Los Angeles International Airport on September 20, 2014
Wearing a revealing leopard Dolce & Gabbana dress for a taping of Conan on September 19, 2011, she caught Conan O'Brien checking out her breasts.
Nicole Scherzinger catches Conan O'Brien checking out her boobs
When his eyes started trending downwards towards her cleavage, she snapped her fingers and told him to concentrate. "Focus, Conan," Nicole commanded. "Awwwwooooga!" said Conan.
The ethnically mixed singer arrived at the Los Angeles International Airport in a sweater and a pair of trousers that feature a mixed-print design.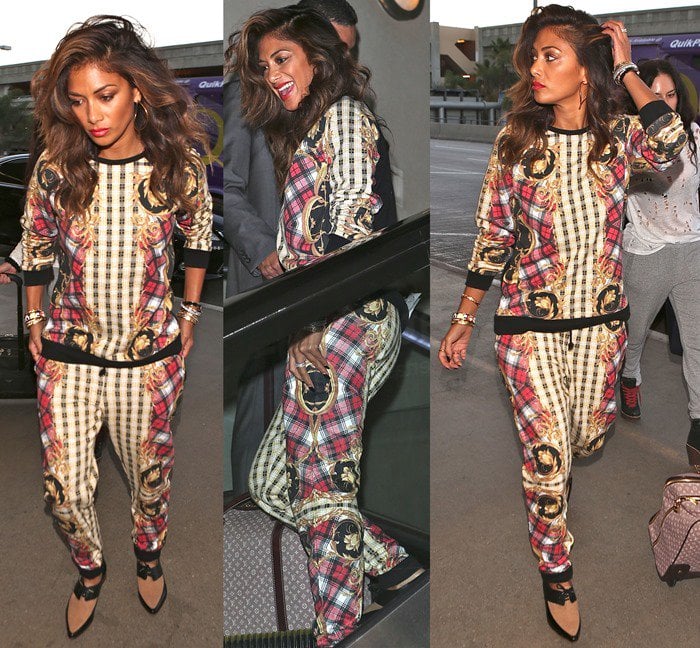 Nicole Scherzinger arrives at LAX in a mixed-print sweater-and-pant combination
As for her travel shoes, Nicole complemented her busy outfit with a pair of menswear-inspired loafers, stacks of bracelets, and perfectly tousled hair.
We can't say we love the outfit, but like a pro, Nicole pulled it off well enough to not look silly.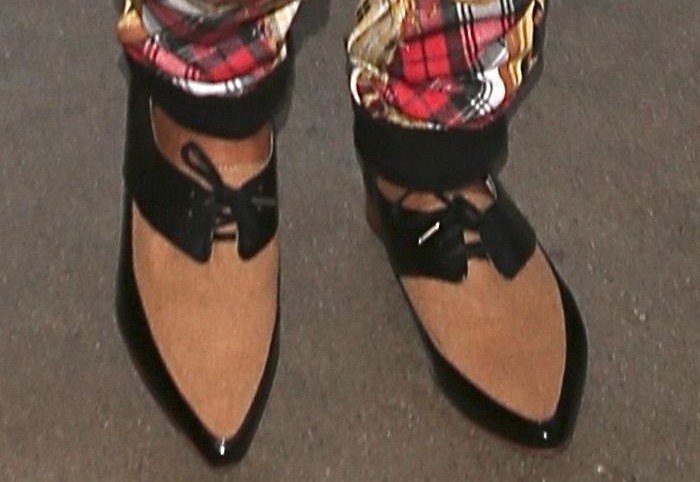 Nicole Scherzinger's feet in menswear-inspired loafers
What are your thoughts on the X-Factor judge's getup — hit or miss?
We don't have the official details on Nicole's plane-ride look, but it seems easy enough to copy. All you need are matching separates and a pair of pointy brogues.
If you can't find a two-piece set that fits your budget, then look for the next best thing — a printed top and pants that come in the same color palette. Wear the combo with pointy lace-ups, and you're all set. Here's some outfit inspiration for you.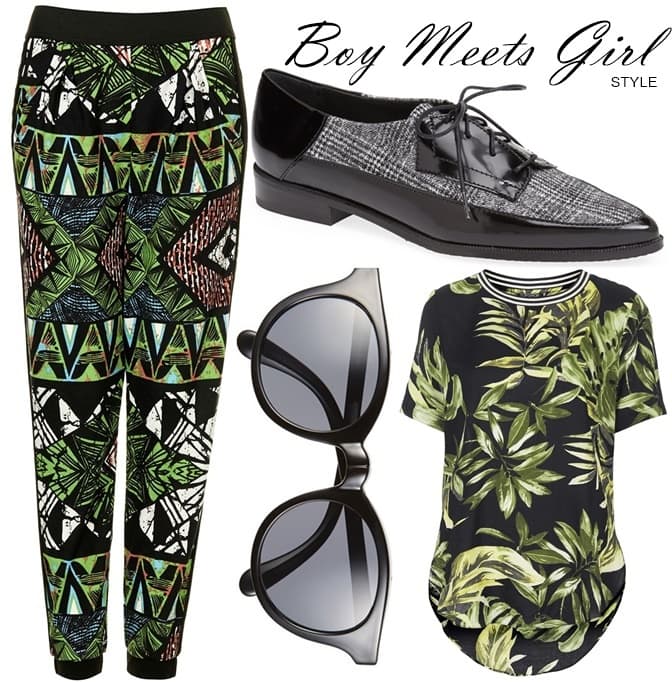 Topshop Geo-Print Track Pants, $56 / Topshop Palm-Leaf-Print Side Zip Tee, $68 / Sunpocket Samoa Sunglasses, $110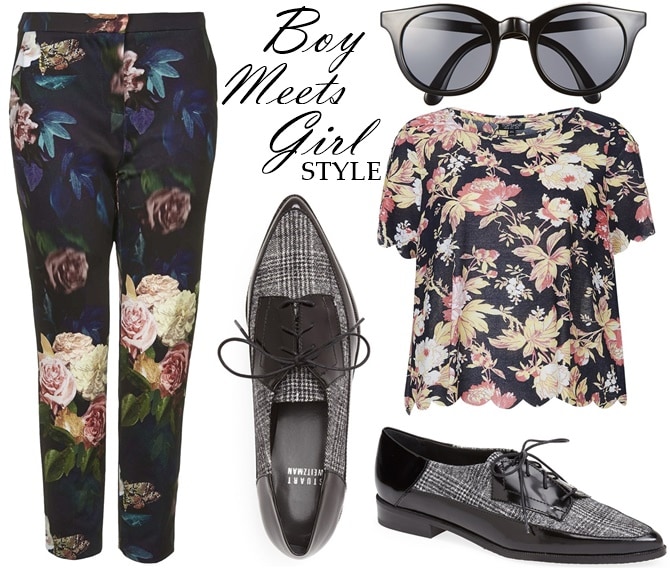 Topshop Rose-Print Cigarette Trousers, $84 / Topshop Flower Scallop Tee, $35 / Same eyewear and shoes as above
Since we can't find Nicole's exact shoes, might we suggest snagging these Stuart Weitzman "Leman" oxfords if you want to duplicate this look?
These lace-up brogues feature two-tone coloring crafted from smooth patent leather and checkered textile. Grabbing this style at Nordstrom will cost you $398.
That's not cheap, but the quality and craftsmanship you'll get from these shoes will make it all worth it.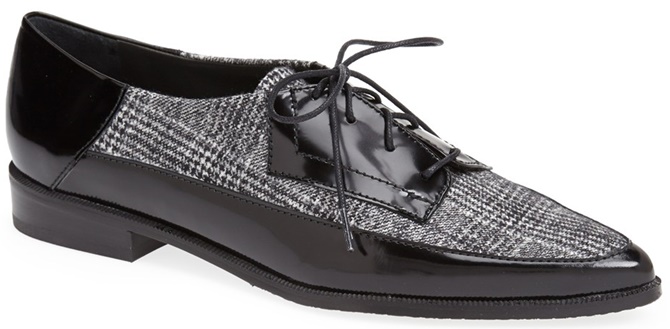 A menswear-inspired pointy-toe oxford puts a refined finishing touch on any professional or casual look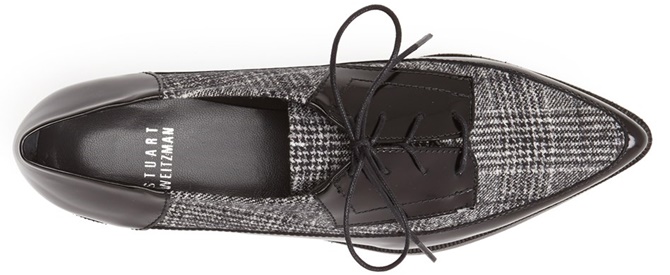 Stuart Weitzman "Leman" Lace-Up Brogues, $398
Credit: WENN