Do you believe in love at first sight? It's rare to hear a real-life love story like that. Especially one that ends in a marriage that's lasted over two decades!
Nowadays, if you ask a couple how they met, it's usually a simple story – online. Tinder, Hinge, and Bumble don't create romantic or exciting stories but are often the reality of this digital world.
For couples who met before dating apps existed, the stories are much more enjoyable. Liza Powel and Conan O'Brien are a great example of this with their one-of-a-kind love story.
Liza Powel and Conan O'Brien: Love at First Sight
Liza and Conan met in 2000 when she appeared on his talk show Late Night with Conan O'Brien. He described the moment he laid eyes on her as being love at first sight.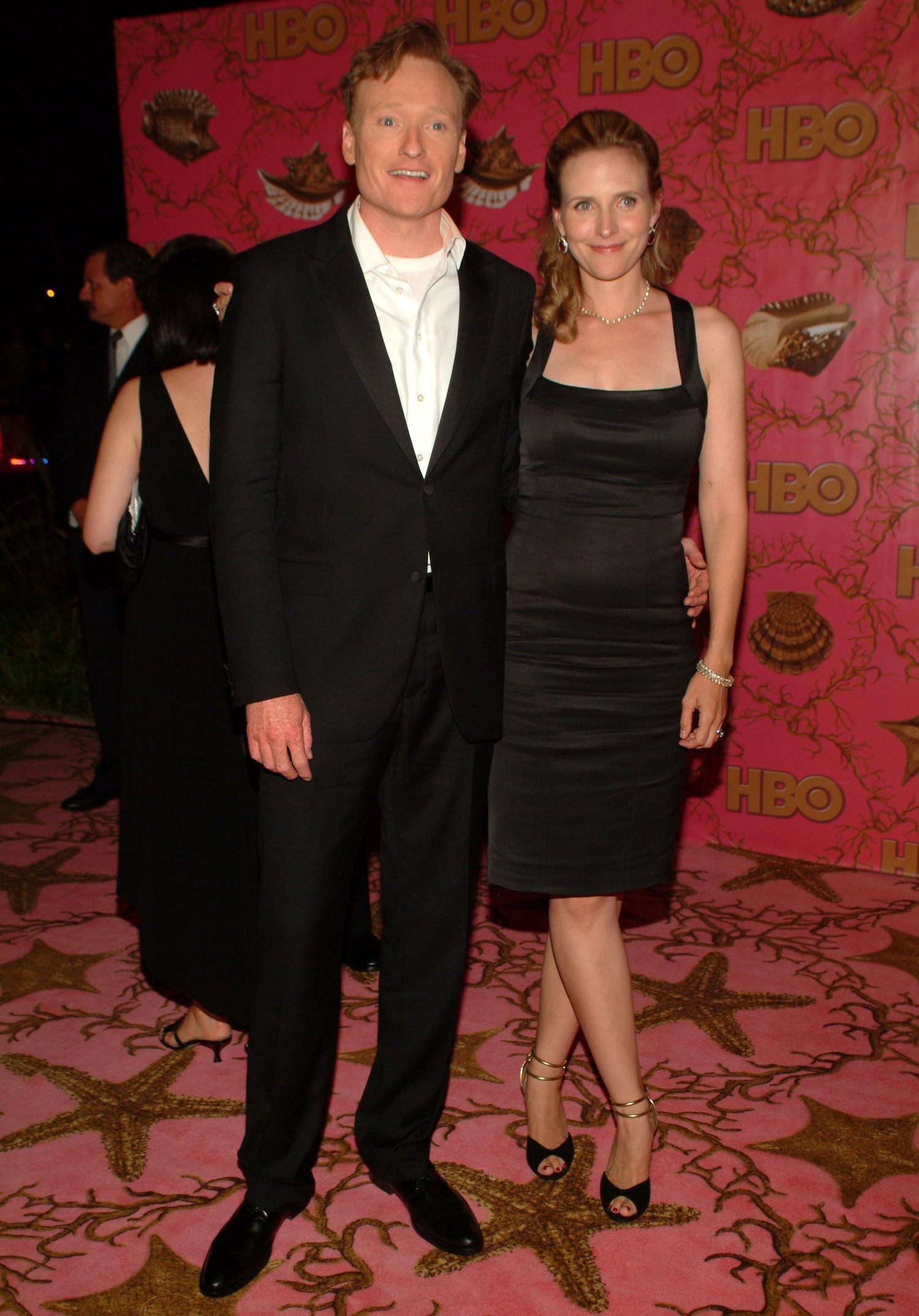 Conan O'Brien met his wife Elizabeth Ann 'Liza' Powel in 2000 when she appeared on his show Late Night with Conan O'Brien
On this particular episode, they were filming a parody commercial for the worst advertisers. Liza Powel worked for the advertising agency that was producing this commercial and appeared on the show.
Years later when Piers Morgan was interviewing Conan, Conan told him, "Somewhere, in the vault at NBC, there's footage of my literally falling for my wife on camera."
This clip is now up on YouTube. How many couples can say that have video footage of the moment they met and fell in love? Not many!
When recalling the moment, Conan said he fell in love with his wife because "she is incredibly beautiful, very intelligent, and funny, and a really good person."
Liza and Conan Relationship History
After meeting in 2000, the two dated for nearly 18 months before getting married on January 12, 2002, in Powell's hometown of Seattle. It was a traditional wedding held at St. James Catholic Church on a rainy day.
This is the same church Liza grew up in. She wore a lace jacket over her lace gown with a bouquet of red roses. Conan wore a black suit and the bridal party had coordinating attire.
The following year Liza and Conan welcomed their first child, a daughter named Neve, on October 14th. A couple of years later, in 2005, their son Beckett was born on November 9th making them a family of four.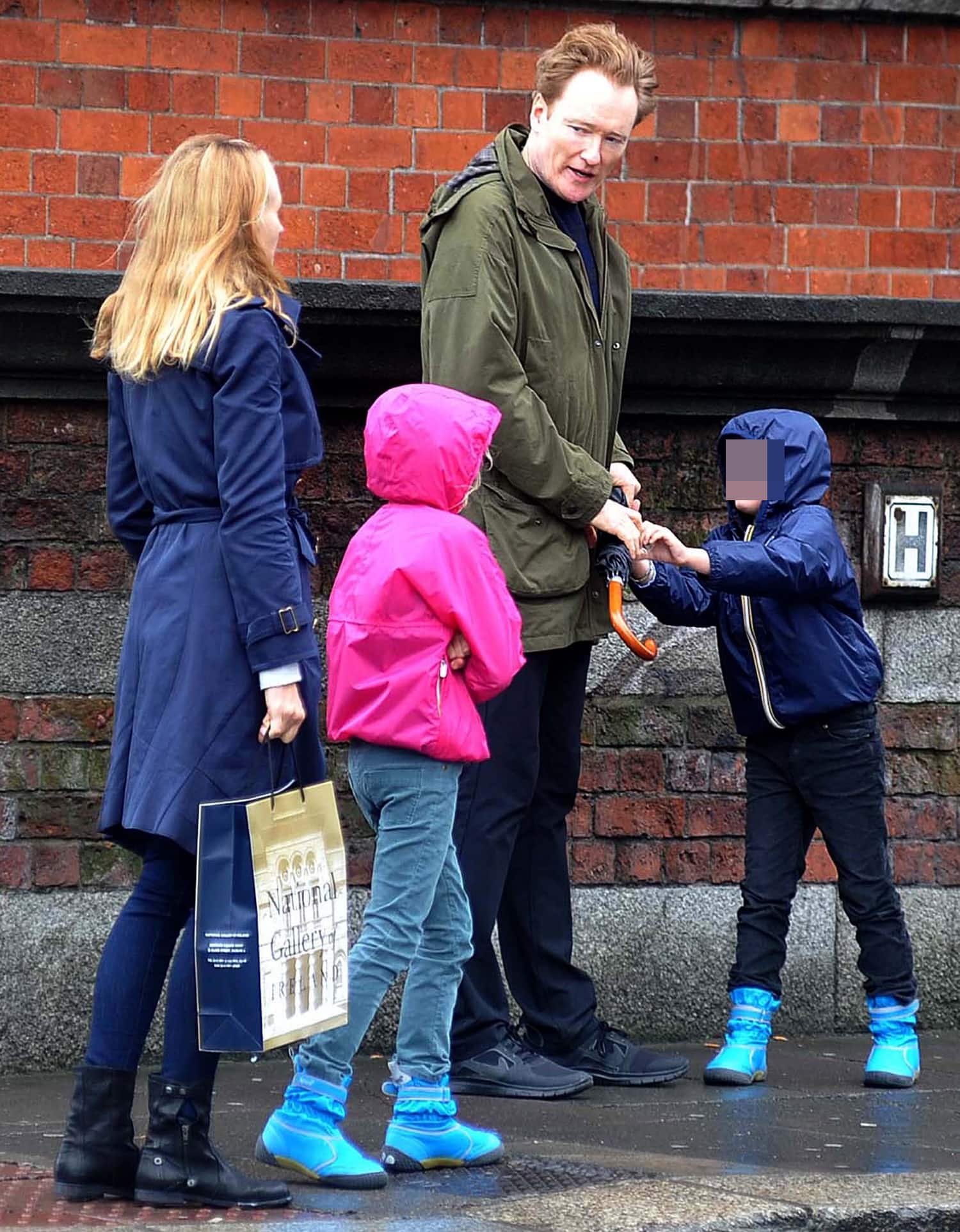 Conan O'Brien and his wife Liza Powel visiting Ireland in 2012 with their children Neve and Beckett
The O'Brien family is close-knit, taking on active roles in their children's lives from school drop-offs to volunteering at school events. The family now lives in Brentwood, California, in a stunning palatial home with a portico and shutters.
Originally purchased for $10.5 million, the impressive home has plenty of attractive features, including a 1500 bottle wine room and pool pavilion with an adjoining deck.
When Conan was dropped from The Tonight Show in 2010, Liza is said to have stood by him and lifted him up when he became depressed. Her unwavering support helped him through these dark times.
Liza Powel: Wife, Mother, and Playwright
Liza was born Elizabeth Ann Powel in Brainbridge Island, Washington, to Jack and Ann Powel on November 12, 1970.
Her father was relatively famous in her community as he is a guitarist for a well-known brand, "The Dixieland," that continues to play at a local creole restaurant every Monday.
As a child, she was an active member of the same Catholic church she and Conan were married in. From a young age, she exhibited a strong passion for writing, which helped shape her education and career later in life.
Liza attended the University of Columbia School of Arts and received a master's degree in fine arts.
Liza Powel was working as an advertising executive for Foote, Cone & Belding when she met Conan O'Brien
When she met Conan, she was working for the advertising agency Foote, Cone & Belding. In an effort to explore more of her creativity, she left her job as a copywriter and then ad executive to pursue screenwriting.
Liza is now a playwright and has written for several shows seen in theatres and festivals in LA, New York, and Seattle. She also sits on the reading committee for the Ojai Playwrights.
In addition to being an active playwright, she works with the Children's Defense Fund's "Beat the Odds" program that helps at-risk students who are academically talented. She turned 50 in 2020 and is 5 feet 8 inches tall – a good match for her 6 foot 4 inches tall husband.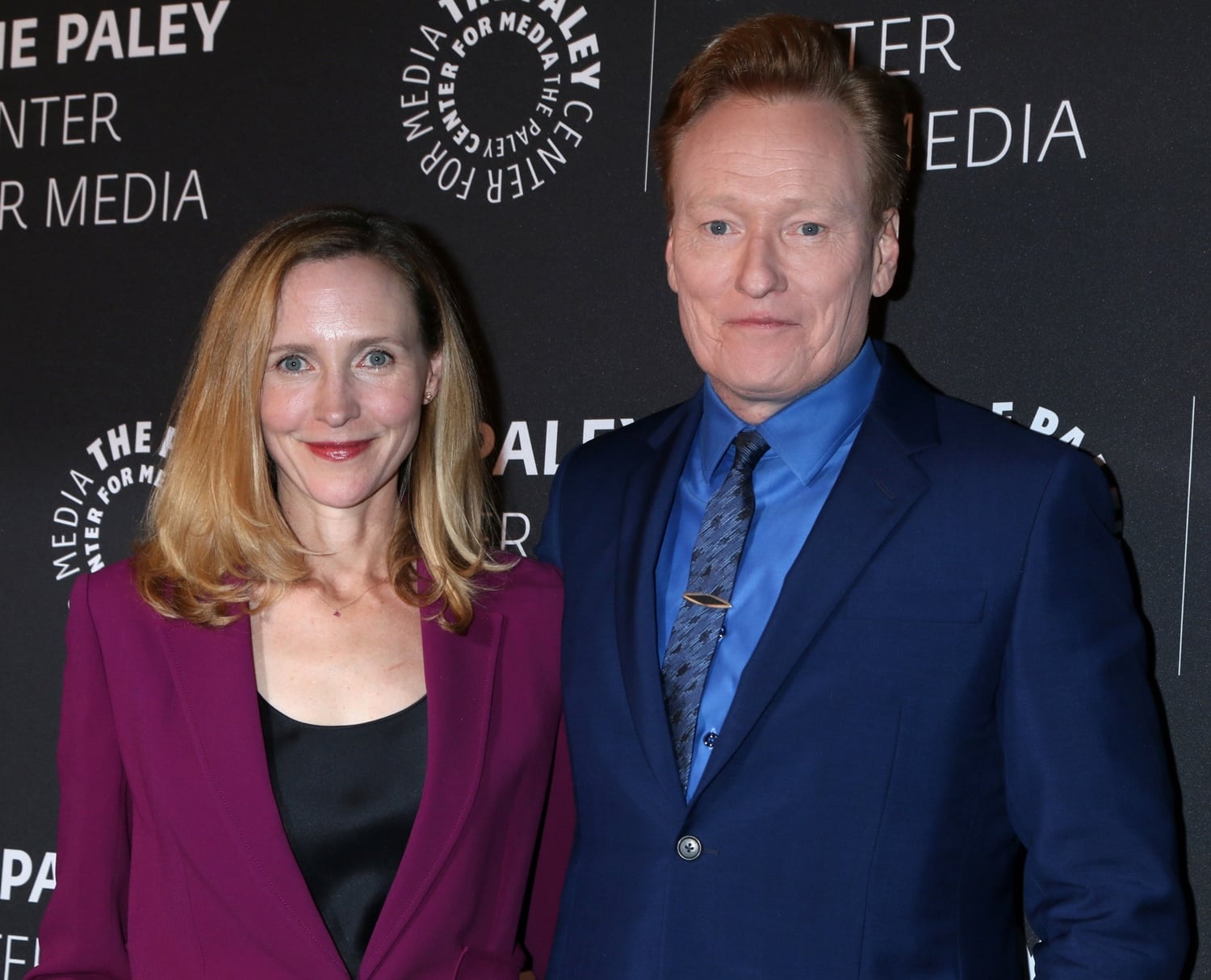 Liza Powel and her husband Conan OBrien arrive for The Paley Honors: A Special Tribute to Television's Comedy Legends held at The Beverly Wilshire Hotel in Beverly Hills on November 21, 2019
Liza keeps a quiet profile, staying off social media and leaving her husband to the spotlight. One of the few photos of the family seen all together is from a beach holiday in France.
Conan O'Brien: Husband, Father, Comedian, and Host
Conan O'Brien was born on April 18, 1963, in Brookline, Massachusetts. His father was Thomas O'Brien, a brilliant physician, and epidemiologist that attended Harvard Medical School.
His mother was also highly educated and successful. Ruth O'Brien was a successful attorney in Boston. The O'Brien clan consisted of four boys and two girls.
One of Conan's sisters, Kate O'Brien, made her acting depute in The Fighter starring Amy Adams, Christian Bale, and Mark Wahlberg. Although not yet a household name, she is actively pursuing her acting career.
He attended Brookline High School and was the editor of the school's newspaper. His strong writing abilities got him into Harvard University, where he studied History and Literature.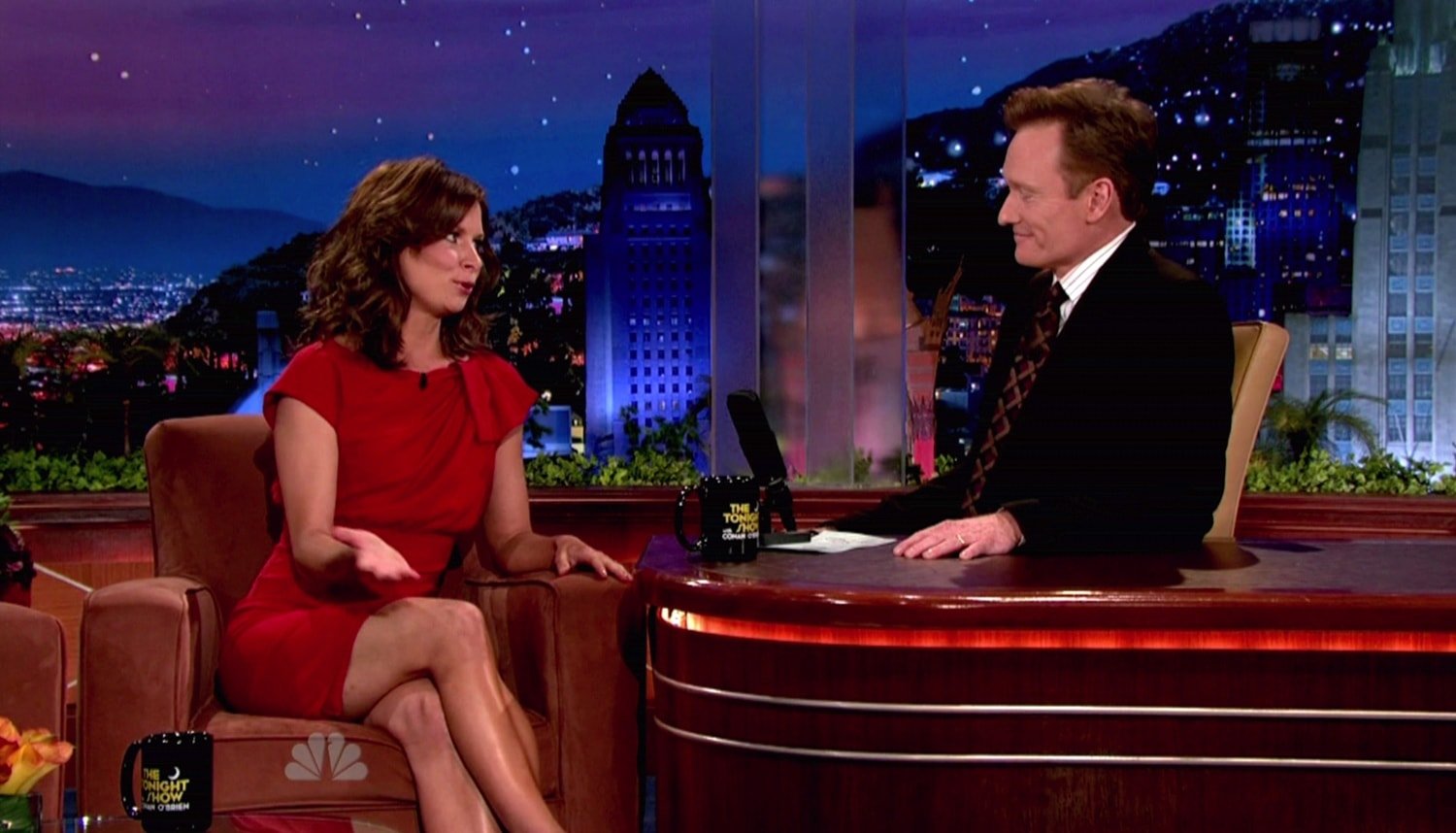 Mary Lynn Rajskub talks about her Las Vegas wedding in Las Vegas on NBC's The Tonight Show with Conan O'Brien in 2009
It was through his extracurricular activities, like writing for Harvard Lampoon humor magazine, that he realized his comedic abilities. In his junior year, he became Harvard Lampoon's president while his future boss at NBC, Jeff Zucker, was president for The Harvard Crimson.
With an impressive resume at such a young age, it's no surprise that Conan has an exceptionally high IG. He is said to have an IQ of 160, which is equal to those of Albert Einstein and Stephen Hawking.
After graduating, he moved to Los Angeles and became a writer. In 1988 he was hired on as a writer for Saturday Night Live, a legendary position in which he spent three years.
In 1991 he quit SNL with no idea what he was going to do next. Shortly after leaving SNL, he got a call from The Simpsons, offering him a job as a writer – a highly sought-after writing position at the time!
Conan eventually moved to Beverly Hills thanks to his friend and former girlfriend, Lisa Kudrow. The "Friends" actress actually encouraged him to be in front of the camera instead of behind it. At the time, he dismissed it and continued writing for the Simpsons for the next few years.
As former Late Night host David Letterman was preparing to retire, executive producer and former SNL boss Lorne Michaels started looking for a replacement and called on Conan.
Conan O'Brien Needs a Friend is one of the most popular comedy podcasts in the world
To get the role he had to do a test audition which included guests Jason Alexander and Mimi Rogers with an audience full of Simpsons writers. He delivered an opening monologue that impressed all viewing executives, and he was given the role of the new host of Late Night.
Conan held the prestigious and iconic position of Late Night host until 2009. On the final episode, which aired on February 20, 2009, he thanked those who helped him get to that point, including his wife and children.
Following this, he moved to The Tonight Show; however, it did not perform as well, and ratings dropped significantly.
After he was replaced by Jay Leno, he got his self-titled show Conan on TBS and a weekly podcast called Conan O'Brien Needs a Friend.
Liza Powel and Conan O'Brien Net Worth
The combined net worth of this power couple is quite substantial. Conan has a long list of impressive career accomplishments with more in the works.
After about a year with The Tonight Show, he reached a deal with NBC that paid him $45 million, $12 million of which was given to his staff who moved with him from LA to New York. Not a bad paid out for a year of work!
It seems as if each project comes with a significantly hefty paycheck. With vacations in France and a Brentwood mansion now worth an estimated $19 million, we can assume their net worth is high. They also had a Central Park West Penthouse in New York City that was put on the market for $35 million.
Liza Powel and Conan O'Brien and have a combined net worth of $85 million
Although little is known about how much Liza brings in as a former advertising executive and playwright, it is believed the couple has a combined net worth of $85 million.
The couple has been together for over twenty years! A truly extraordinary accomplishment in Hollywood. Although they maintain a quiet life, it seems as they are just as much in love as they were that first day on set when it was "love at first sight."
Credit: Nikki Nelson / WENN / Avalon / FayesVision