We are seriously beginning to like Nikki Reed's fashion sense. For a time, she had some awkward moments, but these days, she looks more polished and put-together. Her taste in footwear has always been quite impeccable though, which explains why she has always been in our radar.
The last few times we featured Nikki, she was all in sky-high stilettos. Today, however, is different as she shows us another side of her style personality — hipster chic and super cool in a pair of Western-inspired metal-trimmed slip-on booties that we have yet to ID.
The 'Twilight' beauty wore the shoes with a striped shirt, cropped skinnies, a black jacket, and a hat while in LAX the other day. It was, by far, the best casual look we have seen her in so far. The mix was a little offbeat but definitely spot-on.
Nikki Reed wearing a striped shirt, cropped skinnies, and a black jacket at LAX along with her two German Shepherds on December 10, 2012
Nikki Reed's Western-inspired metal-trimmed slip-on booties
Doesn't she look fabulous?!
And we're seriously intrigued by those boots. They're cut low just below the ankles so they're perfect for wearing without socks and with cropped skinnies. Do you like 'em?
We don't have any information on Nikki's booties yet, so you can either sit tight and wait while we scour the net for any clues on the shoes. Or you can steal her style with a similar pair from Jeffrey Campbell — the TommyGun.
Jeffrey Campbell 'TommyGun' Boots, $228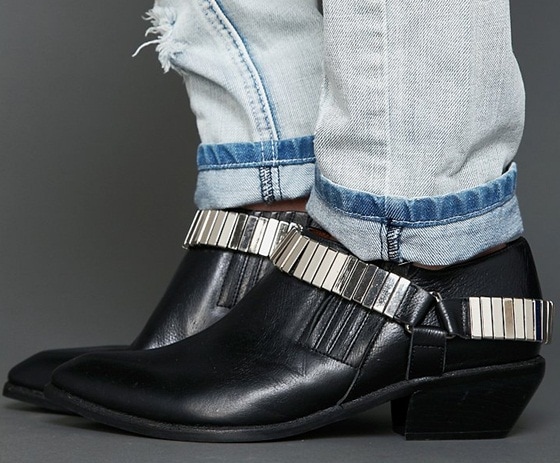 Credit: Revolutionpix / WENN