Nikki Reed is taking a break from her high-heeled Giuseppe Zanotti sandals to wear a more comfortable pair of shoes. She seems to love them, too!
The 'Twilight' star was spotted in the brown Rag & Bone "Classic Newbury" booties on two different occasions this month — once at an event and another on her relaxed day off.
Which outfit do you think looks better with her new favorite boots?
Although the Classic Newbury boots are considered the "go-with-anything" boots, we're not sure if they looked good with the maxi dress Nikki wore earlier this month. Nikki paired the brown booties with gray maxi dress and accessorized with a 7 for All Mankind necklace at the 7-Eleven 86th Birthday Bash in Malibu, California.
We'd ignore the minor mismatch if she was just a guest at the event, but as the host, we think she should have worn something trendier. What do you think of her hosting attire?
Nikki Reed wearing a maxi dress paired with Rag & Bone "Classic Newbury" booties to host 7-Eleven's 86th Birthday Bash at The Revolve Clothing Malibu Beach House in Los Angeles, California, on July 9, 2013
We learned a few things about Nikki during her day off — like the fact that she enjoys books! That's why she was headed to Barnes & Nobles on July 29.
We also learned that the Rag & Bone booties seem to influence Nikki's fashion sense. On her relaxed day, she wore an outfit ready for the Australian outback — torn high-waist jeans, a tank top under a t-shirt that looked chopped off at the waist and sleeves, and an Akubra hat. We wouldn't be surprised if her greeting for the day was "G'day, mate!"
The 'Twilight' star wearing her "go-with-anything" booties as she heads to Barnes & Nobles on her day off on July 29, 2013
Well, we still love Nikki and her new favorite brown booties. Take a closer look at Amazon: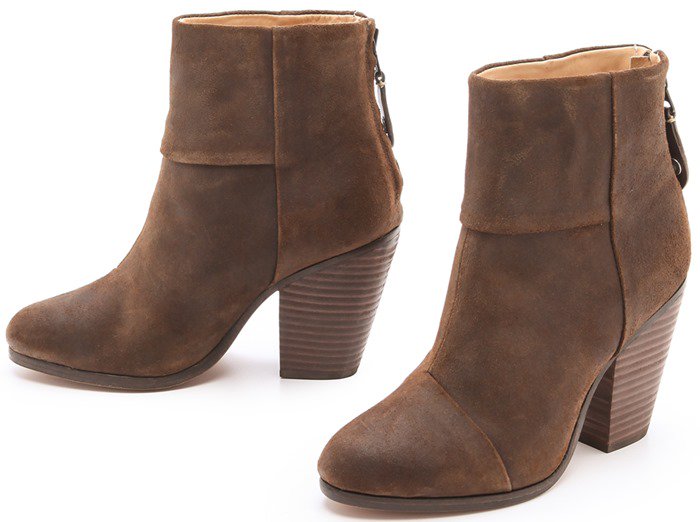 Rag & Bone "Classic Newbury" Boots, $495
Credit: Ryan/WENN