A Nigerian-American actor, producer, and former American football cornerback, Nnamdi Asomugha first met Kerry Washington in 2010 and they married on June 24, 2013. Seldom seen together in public, they didn't make their relationship public until news broke of their marriage in July 2013.
Kerry Washington and Nnamdi Asomugha married on June 24, 2013
Born in Lafayette, Louisiana, on July 6, 1981, to Nigerian Igbo parents, Asomugha has a form of color-blindness called deuteranomaly. He talked about his color vision deficiency in the June 2009 issue of ESPN The Magazine.
"It was determined when I was about 7 years old. It's never really affected my play on the field — I can easily distinguish between light and dark colors. I only have trouble between similar colors — the light ones. They look the same to me. No problems on the field."
How much is Nnamdi Asomugha worth?
In 2010, Forbes revealed that Nnamdi Asomugha would get paid at least $28.6 million over two years playing for the Oakland Raiders. Considered one of their best players of all time, he has a net worth of $35 million dollars.
In 2011, he agreed to a five-year contract worth $60 million with the Philadelphia Eagles. However, the UC Berkeley graduate struggled during his time in Philadelphia and was released from his contract. On December 27, 2013, he officially announced his retirement.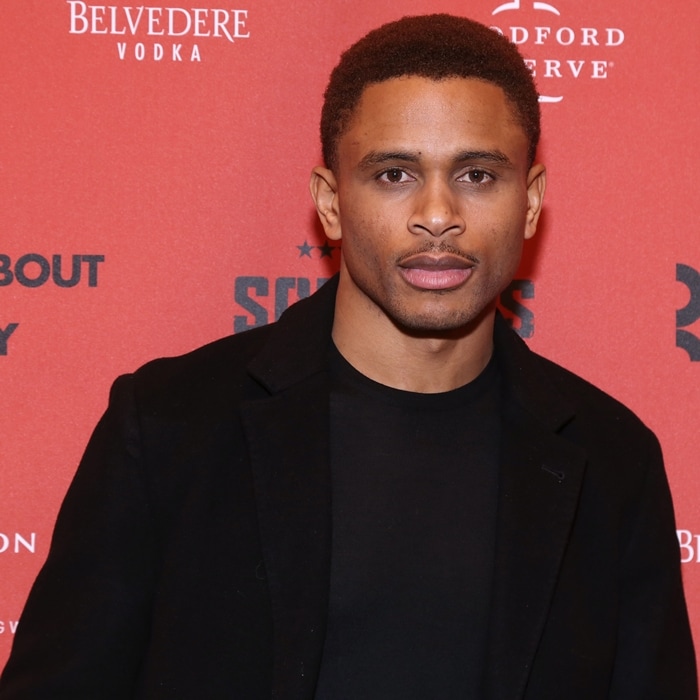 Nnamdi Asomugha, who has an estimated net worth of $35 million dollars, attends the opening night for A Soldier's Play held at the American Airlines Theater in New York City on January 21, 2020
After retiring from football, he made his professional acting debut in 2008 on The Game, an American comedy-drama television series.
For his portrayal of Carl King in the film Crown Heights, a 2017 American biographical crime drama film, he was nominated for an Independent Spirit Award for Best Supporting Male and he was nominated for an NAACP Image Award for Outstanding Supporting Actor in a Motion Picture.
How To Pronounce Nnamdi Asomugha
His name, Nnamdi, means "my God is alive" or "my father lives" and is a traditional male given name used by the Igbo people of Nigeria. It is pronounced Nahm-Dee. His surname is pronounced Ah-So-Muh-Wah.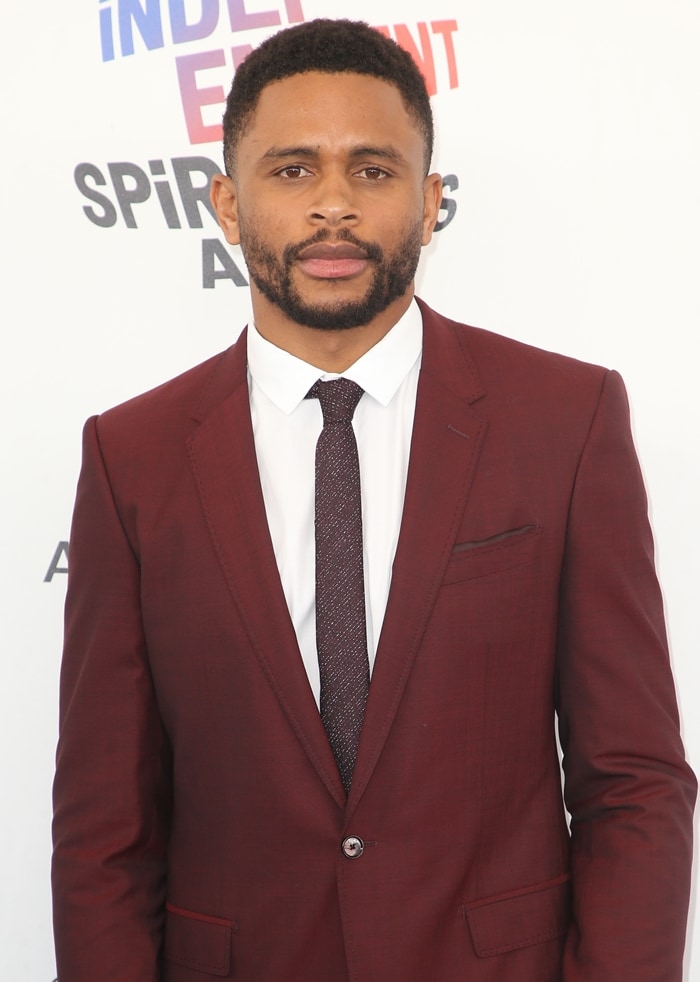 Actor Nnamdi Asomugha attends the 33rd annual Film Independent Spirit Awards in Santa Monica, California on March 3, 2018
Not willing to comment on her personal life in any way, shape, or form, his wife Kerry Washington refused to discuss rampant divorce rumors with E! News in March 2016.
"If I don't talk about my personal life, it means I don't talk about my personal life. That means not only did I not tell you when I was getting married, it also means if somebody has rumors about what's going on in my marriage, I don't refute them, because I don't talk about my personal life."
In October 2013, Kerry Washington's title as World's Best-Dressed Woman was on lock. The actress stood out in a chic little number as she attended Variety's Fifth Annual Power of Women event held in Beverly Hills.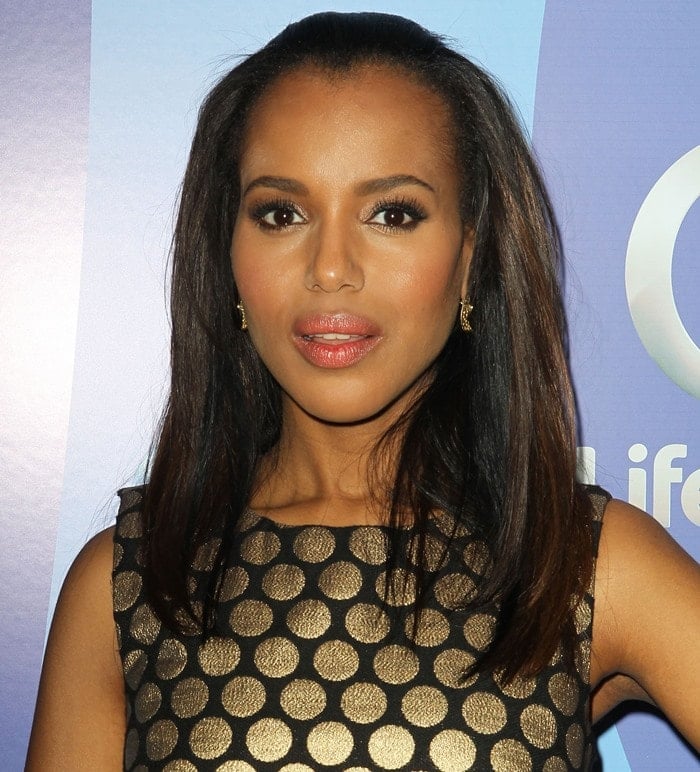 Kerry Washington attends Variety's Fifth Annual Power of Women event in Beverly Hills on October 4, 2013
The actress wore a black-and-gold polka-dot dress by Vince Camuto and was the picture of understated elegance. She complemented her outfit with a simple clutch and natural makeup.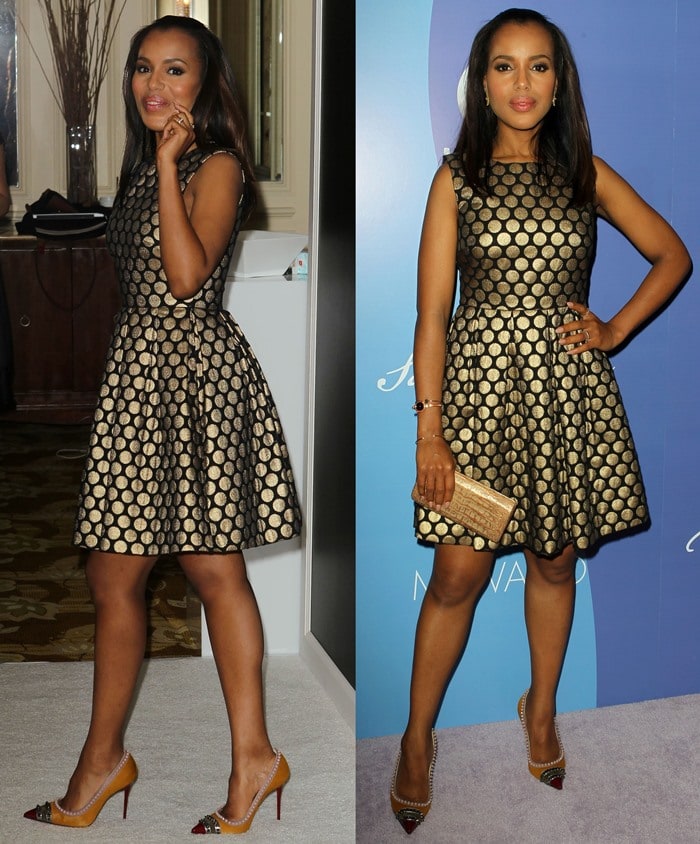 Kerry Washington shines in a black-and-gold dress from Vince Camuto
Kerry's shoes caught our attention. Her statement Christian Louboutin pumps have everything a girl could want: color, spikes, and high heels.

Kerry Washington wears a pair of Christian Louboutin pumps
The "Malabar Hill" pumps also feature a combination of brown suede, red leather, and yellow pony hair. You can buy them at Nordstrom, Matches Fashion, Saks Fifth Avenue, and Bergdorf Goodman
Christian Louboutin "Malabar Hill" Pumps in Cognac, $1,095
Is Kerry's choice too wild for you? Go for a gray pair — perfect for those who prefer a more neutral color scheme.
Christian Louboutin "Malabar Hill" Pumps in Acier, $1,095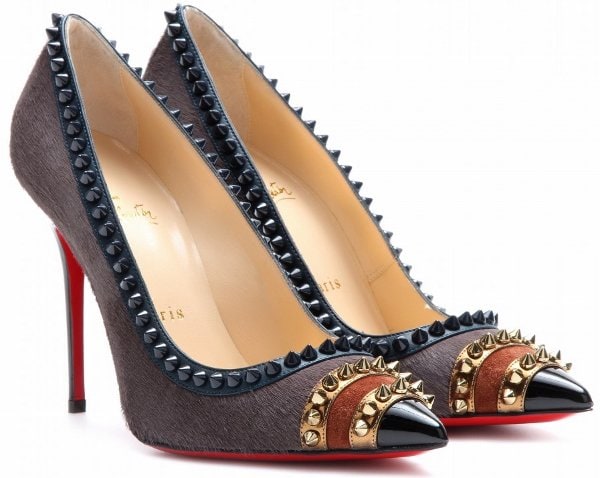 No need to worry about the heels either. Christian Louboutin has kindly designed a black pair with shorter (70 mm) heels.
Christian Louboutin "Malabar Hill" Pumps in Black, $1,095
Credit: FayesVision / Visual / WENN / Brian To / Joseph Marzullo