Many of you must've seen both the butt and the full-frontal nude shots by now, but for those who say they have more important things to do in their lives, this is Kim Kardashian's fully naked magazine cover shot that's currently breaking the Internet:
Kim Kardashian's butt-baring, fully naked cover shot by Jean-Paul Goude for the winter 2014 issue of Paper magazine
The infamous images were released on Tuesday and have been topping searches, social media networks, and practically all news websites since.
It's all anyone can talk about and all other celebrities can comment on. And what were Kim and her sisters doing in the meantime? Oh, just holding a "magical, unforgettable, and perfectly charming" baby shower for Kourtney as if nothing controversial, scandalous, or Internet-breaking was going on.
They look so sweet and so innocent among the white flowers, Tiffany blue boxes, and brunch food items, don't they?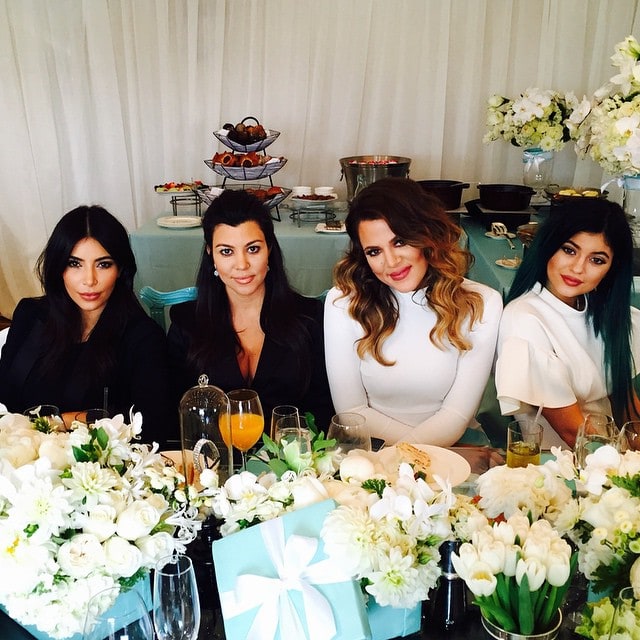 Kourtney Kardashian's Instagram snap from her baby shower held at the Montage Beverly Hills hotel in Beverly Hills, California, on November 12, 2014 – posted on November 13, 2014
Leading the pack was Kim, who was dressed in a black bodysuit, black knee-length leggings, and a long black blazer.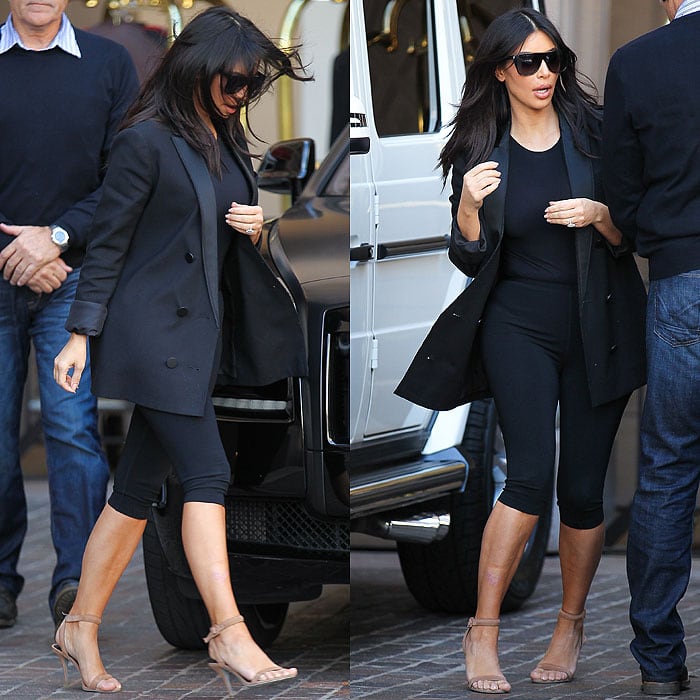 Kim Kardashian arriving for sister Kourtney's baby shower at the Montage Beverly Hills hotel in Beverly Hills, California, on November 12, 2014
She broke the monotone with beige Alexander Wang "Antonia" sandals, which she also wore when she first carried the Hermès handbag that was hand-painted by daughter North.
Kim Kardashian's feet in beige Alexander Wang "Antonia" sandals
Alexander Wang "Antonia" Sandals, $475 – $495 at Nordstrom
Speaking of North, she was also in attendance at the baby shower. Mom Kim dressed her in a white Balmain blazer, a white t-shirt, a denim cutoff skirt, and black sandals. She looked super cute.
Seventeen-month-old North West sporting her custom Balmain blazer and holding on to mom Kim's hand
The belle of the brunch, Kourtney Kardashian, was similarly dressed in head-to-toe black. Her flared-skirt blazer dress accommodated her pregnant belly well.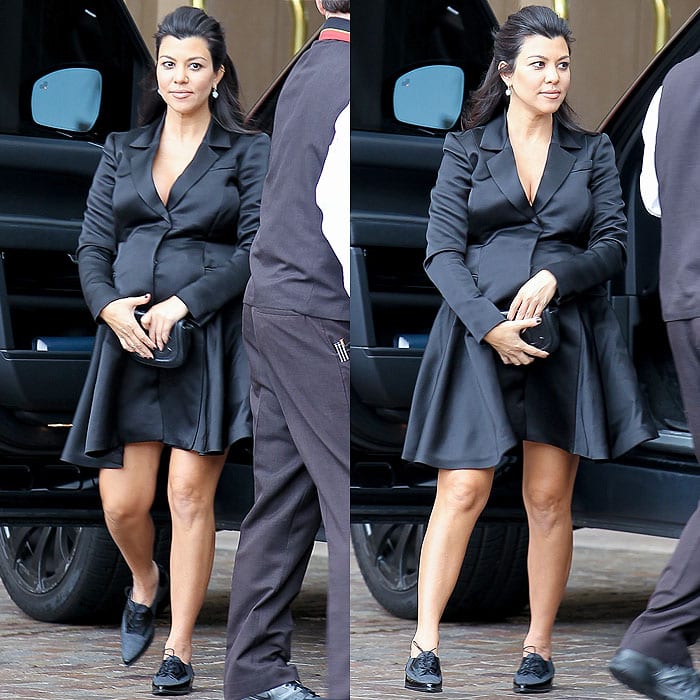 Kourtney Kardashian arriving for her baby shower brunch at the Montage Beverly Hills hotel
She stayed comfortable yet chic in a pair of flat flannel-and-leather oxfords.
Stuart Weitzman "Leman" oxfords on Kourtney Kardashian
Leman Flannel-and-Patent Oxfords in Jet Mirror, $238.80 – $398 at Zappos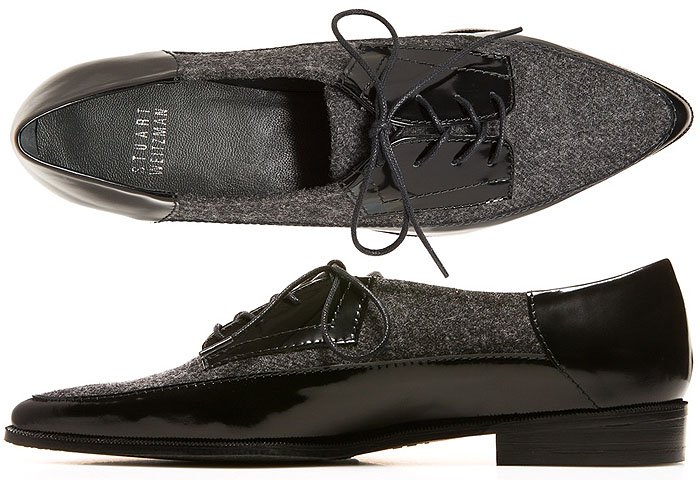 We have a separate post on Khloe Kardashian's all-white Misha Yelena baby shower look. After strutting around in her Louboutin "Corsita" ankle boots, Khloe then changed into her favorite Air Jordans and seemed ready to hit the gym after the baby shower.
Khloe Kardashian in a white Misha Yelena two-piece set, carrying a white Chanel flap handbag, and stepping out of a white Mercedes G-Wagon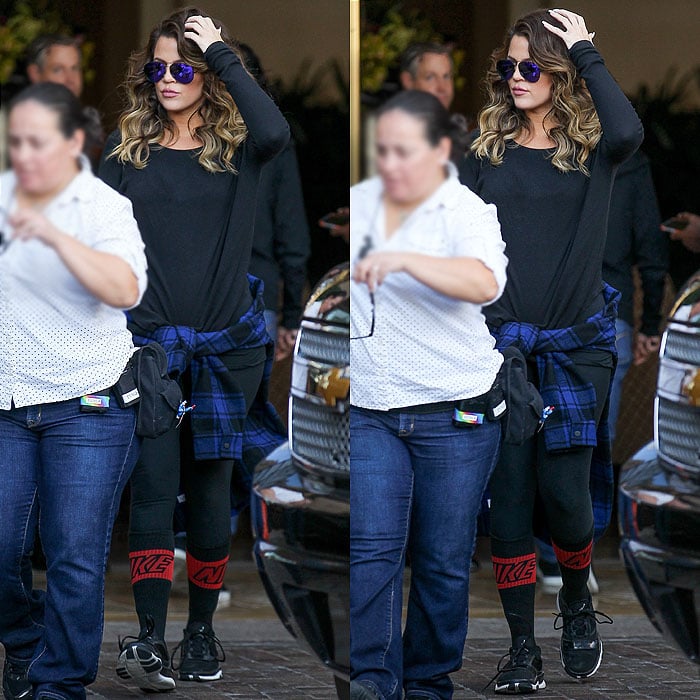 Khloe Kardashian in gym wear after Kourtney's baby shower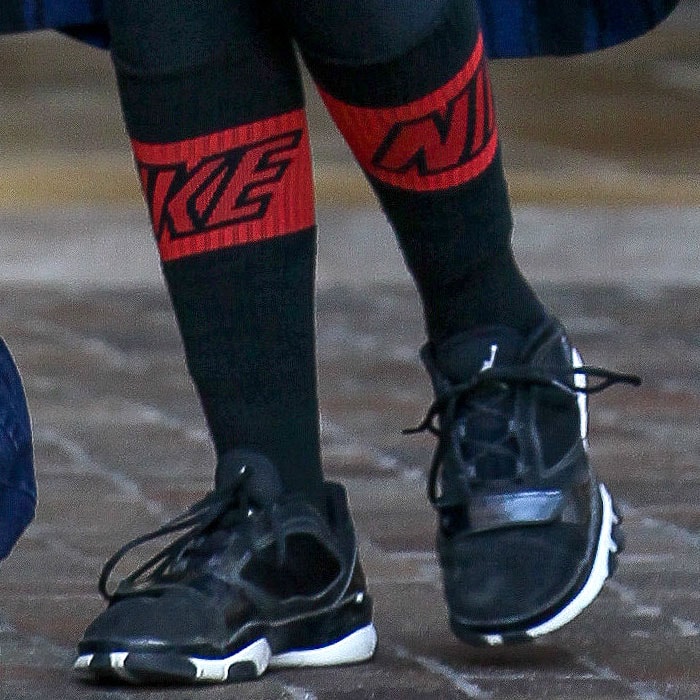 Closeup of Khloe Kardashian's Air Jordan sneakers
Christian Louboutin "Corsita" Leather and Calf Hair Ankle Boots, $1,295
Last but certainly not the least was Kylie Jenner, whom we immediately recognized by her cyan hair color even if we don't have pictures from the front.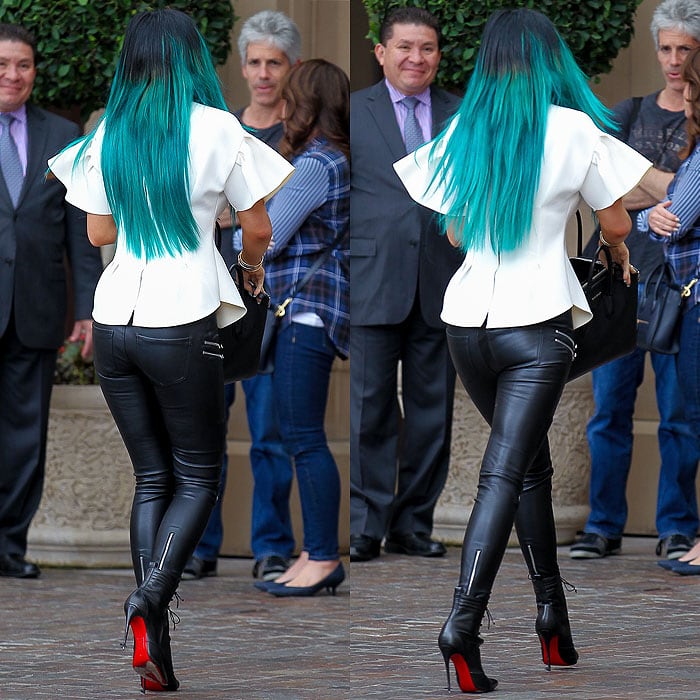 Kylie Jenner heading inside the Montage Beverly Hills hotel for Kourtney Kardashian's baby shower
Kylie displayed more of her rebel fashion taste in a sculpted white top, Zara faux leather biker pants, and Christian Louboutin "Mado" lace-up boots. Kendall couldn't make it to the baby shower due to prior commitments.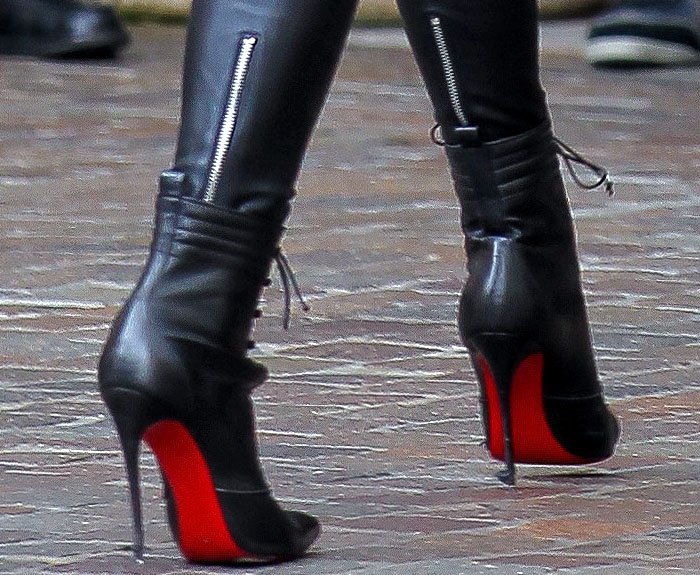 Christian Louboutin "Mado" lace-up boots on Kylie Jenner
Kylie Jenner wore these boots before to the premiere of The Hunger Games: Catching Fire. The style is now sold out, but you can shop the latest Christian Louboutin collection at Nordstrom and Saks Fifth Avenue.
Christian Louboutin "Mado" Leather Lace-Up Ankle Boots, $1,595
Credit: WENN / Kourtney Kardashian's Instagram