The promotional tour for the latest installment of The Hunger Games has just begun, but Elizabeth Banks has already made a strong fashion move to shut the whole thing down.
The 40-year-old actress, who plays Effie in the franchise, took our breath away in a magnificent Elie Saab fall 2014 couture gown. The moody dark red florals on top flow into a dramatic, stormy print on the voluminous skirt. The sexy plunging neckline cascades into a long billowy cape down the back. Tiny crystals strewn throughout the fabric add enough sparkle that Elizabeth felt no need to add more bling of her own. A twisted updo, clean makeup, and a navy strap around the waist tie the whole stunning look together.
The only way to appreciate Elizabeth Banks' The Hunger Games: Mockingjay — Part 1 look is to see it from every angle, as shown below. Just absolutely breathtaking, isn't it?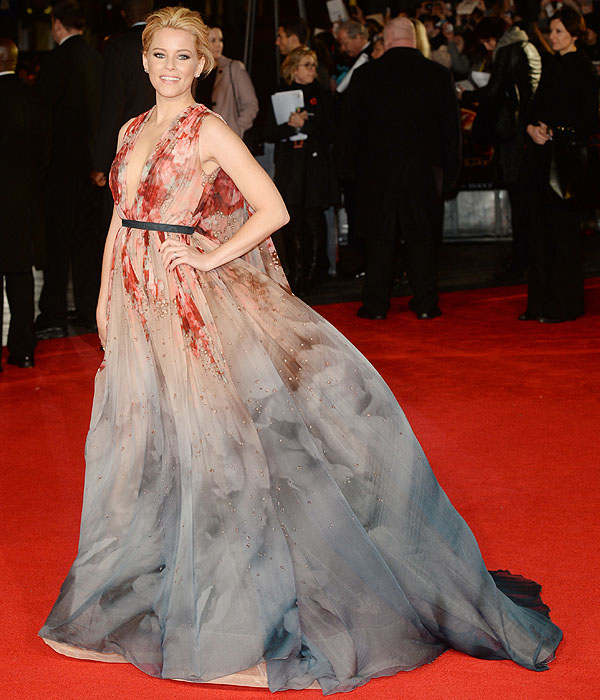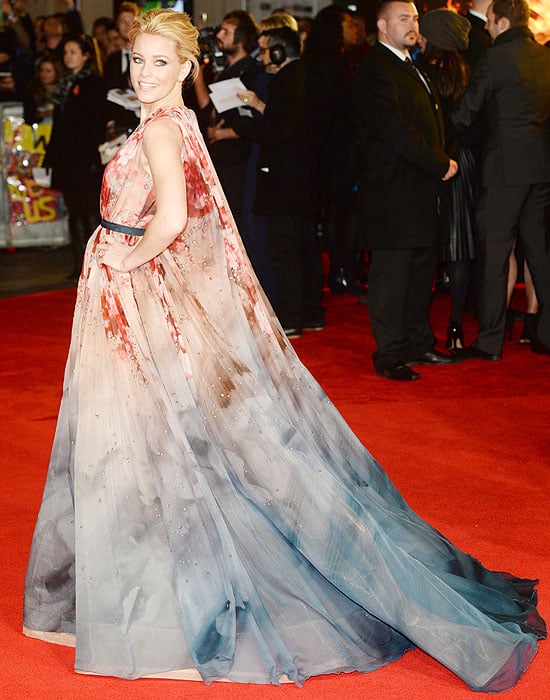 Elizabeth Banks at the world premiere of The Hunger Games: Mockingjay — Part 1 held at the Odeon Leicester Square in London, England, on November 10, 2014
A strong gust of wind and Elizabeth holding her dress up gave us a peek at the fabulous teal-colored satin platform sandals on her feet. We don't think we've ever been more thankful for the windy London weather than in that moment.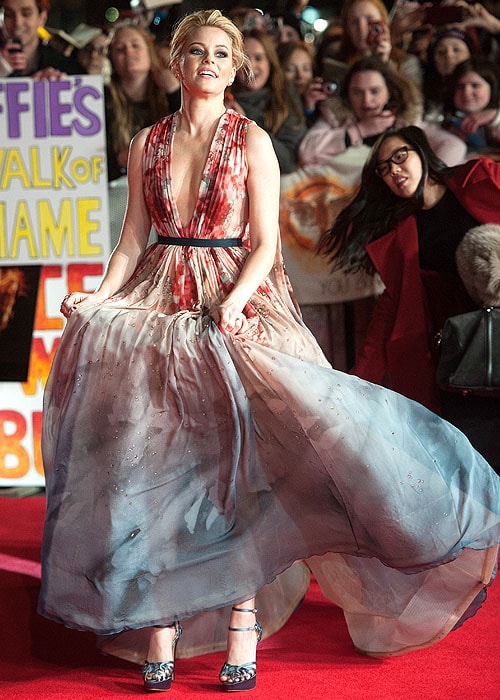 Elizabeth Banks adjusting the skirt of her gown and showing her shoes from underneath the hemline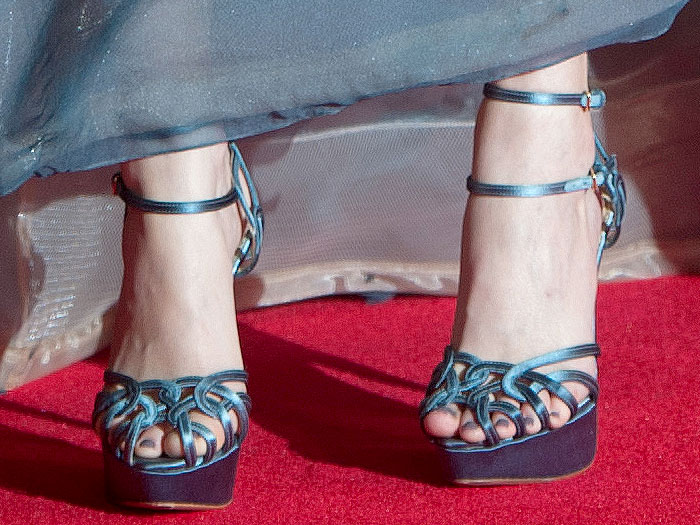 Charlotte Olympia "Ursula" platform sandals on Elizabeth Banks
The interlocking straps and the shape of the platforms identify Elizabeth's shoes as the Charlotte Olympia "Ursula" sandals. We spotted these now-classic sandals on Margot Robbie last week and on Holly Madison two years ago. The following are the colors and styles that they come in today: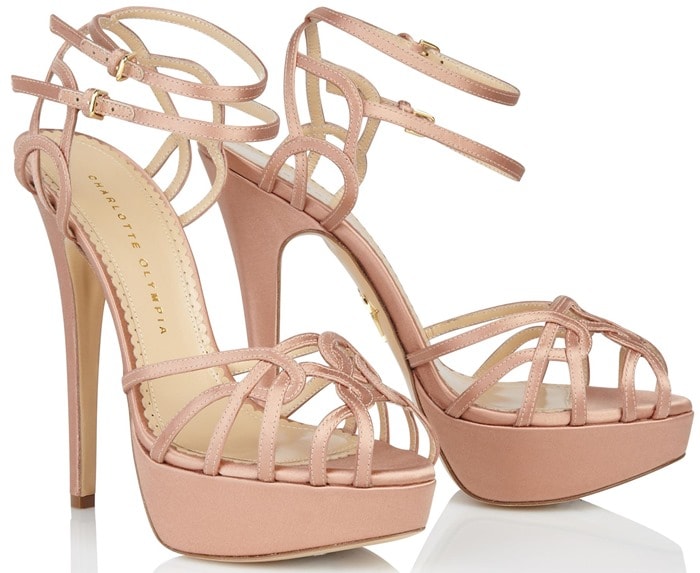 Charlotte Olympia "Ursula" Platform Sandals in Blush, $1,095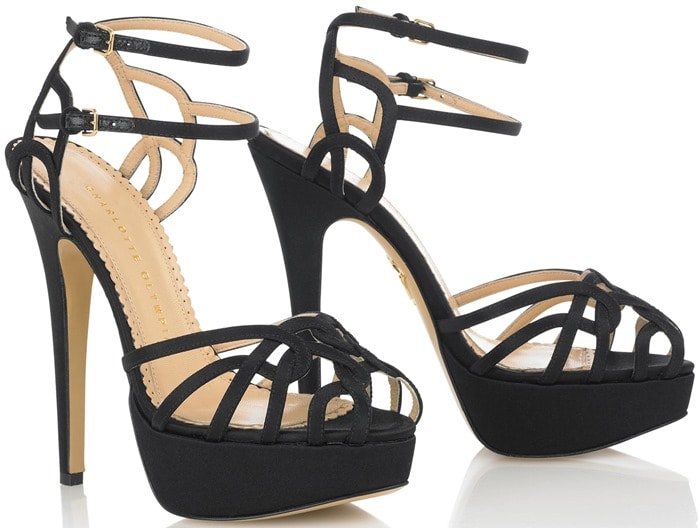 Charlotte Olympia "Ursula" Platform Sandals in Black, $1,095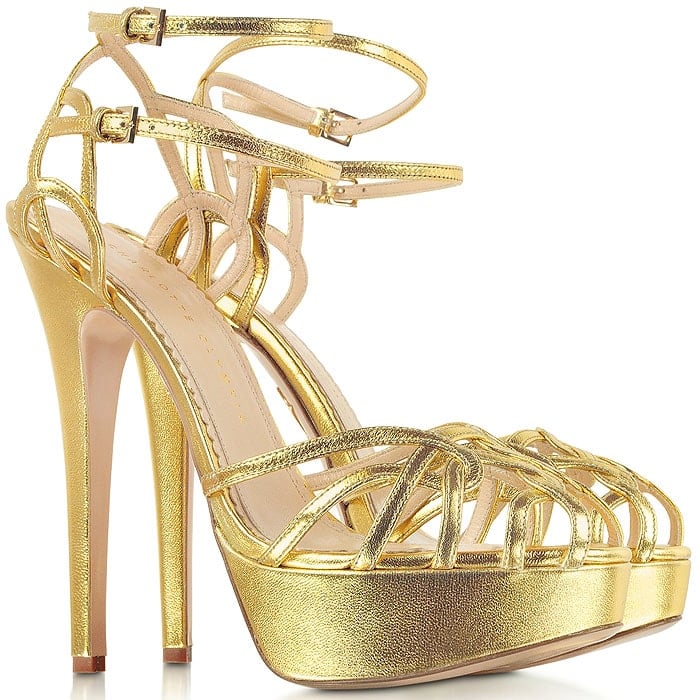 Charlotte Olympia "Ursula" Platform Sandals in Gold Metallic, $1,095
Charlotte Olympia "Ursula" Platform Sandals in Silver Metallic, $1,095
Credit: Andreas Hübner/Daniel Deme/Mario Mitsis/Future Image/WENN