For people who live in the public eye, Kim Kardashian and Kanye West sure are quiet about their upcoming wedding. Here's what we know so far: they will be getting hitched in Paris, Bey and Jay will not be attending, and Kim's wedding dress designer is Balmain's Olivier Rousteing.
Okay, so the last one isn't 100% confirmed yet, but Kim has been wearing Balmain almost exclusively lately. Her most recent head-to-toe look from the French fashion house was this double-denim look she was wearing when she arrived at Los Angeles International Airport on Thursday:
Kim Kardashian arriving on a flight from Paris at LAX in Los Angeles, California, on May 1, 2014
Oh, and that white Balmain paper bag on the stroller in front of her? Reportedly, that was her wedding dress. Chances are high that it really is the dress. Kim went through all the trouble of covering it in a black garment bag and hand-carrying it herself all the way from Paris. Check out how she mindfully holds out her hand to make sure it doesn't fall as the stroller goes over a grate in these pictures: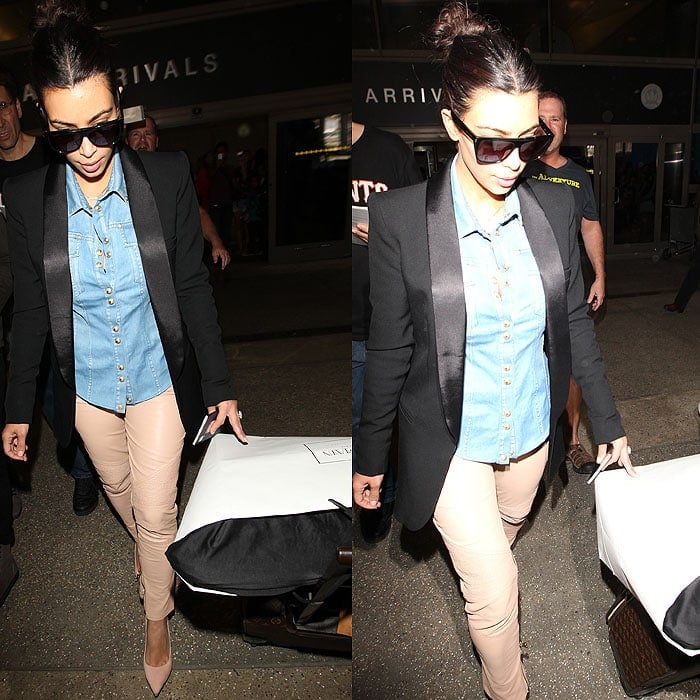 Kim Kardashian making sure the Balmain paper bag rumored to contain her wedding dress doesn't fall to the ground
Looks like we're going to see a completely different wedding dress from the big, frothy Vera Wang ball gown Kim wore when she wed Kris Humphries. That paper bag isn't all that big!
Kim accessorized her Balmain double-denim ensemble with Giuseppe Zanotti suede pumps: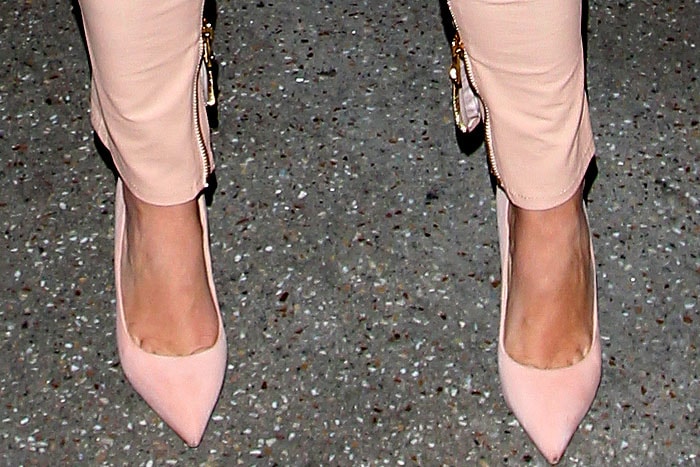 Kim Kardashian's Giuseppe Zanotti "Yvette" suede pumps
Giuseppe Zanotti "Yvette" Pumps, $750 at Shopbop
How she matched the colors of her pants and shoes is a neat leg-lengthening trick, don't you think?
Copy Kim Kardashian's airport look with these exact items or similar styles from the same labels:
Saint Laurent Flat Top Sunglasses, $310 / Balmain Skinny Moto Pants, $1,405 / Faith Connexion Tuxedo Blazer, $385 (before: $463) / Giuseppe Zanotti "Yvette" Pumps, $750 / Balmain Denim Shirt, $1,038.83
Credit: revolutionpix/WENN