Olga Kurylenko made a fashion choice we consider to be one of the riskiest. No, it's not that she paired feathers with leather or even that she wore pink, purple, red, and blue all at once.
It's that she donned lilac pants with super-long ankle ties that dragged on the ground and threatened to trip her up. Yikes!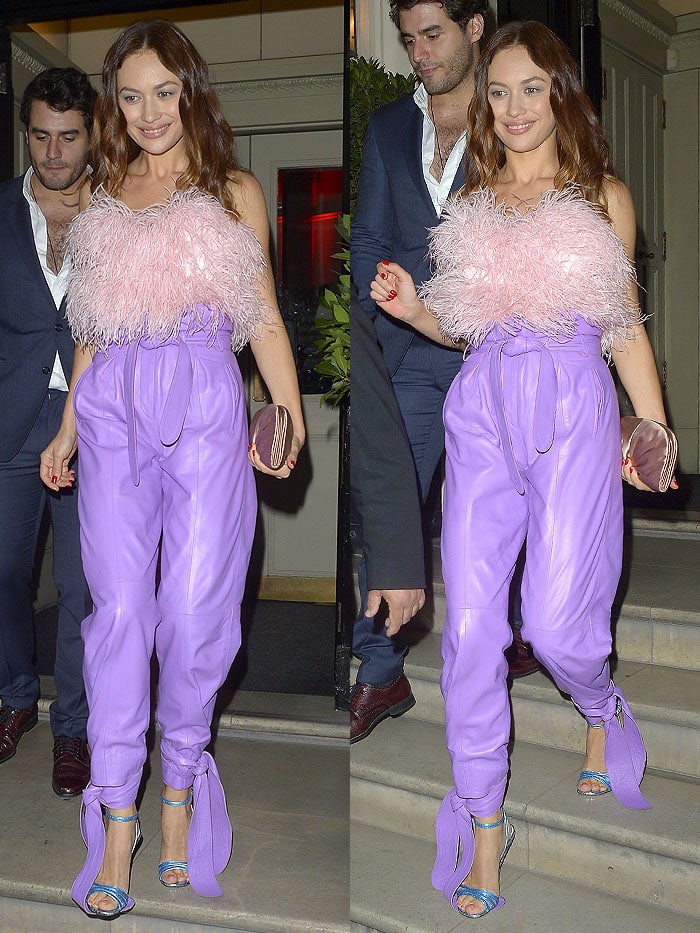 Olga Kurylenko risking tripping as she repeatedly steps on the long ankle ties of her Attico Spring 2019 light-purple leather pants
However, despite repeatedly stepping on the felonious flaps, Olga managed to emerge without a single incident. She navigated stairs, a car, and the red carpet like an expert all while in her accident-waiting-to-happen Attico Spring 2019 ensemble. And for that, she has all her years of modeling experience to thank.
Olga Kurylenko attending a special screening of "Johnny English Strikes Again" at The Curzon Mayfair in London, England, on October 3, 2018
Olga Kurylenko wearing an Attico Spring 2019 pearl-embroidered pink-feather strapless top
Olga may have come out unscathed but we're still not letting those dragging ankle ties off the hook. Not only did they endanger the Ukranian-born beauty, but they also often kept her gorgeous Attico 'Lola' heels hidden from view.
The purple flaps would either drape over the sandals' sparkly blue straps or hide the crystal-studded, blue lucite heels.
Olga Kurylenko wearing a head-to-toe ensemble from the Attico Spring 2019 lookbook
If Olga really wanted to keep the ankle ties, perhaps she could've worn them tucked into the shoe straps like how Katy Perry did with her Stella Luna 'Carioca' sandals?
Details of Olga Kurylenko's Attico 'Lola' sandals featuring crystal-embellished, clear blue heels
Shop more Attico shoe styles at Bergdorf Goodman and Farfetch.
Attico Lola Crystal-Embellished-Heel Blue-Glitter Sandals, $1,645
Credit: WENN