Olivia Culpo is an actress, fashion influencer, and social media personality. She rose to fame when she was crowned Miss Universe in 2012 after winning the Miss Rhode Island USA competition and later crowned Miss USA.
The American media personality is known for her stunning good looks and has a significant presence online and in the media.
Culpo is happily dating Christian McCaffrey, running back for the Carolina Panthers. The pair sparked relationship rumors in 2019 and confirmed they were dating in January 2020.
Olivia Culpo in a red Saint Laurent Spring 2022 column dress with a matching Jimmy Choo 'Clemmie' clutch and 'Anouk' pumps at the amfAR Gala Cannes 2022 at Hotel du Cap-Eden-Roc on May 26, 2022 in Cap d'Antibes, France (Credit: DDP / INSTARimages)
Culpo is four years older than her NFL star boyfriend, and they have traveled the world extensively during their two-year relationship.
But before she fell in love with the NFL star, Culpo dated several other celebrities. Let's take a closer look.
1. Ryan Lochte – 2012
Olympic gold medalist swimmer Ryan Lochte and Culpo sparked rumors that they were dating in September 2012.
Olympic medalist swimmer Ryan Lochte, who reportedly dated Olivia Culpo in 2012, has been married to Kayla Rae Reid since 2018 (Credit: INSTARimages)
She has never spoken publicly about the swimmer, but he gushed about her in an interview with E! News.
"She is beautiful. I love hanging out with her. She has a great sense of humor; she makes me laugh, she's just a good girl to hang out with."
"She was telling me yesterday that she had never done a pageant until like a year ago, and now she's Miss USA. She's got something," he added.
2. Nick Jonas – 2013 to 2015
Culpo dated the youngest Jonas brother from 2013 to 2015, and things got pretty serious between the two. Jonas even knelt down on one knee to Culpo in the middle of the 2014 Miss Universe pageant.
The pair met while he was hosting the Miss USA pageant in 2013. During a 2017 interview with Fuse, Jonas revealed that his 2014 hit song Jealous was inspired by a night out with Culpo. "We were out somewhere, and someone was staring at her for a little bit too long," he said about the inspiration for the song.
Nick Jonas and Olivia Culpo met when he hosted Miss USA in 2013 and dated for two years (Credit: Vince Flores / Startraksphoto)
The pair broke up in 2015, and Culpo wrote an emotional message online about the break up "Your heart just breaks, that's all. Heartbreak is hard, but you find more and more things to be grateful for every day. One of those things is all of you," she wrote.
"Thank you all. Yes, I'm going to be okay, and I love u guys so so much. Every day is a blessing."
3. Tim Tebow – 2015
Tim Tebow and Culpo only dated for a short three months in 2015. New York Daily News speculated that Tebow's commitment to celibacy was the reason things didn't work out between the pair, but a source close to Culpo had something different to say.
The source revealed that they met at church, and Tebow was super into the social media personality. But she had just gotten out of a long-term relationship with Jonas and wasn't looking for anything serious.
4. Danny Amendola – 2016 to 2018
Culpo dated NFL wide receiver Danny Amendola for two years, from April 2016 to March 2018.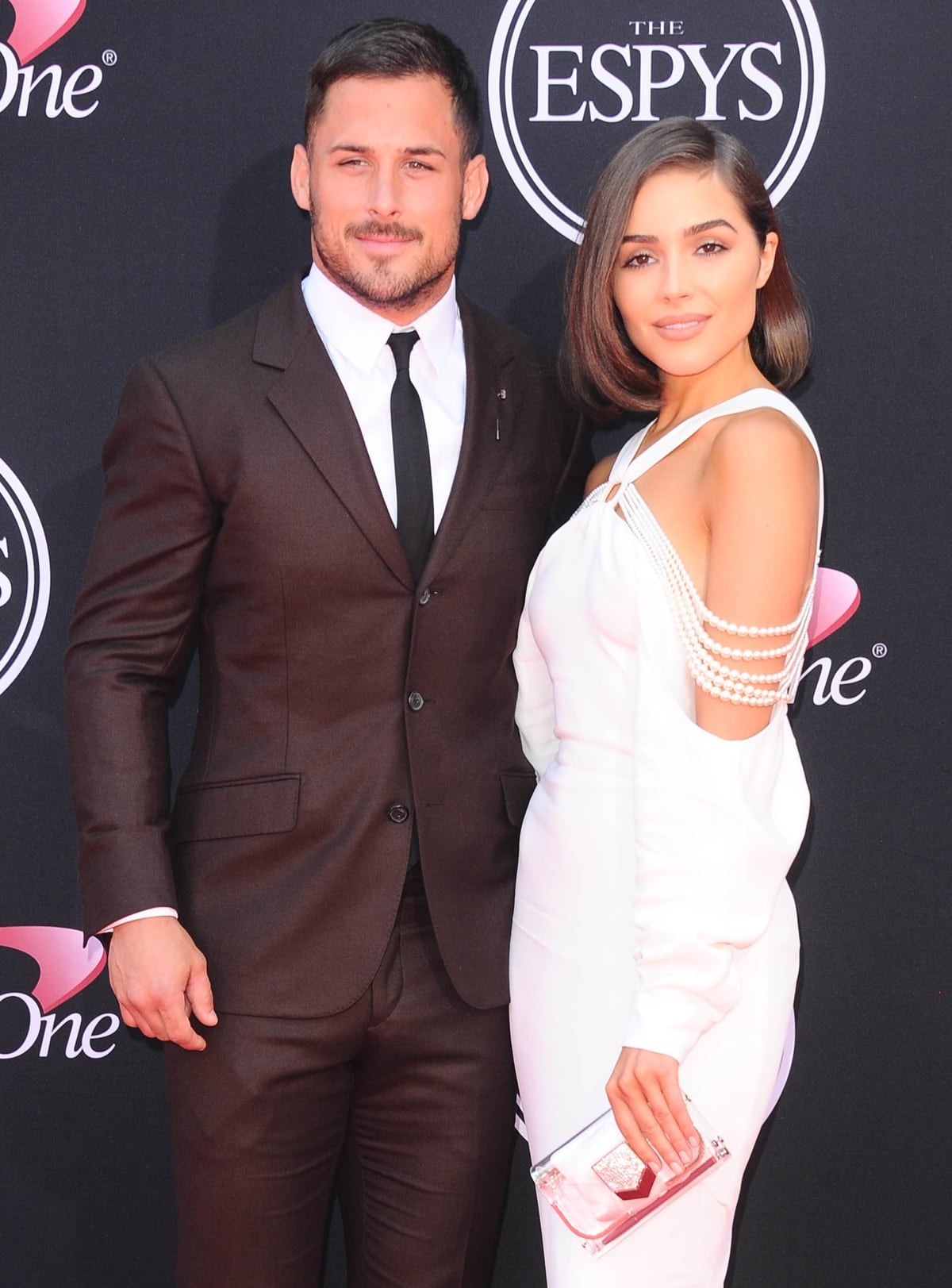 Danny Amendola and Olivia Culpo met for the first time on the corner of Hollywood and Vine and dated from February 2016 to March 2018 (Credit: Sara De Boer / Startraksphoto)
Their relationship didn't end well, with Amendola posting a lengthy rant on Instagram about their breakup: "I believe there should be a boundary btw private life and social media. Olivia believes in fishbowl lifestyle. This fundamental difference was huge in our relationship. Olivia chooses and wants to be noticed on the internet and in Hollywood to make money. Which was hard for me to understand but quickly had to learn. Whereas the cost of fame in this world doesn't appeal to me. I play ball for one reason and that's RESPECT."
5. Zedd – 2019
Culpo was seen dancing in Zedd's arms at Coachella in 2019, but their relationship didn't progress further.
6. Christian McCaffery – 2019 to present
Culpo is happily dating the McCaffery. The pair met through mutual friends, with Culpo asking to meet the athlete. Although she was skeptical about dating another athlete, the pair have been happily in love ever since.
Olivia Culpo in a white Giambattista Valli Spring 2022 Haute Couture gown with Chopard jewelry at the screening of "Elvis" during the 75th annual Cannes film festival at Palais des Festivals on May 25, 2022, in Cannes, France (Credit: IPA / INSTARimages / Cover Images)
Her 2020 Valentine's Day tribute to her new beau says, "Thank you for changing my life and showing me the kind of love I always wanted but never thought was possible. You are the definition of an answered prayer. I am the luckiest girl in the world."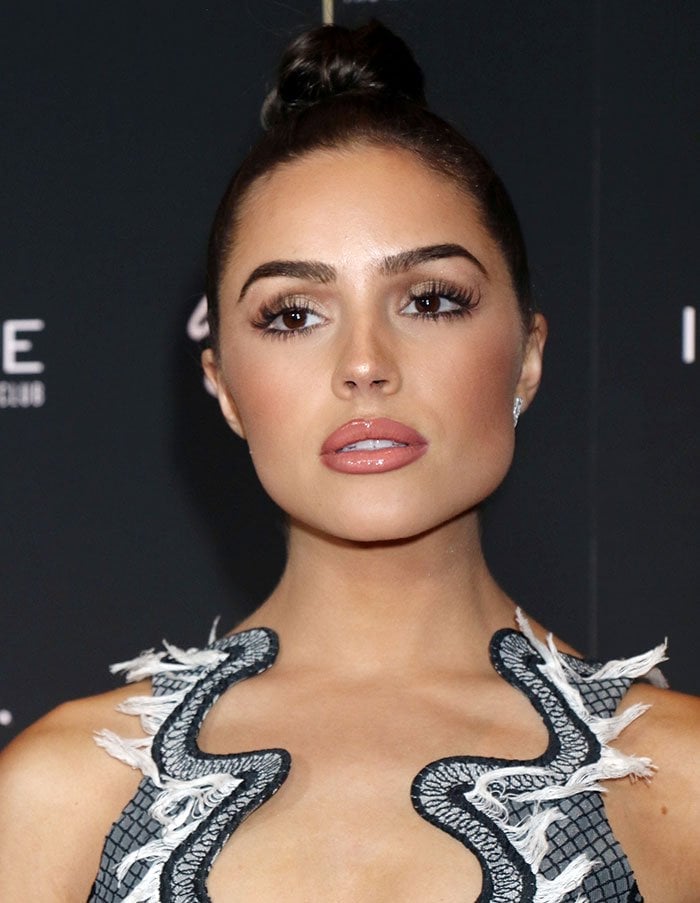 Olivia Culpo slicks her hair back at the grand opening of Intrigue Nightclub held on April 29, 2016, at Wynn Hotel & Casino in Las Vegas (Credit: DJDM / Judy Eddy / WENN)
In April 2016, Olivia Culpo joined Kate Hudson and Karrueche Tran at the grand opening of Intrigue Nightclub at Wynn Las Vegas.
The then-23-year-old beauty queen was hard to ignore in a bizarre monochrome frock by Jonathan Simkhai, which showed off her slender curves and gave a glimpse of cleavage.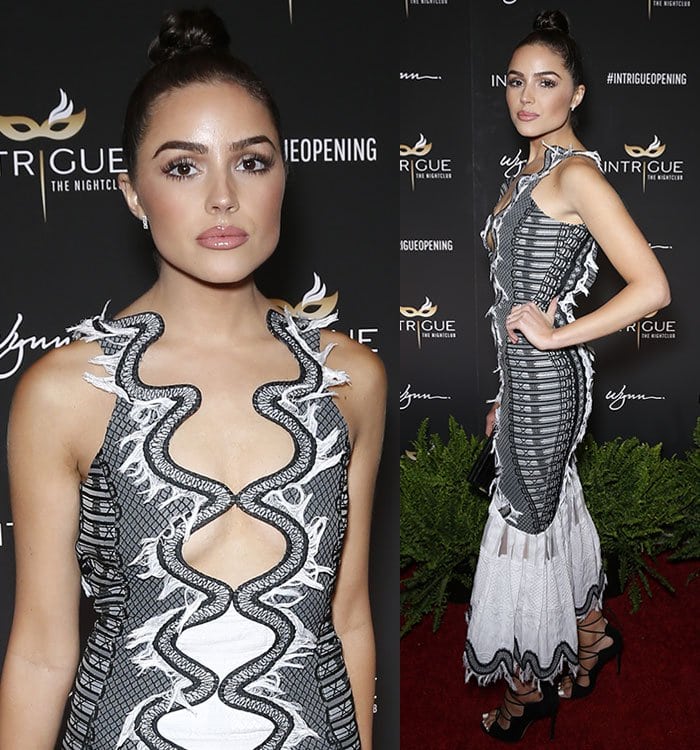 Olivia Culpo wears a monochrome contoured Jonathan Simkhai dress to the opening of Intrigue Nightclub (Credit: DJDM / Judy Eddy / WENN)
The figure-flattering frock featured a black-and-gray contoured scaffold panel at the front, tiered fringe detailing, a deep scalloped v-neckline, an exposed back, and a lacy flared hem.
She wore minimal accessories — a pair of diamond earrings, a couple of rings, and a black clutch — and let her dress do the talking.
The first Rhode Islander to win the title of Miss Universe, Olivia completed her look with a braided topknot and glam makeup.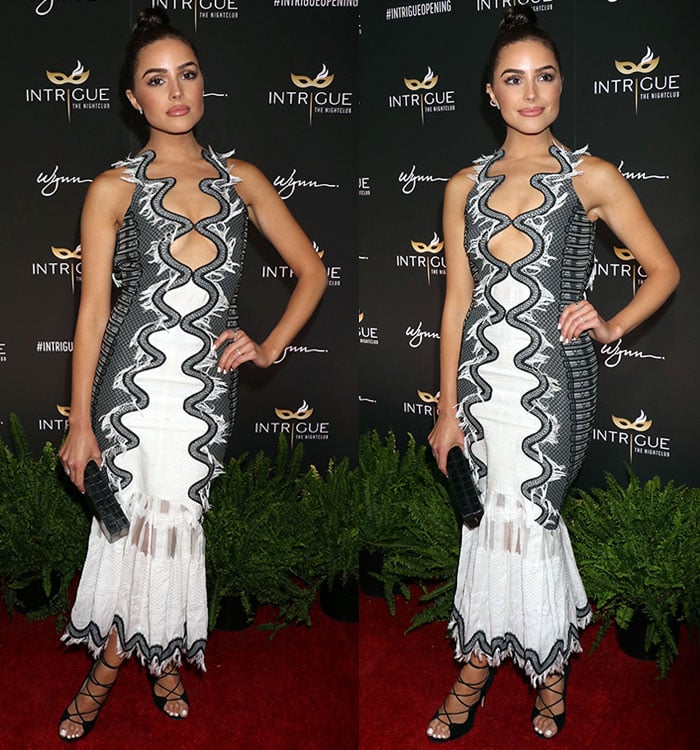 Olivia Culpo wears an interesting Jonathan Simkhai dress on the red carpet of the Intrigue Nightclub grand opening (Credit: DJDM / Judy Eddy / WENN)

Olivia stayed true to the monochrome look by painting her nails white and wearing black lace-up shoes.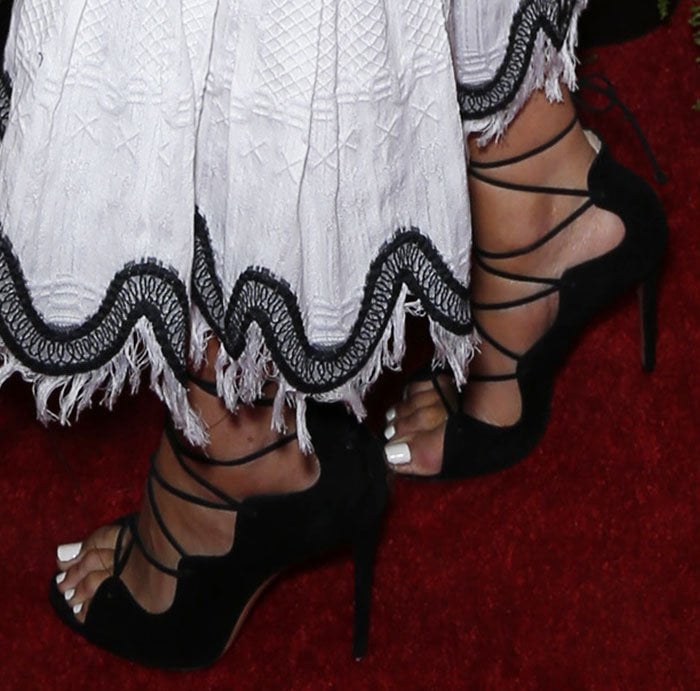 Olivia Culpo's feet in black lace-up sandals (Credit: DJDM / Judy Eddy / WENN)
While these heels provided an edge to her ensemble, a dainty pair of sandals would have probably complemented her busy dress better. Also, her feet looked uncomfortable in the strappy sandals.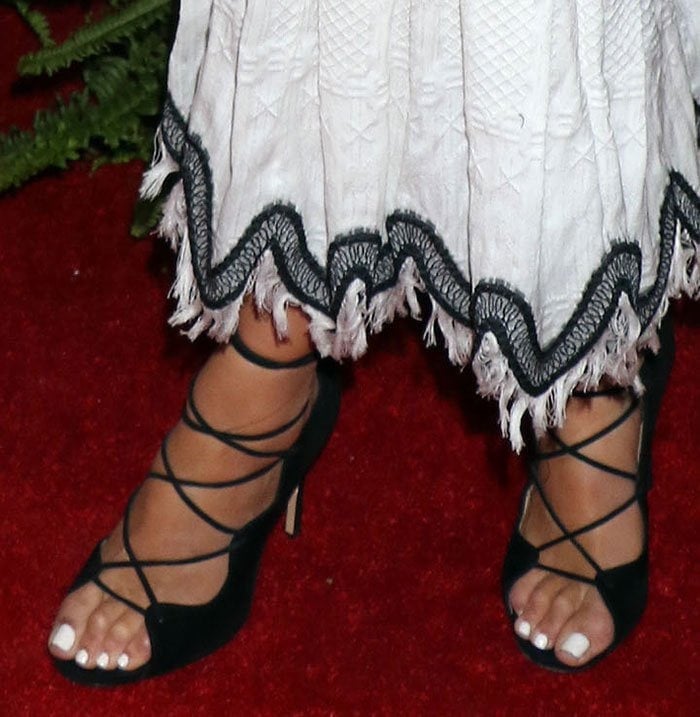 Olivia Culpo displays her pretty toes in black lace-up sandals (Credit: DJDM / Judy Eddy / WENN)

We can't find Olivia's exact sandals online, but a similar style by Saint Laurent can be purchased at Farfetch and Net-A-Porter.
Saint Laurent "Babies" Sandals, $795