Jessica Chastain's one condition for agreeing to go fully nude to film the new HBO limited series Scenes From a Marriage was that her onscreen husband, Oscar Isaac, would also need to go entirely nude.
The actress, who is long-time friends with Isaac, told The View about her stipulations. "I said to Hagai [Levi], who wrote and directed the series — in the very beginning, I said, 'I'm comfortable with all the nudity, but any part of my body that you show, you're going to have to show the same with Oscar.' So, like, there's a shower scene that I have in episode two, and you see my body. And so now, like, you see his body," she continued. "So for me, though, I wanted it to be balanced."
"We're close friends and that was important for many reasons, a big one being that we have a shorthand together – we're efficient," Isaac told Yahoo! in October 2021.
"It also became difficult and quite painful in later episodes where not only are we verbally but physically hurting each other. And when you're filming those scenes with someone that you really love – because there's deep love between Oscar and I – it becomes very complex and difficult to navigate. And I think you see it in the work," Chastain added.
Oscar Isaac and Jessica Chastain became friends attending the Juilliard School in Manhattan and have been friends for decades (Credit: Dave Allocca / Starpix)
She explained that in some scenes they are "physically hurting each other" it was "very complex and difficult to navigate" since she and Issac have a "deep love" for one another.
"It was a raw shoot for both of us and thank goodness our friendship is OK and we keep talking and our families have vacationed together and spent a lot of time together," Chastain emphasized.
"But while we were shooting it, at the very beginning, I looked right at him and I said 'are we going to be friends after this?' because it felt way too upsetting and too intense. But I'm very happy to say that we are still very good friends!"
Chastain and Isaac Chemistry
Isaac and Chastain co-star in the miniseries, an adaption from Ingmar Bergman's 1970s series.
The actors have been friends for over 20 years since they attended the Juilliard School together. Their onscreen chemistry and intimacy were applauded in the miniseries.
A slow-mo clip of Isaac kissing Chastain's arm on the red carpet went viral while promoting the miniseries. Their chemistry was compared to the love of The Addams Family characters, Morticia and Gomez.
Jessica Chastain agreed to go fully nude in the new HBO limited series "Scenes From a Marriage" if her costar Oscar Isaac also would get naked (Credit: HBO)
Their onscreen chemistry is on fire, but they are married to other people. Isaac and his wife Elvira Lind are friends with Chastain and her husband, Gian Luca Passi de Preposulo.
The pair have been friends for a long time, but Chastain told Vulture that she still needed some liquid courage and a serenade before filming the sex scene with her co-star, calling them "embarrassing."
"I know it looks sexy, but it's not. Oscar is such a good friend. Because I was so nervous, he played music, and we drank a little bit of bourbon," the actress said about filming the sex scenes.
Chastain's Views on Nudity
Chastain has often spoken about women's role in modern American cinema and her issues with some forms of nudity on screen.
Oscar Isaac as Jonathan Levy and Jessica Chastain as Mira Phillips in the American drama television miniseries Scenes from a Marriage (Credit: HBO)
"I have no issues with nudity, especially in a lot of European cinema that I adore, but I find that in American cinema, the idea of nudity has always bothered me. I realized why: For me, I'm uncomfortable with nudity when it feels like it's not the person's decision to be naked, when it's something that has been put upon them. In a way, I see that as like a victimization," she said during a 2018 interview with Kyle Buchanan.
"It trains an audience that exploiting someone in their body should be normal for nudity, when I think the opposite. When people are completely in control of their decisions, that is a really exciting thing. I love the human form — male nudity, female nudity, I'm all about it. I had to get to that place where, for me, it was my decision."
"We're acting, but also Oscar and I have been friends — we went to college together — so we've been friends more than half of our lives," Chastain said of their friendship. "We know so much about each other, so we know how to make each other laugh without even saying anything."
Oscar Isaac gives Jessica Chastain a kiss on her temple following a visit to The View to promote Scenes From A Marriage in New York City on October 12, 2021 (Credit: Roger Wong / INSTARimages)
Isaac said that he wasn't aware that his full frontal nude scene had made the final cut for the show until the episode aired. "You get sent the stuff to look at, to be like, 'OK, I'm fine with that,'" Isaac told The View.
"But I saw it on a laptop, quite dark, and I didn't notice what was happening down there. And so it was a surprise when I started seeing all these things of, like, 'It's full-frontal.' I was like, 'No, what are you talking about?' And I saw it, and clear as day on the big TV there, it's there for everyone."
The pair's intimacy on screen has been praised by reviewers of the series, applauding their commitment to their roles. The HBO series has an 83% rating on Rotten Tomatoes.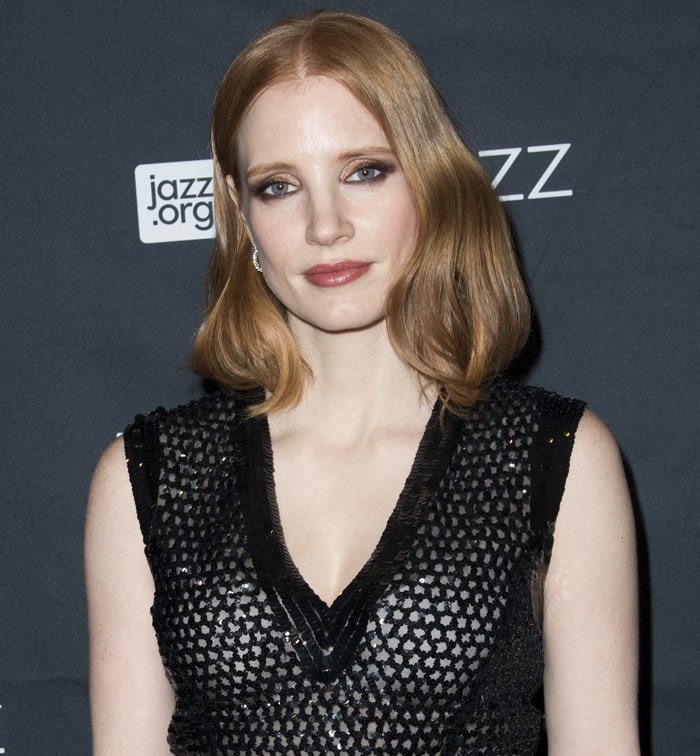 Jessica Chastain wears her auburn hair down at the 2016 Jazz at Lincoln Center Gala: "Jazz and Broadway" held May 9, 2016 at the Frederick P. Rose Hall in New York City (Credit: WENN)
Remember the Sophia Webster sandals that Saoirse Ronan wore at the 2016 New York Film Critics Circle Awards?
Jessica Chastain sported the same heels while hitting the red carpet at the 2016 Jazz at Lincoln Center Gala: "Jazz and Broadway" held at the Frederick P. Rose Hall in New York City.
Jessica Chastain wears mauve lipstick and smoky eyeshadow on the red carpet (Credit: WENN)
The then-39-year-old "The Huntsman: Winter's War" actress styled the satin "Belle" platform sandals with a Derek Lam ensemble.
The ensemble consisted of a black beaded crochet top paired with a silver beaded crochet skirt.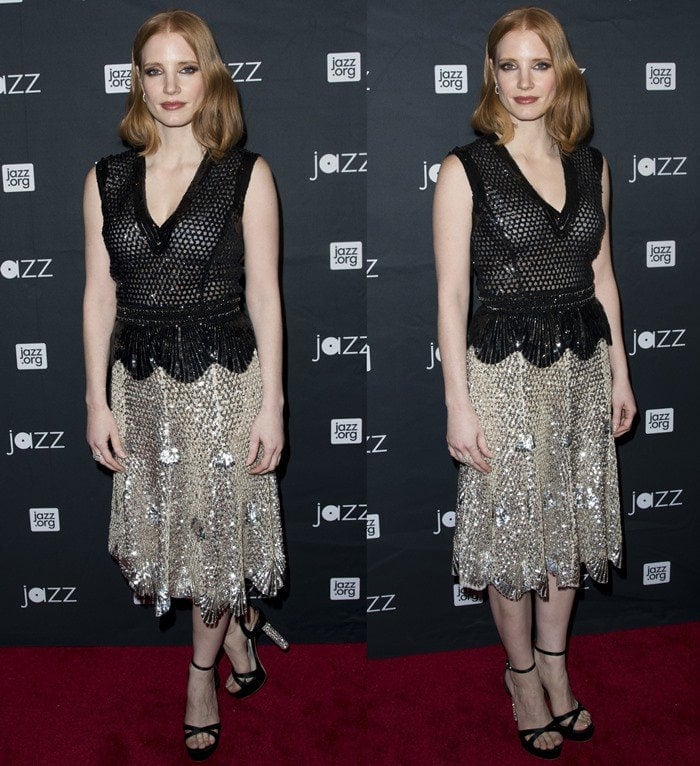 Jessica Chastain pairs a black Derek Lam shirt with a sparkling Derek Lam skirt (Credit: WENN)
The loose weaving of the crocheted design gave us a glimpse at Jessica's underlayers.
Jessica Chastain's feet in satin Sophia Webster sandals featuring a rose-pink crystal-embellished heel (Credit: WENN)
Jessica's Sophia Webster sandals feature an open toe, crossover front strap, and rose-pink crystal-embellished heel.
A platform midsole makes them perfect for hitting the dance floor all night long. You can find the latest from the popular British shoe and accessories designer at Zappos, Shopbop, and Farfetch.
Sophia Webster Black 'Belle' Satin Platform Sandals, $595
Detailed with an open toe and crossover front strap, this black pair is an easy way to make a style statement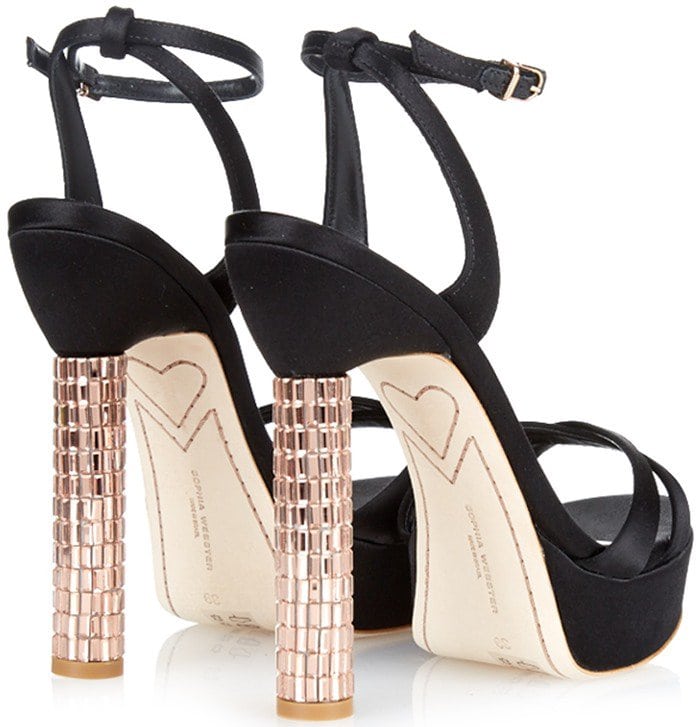 Stand out from the crowd in these expertly crafted satin Belle platform sandals from Sophia Webster