Congrats to Brooklyn actress Saoirse Ronan!
After her hilarious stage moment with Cate Blanchett, the young actress finally got her own moment of glory.
And — she wasn't even asked off the stage this time! Saoirse recently took home her own Best Actress Award from the New York Film Critics Circle.
The young actress walked the red carpet at Asian fusion restaurant TAO Downtown before receiving her trophy for her performance in the 2015 romantic period drama film Brooklyn.
Saoirse Ronan wears her hair down at the 2016 New York Film Critics Circle Awards held on January 4, 2016, at TAO Downtown in New York (Credit: Rob Rich / WENN)
"I'm one of you!" Ronan said when accepting the award. "I am from the Bronx, after all. 'Saoirse from the Block' is what they call me," she joked to a rapturous audience, referencing Jennifer Lopez's Jenny from the Block. "Now, go back to eating your dessert."
Saoirse wore a simple one-shoulder black dress from Victoria Beckham, which she styled with a pair of Sophia Webster "Belle" platform heels.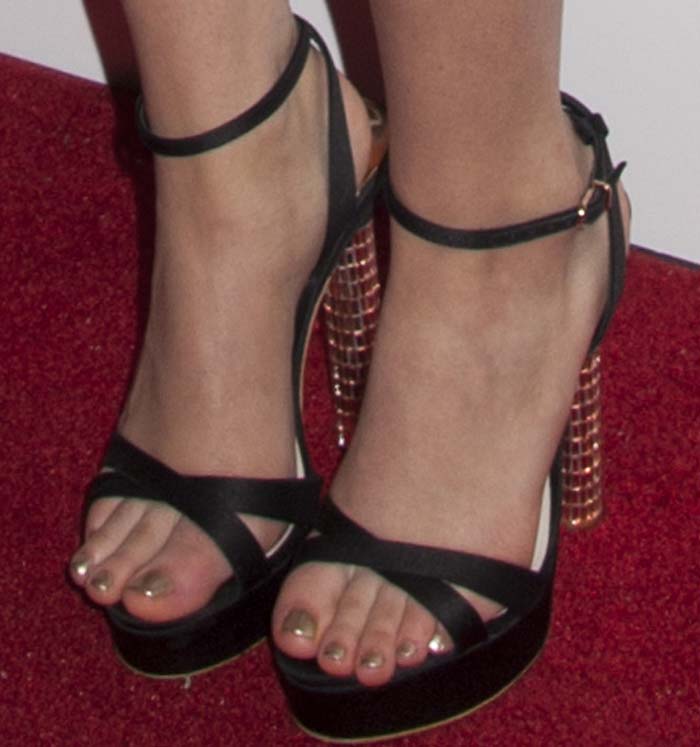 Saoirse Ronan's feet in black Sophia Webster platforms (Credit: Rob Rich / WENN)
She accessorized with gold hoop earrings and a metallic mani-pedi to match.
For such a huge night, we would have liked to see Saoirse in something more elegant and iconic. This look was a bit too bland for our taste.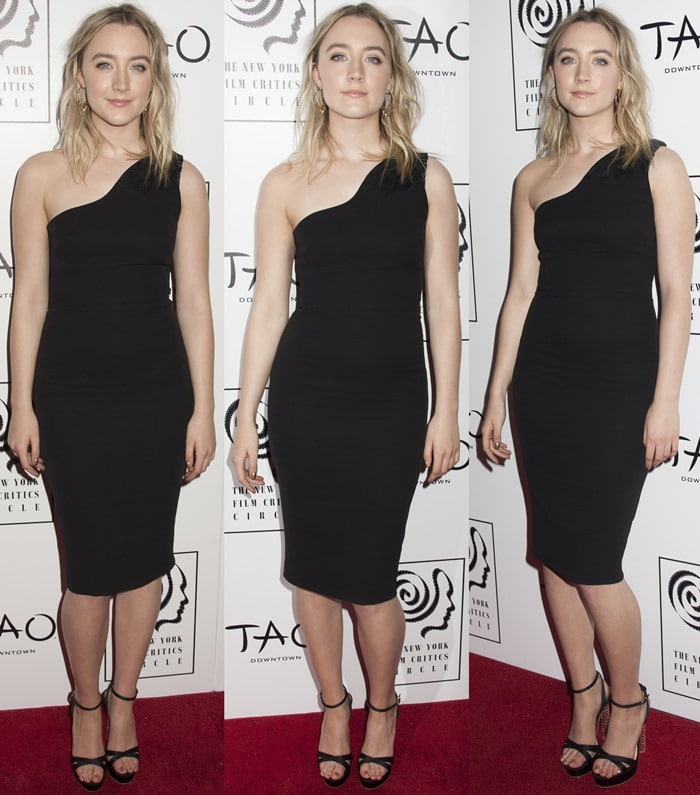 Saoirse Ronan wears a simple black Victoria Beckham dress on the red carpet (Credit: Rob Rich / WENN)
Saoirse won the award for her performance as Eilis Lacey in the 2015 romantic period drama film Brooklyn. She portrays an Irish girl who came to America and fell in love.
She was also nominated for the Academy Award for Best Actress for playing a homesick Irish immigrant in 1950s New York but lost to Brie Larson, who won for her role as a kidnapping victim in the drama Room.
Saoirse Ronan portrays Eilis Lacey, an intelligent young woman from southeast Ireland who emigrates to New York City in 1951 (Credit: Lionsgate)
Rooney Mara was originally cast in the lead role but was replaced by Saoirse Ronan when the Tanner Hall actress had to back out.
Born in the Bronx, a borough of New York City, Saoirse Ronan moved to Dublin with her family when she was three years old.
"It was absolutely coincidental, but initially that was the attraction for me, apart from everyone who was involved. The two locations that make up the film are the two locations that make up me, and so it was personal straightaway, just because mom and dad had made such a similar journey, and so many people have," she told Deadline about her personal connection to the film.
"I think that's where the real responsibility came from. It's that you knew you were representing millions of stories, whether they were Irish or not."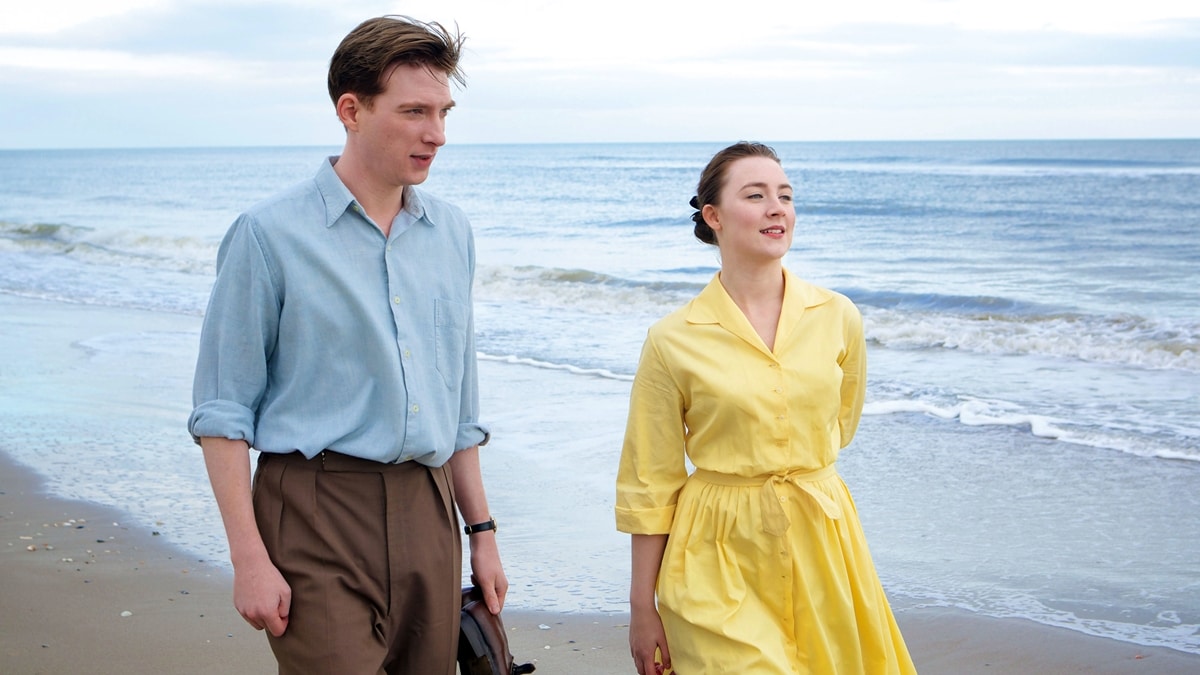 Saoirse Ronan as Eilis Lacey and Domhnall Gleeson as Jim Farrell in Brooklyn, which is based on the 2009 novel of the same name by Colm Tóibín (Credit: Lionsgate)
"By the time we made the film, I had moved to London and so I was really homesick. It was the first time that I've ever experienced playing a character whose emotional journey was running parallel to mine, and that was really different for me. With something like this, you may think it would be easier because it's a similar kind of story to your own, or the feeling of it is, but actually I found it a lot more challenging. There's kind of nothing to hide behind," she added.
To get Saoirse's satin-and-metallic platform heels from popular footwear designer Sophia Webster, click your way over to Farfetch. You can also grab the low-heel version at Net-A-Porter.
Sophia Webster "Belle" Satin Platform Sandals, £425
Sophia Webster's Belle sandals are crafted from black suede with elegant crossover straps and decorated with a multicolored crystal-embellished heel for subtle sparkle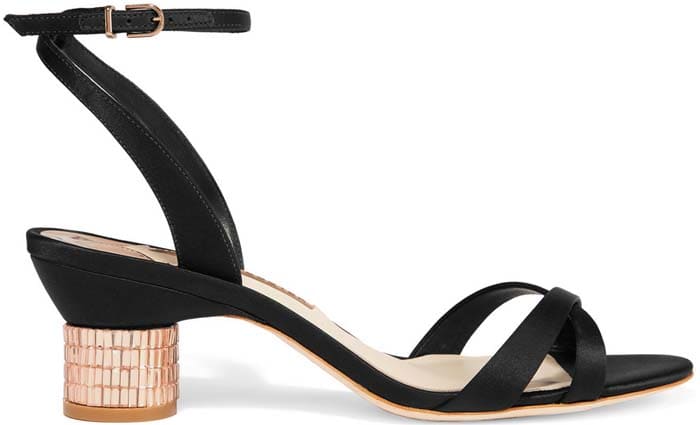 Sophia Webster "Belle" Crystal-Embellished Satin Sandals, $550