Saoirse Ronan and Timothée Chalamet met while filming the coming-of-age comedy-drama film "Lady Bird" in 2016.
During filming, Saoirse Ronan was 22, while Timothée Chalamet was 20. The two actors played the roles of Lady Bird and Kyle Scheible, respectively, and their chemistry on-screen received critical acclaim.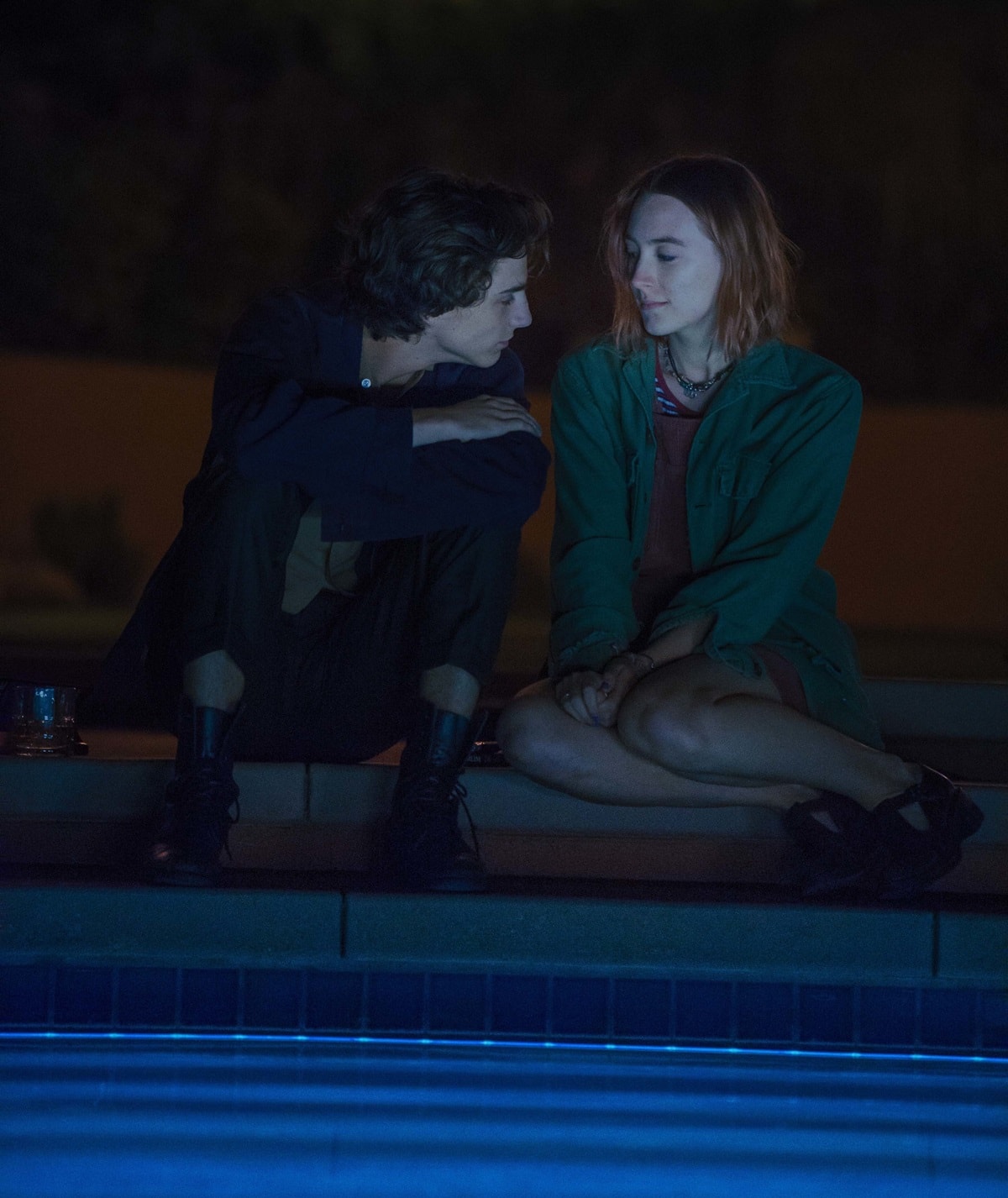 Saoirse Ronan played the character of Christine "Lady Bird" McPherson and Timothée Chalamet appeared as Kyle Scheible in the film Lady Bird (Credit: A24 / Universal Pictures / Focus Features)
For years, Saoirse Ronan and Timothée Chalamet have enchanted fans with their wholesome friendship. Both are incredible actors in their own right, but the magic happens when the pair are onscreen together.
While the best friends portray palpable chemistry whenever they break each other's hearts on screen, it's their wholesome friendship that fans can't get enough of.
The actors live fairly private lives, so here's everything we know about these besties for the resties.
They Met On The Set Of Lady Bird
Ronan and Chalamet have starred in three films together so far and first met on the set of Lady Bird in 2016. The Greta Gerwig film stars Ronan as the angsty outcast Lady Bird, who must navigate the ups and downs of teenage life.
Ronan shares a complicated onscreen romance in the film with Chalamet's character, Kyle. The movie was nominated for several very prestigious awards.
The besties went on to star in several movies together, including Little Women, where Ronan played Jo and Chalamet her onscreen best friend, Laurie.
Little Women is a 2019 film adaptation of the classic novel by Louisa May Alcott, starring Saoirse Ronan and Timothée Chalamet, and directed by Greta Gerwig, which follows the lives of the four March sisters as they navigate young adulthood in the aftermath of the American Civil War and received critical acclaim and award nominations (Credit: Cover Images)
Ronan told Chalamet, "I love that in Lady Bird, you broke my heart. In Little Women, I got to break your heart," during a 2019 interview with Entertainment Weekly. To this, Chalamet replied, "Yes, that's true. Then I married your sister."
Ronan is a little older than Chalament, born on April 12, 1994. Chalamet was born on December 27, 1995.
Fans view Ronan as the more outgoing and confident person in the friendship, which makes sense considering she is a little over a year older than Chalamet and has more experience as an actor.
Saoirse Ronan and Timothée Chalamet had previously starred together in the 2017 movie Lady Bird as love interests which contributed to their casting in Little Women (Credit: Isabel Infantes / PA Images / INSTARimages)
In the dynamics of their friendship, Chalamet appears more reserved and often plays the humble peacekeeper in their interactions.
Despite the difference in their personalities, it's also the reason why fans believe the pair mesh well together onscreen and offscreen.
The Pair Have Great Chemistry On and Off Screen
Since their first appearance in Lady Bird, the pair have been shipped together thanks to their on and offscreen relationship.
The French Dispatch (2021) is the latest movie Chalamet and Ronan have filmed together, which sparked further speculation from fans that they were dating.
Despite their evident chemistry onscreen, the pair have never dated in real life (as far as we know). So who are they dating if they're not dating each other?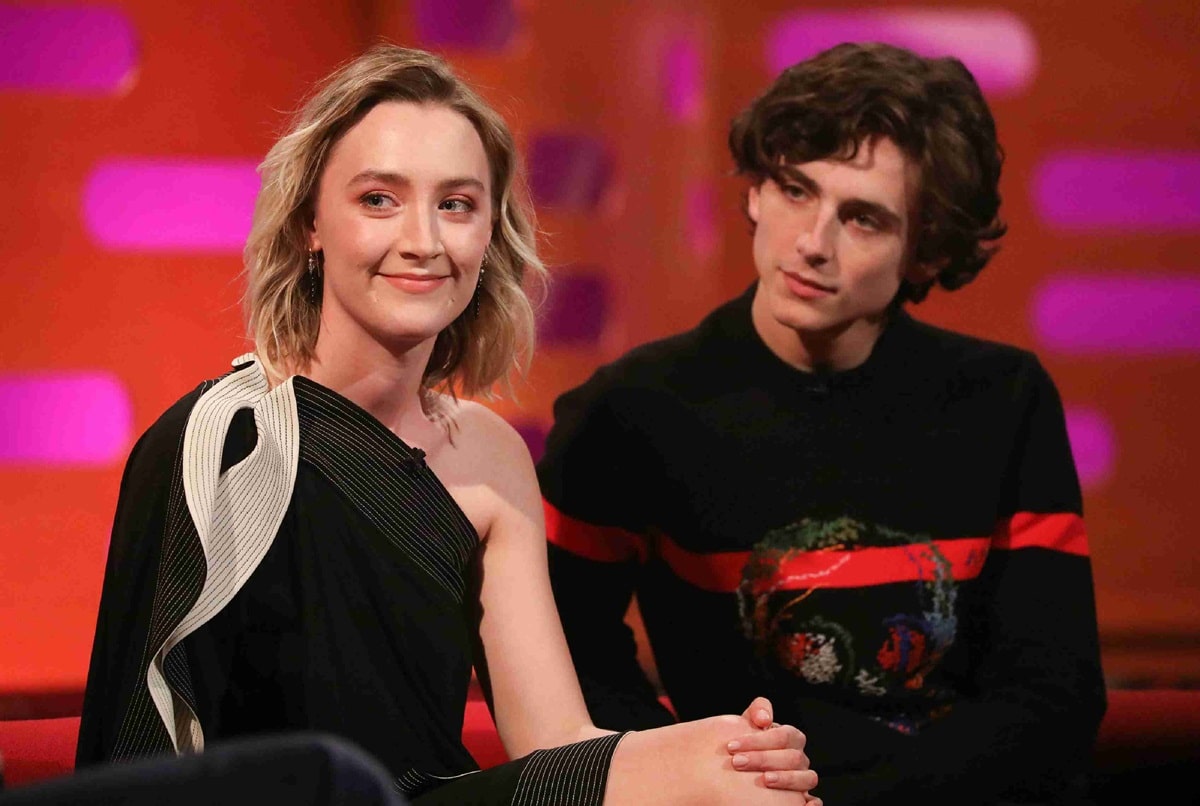 Saoirse Ronan, being over a year older than Timothée Chalamet, holds a slight advantage in their dynamic as a more experienced mentor, despite the two actors being relatively close in age and both mature for their age (Credit: Isabel Infantes / PA Images / INSTARimages)
They both keep their personal lives very private. But we do know that Ronan has been romantically linked to Scottish actor Jack Lowden since 2018.
Although no one seems to know when exactly they began dating, they're still going strong, and "they seem very happy and sweet," according to a source.
Chalamet has been linked to several women, such as actress Eiza González and Johnny Depps' daughter, Lily Rose-Depp. Most recently, he has been spotted with model Sarah Talabi.
Fans Are Calling Them Modern-day Leonardo and Kate
Leonardo DiCaprio and Kate Winslet have been Hollywood's favorite famous friendship for nearly three decades, since their starring roles in Titanic in 1997.
They are known for their supportive real-life friendship and onscreen chemistry in the many movies they have starred in together.
In the same way, Chalamet and Ronan are a pair of best friends who also happen to be young and insanely talented with incredible onscreen chemistry.
Like Leo and Kate, they can't get enough of their best friends, gushing over each other at every opportunity. Fans continue to love these wholesome and real relationships in Hollywood.
Saoirse Ronan, Laurie Metcalf, Greta Gerwig, and Timothee Chalamet arrive at the 24th Annual Screen Actors Guild Awards at The Shrine Auditorium on January 21, 2018, in Los Angeles, California (Credit: Runway Manhattan / AFF / Cover Images)
Ronan has often remarked on her natural and comfortable companionship with Chalamet, or "Timmy," as she likes to call him.
She shared with Entertainment Weekly that "He keeps me on my toes — I'm never quite sure what he's going to do next. That only progressed more and grew more. It helped that we do have a very natural rapport with each other."
Chalamet often waxes lyrical over Ronan and their friendship, saying, "It's so rare with Saoirse — I'm so f***ing grateful to get to work with her." The actor has said that if he ever writes a book about his life, an entire chapter will be dedicated to Ronan, titled "A chapter of Saoirse."
Whether it's bowing before her at award ceremonies or telling interviewers how amazing Ronan is, he doesn't miss a beat when talking about how lovely and talented his friend is.
Oh, the things celebrities have to endure. While most of them act all poised on the red carpet despite the gruesome temperature, Saoirse Ronan didn't try to hide the fact that she was made to wear a strapless gown in the dead of winter.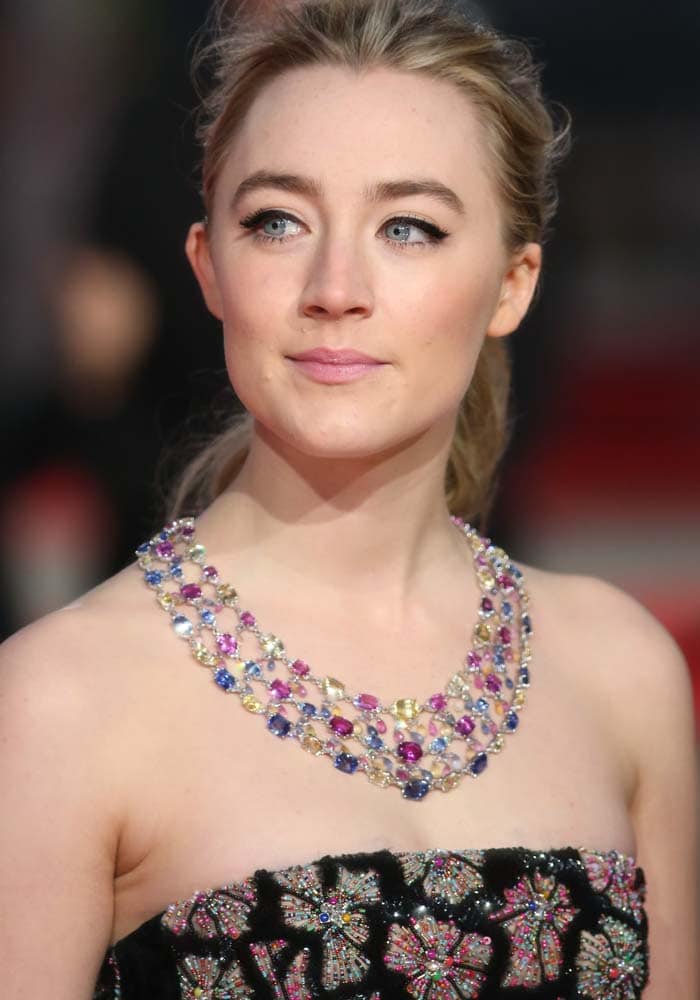 Saoirse Ronan wore a beautiful necklace featuring a myriad of colorful gemstones (Credit: Lia Toby / Mario Mitsis / WENN)
In February 2016, the adorable actress hit the familiar red carpet at the 69th British Academy Film Awards (BAFTA) held at the Royal Opera House, Covent Garden in London.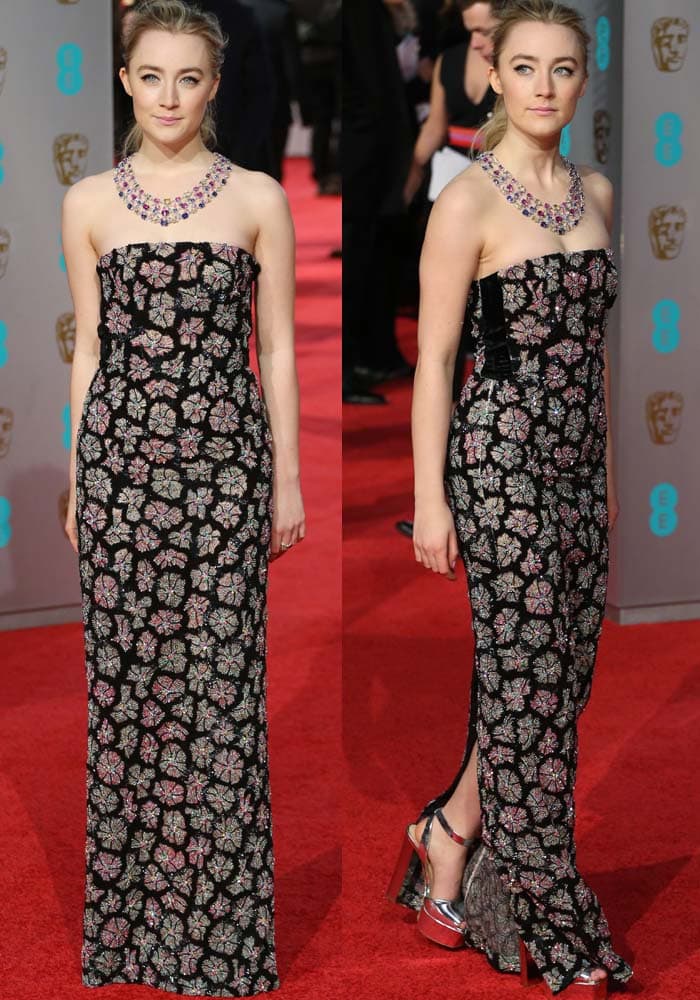 Saoirse Ronan in a stunning Burberry gown adorned with intricate beadwork in a flowery firework-like design at the 69th British Academy Film Awards (BAFTA) held at the Royal Opera House, Covent Garden in London on February 14, 2016 (Credit: Lia Toby / Mario Mitsis / WENN)
Saoirse wore a form-fitting strapless dress by Burberry, which had an insane amount of beadwork on its floral prints.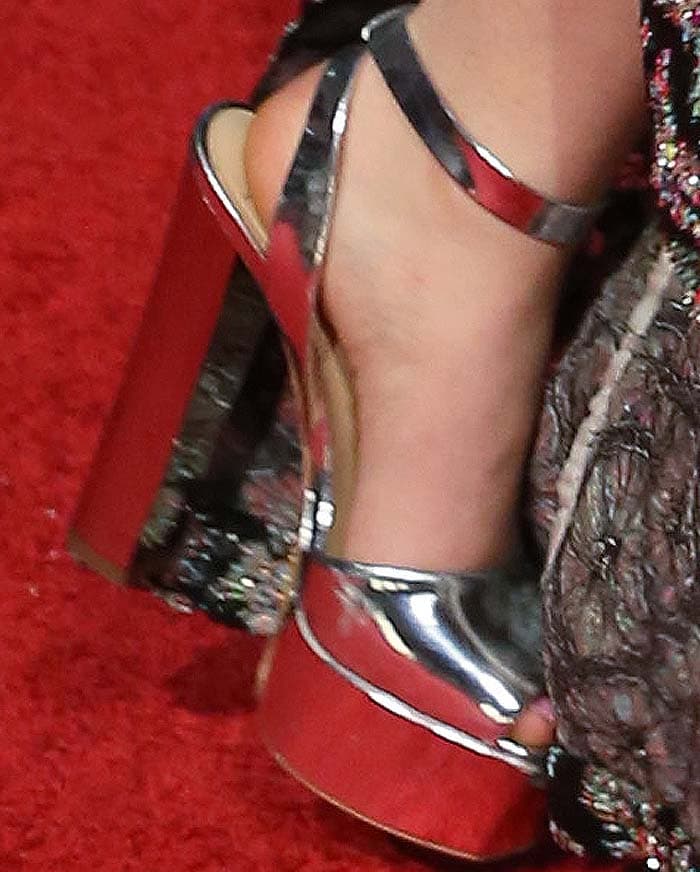 Saoirse Ronan slips into a pair of Giuseppe Zanotti "Lavinia" metallic platform sandals (Credit: Lia Toby / Mario Mitsis / WENN)
The Lovely Bones actress teamed up her dress with a show-stopping necklace from Chopard and Giuseppe Zanotti's "Lavinia" platform heels in silver.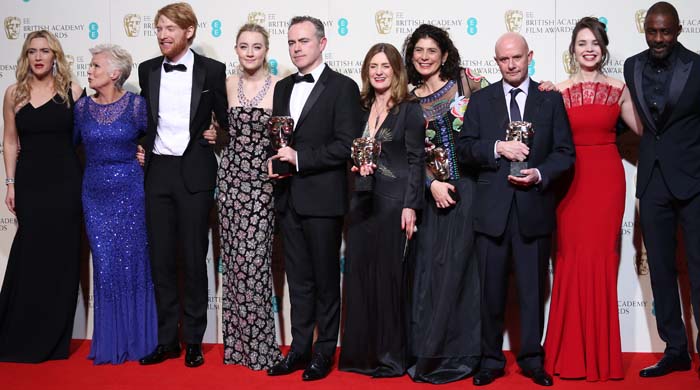 Kate Winslet, Julie Walters, Domhnall Gleeson, Saoirse Ronan, John Crowley, Finola Dwyer, Amanda Posey, Nick Hornby, guest, and Idris Elba pose with the Outstanding British Film award for 'Brooklyn' in the winners' room at the EE British Academy Film Awards at The Royal Opera House on February 14, 2016, in London, England (Credit: Lia Toby / Mario Mitsis / WENN)
Saoirse expressed her feelings about the temperature before talking about "Brooklyn," the film that landed her numerous nominations. The City of Ember star also shared that she read the book when she was around 16 years old.
You can order Giuseppe Zanotti's popular "Lavinia" platform heels in different metallic shades at Farfetch and SSENSE.
Giuseppe Zanotti 'Lavinia' Metallic Leather High-Heel Sandal in Argent, $795
Giuseppe Zanotti 'Lavinia' Metallic Leather High-Heel Sandal, $795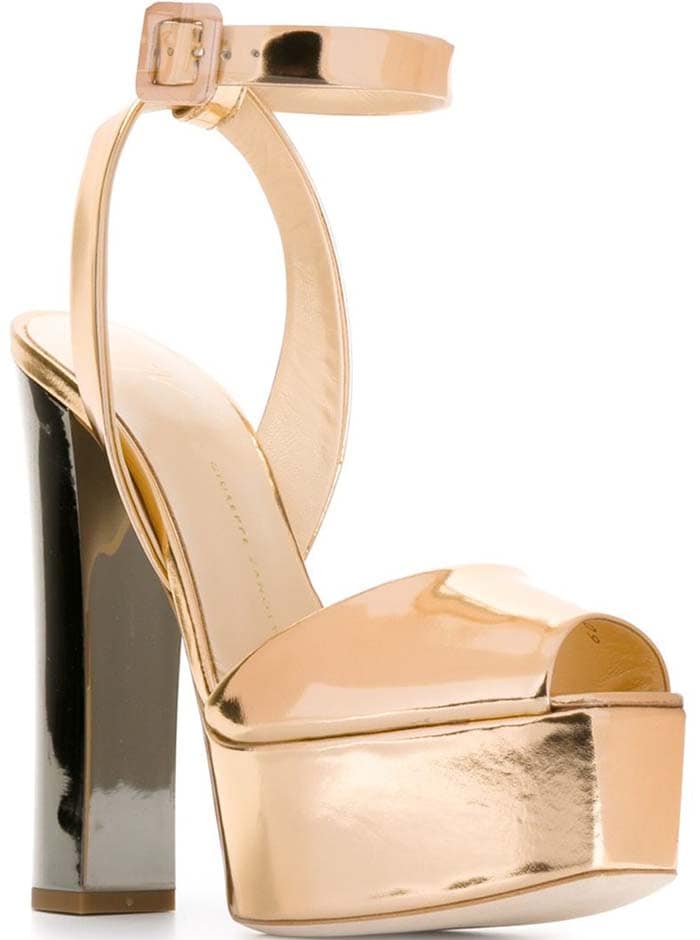 Giuseppe Zanotti 'Lavinia' Metallic Leather High-Heel Sandal in Gold, $674.74 – $795