On an episode of the TLC series "Who Do You Think You Are?" that aired in 2016, Lea Michele delved into her Greek-Jewish ancestry.
Despite being born as Lea Michele Sarfati to an Italian mother and a Sephardic Jewish father, Michele reportedly identifies more with her mother's Catholic faith, which was the religion she was raised in.
Through the show, she uncovered that her paternal grandmother's family were Sephardic Jews originally from Salonika, now known as Thessaloniki, a port city in northern Greece.
Lea Michele's father has Sephardic Jewish roots and comes from a line of Judaeo-Spanish speakers with ancestry in Thessaloniki, Greece (Credit: Justinas Stepsys / Shutterstock)
"Most Americans probably have never heard of Sephardic Jews," the University of Washington's Sephardic studies chair, Devin Naar, said in a statement about the episode.
"So for such a prominent celebrity to speak so publicly and intimately about her connection to this often invisible history and culture will be a turning point. It's really exciting: The episode will familiarize Americans with the very existence of Sephardic Jews and hopefully pique their curiosity and inspire them to learn more."
In August 2020, Lea Michele and her husband, Zandy Reich, became parents to a baby boy named Ever Leo. The couple incorporated elements from both of their religious backgrounds into their wedding.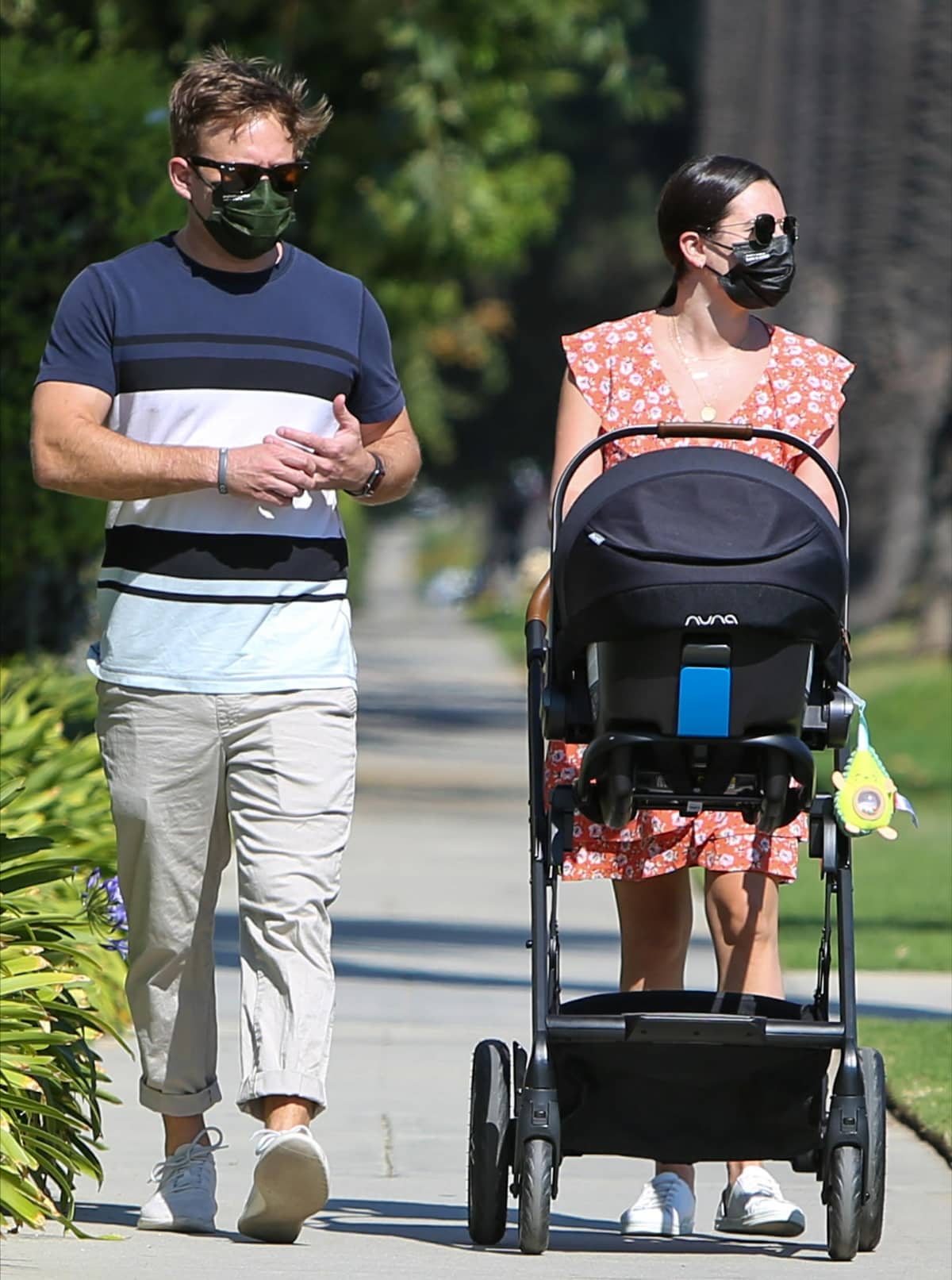 Lea Michele and Zandy Reich take baby Ever Leo out for a stroll in Los Angeles on Octobe3 13, 2020 (Credit: BauerGriffin / INSTARimages)
Michele stated they wanted to blend their cultures and honor their heritages. "I'm Italian and my fiancé is Jewish, so I think it's going to be about blending our cultures and making sure that we do things that really honor both of our heritages," Michele said when she first got engaged in 2018.
They have continued this tradition by selecting a name for their son that reflects both backgrounds. According to several baby name websites, "Ever" is a Hebrew name and a variant of "Eber," which means "to cross over" or "beyond," while "Leo" is Italian.
Lea Michele, whose father is Jewish, and her Jewish husband, Zandy Reich, attend the premiere of Warner Bros. Pictures' "A Star Is Born" at The Shrine Auditorium on September 24, 2018, in Los Angeles, California (Credit: Kathy Hutchins / Shutterstock)
"Glee" star Lea Michele doesn't discriminate when it comes to cute footwear. The actress has been spotted wearing everything from sensible and affordable ALDO shoes to high-end luxury Versace footwear.
In July 2012, Lea Michele attended the Valspar Hands For Habitat unveiling in a vibrant blue dress.
Lea Michele wears her hair down at the Valspar Hands For Habitat Unveiling held on July 20, 2012, at Hearst Tower in New York City (Credit: Andres Otero / WENN)
Her blue floral silk organza dress is from the Oscar de la Renta Resort 2013 collection.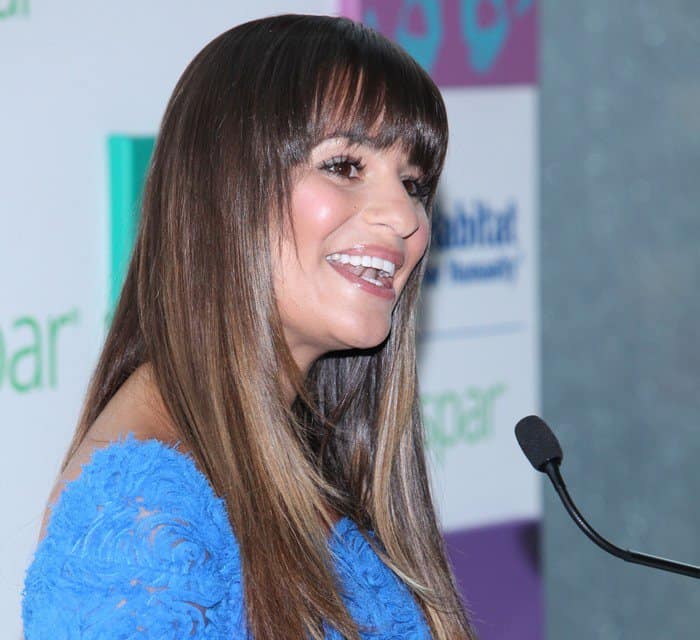 Lea Michele wears a bright blue Oscar de la Renta dress to a New York City event (Credit: Andres Otero / WENN)
The fit-and-flare design features cap sleeves, an all-over embroidered pattern, and a scalloped hem.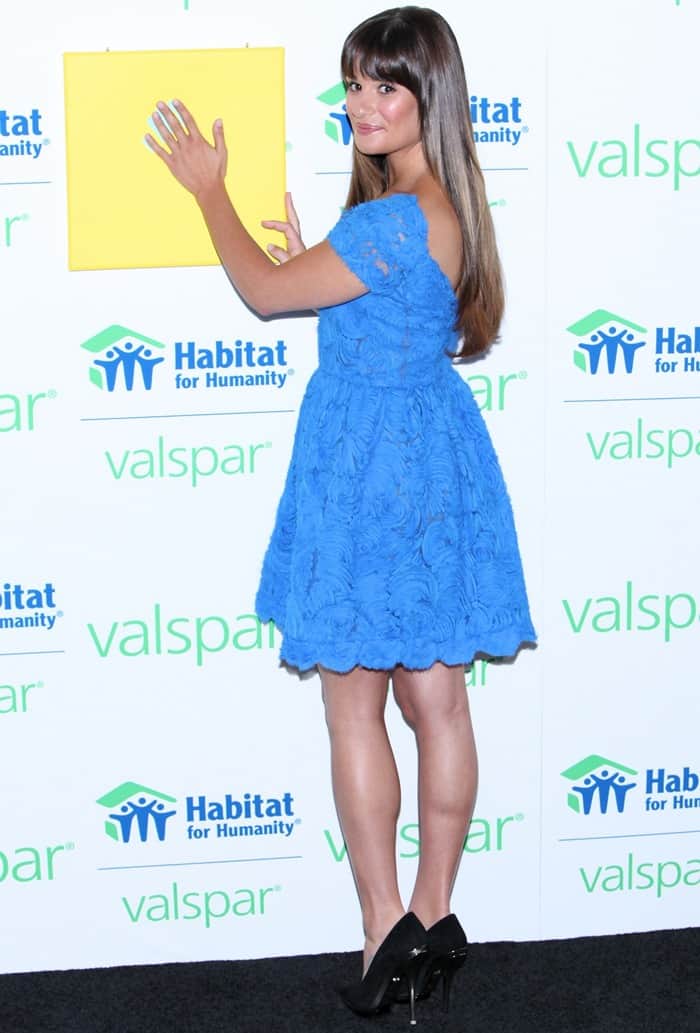 Lea Michele finger paints with Valspar paints at a Habitat for Humanity event (Credit: Andres Otero / WENN)
She ditched the jewelry, choosing only to accessorize with a single ring and heavy mascara.
Part of Lea's presence at the event included finger painting with Valspar paint — pretty bold of her to do so in Oscar de la Renta if you ask us!
Lea Michele wears a blue Oscar de la Renta dress with black pumps at the Valspar Hands For Habitat Unveiling (Credit: Andres Otero / WENN)
Lea's black Versace pumps showed off her various foot tattoos.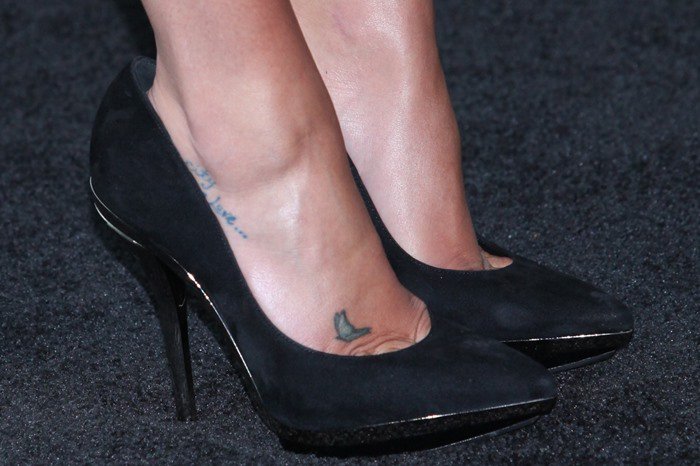 Lea Michele's feet and foot tattoos in black Versace pumps (Credit: Andres Otero / WENN)