Just a few years after her acting debut in 2003 on the Irish medical drama series The Clinic, Saoirse Ronan was offered the role of Susie Salmon in The Lovely Bones, a 2009 supernatural thriller drama film directed by Peter Jackson.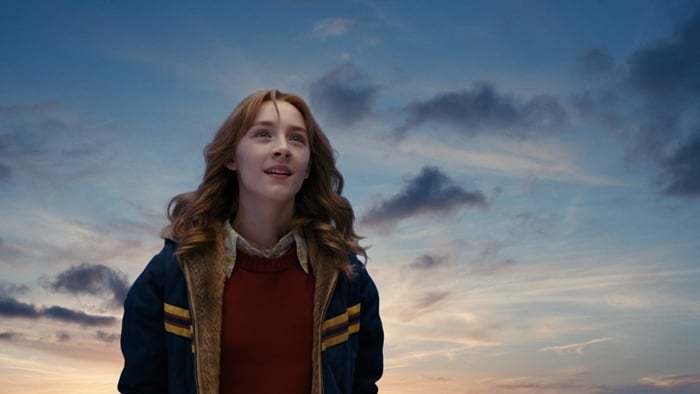 Saoirse Ronan was 13-years-old when filming The Lovely Bones
According to the Los Angeles Times, her parents were hesitant to accept the part because of the rape and murder content in the film based on Alice Sebold's award-winning and bestselling 2002 novel of the same name (available at Amazon).
Production of the movie began in October 2007 in the U.S. state of Pennsylvania and New Zealand. While filming the movie, Saorise was 13-years-old. She turned 14 on April 12, 2008.
Saoirse Ronan posing with her father Paul Ronan at the Irish premiere of The Lovely Bones held at the Savoy Cinema in Dublin, Ireland, on January 26, 2010
"She was only 13 years old when we filmed," said co-star Stanley Tucci, who plays the neighbor George Harvey who murders Susie in the film.
"How someone acquires that kind of maturity as an actress at such a young age is remarkable. I can't imagine it. She handles herself as well as any seasoned actor. I wouldn't even be able to finish a sentence at her age. She's a real actress. Bottom line. And she is Susie Salmon. No one else could play her."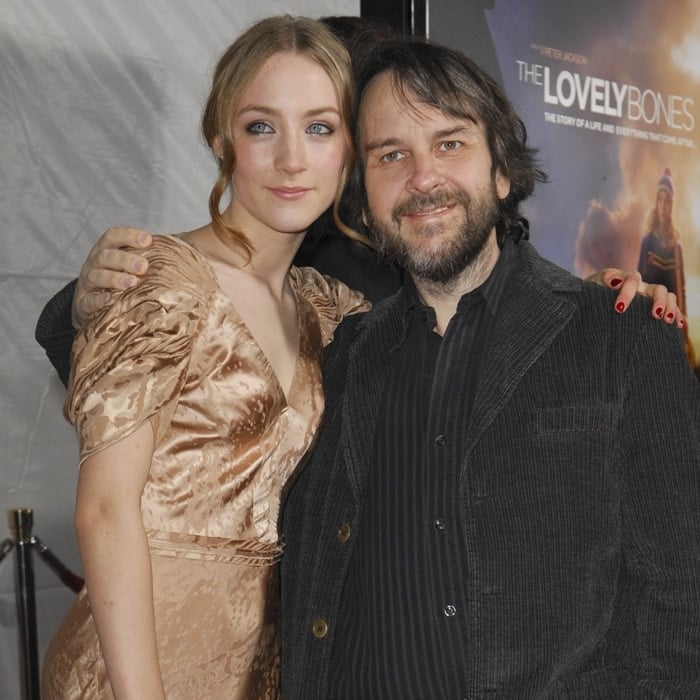 Saoirse Ronan and director Peter Jackson at the Los Angeles premiere of The Lovely Bones at Grauman's Chinese Theatre on December 7, 2009, in Hollywood, California
When the film was released in North America in December 2009, Saoirse had turned 15. For her performance, she won the best actress award at the 7th Irish Film & Television Awards.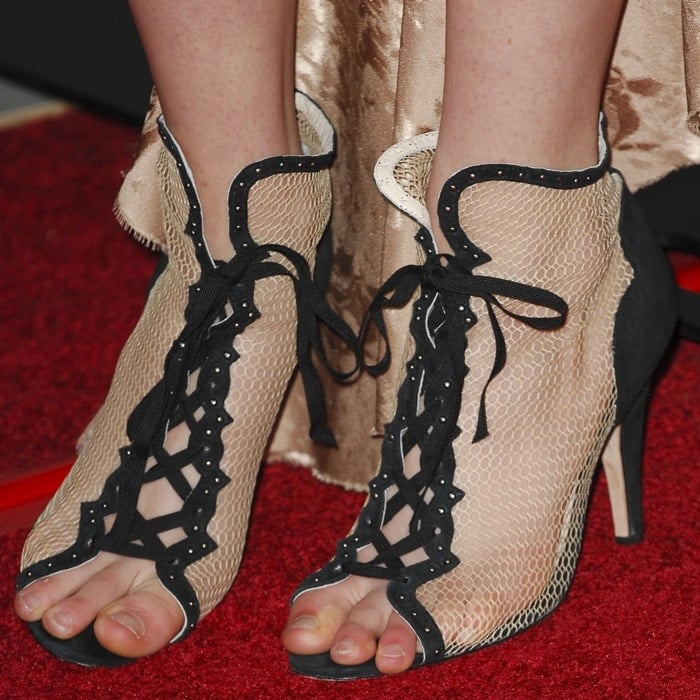 Saoirse Ronan shows off her feet on the red carpet
In January 2016, Saoirse Ronan was no longer the little girl that Cate Blanchett once worked with on "Hanna," a 2011 action thriller film directed by Joe Wright.
The then 21-year-old was focusing on her acting work. Might Cate feel a little bit threatened by her former co-star?
Saoirse Ronan wears her hair back at the 27th Annual Palm Springs International Film Festival held January 2, 2016, in California
Saoirse, whose Irish name is pronounced Sur-sha, graced the red carpet 0f the 2016 Palm Springs International Film Festival Awards.
Saoirse Ronan wears a printed Duro Olowu dress on the red carpet
The actress wore a multi-printed dress from Duro Olowu, which she paired with orange ankle strap "Skinissimo" pumps from Pierre Hardy.
Saoirse Ronan's feet in Pierre Hardy sandals
Some might say that this look is a bit too granny for a 21-year-old, but we actually think it's a good mix between being a young, fresh-faced woman and a lady.
Cate Blanchett made it a point to honor Saoirse, who presented the former with her Achievement Award, during her acceptance speech by pointing out her incredible transition from "Hanna" to "Brooklyn."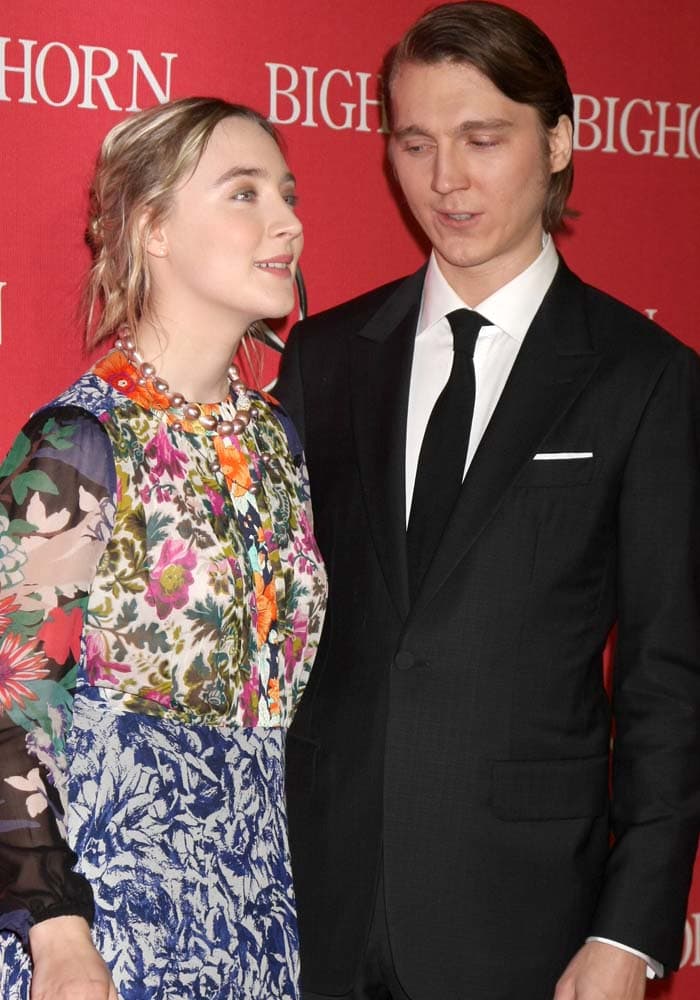 Saoirse Ronan poses with actor Paul Dano at the 2016 Palm Springs International Film Festival Awards
The actress also told Saoirse to get off the stage because she was "too young, and talented, and gorgeous." Watch the touching and hilarious clip below.
Now that spring is coming up and the temperatures are starting to rise, we can't help but scout these vibrant heels from Pierre Hardy.
Grab Saoirse's "Skinissimo" heels or the ankle wrap "Majorelle" counterpart by heading over to Net-A-Porter and Farfetch.
Pierre Hardy 'Skinissimo' Sandals
Pierre Hardy Kid Suede "Skinissimo" Ankle Strap Sandals, $775
Pierre Hardy "Majorelle" Lace-Up Suede Sandals, $845
Pierre Hardy "Majorelle" Lace-Up Suede Sandals, $845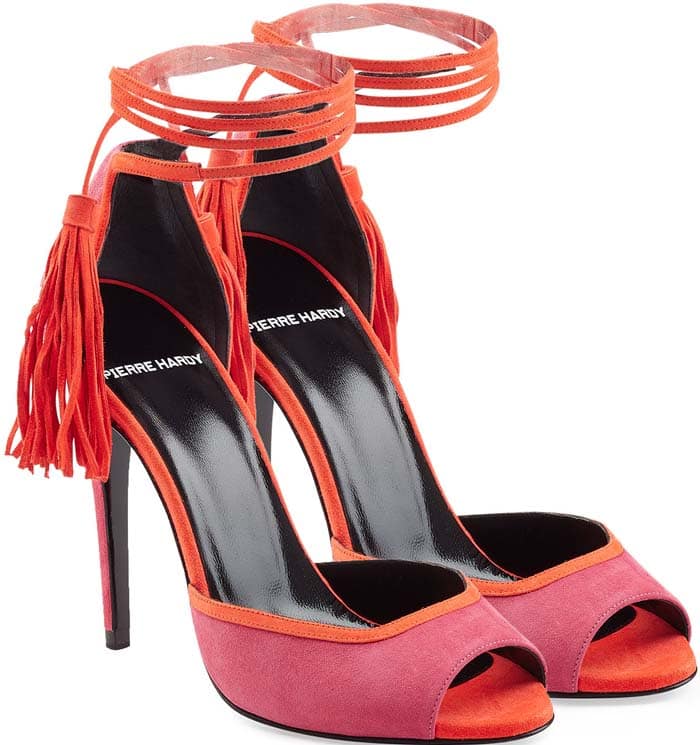 Credit: Apega / Nicky Nelson / FayesVision / WENN / Apega